These simple and tasty recipes should add some spice to your Valentines Day.
FUSILLI WITH MUSHROOMS, CREAM CHEESE AND NUTS

Easy Prep – 15 minutes
Cooking – 10 minutes
Serves 2
INGREDIENTS:
• 160g Fusilli
• 150g Mushrooms
• 100g Cream Cheese
• 100g Cream
• 20g Chopped Pistachios and Hazelnuts
• 1 Tablespoon Extra Virgin Olive Oil
• 1 Garlic Clove
• Handful of Finely Chopped Parsley
COOKING INSTRUCTIONS:
1) Clean the mushrooms and chop them finely
2) Heat the oil in a pan, add the garlic clove, finely chopped parsley and mushrooms, then
saute on high heat. Afterwards, remove the garlic and set aside
3) In a different pan, melt the cream cheese with the cream
4) Cook the Fusilli in a large amount of slightly salted boiling water
5) Drain al dente and toss in the pan with the cheese sauce, then add the chopped hazelnut
and pistachio mix
6) Serve on individual plates and sprinkle the mushroom mixture on top.

TORTIGLIONI ALLA NORMA WITH BARILLA ARRABBIATA SAUCE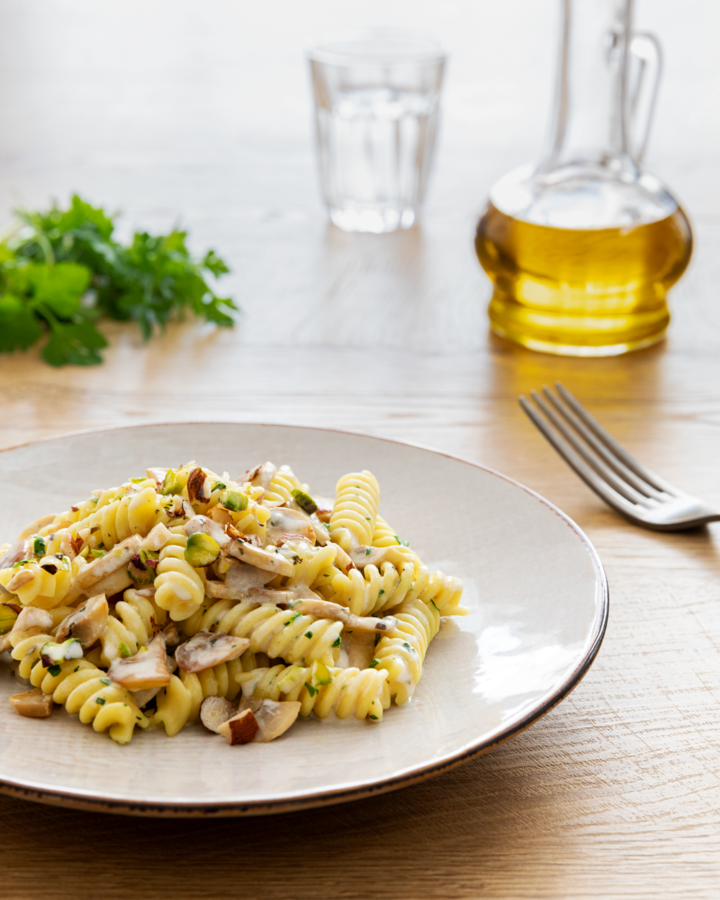 Easy Prep – 30 minutes
Cooking – 15 minutes
Serves 2
INGREDIENTS:
• 160g Tortiglioni Barilla
• 200g Barilla Arrabbiata Sauce
• 50g Salted Ricotta
• 1 Diced Aubergine
• ½ onion
• Extra Virgin Olive Oil
• Fresh Basil
COOKING INSTRUCTIONS:
1) Sprinkle a pinch of salt on the aubergine cubes and let them rest in a colander for 30 mins
2) Rinse them with water, dry them in a clean cloth and boil them in water. Set them aside on
a piece of paper towel
3) Chop the onion and sweat in a pan with extra virgin olive oil, add the Arrabbiata sauce,
heat it slowly and set it aside, adding a few chopped basil leaves
4) Cook the Tortiglioni in an abundant amount of salted water, drain them al dente and sauté
them in a pan with the tomato sauce and aubergine cubes
5) Serve with a generous amount of grated ricotta and garnish with fresh basil