By Danni Levy
You Can Now 'Live Wright' and have a pint, says TV-Star Mark Wright
"Heineken 0.0 Draught brings No and Low-alcohol beer from the periphery into the mainstream," says James Crampton, Corporate Affairs Director for Heineken UK.
"In time, it won't be unusual for people to pop down to their local for an alcohol-free pint or two. That might sound strange now, but we're confident in the very near future it'll become the norm.
"Back in July 2021 at one of our five trial pubs, a barperson pulled the first ever pint of Heineken 0.0 Draught and handed it to a customer. The significance of that moment may or may not have dawned on them, but make no bones about it – it was one small pull for a bartender, but a giant leap for pubkind."
TV-Star Mark Wright is one of a number of celebs to be first on the healthy beer bandwagon.
"You literally can't taste the difference with your eyes closed," says Mark. "A bottle of beer just doesn't do the trick for me, it has to be on draft. I tried non-alcoholic beer a lot during the lockdown to prevent myself from drinking beer every night, but it's hard to walk into a pub and order a soft drink. To have a non-alcoholic beer on draft satisfies the craving for that pint of beer. I still feel fresh the next day and can get up and work out, which is great for my mental and physical health.
"I still go out some weekends and let my hair down, but I love the feeling of training and eating well and I hate the hangover feeling."
Despite consistently boasting a great physique, Mark insists he has to work at it.
"I've always called myself 'fat boy waiting to break out', because I can put on fat quick," he says. "A month off the gym and I really gain body fat. From Monday to Friday I'm really good and keep fats and carbs low and train really hard. On the weekends I completely indulge and have whatever I want, including a couple of beers and a takeaway. By the time it gets to Monday, I'm done with it and that 5/2 approach really works for me.
"I'm not totally ripped because I do enjoy myself and I do believe in a balanced lifestyle. I feel good, I look good, but I don't feel as if I don't have a life. I did that once for a yogurt advert I had to be topless for. I got so in shape I almost fainted in the shower!
"If you get down to a weight you're happy with and can see those lines on your torso, it's quick and easy to see when you've gained weight and you want to spring back. When those lines disappear, you lose perspective and it's so easy to go from a 'little bit podgy' to a 'little bit podgier' then!"
Mark attributes his long-term dietary success to intermittent fasting.
"I'm an intermittent faster," he says. "I used to have breakfast on autopilot as soon as I woke up, but then I realized I'm not hungry in the mornings, so I'll have a black coffee and go to the gym and do weights and cardio in a fasted state. I don't feel depleted because I have a good dinner at 8 pm and I'm in the gym by 8 am the next day. I do a lot of HIIT training for my LiveWright app. It massively tones you and gets a great sweat on. I eat as soon as I leave the gym. I'll do 45 minutes HIIT, then straight onto weights. Then I'll go to the gym cafe and have a smoothie with blueberry, strawberry, raspberry, half a banana, coconut water and protein powder. After a shower and sauna, I'll have a five egg white omelet with one yolk, plus chicken, onion, garlic, chili and broccoli, and then another protein shake an hour later. For dinner, I'll have chicken or sea bass with vegetables. I take a very low-carb approach and get those from fruit and veg.
"I hate that hungry feeling- I'll never go hungry. I eat well, but I eat a lot. Leave out the sauces and oils and keep it clean and you can eat huge amounts of food without huge amounts of calories.
"I train in the gym at least four days a week with weights, on top of HIIT training and cardio. I do chest, back, shoulders/arms and legs. I'll sometimes do a second chest session. Cardio is what makes me feel most liberated, especially as I've got older. The pandemic really heightened the importance of staying cardiovascularly fit.
"I started LiveWright after going two weeks without training during lockdown. I felt so unmotivated. I was in a real slump. I decided to do a live workout on Instagram so people could follow me at home and I knew I had to get up and do it. Thousands of people joined me online and the next day every muscle was killing. Other celebs started joining me on my lives and it just became a thing, so I created the app and we film new content all the time. I swear by HIIT now. You sweat, you tone, I love it. We give lots of recipes on the app too for people who want to improve their eating habits.
"The world is becoming healthier, both mentally and physically, but there will always be a place for a good old-fashioned pint of beer I think. That said, with more healthy choices appearing on the menu, five years from now it will be totally normal to sit in the pub and have a pint of Heineken 0.0. Being able to drink draft beer and not have a hangover is just a dream."
How does Heineken 0.0 shape up?
Heineken 5% ABV bottles: 42kcal per 100ml
Heineken 0.0 bottles: 21 kcal per 100ml (69 kcal per bottle)
Heineken 0.0 contains no added sugar and no additives
Mark's live-wright.com app is available on Apple and Android
The Pub-Inspired Class That Guarantees You Leave With A Six-Pack…Of Beer
Related Articles
Stock up on Your Health Supplements and Sports Gear with These Incredible Cyber Monday Deals!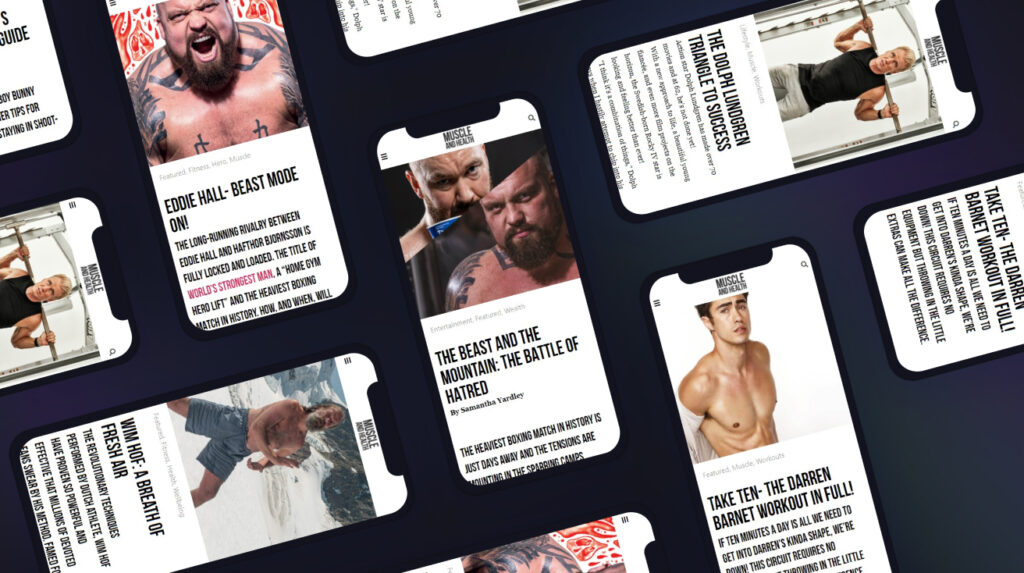 get all the latest mucle, health and wealth news delivered straight to your inbox