CALORIES 692 | PROTEIN 63g | FAT 19g | CARBS 32g | SUGARS 37g
Serves: 6
9oz lightly salted nachos
3.5 oz 50% reduced fat Cheddar cheese, grated
11oz guacamole
FOR THE CHILLI
2 red onions, diced
35oz lean ground mince
1 tsp smokes paprika
1 tsp chilli powder
1 red bell pepper, sliced
1 green bell pepper, sliced
7 oz frozen peas
7 oz green beans
14 oz tin chopped tomatoes
1/2 tsp garlic puree
1 tsp chili puree
14oz tin mixed beans, drained
Sea salt and black pepper
Spray light oil
1. Spray a skillet with spray light oil and sauté the onions for 10 minutes until soft. Add the ground mince and stir in the smoked paprika, chili powder, and salt and pepper. Once the meat has browned add the peppers, peas, and green beans.
2. Add the chopped tomatoes, garlic purée, chili purée, and mixed beans.
3. Bring to the boil then lower the heat to simmer for 30 minutes, stirring occasionally.
4. Preheat the oven to 400°F and warm the nachos for 5 minutes.
5. Serve the chili on top of the nachos and sprinkle with grated cheese.
Check out another recipe from Ross tomorrow!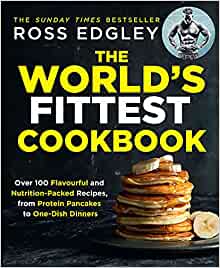 For more vibrant recipes that deliver on flavor and nutritional content, get some inspiration on Muscle and Health's FOOD section