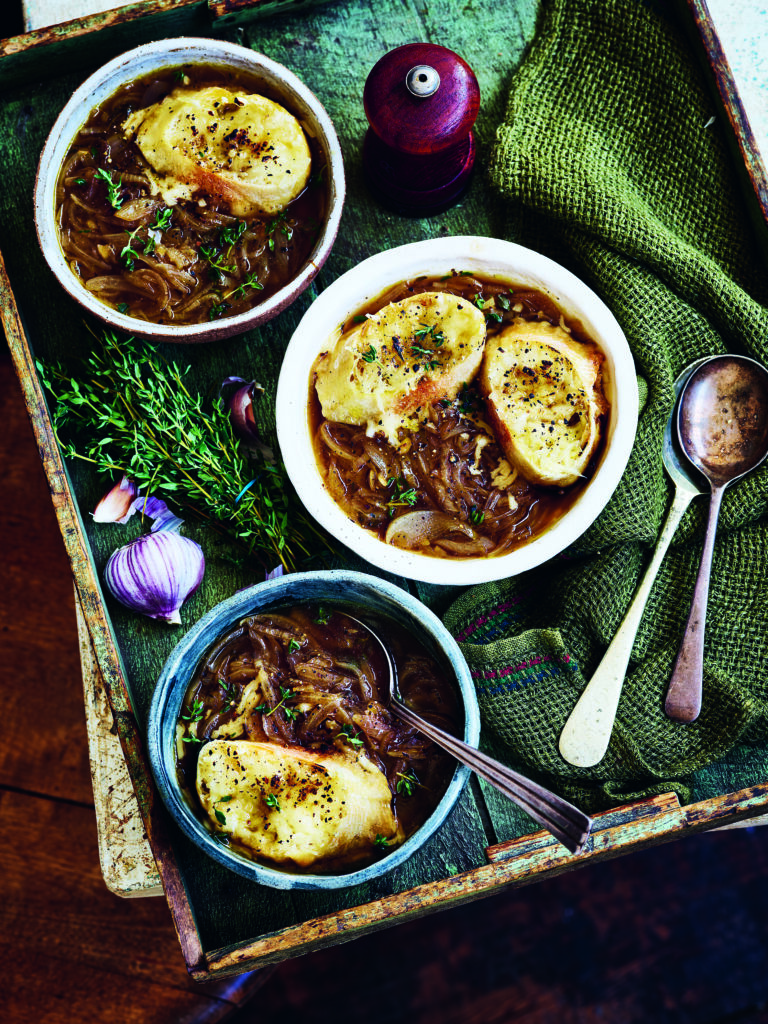 Ingredients:
2 tbsp vegan margarine
2 tbsp olive oil
4 banana shallots, halved then finely sliced
3 large white onions, halved then finely sliced
2 red onions, halved then finely sliced
Sea salt and black pepper, to taste
1 tbsp fresh thyme leaves, plus extra for serving
2 tsp dried sage
1 tbsp all-purpose flour or gluten-free flour
240ml (1 cup) vegan-friendly dry white wine
35ml (1 shot) brandy
1 litre (1¾ pints) hot vegetable stock
1 bay leaf
1 rosemary sprig
4–6 slices of French baguette (day-old bread works best)
1 garlic clove
Grated vegan cheese
Method:
First up, place a large heavy-based saucepan over a low heat, then add the margarine and olive oil.
When hot, add the shallots and onions with the salt, pepper, thyme, and sage. Allow the onions to sweat down and caramelize, this should take approximately 15–20 minutes. At first, it may look as though there are way too many onions in the pan, but after a little while, they will shrink right down. Stir the onions often.
When the onions are beautiful and golden, add the fl our and stir well to coat the onions. Cook out the flour for a minute or so before deglazing the pan with the white wine and the brandy. Bring the liquid to a boil before adding the hot vegetable stock, bay leaf and rosemary. Place a lid on the pan and let the soup cook away for 15–20 minutes. Preheat your broiler to high.
Toast your slices of baguette. Cut the garlic clove in half and rub the cut side on each side of the slices of toasted bread.
Remove the bay leaf and rosemary sprig, then ladle the soup into your serving bowls and float a slice or two of toasted baguette on the surface of the soup in each bowl. Top each slice of baguette with a handful of the grated vegan cheese. Place your bowls onto a flat baking sheet then place each one under the broiler for two minutes. Once the cheese has melted and is nice and golden, sprinkle over a few fresh thyme leaves, grind over some black pepper and serve up.
Kcal: 450 / Fat: 14.4g / Carbs: 54.7g / Protein: 8.6g
Plants Only Kitchen by Author & Chef Gaz Oakley (Quadrille, available in Hardback and eBook) Photography: Simon Smith. Follow Gaz on socials: @AvantGardeVegan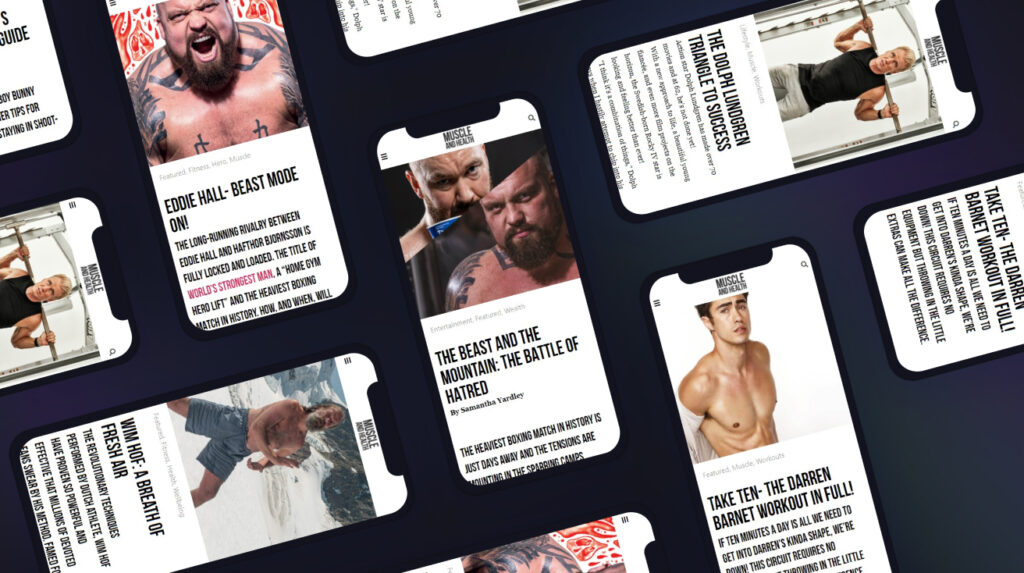 get all the latest mucle, health and wealth news delivered straight to your inbox