Muscle and Health have teamed up with the talented chefs at Blue Fuel to bring you three healthy dinner hacks of go-to dinner staples. Abundant in nutrients and flavor but low in calories, these lean versions of classic dishes are sure to impress the fussiest of eaters!
CHORIZO TORTILLA PIZZA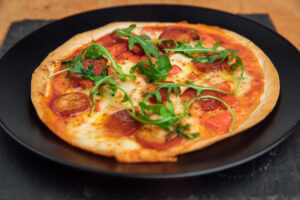 568 kcal  41g carbs  30g protein  30g fat
20 min – Very Easy
Ingredients
1 large tortilla wrap
2 tbsp tomato passata
3oz grated mozzarella
1/2 red pepper
1oz chorizo
Handful of arugula
Method
1-  Preheat your oven to 400°F
2-  Finely slice the chorizo and pepper
3-  To build the pizza, place the tortilla on a non-stick baking sheet. Spread the passata evenly on the tortilla using a spoon – be sure to leave a ½ inch gap around the edge of the tortilla
4-  Add the chorizo and pepper, then sprinkle over the grated mozzarella
5-  Bake in the oven for 10 minutes
6-  Once cooked, finish by topping with the arugula
SWEET CHILLI CHICKEN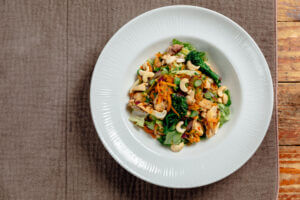 600 kcal  30g carbs  59g protein  25g fat
20 min – Easy
Ingredients
7oz chicken breast
1 small red onion
1 small zucchini
1 small carrot
2oz broccolini
2 large leaves of romaine lettuce (shredded)
1 tbsp cashew nuts (10 nuts)
1 tbsp olive oil
2 tsp sweet chili sauce
2 tsp soya sauce
2 tsp Thai fish sauce
Method
1-  Grate the zucchini and the carrot. Set aside
2-  Dice the onion and broccolini. Set aside
3-  Dice the chicken and set aside
4-  Heat the olive oil in a medium skillet, add the chicken and sauté for 3 – 4 minutes
5-  Add the broccolini and onion. Cook for 2 minutes
6-  Add the grated carrot and zucchini, combine and cook for a further 1 minute
7-  Add the sweet chili, soya and Thai fish sauce
8-  Remove from the heat and add the shredded lettuce
9-  Serve garnished with the cashew nuts (optional)
VEGAN PAELLA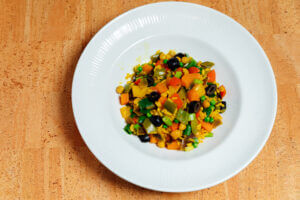 30 min – Easy   2 servings
628 kcal  90g carbs  18g fat
Ingredients
4.5oz risotto rice
1 medium onion (diced)
1 tbsp olive oil
1 tsp ground turmeric
3.5oz diced mixed peppers
2.5oz diced carrot
550ml vegetable stock
5oz frozen peas
7oz chickpeas
12 stoned black olives
1 bunch of sliced scallions
Method
1. Start by frying the diced peppers, carrots and onion in 1 tbsp olive oil for 3-4 minutes, over a medium heat
2. Once cooked, add the ground turmeric, then the rice, and the stock to the same pan and simmer for approximately 18 minutes (until the liquid has been absorbed and rice is tender. Keep an eye on it – you may need to add more stock
3. Add the frozen peas and chickpeas then cook gently for a further 2-3 minutes
4. Season to taste. Add chopped scallions and olives for the last minute
Next on your culinary agenda, it's BURGER O' CLOCK with the guilt-free fakeaway burger of your dreams!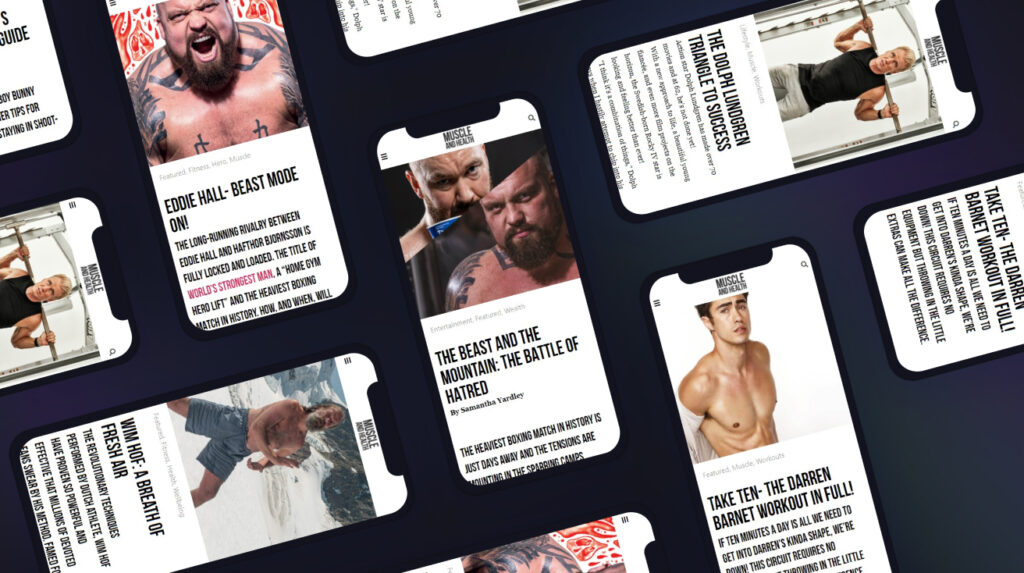 get all the latest mucle, health and wealth news delivered straight to your inbox