Words by Danni Levy
She's delectable, dangerous and endearing in equal measures. Gionna Daddio, aka WWE Smackdown star Liv Morgan, perfectly exemplifies the qualities of a real-life female superhero. 
Sure, AI makes a pretty good stab at wiping out us mere mortals, but Liv Morgan is the real human deal. 
Unattainable? Perhaps. Unbeatable? Mostly. Unapproachable? Absolutely not! 
The girl who flies around the planet non-stop delineated the life of a WWE Raw woman with the utmost integrity. 
Your real name is Gionna Daddio. Why "Liv Morgan?" Is that a stage name you chose yourself?
"So everyone gets a say in picking their stage name, except me! I actually didn't choose Liv Morgan, it was just allocated to me. At first, I wasn't the biggest fan of it, but I've definitely grown to love Liv." 
Give us an insight into your life before the world of WWE
"My life before WWE was very different. My career here has completely changed my life and it's changed my family's lives too. It's given me so much purpose and inspiration, that I think it's only fitting my character's name is "LIV"."
What's your schedule like? Are you flying from state to state and straight into the ring, or do you get some chillout time too?
"I'm flying or driving from state to state for about 3-4 days on a weekly basis, and that is considered a light week!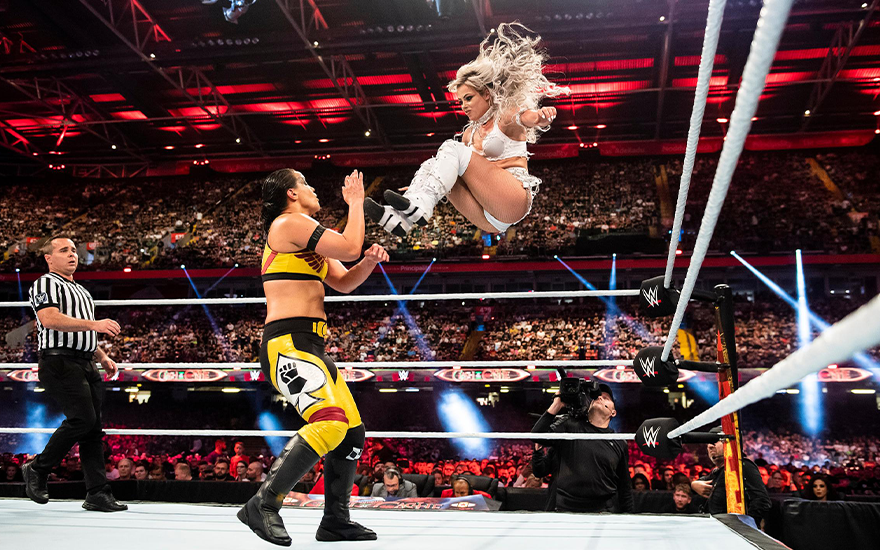 The schedule is non-stop between my live TV shows, non-televised live events, media appearances, and community work, but it's something that I love and enjoy more than I can put into words. 
I don't think you could endure my schedule if you weren't absolutely in love with it. Wrestling is the only sport with no off-season, and I'm proud to be a part of the longest-reigning episodic TV show in history."
Tell us about your diet. Do you eat clean all the time? Do you have to carb load prior to a match? Or are you consistent and balanced?
"My diet has actually been a huge work in progress. I love desserts, I love pasta. I love to indulge. I'd like to say I eat clean 90% of the time, with 10% indulgence lapses, but the real numbers are more like 70/30. It took me a while to fully understand that proper fuel makes for better athletic performance. 
I know that's common sense, but to have the willpower to act on that at 2 am when you've got a 4-hour drive to the next show is really difficult. The only places that are open are fast food outlets a lot of the time. I'm actually out injured right now and aside from healing up, my focus has been on my nutrition, so it's been really exciting honing in on that. I want to come back in the very best shape of my life, so right now, I am eating clean, tons of fresh fruits and veggies. I'm basing my carb intake on the amount of physicality and energy I expend each day. I do believe life is about balance, though, so I still order a cheeky little dessert with dinner sometimes."
Favorite food? (Cheat or otherwise)
"Gosh, I grew up eating pasta every single Sunday, so my absolute favorite meal is pasta. Any kind of pasta with any sauce. Meat or no meat. It is so hard for me to resist."
Hulk Hogan and Ric Flair also feature in this issue. Hulk has undergone multiple surgeries as a result of his career in the WWE and continues to suffer to this day. You look beautiful in the ring, but is there a painful and dark side to the sport? Have you incurred any serious injuries?
"I wouldn't necessarily call it the "dark side of the sport" because injuries are something we all know are possible (maybe even likely) before we even step foot into the ring for the first time. 
I am super aware of the risks, but it's just part of the business. When compared to all the amazing opportunities that come with being a WWE superstar, it really doesn't feel that prevalent. I've had a long and healthy career for the last 9-years of my life. In fact, my first injuries didn't occur until this year. It's been unfortunate, but it's the name of the game. Luckily, we have a world-class medical team on call to keep us healthy and in tip-top condition."
What's your training regime like? Do you do cardio and weights plus tactical/technique work? Give us an insight into your weekly split.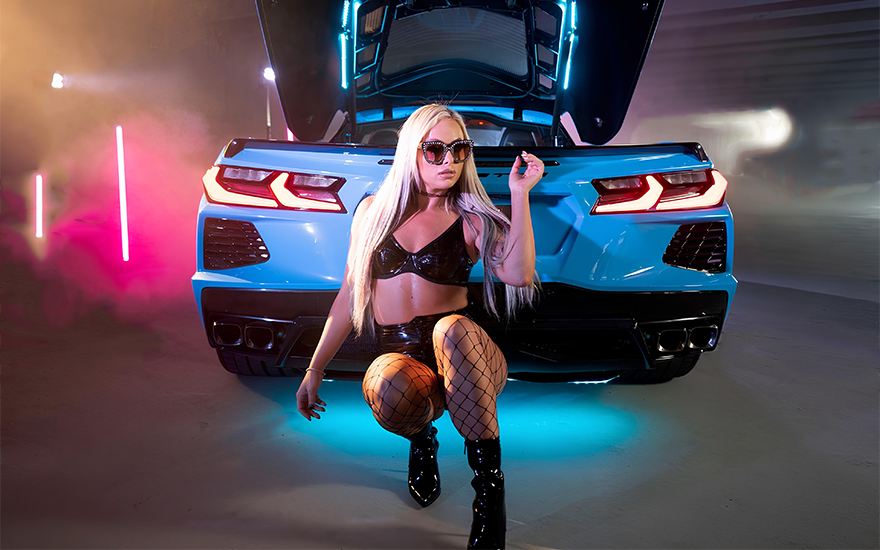 "I train 5-6 days a week in the gym, performing a mix of traditional powerlifting and plyometrics. I love to lift heavy, but always ensure my range of motion is still intact. I usually convert my workouts into circuits just to keep moving. I don't like to take long rest periods. I'm really into jump rope right now so I've been ending every session with 5-sets of as many jumps as possible. I also have a wrestling ring in my home gym, so throwing some ring work in too has been a lot of fun. There's no cardio that can prepare you for 20 minutes in the ring, so to have the real thing in which I can simulate movements and run the ropes has been a game changer for me. It's added a true sense of joy to my training."
Who's your biggest idol?
"This isn't a cop-out, I swear, but I don't have an answer for this! I feel like I pull motivation from so many different mediums. I'd be lying if I pinpointed just one person as my source of inspiration."
You always look beautiful, but you're as hard as nails. Tell us a little about your new product line and why it's a good fit for multi-disciplined athletes. Also, any skincare secrets you can share?
"My small business, ShopLiveMore, is designed for the person you would describe as "hard as nails." Everything is handmade, all-natural, and vegan. There are soy intention candles encrusted with healing stones, hand-tied sage cleansing bundles, clean whipped soaps and hand-mixed oils curated with personalized aromatherapy. 
SLM is definitely a passion project of mine. As far as skincare secrets, I'd have to say my biggest secret is simply moisturizing religiously and applying SPF sunscreen every day."
When you're done wrestling, what's the game plan? 
"My plan is to continue to entertain to the best of my ability, and I take my very seriously, whether I'm in the ring or acting in front of a camera. I try to make the most of every opportunity 'cause you only LIV once! See what I did there?"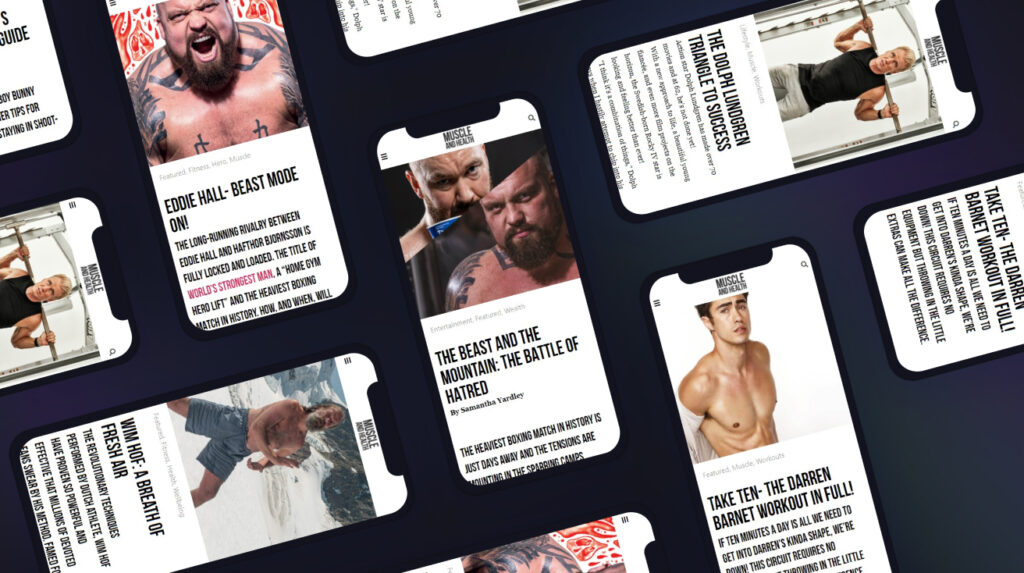 get all the latest mucle, health and wealth news delivered straight to your inbox