Pancake Day is here! If you're dying to tuck in but are conscious of overindulging, try some ingenious high-protein recipes to banish the Shrove Tuesday guilt.
By Jack Franks
It's everybody's favorite Tuesday…that's right it's pancake Tuesday (or Shrove Tuesday if you're giving it the official name). 
If you're anything like us, you're probably dying to tuck into a massive plate of pancakes…
But while it might be a day to push the boat out a little on the calorie intake, there are still ways to make sure you get some protein in to banish any guilt you might feel.
We're sharing our top high-protein pancake recipes that will have you wishing you'd made more…
The benefits of choosing Protein Pancakes
Before jumping headfirst into the good stuff, it's essential to understand that whey protein pancakes (see what we did there) are the right choice for Shrove Tuesday.
Several benefits of serving up some protein pancakes to celebrate the day and incorporating them into your weekly breakfast routine.
The obvious one…there's more protein.
Well, who knew? 
This one is relatively straightforward and self-explanatory, but it's startling to see how much more protein you get than your regular pancake.
Your average everyday pancake contains around 2.4 grams of protein, while your supercharged protein pancake offers about 10 grams!
That's an increase of 316%. Those are some healthy numbers.
That substantial protein increase comes from various sources, including dried eggs, flax seeds and oats.
Filling you up for longer
Adding protein and fiber from the oats in this pancake form means you will feel fuller for longer.
This increases the likelihood of you not wanting to snack throughout the morning and potentially eliminates any further temptation for 'one more' pancake before lunch.
Endless customization!
Now we are getting to the fun stuff. Pancakes are pretty basic beings by nature, but the options of what to top them with are almost endless!
A wide range of flavors, textures and tastes can be created by using some of your favorite healthy toppings. Things like fruit, yogurt, nuts and low-sugar syrups will take your pancakes to the next level.
Time is of the essence.
Most people live hectic lifestyles that don't necessarily lend their hand to baking a Michelin-star standard breakfast every morning.
Although protein pancakes may not fall under the Michelin standard, they offer speed and time efficiency because they are so easy to assemble.
For the rookies: Banana Protein Pancakes
We get it. Not all of us are well equipped in the kitchen, and let's face it; sometimes less is more! 
Keep it simple with this delicious and easy-to-follow recipe which is quick, packed with goodness and requires little ingredients.
Ingredients 
2 large eggs (or 4 egg whites if you're looking to reduce calories and fat content)
1 scoop Vanilla or Banana Impact Whey Protein (35g)
1 scoop rolled oats (35g)

Instructions
First, pop a non-stick frying pan on medium heat and let it heat up. Medium heat is critical here – it's too hot if it begins to smoke.

Next, add your banana and eggs to a blender or food processor. Blend until smooth.

Add the protein powder and rolled oats to the blender and process until smooth. Ensure you add these after the bananas and eggs to prevent the powder from getting stuck at the bottom of the blender (no one likes a crusty blender).

Pour a quarter of the batter into your preheated frying pan into a pancake around 5″ wide. If you like, you can make the pancakes a little thicker – wait 20 seconds from pouring the batter in and pour a dribble more batter on top.

Wait around 30 seconds (or until golden on the bottom), then use a spatula to flip the pancake and cook for 30 seconds. Repeat until you have no batter left.

Top with your favourite toppings (try to make it healthy to keep those calories down).

Nutritional info per serving
Calories 115kcals
Total Fat 1g
Total Carbohydrates 14g
Protein 15g
For the sweet tooth: Cookies and Cream Protein Pancakes
Lips will be licked when putting this recipe together, and it's sure to set the appetite racing for lovers of the sweeter things in life. It's easy to assemble and make, so don't worry; you won't have to wait too long to take that first bite!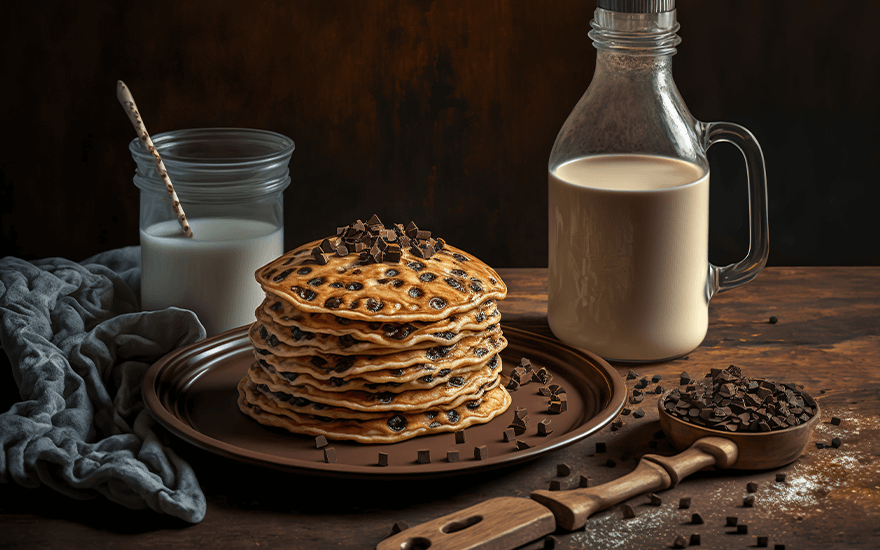 Ingredients

Instructions
Add your Protein Pancake Mix, almond milk and chocolate chips to a bowl and mix together. 

Heat up a drizzle of oil in a frying pan and ladle the mixture onto the pan when hot. Cook for 2-3 minutes on each side or until golden brown

Top with whipped cream and whatever sweet treats take your fancy

Dig in!

Nutritional info per serving
Calories 392kcals
Total Fat 15g
Total Carbohydrates 22g
Protein 40g
For the vegan: Spinach and chickpea Protein Pancakes
Today's modern-day society, where people's emergence to vegetarian, vegan and gluten-free lifestyles is constantly rising, means we've had to adapt. 
Luckily, there is an endless list of recipes out there for an alternative pancake. Take this beauty. 
Packed with leafy greens and a platter of rich nutrients, these are the number one for those looking for the perfect green protein pancake.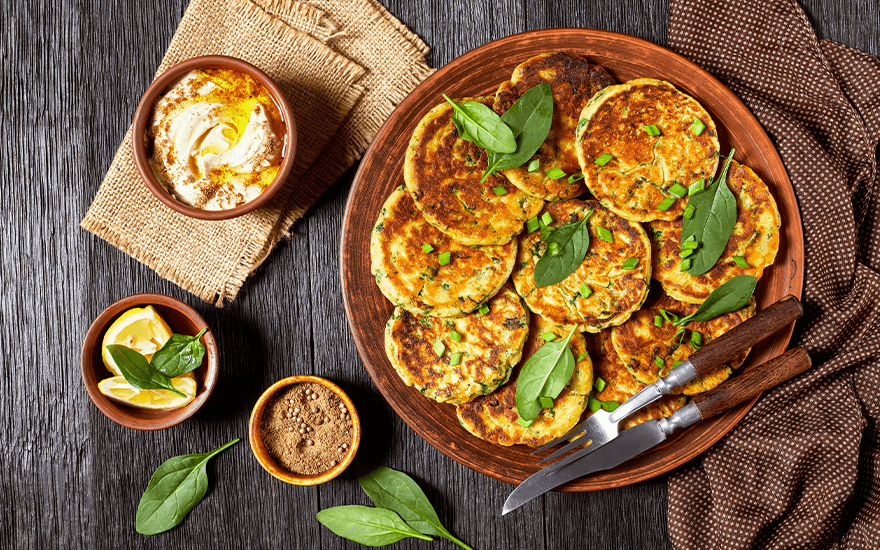 Ingredients

Instructions
Add all of the ingredients to a blender and mix until smooth. Be careful not to add too much water or they won't be as fluffy or cook.

Let the batter sit for 5-10 minutes. While it's resting, heat a non-stick frying pan over medium-high heat.

Spray the pan with some non-stick cooking spray then scoop the batter into the pan to form 6 small pancakes. You can vary the size if you want, it should make either 3 large pancakes, 4-5 medium ones or 6 small ones.

Let them cook until there are some bubbles in the batter and they're starting to look fluffy and cooked around the edges. Flip and cook for another couple of minutes.

 Serve them up and enjoy!

Nutritional info per serving
Calories 338kcals
Total Fat 4g
Total Carbohydrates 43g
Protein 34g
For the adventurous: Sweet Potato Protein Pancakes
Hands up if you think outside the box and enjoy doing things differently. We think these might be for you then.
At first glance, the thought of sweet potato and pancakes may seem a little outlandish, but delve a little deeper and be prepared to try something unique and you may be pleasantly surprised. They may not have the highest protein output on this list, but they will undoubtedly get a debate among friends and co-workers!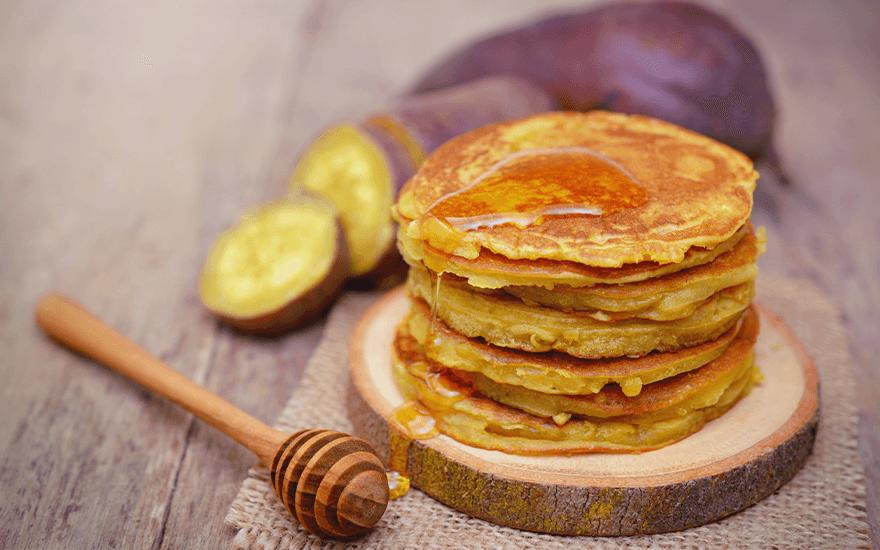 Ingredients
1 large sweet potato (to yield 3/4 cup, mashed), cooked

1 cup egg whites

1/4 cup of your preferred vanilla protein powder

1/4 cup flaxseed meal

2 tsp baking powder

1/2 tsp pure vanilla extract

1/8 tsp sea salt

1/8 tsp ground cinnamon

1 tbsp coconut oil, for cooking

chopped raw pecans, for garnish

pure maple syrup, for serving

Instructions
In a blender, add all the ingredients

except

for the coconut oil.

Blend this until very smooth.

To cook these sweet potato protein pancakes, heat a skillet or griddle over medium to medium-high heat and melt a little coconut oil.

Once the oil is melted, pour about 1/3 of a cup of the batter onto the hot griddle. This will make approximately four in pancakes.

Cook the pancake for 2-4 minutes, until the edges begin to turn from shiny to dull and bubbles appear in the center of that pancake.

Flip using a spatula and cook an additional 2-3 minutes, or until golden brown and cooked through.

Repeat with the remaining batter.

To serve, you can top with some chopped raw pecans and drizzle with pure maple syrup.

Nutritional info per serving
Calories 109kcals
Total Fat 4g
Total Carbohydrates 11g
Protein 7g
For the bulkers: Bulking Breakfast Protein Pancakes
Calories. Calories. Calories. If you are in 'bulking' season or want to add more size, use Shrove Tuesday to your advantage and maintain the gains.
This recipe offers huge numbers for protein but also packs a large dose of carbs and fats. These may not be the best for every morning and will be a little too heavy for some, but these are the perfect way to get the morning going for others.
Ingredients
4 eggs

50g oats

1 whole banana

1 scoop of

protein powder

(flavour optional)

Dash of almond milk

Raspberry jam

Peanut butter

Instructions
Break your four eggs into your mixing bowl.

Then, add the 50g oats into the bowl.

Chop the banana into chunks and drop into bowl.

Add your one scoop of protein power.

Add a small amount of almond milk which is around four teaspoons of measurement (this keeps the pancakes nice and flat and adds a moistness to them).

 Blend until everything is mixed together.

After pre heating your pan, pour the mixture into little pancakes about the size of an egg.

Flip the pancakes after 4-5 minutes and cook the other side.

Finally, cover one side of your pancakes in peanut butter and the other with raspberry jam. Grab a knife and fork. Eat. Indulge. Enjoy.

Nutritional info per recipe
Calories 1,266kcals
Total Fat 56g
Total Carbohydrates 71g
Protein 71g

There you have some delicious, protein-packed pancakes to whet your appetite this Tuesday. If you're looking for somewhere to grab your protein from for now or future, we recommend Crazy Nutrition – who has a range of flavors to suit any protein mix.
Related Articles
Flipping Good Dairy-Free Pancakes
Pancake Perfection(Opens in a new browser tab)
Protein Pancakes That Stack Up: The Definitive Pancake Recipe That Will Never Fall Flat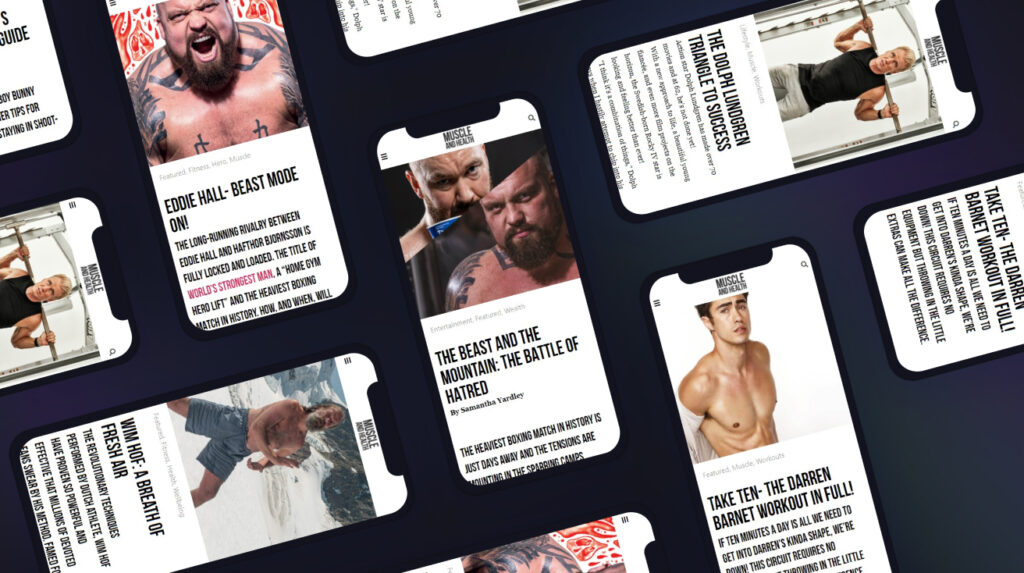 get all the latest mucle, health and wealth news delivered straight to your inbox