By Jack Franks
These days, it's a challenge to scroll down your social media feed without coming across a semi-naked person submerged in a container, their head the only visible part of a body no doubt going through significant trials.
2023 is, without a doubt, the year of the ice bath. With over 500 million views on TikTok, the viral #coldplunge trend is the perfect evidence.
To be more precise, the act of cold water immersion is one of the coolest trends of the year so far, with its many well-documented benefits causing lovers of hot and steamy showers to do a 360 in an attempt to rejuvenate their mind, body and soul.
Everyone knows someone who has dipped their toe in the sub-zero phenomenon, with Kim Kardashian, Harry Styles, Madonna and Lizzo just a drop in the ocean when it comes to celebrities showcasing their bravery to millions of followers.
However, cold water immersion and ice baths are nothing new, with the discipline dating back centuries. In fact, the journey to the snazzy and portable ice baths can be dated back to 3,5000 BCE, with Egyptians using cold applications for skin irritation. The Greeks developed the theory further before the practice crept into medicine in the 18th and 19th centuries.
That brings us to the present day, where Wim Hoff has taken over since the time of Hippocrates and Napoleon. As he is known, the Iceman even had his own TV show 'Freeze The Fear' in 2022. Even ahead of the impending summer temperatures, the cold dominates.
According to a report, the global cold plunge tub market size is estimated to reach USD 426.8 million by 2030, at a compound annual growth rate of 4.1%.
Now a key member – the quarterback or captain, if you will – of the wellness trends squad of the modern generation, is it time you jumped on the bandwagon and kicked your adrenaline into gear?
Muscle and Health pick out the best ice baths, plunge pools and cold water immersion tools to suit all budgets. Take a deep breath…
Polar Recovery Tub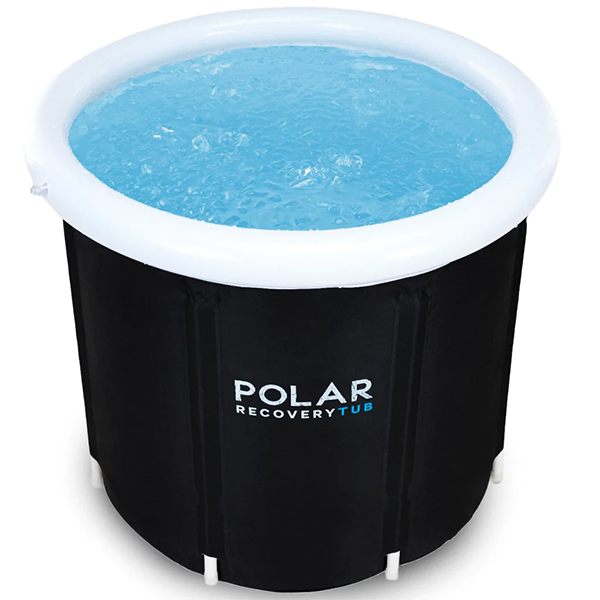 Type of ice bath: Tub
Size: 80cm diameter x 75cm height
Capacity: 270 liter
Polar has an impressive collection of ice baths, and they are on sale too, making it the perfect place to shop for ice baths for all needs, sizes and budgets. 
Marketed as 'The Ultimate Portable Ice Bath', it features an easy flow drainage system and cover. It's great for an athlete looking to boost recovery or get their adrenaline fix at home. An affordable winner for a tub on the rise.
Price: £99
Buy at Amazon or directly from Polar Recovery
Lumi Recovery Pod MAX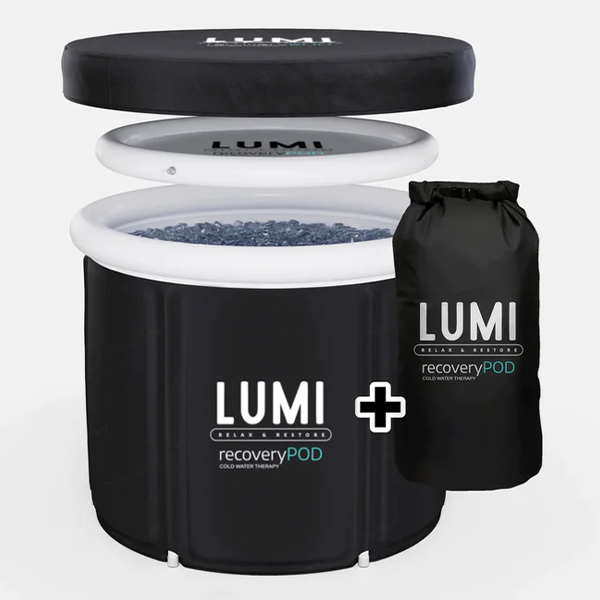 Type of ice bath: Pod
Size: 90cm diameter x 75cm height
Capacity: 420 liter
If you haven't come across Lumi, you are one of very few. A simple swipe or scroll could lead to this increasingly popular brand – now one of the biggest on the market – reeling you in with its various cold immersion products.
The pinnacle of them all is the Recovery Pod MAX, which has 5x layers of Thermo insulation and 100 liters of extra capacity than the company's Original Pod, so it's worth paying that little bit extra to get a better experience. 
Price: £125.
Buy here
Ice Barrel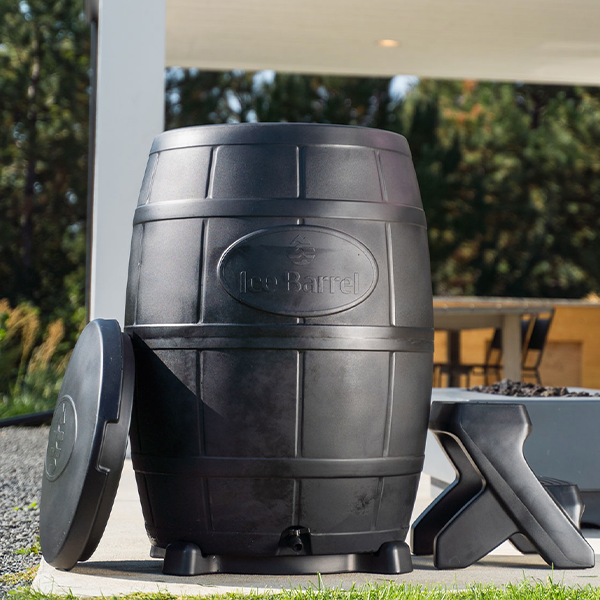 Type of ice bath: Barrel
Size: 78cm diameter x 106cm height
Capacity: 400 liters
This one truly does what it says on the tin. Or barrel, in this case. 
Created by designer, founder, and CEO of the Ice Barrel, Wyatt Ewing, felt the process of loading ice in a more traditional tub or bath was too much of a lengthy and arduous task hence why he created a more convenient method.
He decided that the product would need to be easy to fill and drain, hold its temperature for a suitable length of time, be safe to use for most people, and have a uniquely stylish design. When he put all of this together, the Ice Barrel was born.
Price: $1,999.97
Buy here
The Ice Pod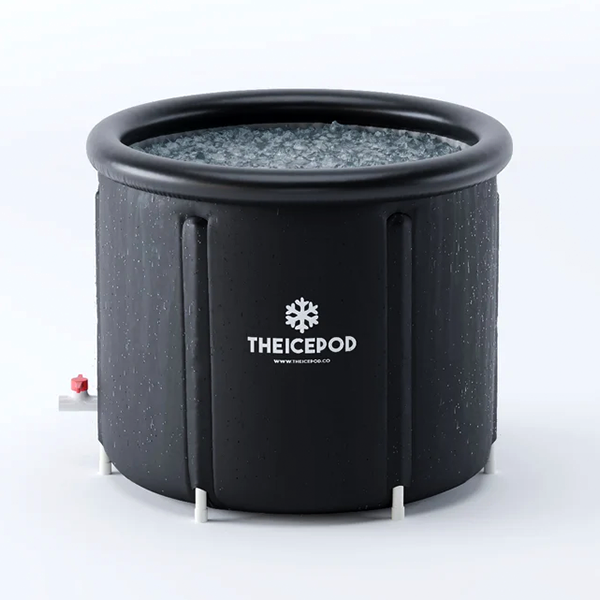 Type of ice bath: Pod
Size: 80cm diameter x 72cm height
Capacity: 300 liters
One of the newer kids on the ice block, this Canadian startup, has designed a super affordable cold plunge pool that keeps water cold for 4-5 days. That means you won't need to rock up at the freezer aisle looking for ice constantly. We are already sold.
The IcePod provides a perfect solution for those looking to reap the benefits of ice baths without spending a fortune or finding a lake to crack the ice in the winter. There's the original version and a PRO alternative, which costs more but is a better option for athletes.
Price: £99
Buy here
The Cold Plunge Pool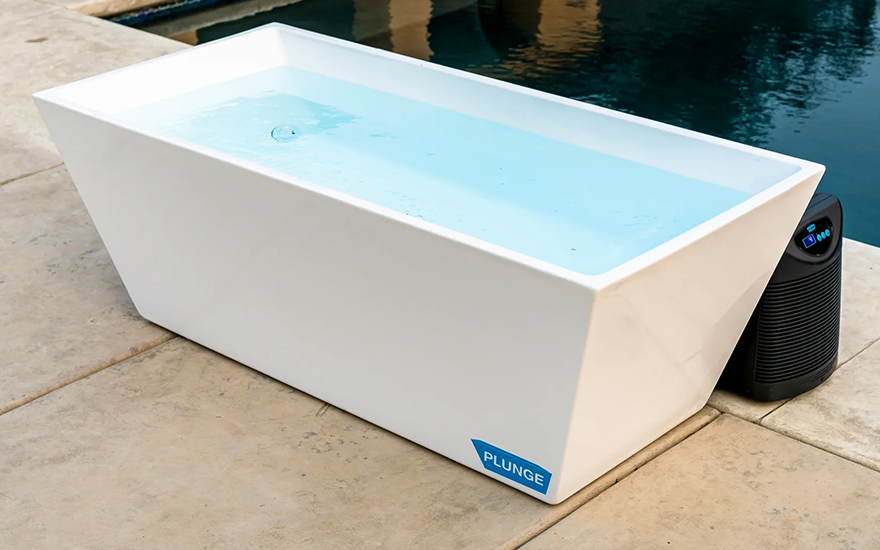 Type of ice bath: Bathtub
Size: 170cm long, 61cm high, 80cm wide
Capacity: Around 300 liters
Who said plunge pools couldn't be sexy? 
This option offers a spa-like experience right in your home, with a classy design allowing both indoor and outdoor use. The Punge requires no plumbing and provides cold, clean water whenever you want it, with each tub being made by hand and packaged with love.
Founders Michael Garrett and Ryan Duey, both with a background in float therapy, created the product in lockdown and came together to provide a product which fulfilled their appetite for wellness and offered a high-spec option for buyers. "All boats rise". Nice slogan too.
Price: $4,990
Buy here
Brassmonkey Ice Bath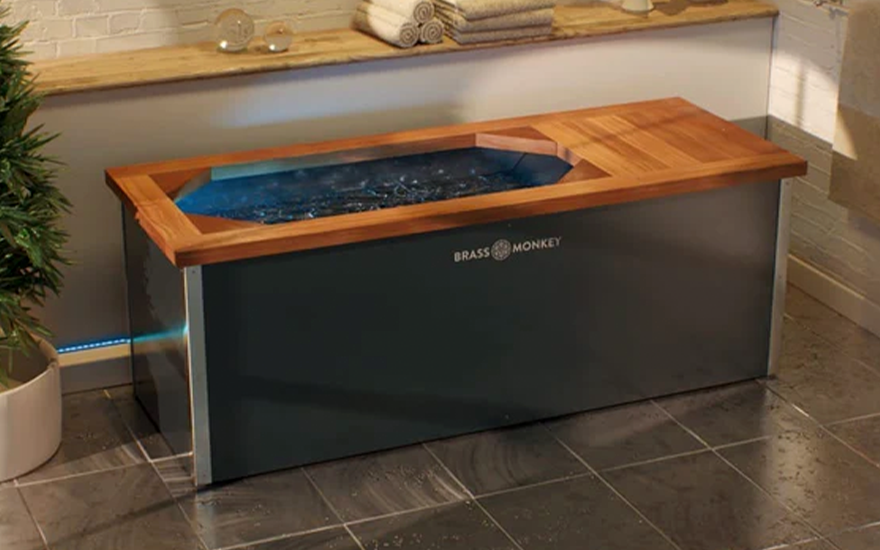 Type of ice bath: Bathtub
Size: 200cm long, 72cm high, 76cm wide
Capacity: Around 300 liters
For the sophisticated plunger, Brass Monkey, in their words, 'exists to help people develop a strong and resilient mind and body' and 'to rethink what we once thought was challenging.' They boast a range of high-spec products, all of which reach temperatures of -0°c, 240 style options and zero ice bags required. 
Their Ice Bath is modeled around a standard domestic tub with that oh-so-familiar reclined position. Just swap out the bubble bath for automatically created ice shards; if you have the space, take the party outside. 
Yes, it's pricey, but if you have the money and are looking to invest in the best, follow in the footsteps of everyone's favorite home instructor, Joe Wicks.
Price: £11,250
Buy here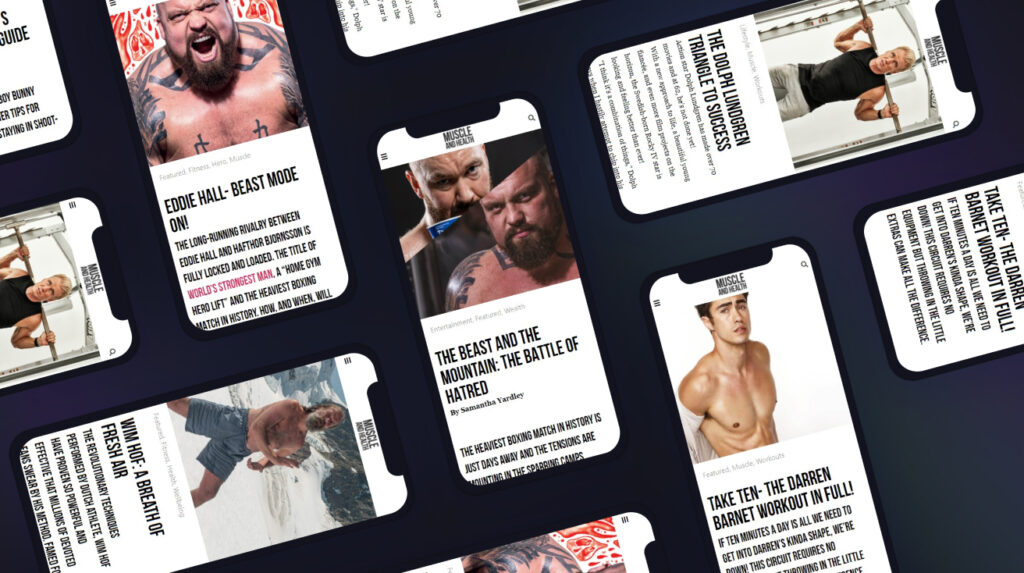 get all the latest mucle, health and wealth news delivered straight to your inbox