British health: report reveals that most Brits do not feel in complete control of their health
It has been over a decade since Britons have felt their healthiest – both physically and mentally – according to a new State of Healthy Behaviors Report by Noom, the digital health platform focused on behavior change. Close to nine in 10 (88%), or 24 million Britons2, do not currently feel like they are at their peak physical and mental fitness. In fact, on average, it's been 13 years since they felt this way.
The report, which surveyed 2,024 UK adults, found that 85% of Brits do not feel in complete control of their own health. While many attempted to improve their wellness over the past year (91%), millions felt that they fell short despite their best efforts. Overall, more than two in five feel that their weight (49%), daily physical activity (45%), amount of sleep they get (45%), and diet (44%) still need improvement. Let's take a deeper look at what's happening with British health.
THE PANDEMIC LED TO BAD HABIT FORMING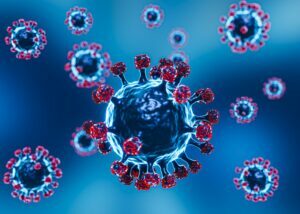 In the wake of the pandemic, Britons have faced many challenges as they continue to learn to adapt to a new normal. The bad habits millions report they developed during the pandemic3 are likely why the majority (85%) feel they are not in complete control of their own health today, with women more likely than men to say they formed more bad habits than good ones during the pandemic (73% vs 60%).
Despite their ambitions to live healthier lives, many feel discouraged when they think about the challenge ahead. More than a third of those who see areas for improvement admit they feel guilty that they haven't done enough to improve (38%) or say they feel disappointed in themselves for neglecting this area of their health (36%). More than a quarter are stressed about whether they can make the improvements they need to (27%), and many don't know where to begin to make healthy lifestyle changes (18%).
BRITS ARE BEING LET DOWN BY HEALTHCARE SERVICES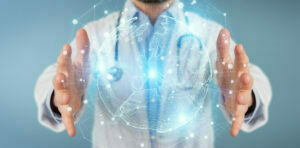 Although obesity is linked to poorer mental health outcomes, poorer quality of life, and some of the leading causes of death4, Britons feel that they are not receiving the support they need from their doctors. 
While many regularly visit their GP5 and one in six (14%) have been advised to get their lives on a healthier track, the majority don't feel that their doctor is a true partner on their journey (87%), with nine in 10 (92%) reporting that their GP does not hold them accountable for their health and wellness goals.
Of the barriers that stand in the way to success, almost a third of respondents identified a lack of accountability to anyone as being one of the biggest barriers to improving their health (31%), making it easier to let things slip. Others feel that not being able to access local resources such as gym memberships, healthy food, and mental health services stands in their way (31%). More than a quarter (26%) report that they don't have the time to commit to making the modifications needed to live a healthier lifestyle.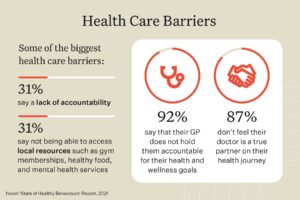 BRITS FEEL THEY OWE IT TO THEMSELVES TO FEEL PHYSICALLY BETTER
Despite this, millions of Brits are motivated to make the necessary changes in their life in the days ahead (93%), with 88% recognizing that the small changes they make today will make a difference to their health in the long term. The most popular reason for this mission is to physically feel better (62%).
Many are seeking changes as a gift to themselves with about one in two (49%) feeling they owe it to themselves to be the healthiest version of themselves possible, and half wanting to feel comfortable in their own skin (50%). Others are doing it for someone else in their life, such as a spouse or partner (11%), with nearly one in two parents feeling motivated to make healthy changes for their children (48%).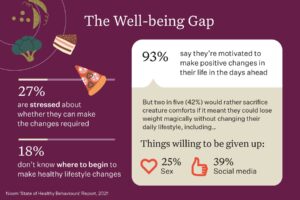 BRITS ARE GEARING THEMSELVES UP TO MAKE SMALL CHANGES
Despite this motivation to make changes, millions of Brits predict that it will not be an easy road. Many don't feel confident that they can make the small changes necessary to live a healthier life (81%), whilst others believe that making changes will require work and sacrifice. More than three quarters (78%) think it will be difficult to change their current habits to become healthier, and nearly a third (30%) believe that maintaining a healthier lifestyle would require a significant amount of work on their part.
Because of the perceived difficulty in forming healthy habits, more than two in five Britons (42%) would rather sacrifice something in their lives or do something uncomfortable than make the changes needed to lose weight. 
Of those, millions would be willing to sacrifice creature comforts like sex (25%), and social media (39%), for an entire year if it meant they could lose weight without having to change their daily lifestyle. The task is so daunting for some that nearly a fifth would be willing to endure a root canal (18%), attend an ex's wedding (22%), or give up two weeks' vacation (20%) if it meant they could magically lose the pounds with no change on their part. 
Christine May, Ph.D., Researcher at Noom, commented: "The research shows the strong impact that COVID-19 restrictions have had on the nation's health and habits, with many struggling to establish healthier lifestyles despite their best intentions. Given the journey we've all been on, it's perhaps not surprising that so many of us feel our health is somewhat out of our control. Identifying our barriers to maintaining healthy habits and making small changes to our routines and mindset can help us to overcome hurdles and ultimately achieve our long-term health goals."
Andreas Michaelides, Ph.D., Noom's Chief of Psychology, adds: "My advice to those looking to improve their health – whether right now or in the New Year – is to start with small habits that fit into your daily routine rather than an all-or-nothing approach. It's predicted that over half of us will give up on our New Year's resolutions in the first two weeks of January (59%), often because our goals are over-ambitious or unrealistic, and we bite off more than we can chew. Smaller, achievable goals are more likely to turn into long-term, sustainable health habits."
1 66% or 12 million admit they formed more bad habits than good ones during this time
2 Extrapolated from 27,502,823 Britons aged 18+ (Source: UK Office of National Statistics, Annual Population 2021)
3 66% or 12 million admit they formed more bad habits than good ones during this time
4 CDC, Adult Obesity Causes & Consequences, 
5 Nearly a third (29%) go every six months, or more often
So that's the state of British health for you. Want to change your body? It starts by changing your body. Read up on WINNING THE WEIGHT LOSS MINDSET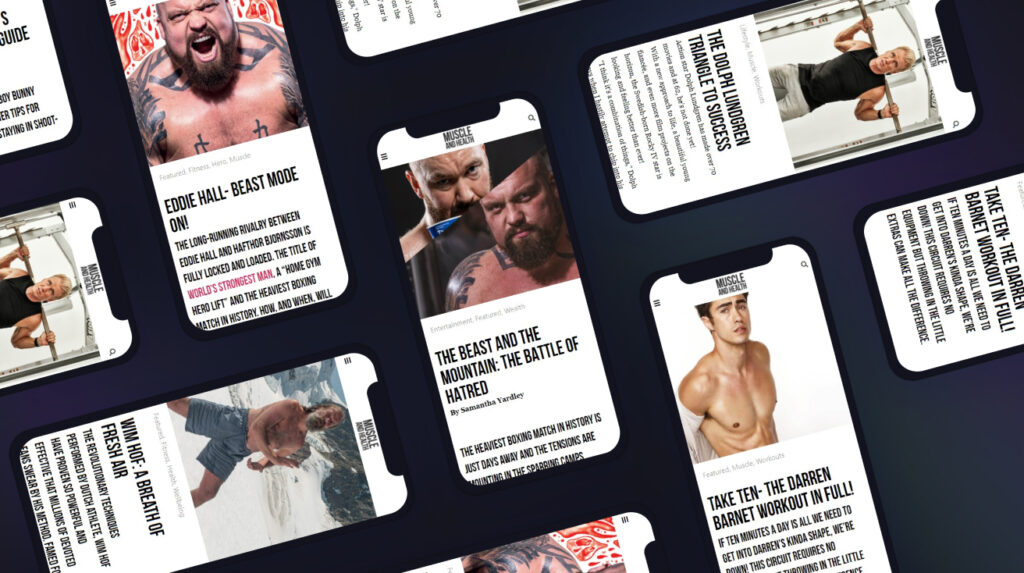 get all the latest mucle, health and wealth news delivered straight to your inbox