By Jack Franks
"Any idiot can run a marathon; it takes a special kind of idiot to run an ultra marathon." No one really knows who Alan Cabelly is, but he is the man who coined a phrase that universally resonates with ultra-runners across the globe.
Ultra-running is not for the faint of heart. Covering any distance longer than the traditional marathon length of 42km, races can span from 50km to over 320km, with various styles and forms of terrain making for unique and aesthetically transformative routes.
From desolate sand-kissed deserts to snow-capped peaks offering epic views of valleys and canyons, the ultra-running scene boasts several thousand races that span all seven continents. From Mozambique to the Virgin Islands, Taiwan to Antarctica, people of all backgrounds, cultures and fitness levels have caught the bug.
The appetite for longer races and a more physically and mentally demanding challenge has grown since 2009. According to a report in 2020, participation in ultra-running events increased 345 percent over the previous decade, expanding from 137,234 to 611,098.
There are several factors for the sharp spike in interest. While the majority are connected to the physical limitations of the body and overcoming a seismic and potentially life-altering distance, being part of nature and beauty is a huge pull.
"In 2015, during my holidays in the Polish mountains, I came across a mountain run and signed up immediately. It was my first mountain run, and immediately I came in second place. However, this was not the most beautiful thing, but how much this run gave me joy, it was love at first sight," says ultra-runner Paulina Krawczak.
"I fell in love with mountain running that day; running in the mountains became my home."
With 809 major races planned across the world, starting with the Seven Trails Ultra Festival in Savannah, USA, this weekend, here are the picks of the bunch, selected because of their epicness, scale, views, history and uniqueness.
 Marathon Des Sables, Morocco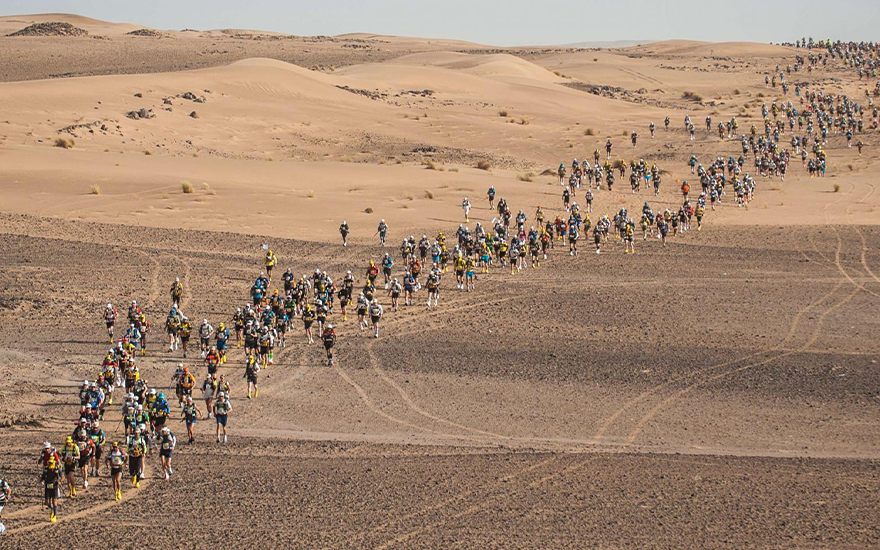 Location: Sahara Desert
Distance: 156 miles (251 km)
Date: April 21st to May 1st
Register: Registration for the event has now closed
Fun fact: 17,000 packs of 1.5 liters of water will be used at this year's race.
https://www.marathondessables.com/en
The tale of the legendary Marathon Des Sables originates in 1984. Frenchman, Patrick Bauer, was 28 years old when he decided to make for the Sahara Desert to traverse a 350 km expanse of uninhabited desert. He was on foot and alone. There were no villages, oases, or watering places. 
A 12-day journey followed, Bauer, carrying a 35 kg rucksack with food and water to his end goal. The staggering feat inspired him to create the now-famous ultra-marathon in Morocco, which will host its 37th edition in 2023.
Regarded by the ultra-running community as one of the most brutal and unforgiving races on the planet, the scorching midday temperatures of up to 50°C beam down on athletes as they cover a distance of approximately six traditional marathons. More than 1200 participants are set to conquer the punishing route, with more than 500 people overseeing the event from a logistical standpoint. 
View from a participant: "The race was hard. I'd never had to deal with blisters before or have to worry about sunburn so much. My trainer, Rory Coleman, said I was broken at the end. He wasn't far from the mark. I've never taken painkillers before, but I couldn't get enough by the final stage. The main thing is this race is not set up for old geriatrics like me." Sir Ranulph Fiennes
Fire & Ice Ultra, Iceland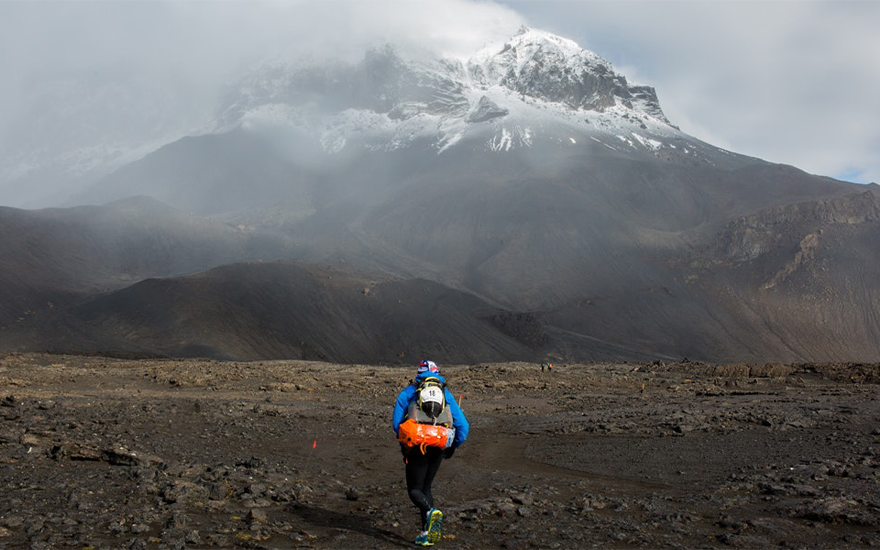 Location: Vatnajokull National Park
Distance: 155 miles (250 km)
Date: August 28th to 2nd September
Register: Registration for the event here
Fun fact: The Northern Lights are regularly seen by competitors.
Only in Iceland can you run through lava fields and glacial rivers, pass by mud pools and geysers, and then catch glimpses of the northern lights at night. Pair this otherworldly landscape with six days of self-reliant running in the wilderness – like in the Fire and Ice Ultra – and you have a 'bucket list' worthy adventure. Not to mention, self-sufficiency takes on a new meaning when planning for cold, wet, unpredictable conditions.
Known as the toughest multi-terrain race in the world, participants have likened the landscape to one only witnessed in Science Fiction cinematics. The self-reliant nature of this race makes it so challenging, with the only help coming from the Fire + Ice Team, who pitch up tents and hot water. The rest is up to you.
View from a participant: "We woke to a cold, damp, and windy morning; the mountain we had first to get over was covered in mist; grateful for the flags, we had no problem navigating our way up and over it. We finally saw greenery on this stage; the sand dunes were gorgeous to run up and down, grass at last! I loved this stage; it had everything, rocks, sand, tracks, even running through heathers, and best of all, we knew at the end we would be taken to the natural hot spas where we could shower!" Karren Hathaway
Ultra Trail du Mont Blanc, The Alps
Location: France, Italy and Switzerland
Distance: 110 miles (170 km)
Date: 22nd to 28th August
Register: Register for the event here
Fun fact: It's one of just a few routes where you need to carry your passport as you pass through three different countries
Since its start in Chamonix in 2003 and building on that success, the UTMB Mont-Blanc has grown to be the world's leading trail event. It's the inspiration behind the creation of the UTMB World Series circuit, based on the same founding principles: surpassing one's limits, fair play, respect for people and the environment and solidarity. 
Most people finish the race in 32 to 46 hours, though the best of the best run through the night and tend to finish in 20 hours. With 10,000m of climbing, it's no surprise that only 60% of participants finish each year, with hellish mountainous climbs and demanding descents frequenting the route, which soaks in the beauty of the Alps.
View from a participant: "As the horizon brightened near Col Ferret I had my favorite moments of mountain splendor in the race.  Giant peaks and grand ridge lines painted a silhouette that was nothing less than breathtaking. The descent into Switzerland was the most frustrating terrain of the race, with horribly slick mud.  I had to run off the side of the trail to stand any chance of not falling down." Jason Schlarb
Comrades Marathon, South Africa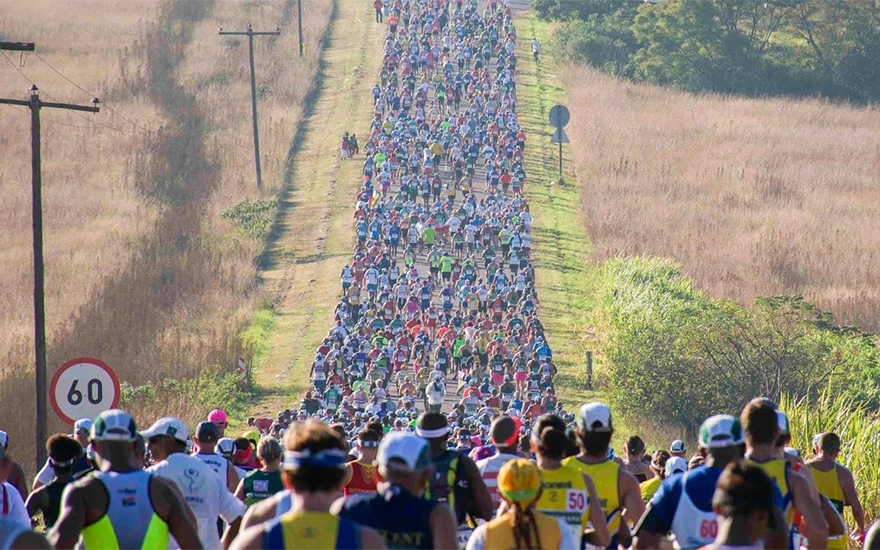 Location: Durban to Pietermaritzburg (and vice versa)
Distance: 55 miles (89 km)
Date: 11th June
Register: Register for the event here
Fun fact: One of the oldest running races in the world
In a single line across Commercial Road, outside Pietermaritzburg City Hall, stood thirty-four official and four unofficial, scantily clad men. They were waiting for someone to fire a pistol and send them on a pioneering journey, on foot, to the coast in faraway Durban, an unimaginable 54 miles away.
Shortly after 7 o'clock, a gunshot roared across the city, and the greatest sporting extravaganza in the world was underway. Covered in brown, suffocating dust but undeterred by it, Rowan finally strode down West Street, at the head of the convoy, to the finish line outside the City Hall. His time was 8h 59m. It remains, to this day, the slowest winning time.
This is the Comrades Marathon, the idea of World War I veteran Vic Clapham who wished to commemorate the South African soldiers killed during the war. Boasting one of the largest prize money pots, the tarmac and gravel-dominated route, which climbs around 54 miles (87 km) and descends 56 miles (90 km), has a set of grueling hills called 'The Big Five' to add to its difficulty.
View from a participant: "The beauty of it all though was that they were all so humble as no one cared what position you held in society they were all united by only one thing – their absolute love for running, being on that road to free their minds and being in community with each other." Marissa Damons
Dragon's Back Race, Wales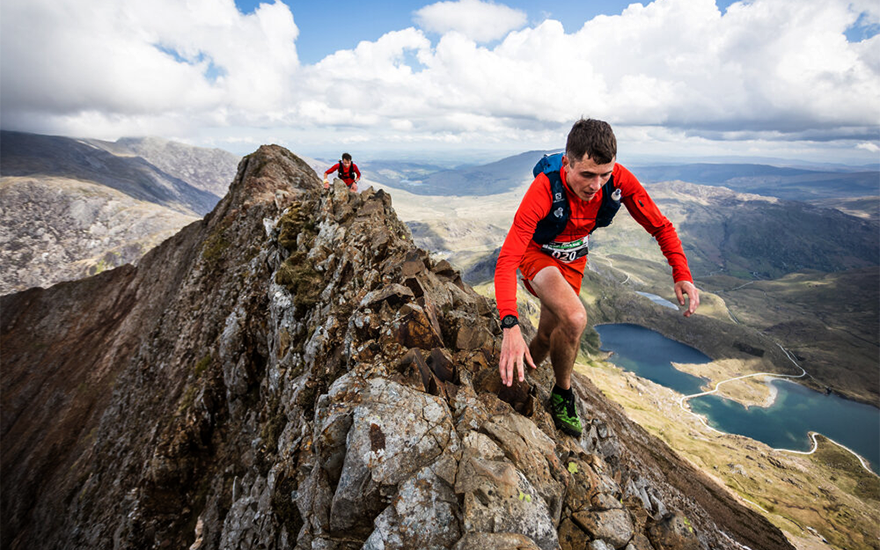 Location: Welsh Mountains
Distance: 236 miles (380 km)
Date: 4th to 9th September
Register: Register for the event here
Fun fact: The total ascent adds up to two times the height of Everest
The Montane Dragon's Back Race route is inspired by the 1992 race, in which the inaugural Dragons tackled Wales' uniquely wild, trackless, and remote mountainous terrain. Today, it is considered the toughest mountain race in the world. 
We can see why. Six days of relentless climbs – including a scramble across Crib Goch and a full traverse of the Snowdon horseshoe – see's participants covering an average of 63 km per day. That's the equivalent of 1.5 marathons per day.
Crossing both the Brecon Beacons and Snowdonia National Parks, the overall height gain of 57,087 ft is monstrous, peaking on the first day with 12,467 ft of rocky and treacherous climbs. Tented communities await you after each day of racing, with the community of participants being granted access to a hot meal, on-site medics and a good night's sleep.
View from a participant: "I bounded down the hill through chest-high bracken and thought I was only a stone's throw away.  I phoned my girlfriend and sister, cried a bit as I knew I had it in the bag and cracked on.  I got lost, went through a farm, and ended up at the bottom of a cliff with the castle on top.  There was no way up, so I had to take a bit of a detour and then start the slog up the hill, which was incredible, all as the sun was setting, and a beautiful fox ran in front of me.  I'd never seen such an awe-inspiring finish for a race, and I couldn't control my emotions.  As I entered the castle, I was extremely choked up and delighted to cross the finish line." Steve Hayes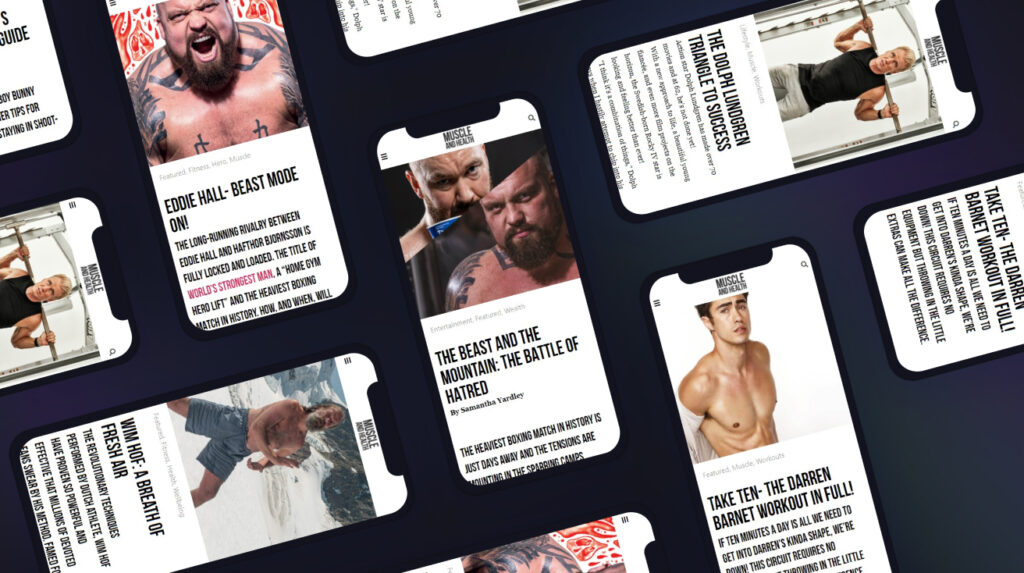 get all the latest mucle, health and wealth news delivered straight to your inbox