By Jack Franks
I'm a man of endurance who enjoys the long-term suffering that accompanies physical activities that tick well over one hour. 
Whether running road, trail or track, throwing myself into a CrossFit WOD, or playing recreational sports—endurance fitness is a passion. 
So I know that choosing the right nutrition products is essential to maximize performance and consistency in the modern day. Despite its universal popularity amongst fitness enthusiasts across the globe, I'd just recently realized the importance of correctly fueling before, during and after exercise.
Having tried a range of products across the market, sampled gels, powders, bars and tablets, I struggled to find a company that offered everything I needed while maintaining taste, ease of access, and the right mix of body-boosting benefits.
Then, I discovered STYRKR.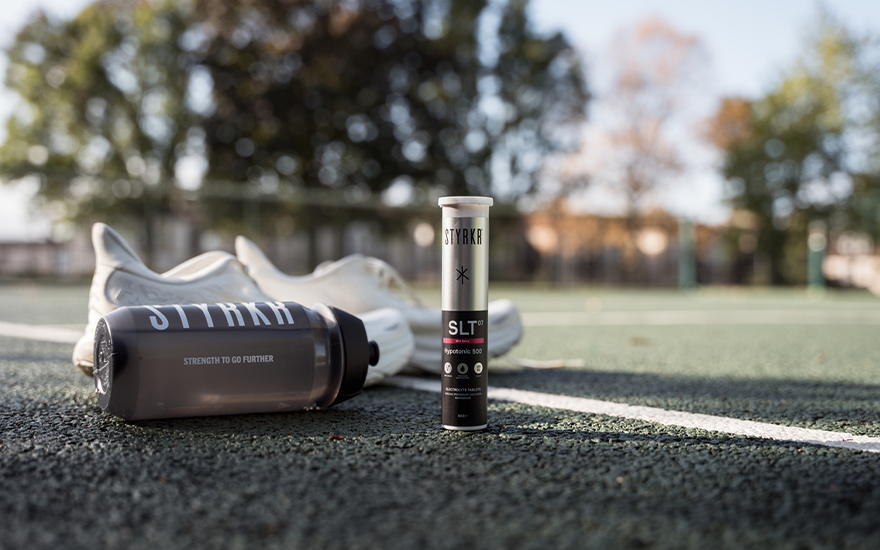 Who is STYRKR?
STYRKR is all about nutrition. Drawing inspiration from the Old Norse word for strength, they're all about the everyday athlete, helping them with breaking their endurance goals as well as physical boundaries.
The guys at STYRKR teamed up with the big brains at the University of Hull to develop a line of gels, drinks, and salts that'll reduce fatigue, lower energy spend, and crank up overall performance, giving you the oomph you need to do better and go further.
With serious innovation on their minds, STYRKR's bringing in supplements that work their hardest to combat fatigue and provide energy, no matter what you're eating. 
Their drinks, gels, and salts have been engineered to tackle fatigue, keep you powered up, and boost your output, no matter how long you've been going.
Based on the ethos that every second, minute, and hour counts, STYRKR is always looking to improve and stay ahead of the game in athletic nutrition so you can do the same out there. 
What products do STYRKR sell?
When it comes to Styrkr's drinks, gels, and salts, prepare for severe effects that will positively impact your body, especially in the bloodstream. These products are specially engineered to reduce fatigue, save energy, and keep you strong during endurance activities.
But let's talk specifics. Styrkr's MIX and GEL products are all about that dual carb ratio. Why? Because it works, plain and simple. When you're in intense activity, your body relies on carbohydrates for energy. And it turns out that using dual sources of carbs allows your body to absorb more per hour.
That's why Styrkr's drink mixes and gels contain two transportable carbohydrates: maltodextrin and fructose. 
They have a specific ratio of 1:0.8 to optimize your body's ability to absorb those carbs and avoid discomfort in your gut. Styrkr has researched to find the best ratio so you can focus on pushing yourself without any worries.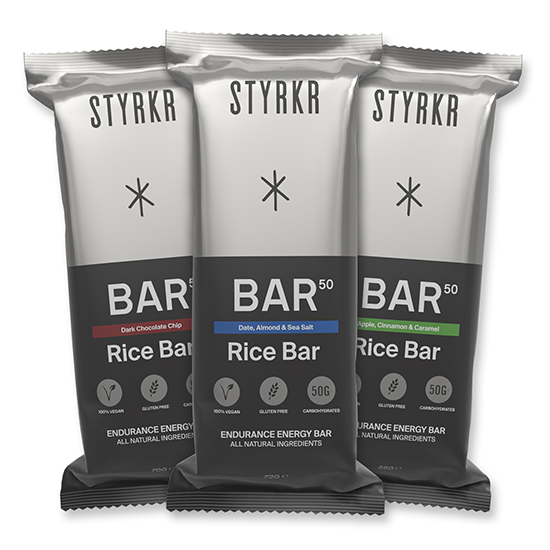 BAR50 is an outstanding high-energy bar that offers a complete nutritional package. It contains the ideal balance of carbs, proteins, fat, and fiber to keep you going strong.
But BAR50 does more than just satisfy your hunger. It's designed to combat flavor fatigue during long adventures, ensuring you stay fueled and focused.
These delicious energy bars provide a much-needed boost of energy that allows you to maintain maximum output for extended periods, contributing to improved overall performance.
Developed by professional sports nutritionists and tested by athletes, these quick-release energy bars are practical and incredibly delicious. They're easy to digest, gentle on the stomach, and 100% vegan-friendly.
Plus, with three enticing flavors to choose from—Date, Almond, and Dark Chocolate; Apple, Cinnamon & Caramel; and Dark Chocolate Chip—you will find a favorite.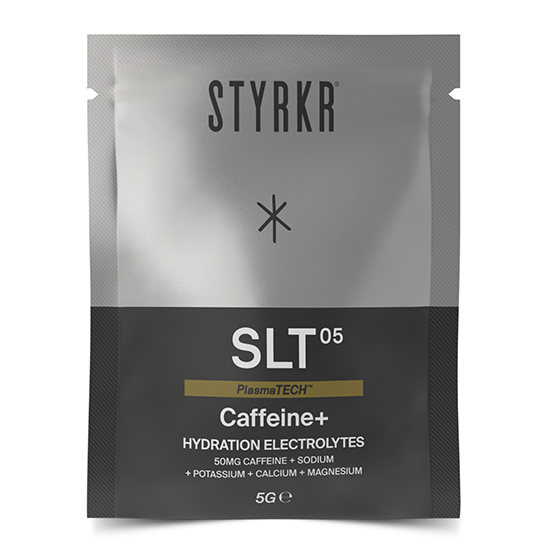 If you're engaging in endurance activities, you will understand the importance of staying hydrated and replenishing your energy reserves. That's where STYRKR's quad-blend sports electrolyte powders and hydration tablets come in to make that process a breeze.
When your body doesn't have enough of those essential sodium, potassium, magnesium, and calcium ions, it can significantly impact the proper contraction of your muscles. This means they won't be able to perform their usual functions at their best, including critical processes like breathing, heart rate control, and digestion.
But fear not! STYRKR's quad-blend electrolyte powders and hydration tablets are specifically formulated to give your body the necessary ions to keep everything running smoothly. 
These products will help optimize your muscle function and ensure you can perform at your peak during those endurance activities.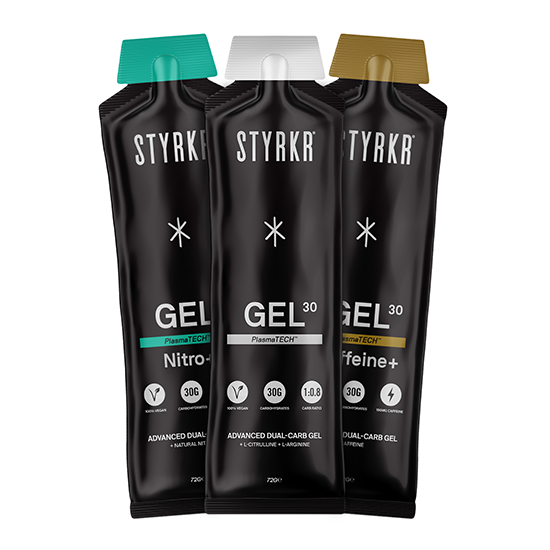 These energy gels are a game-changer for individuals engaged in intense physical activities. Designed to provide a quick and convenient energy boost, they're formulated to rapidly deliver a maximum dose of carbohydrates, allowing users to sustain peak performance for extended periods and ultimately improve their overall performance.
Not stopping there, these energy gels also include vital electrolytes. This feature ensures continuous hydration, helps replenish electrolytes lost through sweat, and plays a crucial role in combating the onset of fatigue.
Whether you're hitting the pavement for a run, conquering challenging cycling routes, or giving it your all in the gym, these energy gels are an indispensable addition to your training arsenal.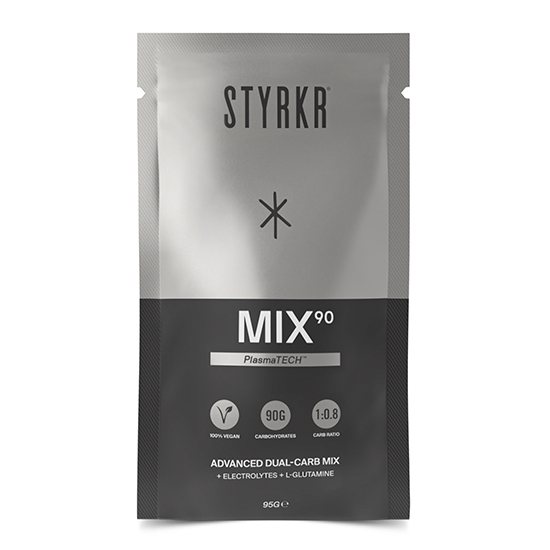 STYRKR energy powders have become the go-to solution for athletes in various endurance sports. These powders have got you covered whether you're cycling, running, hiking, climbing, swimming, surfing, or even boxing.
Their purpose is simple: to give you that much-needed energy boost when it matters most. When mixed with water and consumed, they quickly go to work, delivering an optimal dose of carbohydrates precisely when it counts.
But that's not all—Styrkr drink powders are all about going the extra mile. They contain L-glutamine and essential electrolytes that work together to combat fatigue and enhance hydration. 
This combination allows you to push yourself harder, train more intensely, and sustain your performance for more extended periods than ever before.
Tried and tested: My thoughts on the STYRKR range
Let's start with the Striker Energy Gel. One of the first things I noticed was how easy it was to open the package—a definite plus—as it saves valuable time during physical activity and racing.
In terms of appearance, the gel looked similar to other energy gels on the market. But, as for the taste, it had a clean and fruity flavor that I immensely enjoyed.
The texture, however, was a bit different. I describe it as a bit gloopy. While the taste was great and didn't cause any stomach issues, the consistency was a bit thick for longer distances. It could be a suitable option for shorter races, like a 10K, but I might need to supplement it with other options for longer distances.
Moving on to the STYRKR Energy Drink Mix. I've always preferred carb drinks over regular meals before workouts. The taste was surprisingly fresh and easy to consume, unlike some unquenchable competitors on the market. I performed well during my training sessions and workouts as the energy mix flooded my body with the necessary carbs and hydration to maintain energy even into the latter parts of the sessions. Mixing it with 500 ml of water created the desired consistency and taste, and it's so simple to chug down.
Finally, the STYRKR Electrolytes—specifically the SLT 05 Hydration Electrolytes—are my favorite product within the range. 
While I didn't get to evaluate their performance during an actual race, I usually sip on electrolytes throughout the day to maintain overall hydration. The taste of the electrolytes was fruity and refreshing, making it the best-tasting mix I've tried so far.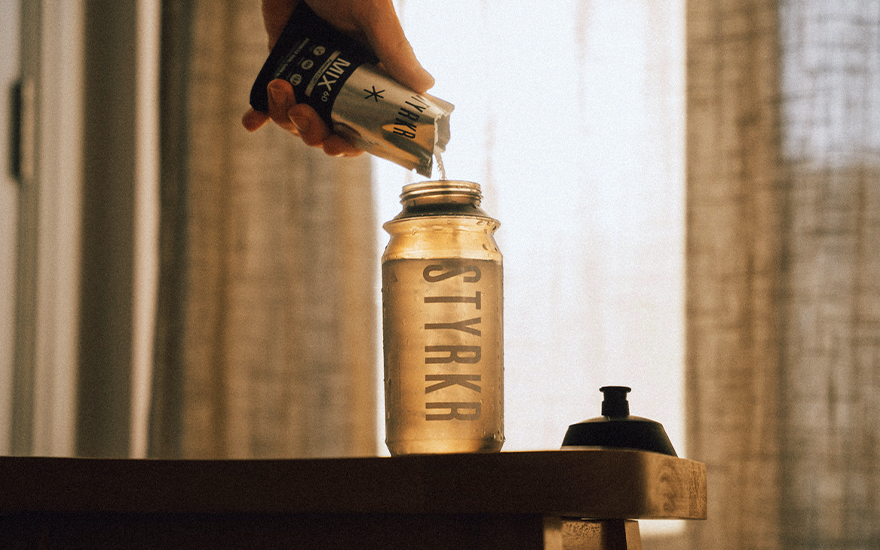 Plus, the electrolyte content in STYRKR is significantly higher than other brands, adding to its effectiveness.
Looking at the full range, I can confidently say that STYRKR is the most rounded and performance-enhancing nutrition as well as hydration package I've tried. 
I should have mentioned the Energy Bars, which are so tasty that they rival sugary cereal bars. Munching one of them one and a half to two hours before a session is the perfect preparation for me.
The generous size of the Gel pack, offering 30g of carbs in a 60 ml package, is another advantage of the range. The taste and hydration are pleasing, making it a great alternative to your current brand.
Although the Striker Energy Gel is not my favorite in terms of consistency, it's still a good product with plenty of carbs, and for the price, I would pick it over competitors all day long. The Drink Mix and Electrolytes are fantastic products, and I will continue using them.
Learn more about Styrkr
Want to connect and find out more about STYRKR? Here are some places to find them:
Chat to their Customer Experience team, or if you have any questions, get in touch.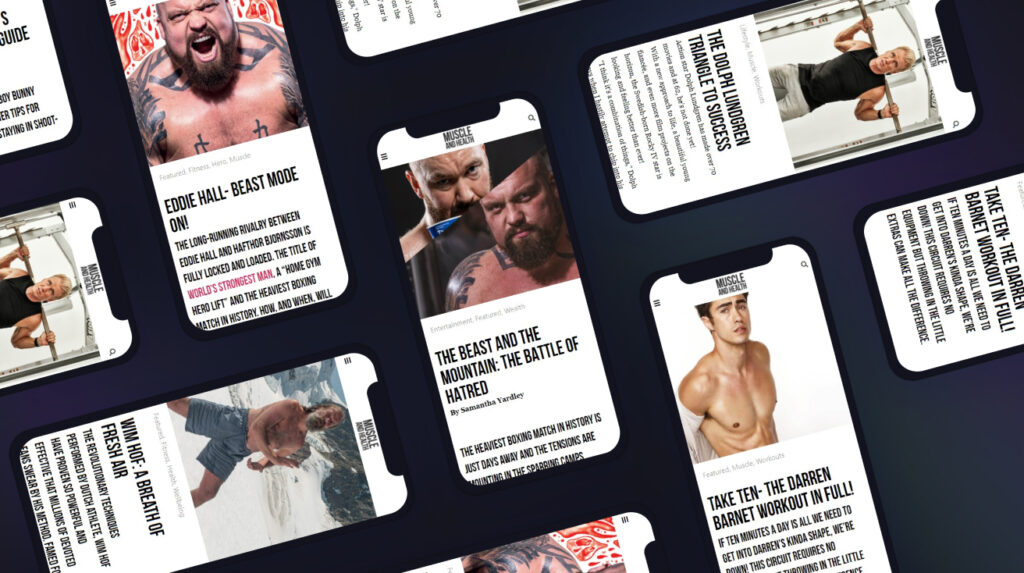 get all the latest mucle, health and wealth news delivered straight to your inbox