Try these liquid-based sources of pure health from the mouthwatering honeysuckle cookbook to get you in tip-top shape.
COLD BUSTER TEA
MAKES: 8 to 10 drinks
TIME: 10 minutes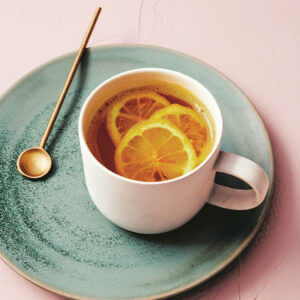 When you're not feeling your best, this tea works wonders. It's inspired by the traditional Korean citron tea, which is a honey and yuzu citrus mixture. While technically not a "tea," this cold buster offers all the soothing goodness of a hot tea to pacify a sore throat when you're sick (and just the right answer if you're looking for a more natural solution). Nzung adds turmeric for its anti-inflammatory properties, and fresh ginger because it's great for soothing coughs. She recommends buying pregrated ginger as an easy shortcut.
• 1 2" piece fresh ginger, peeled
• 1 cup raw honey
• 1 tbsp ground turmeric
• 2 lemons, halved length-wise, thinly sliced, and seeded
• 1 orange, halved lengthwise, thinly sliced, and seeded
• Hot water
1. With a mortar and pestle, grind the ginger into a paste. In a large bowl, mix together the ginger, honey, and turmeric, then stir in the lemons and orange. Mix well.
2. For each serving, put two heaped tablespoons of the mixture into a mug (citrus and all), fill with hot water, and stir to blend.
3. Transfer any leftover citrus mixture to an airtight container and refrigerate up to one month. You can use it straight from the fridge when you're ready for more.
4. Note: If you're in a hurry, you can use two tablespoons store-bought minced ginger or ginger paste, from a tube or jar.
OVERNIGHT THAI MILK TEA
MAKES: Four 16-ounce drinks
TIME: 10 minutes, plus steeping and chilling time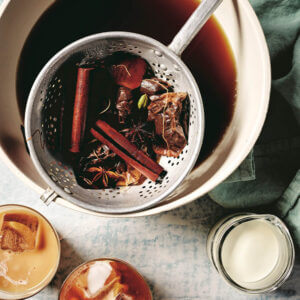 "Whenever I walk into a Thai restaurant, I immediately think of my favorite Thai meal combo: pad Thai with a creamy Thai iced tea. That glowing, bright orange elixir is completely hypnotic and a treat every time. When I create Thai tea at home, I do my best to leave out the artificial food coloring and flavor additives that some places use. Steeping black tea with cloves, star anise, cinnamon, and cardamom produces a softer amber color while also generating all the natural, complex flavors that make this drink unique. Almond or coconut milk works as a dairy- free substitute for the half-and-half" says master cook extraordinaire Dzung. 6 tea bags of strong black tea (Assam/Darjeeling) 1 cup half-and-half or milk of your choice, to taste
TURN UP THE BEET DRINK
MAKES: Two 16-ounce drinks
TIME: 10 minutes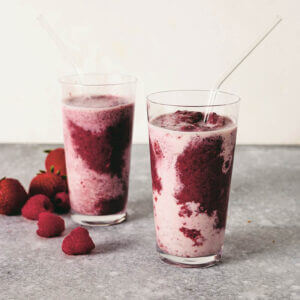 Author Dzung Lewis says "I love a drink that's vibrant, delectable, and good for you. This fuchsia-swirled almond milk smoothie is a showstopping breakfast sidekick or coffee alternative on the go. Look for steamed and sliced beets in the refrigerated produce section (or frozen ones if you can't find them) at your local supermarket."
• 1⁄2 cup fresh or frozen raspberries
• 1⁄2 cup 3⁄4" chunks cooked beets (fresh or frozen) • 3 large fresh or frozen strawberries, chopped
• 1⁄4 cup pomegranate seeds
• 1 tsp vanilla extract
• 1⁄2 tsp ground cinnamon
• 1 to 2 tbsp maple syrup, to taste
• 2 cups almond milk
• Ice
1. In a blender, whirl together the raspberries, beets, strawberries, pomegranate seeds, vanilla, cinnamon, maple syrup, and one cup of the almond milk until super smooth.
2. Fill two 16-ounce glasses with ice and divide the smoothie between the two. Add almond milk to the top of each glass. Mix well and serve!
Note: If using frozen berries, you may need to add more of the milk during the blending process to achieve a super-smooth texture.
Copyright © 2020 by Dzung Lewis. Published by Rodale Books, an imprint of Penguin Random House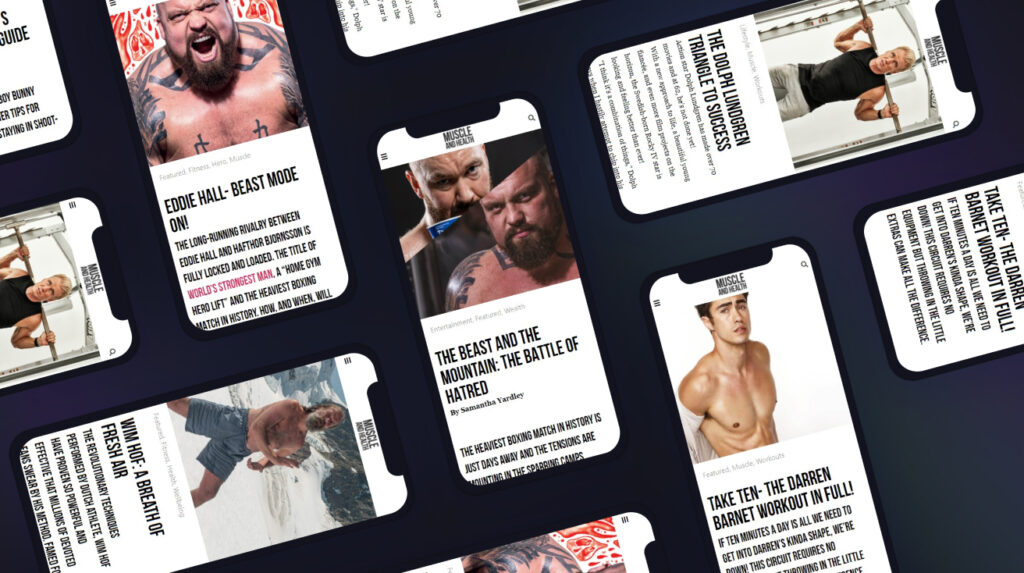 get all the latest mucle, health and wealth news delivered straight to your inbox