By Jack Franks
At a time when more people are feeling the pinch more than ever, financial budgeting apps changing how we crunch the numbers are more valuable than ever.
With the cost of living crisis, amongst a roster of elevating day-to-day costs affecting millions of people in 2023, now is the time to take advantage of the help.
Budgeting apps can show income streams, where your money is going out and identifies where cutbacks can be made. The beauty of these apps is their accessibility, with lending and savings options, advice and information available instantly and on the go.
All the apps listed below typically link to your bank accounts and credit cards and automatically track purchases, with the majority categorizing spending into different categories.
Spent $20 on dinner? Jumped in a cab and paid $10 for the ride? Filled your car up with $50 of diesel? The app will drop the transaction into the corresponding bucket, doing your hard work.
It's time to ditch the spreadsheets.
Here are the best money-budgeting apps currently on the market.
The best budgeting apps in 2023
Get your money motivated
Plum is a savings and investment app that allows you to link bank and credit card accounts from other providers and present a true picture of your spending.
The automated savings feature rounds up your spending to the nearest pound and automatically saves the difference into an 'Interest Pocket', which pays 1.01% to 1.40% (AER) interest according to your level of Plum subscription (these range from the free Basic account to the Premium account at £9.99 a month). 
You can invest in stocks and funds, make investments for retirement and consolidate your existing pensions into a Plum Self-Invested Personal Pension (SIPP) through the app.
You can add funds to the card from your bank account or from money you have put aside in the Plum app while spending abroad will not incur any foreign transaction fees.
Where can I download it?: Apple App Store, Google Play
Is it free?: The basic version is free, with Pro (£2.99/mo), Ultra (£4.99/mo) and Premium (£9.99/mo) other options (only currently available for UK taxpayers).
Customer review: "Whether it's Paydays, Rainy Day savings or 52 Week Challenge and now investments and pensions, I find myself logging in every day! Depositing and withdrawal is super simple… best of all, the weekly savings amounts are intelligent, based on how much I earn and spend."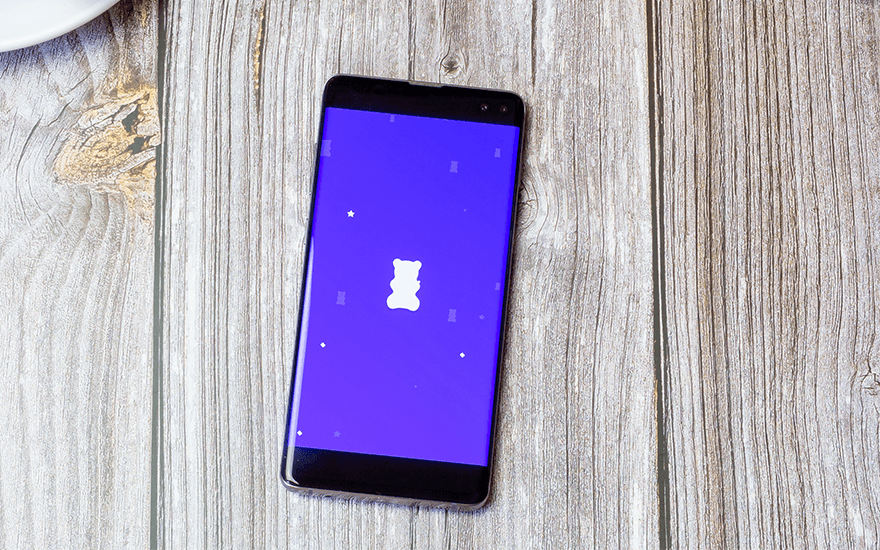 Take control of your money.
With Emma, you can sync compatible crypto accounts and bank accounts within the app. You can also use it to trade more than 1,000 US stocks and shares, starting from just £1, and create favorites and 'watch lists' to track your next investment.
Making payments via the app via unique payment links or QR codes means you don't have to give out your bank details.
The free basic version of Emma will categorize your spending, help you budget and identify areas where you can save. But the Plus (£4.99 a month), Pro (£9.99 a month) and Ultimate (£14.99 a month) versions allow for increased functionality.
This includes exclusive cashback offers, bill reminders and the ability to connect business accounts with the Ultimate Emma.
Where can I download it?: Google Play, Apple App Store
Is it free?: You can get started for free, with the option to upgrade to Plus (£4.99/mo), Pro (£9.99/mo), and Ultimate (£14.00/mo) models for greater functionality.
Customer review: "This app is amazing. I love how secure it is – the app asks you to reconfirm your bank accounts by authenticating yourself every few months or so. It brings together so many features and functionality that have assisted me in my quest to become financially literate and responsible. Thank you Emma, for you do look out for me and mine."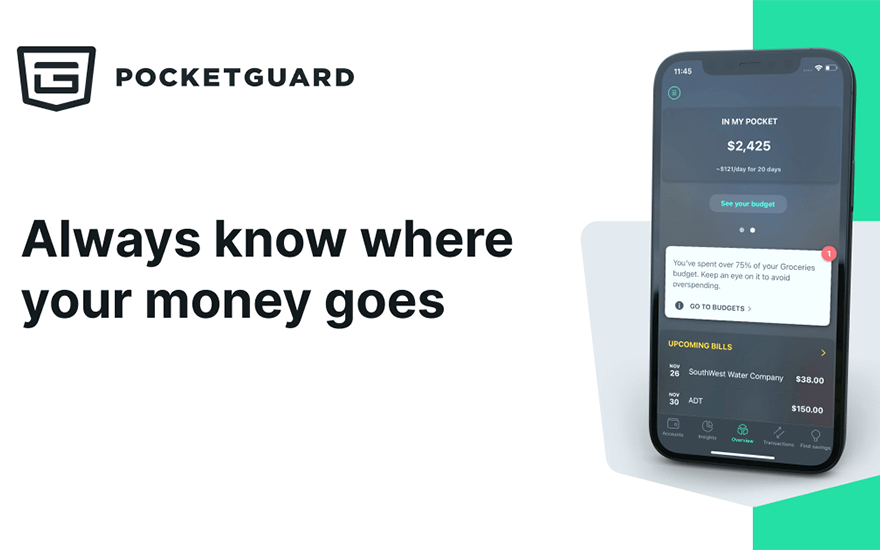 Take full control of your finances
The PocketGuard app is primarily suited for people who want to control their overspending habits. 
You need to sync your current bank accounts and credit cards to the app. PocketGuard will then use an algorithm to track your income, expenses, and savings goals.
The app tells you how much money you can spend each day to meet these goals and inform you of opportunities where you can save more money. 
One of the best features of PocketGuard is that you can link information regarding your recurring bills. This isn't a groundbreaking feature, but that's just the first step.
PocketGuard will use your information to find similar offers for cheaper rates or help you negotiate better rates. As a result, you might be able to save additional money on your insurance, phone, internet, or cable bills. 
PocketGuard has a free version, but you won't have access to all the features. You won't be able to track your cash flow or create your spending categories using the free version. 
Where can I download it?: Apple App Store, Google Play
Is it free?: There is a free version, but to access all of PocketGuard's features, the monthly subscription fee is $7.99 monthly or $34.99 annually. Alternatively, you could buy a lifetime subscription for a one-time fee of $74.99. 
Customer review: "I love the ability to save for my goals without having to think about it. I love how it calculates my estimated monthly income so that I don't have to do the mental math when it comes to budgeting. I love the notifications it gives me when I spend too much on a particular category. I love the customizable budget categories. This is truly the greatest budgeting app I've ever used, and I've been budgeting my money very persistently for about a decade now."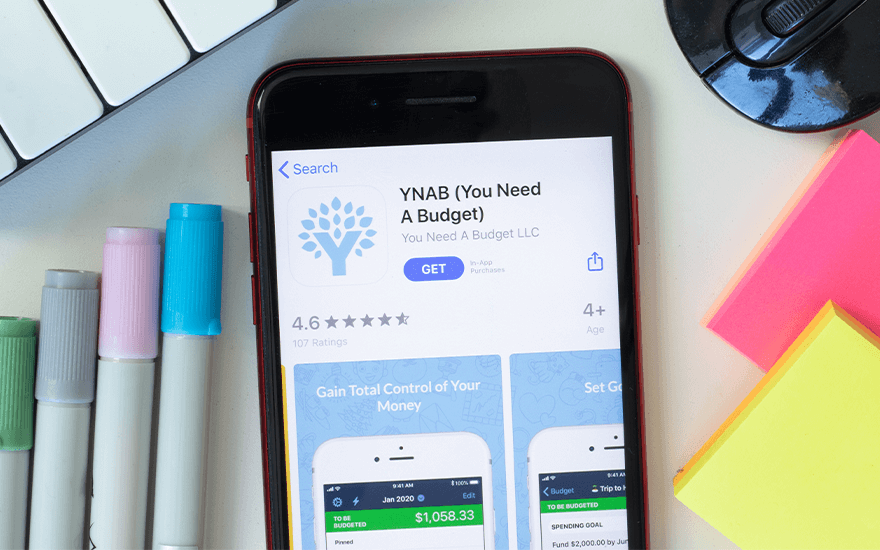 Change your relationship with money
The You Need A Budget (YNAB) app offers some of the most comprehensive budgeting features on the app store. For example, your YNAB account includes access to dozens of weekly workshops, hundreds of articles and guides, an online forum, and the YNBA podcast. 
You'll be able to learn how to use the YNAB app more effectively and create budgets that can save you money much faster. Another key feature is that you can sync your checking, savings, credit cards, loans, investments, and bills. Any events involving these accounts are automatically updated to the YNAB app and recorded into your budget plans. 
What's incredibly unique about the YNAB app is it's focused on creating proactive budgets. YNAB is not simply a method of recording your previously spent money but rather an opportunity to improve your future spending. 
The concept is modeled on the zero-based budgeting system in which you must assign a specific purpose to every dollar you earn. You'll learn how to create a budget that starts from scratch and is based on necessities instead of deducting money from your income.
Where can I download it?: Apple App Store, Google Play
Is it free?: Yes, but only for 34 days. A monthly subscription costs $14.99, with an annual subscription costing $98.99.
Customer review: "This app has changed my life! I am no longer struggling with money. You Need A Budget has made it extremely easy to manage my money, and I know exactly where I sit before I make a purchase. This has allowed me more freedom, and I have even started saving money by cutting spending areas that I shouldn't have been spending. I came to YNAB right before bankruptcy, and it honestly has made my life better."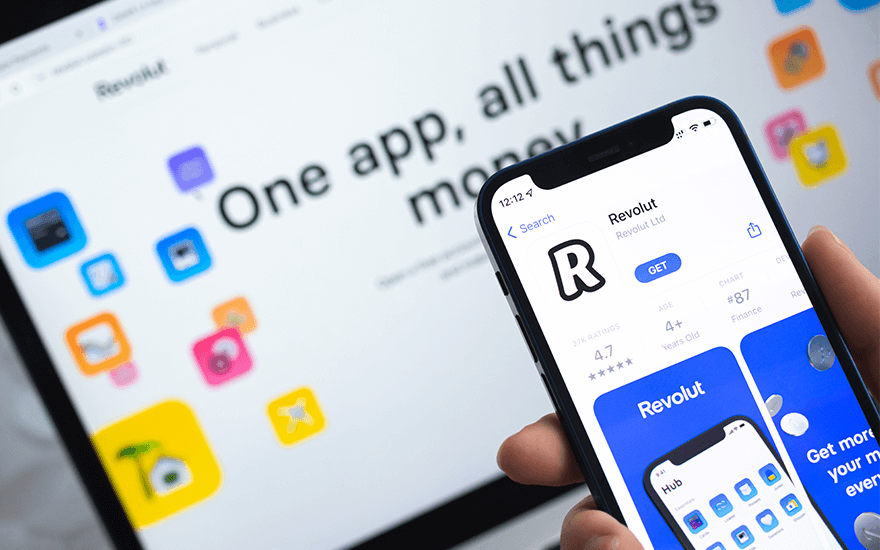 One app, all things money
Revolut is a personal finance and money management app with various products to help you spend and save smarter.
Revolut offers budgeting, payments, international transfers, currency exchange, savings accounts, investment accounts, cryptocurrencies and insurance. Revolut's budgeting feature lets you see all your finances in one place by connecting all your bank accounts to Revolut via open banking.
Customers also get access to powerful charts and analytics within the app to help visualize the overall financial picture while keeping an eye on their spending habits.
The app also sends notifications to help you stay on top of your money and even gives you a heads-up when you are nearing your budget limit. Revolut will send you weekly insights for a deep dive into your spending habits.
Where can I download it?: Apple App Store, Google Play
Is it free?: The standard version comes without a cost, with the Plus (£2.99/mo), Premium (£6.99/mo) and Metal (£12.99/mo) models all offering greater functionality and options.
Customer review: "Very practical, especially when traveling, on the plane or simply in everyday life. Also a very competent and understanding customer service that you can rely on. You have pretty much everything you need in the app, which is very clearly and beautifully designed. A clear recommendation!"
More Money Related Articles You May Like
How to invest in real estate: 10 ways to get started and be successful
NFT Investing: Avoid the Pitfalls with These 3 Red Flags to Look Out For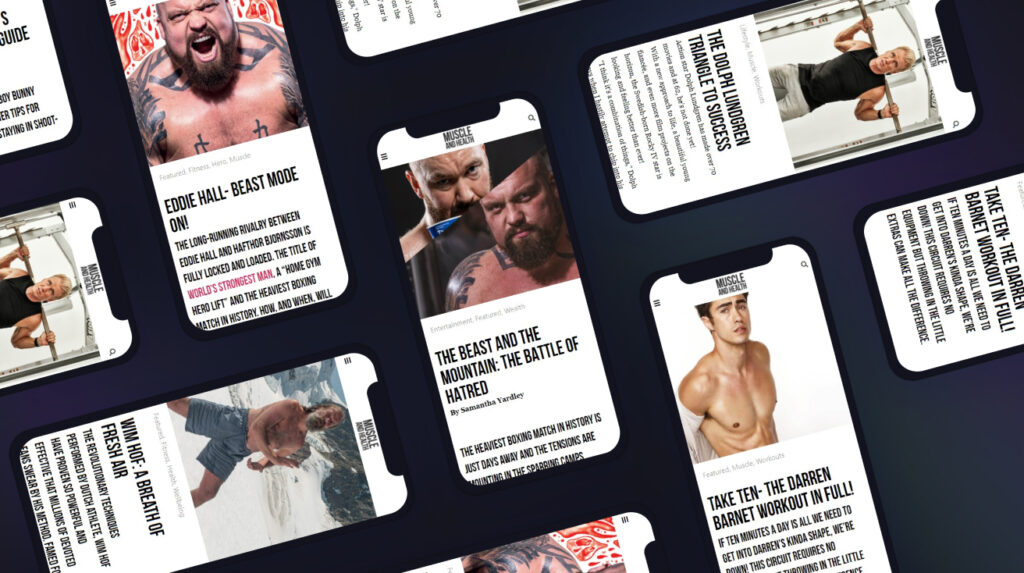 get all the latest mucle, health and wealth news delivered straight to your inbox