Jack Murphy By Danni Levy
The All-American Kansas Kid Who's on Track to Make $100m
Founder of e-commerce site 'I Love My Freedom' Jack Murphy is just 23-years-old. Last year his patriotic merchandise raked in over $18m. Destination $100m doesn't seem unlikely. Intrigued? So was I!
"It all started out with a pro-Trump Twitter account," says Jack. "I created it back in 2015, the day after he announced he was going to run for president. I had a feeling he was going to win and I backed him since day one."
With a background in e-commerce, Jack decided to take things one step further.
"I was only 18, but had already acquired some experience selling products online, so I decided to use this knowledge to build a website selling pro-Trump wristbands in 2016," he says. "When Trump won the election I went on to build a more diverse site and made it all about patriotism. It all started out in my dorm room and it's been a crazy journey, to say the least."
Jack's grandma emigrated illegally from Russia and it is to her he attributes his unwavering passion for his country.
"Last year we did $18m in revenue and this year should be better than that"
"Because of what my grandma went through to get here, I have a really big appreciation for the American dream," he says. "That's where my patriotism came from. I studied politics a lit- tle bit but I was more into business at school. I always thought I'd be a professional athlete or football coach because that's what my grandfather was. Business was just the fun side of things for me, but I'm happy it's turned out this way."
From dorm room to bedroom, Jack took his business back to his hometown with visions of American grandeur.
"I built 'I Love My Freedom' from the ground up by being crea- tive and nimble with how we structure our products and offers and optimizing our landing pages," he says. "It's all about really listening to the customers and providing what they ask for. Being reactive makes it easy for us to come up with new products every single week. Every Friday we launch a new t-shirt for five dollars. We call it Freedom Friday and usually sell four or five thousand of them.
"We're very focused on products and don't get distracted by the bells and whistles you see on so many websites. For us, it's all about the products and the passion for America.
"We only really started this company in 2018. Last year we did $18m in revenue and this year should be better than that. We've been through a lot of operational struggles. Social media in the protocol world isn't always easy, but we've worked strategically with that in mind. The momentum continues to build – we've taken 1.37m orders in the last three years."
"The momentum continues to build – we've taken 1.37m orders in the last three years"
Founded on the premise that patriotic Americans share strong social and political views, 'I Love My Freedom' offers a range of merchandise for those who are not afraid to speak out. Categorically supporting the Second Amendment and Police Force whilst condemning the media for being 'The Deadliest Virus in America', the site serves as a reminder that 'it's ok to love America'.
"We have a couple of people on our team who help come up with slogans, but a lot of it is just understanding what's going on in the political spectrum," says Jack. "For example, when the defund the police movement happened last year, we swung that to create our 'defund the media' range."
Proudly standing on the right, Jack firmly believes that politically, things are not as they should be.
"I think the election was very rigged," he says. "The number of whistleblowers that came out afterward were extraordinary. The media played a role. Some really dirty and disgusting stuff happened, but unfortunately, that's the stage of where we're at right now."
Jack's best-selling t-shirt boasts the slogan 'DON'T BLAME ME I VOTED FOR TRUMP'.
"Inflation, unemployment and small businesses being left unable to hire have really infuriated people," he says. "Most people don't like wearing Joe Biden on their shirt- they'd rather wear pro-Trump than anti-Biden, so we bear that in mind when coming up with catchy phrases. I keep the faith that things will take a positive u-turn at the next election. I think that staying away from Twitter might be better for Trump quite honestly. It just depends on how much the Democrats are able to rig things next time around. I do think Trump will run and I hope to God he wins."
Proud to speak from personal experience, Jack says he can attest to Trump's good nature.
"In 2016 I got fairly lucky and Trump found out what I was doing on Twitter," he says. "His assistant made contact and invited me backstage at a town hall event. I got to speak to him for a good ten minutes and it was incredible, he was genuinely not what I expected. He was going full steam from event to event and yet he took that ten minutes to sit and talk to this 18-year- old kid from Kansas about social media and the election. He was a genuinely appreciative person. It wasn't what you'd expect from someone who is probably the most well-known person in the world. I wouldn't be where I am without the encouragement he showed me.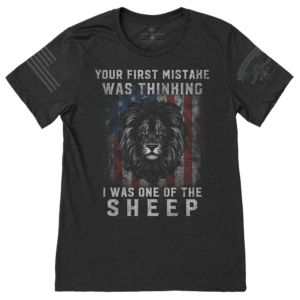 "Condemning the media for being 'The Deadliest Virus in America', the site serves as a reminder that 'it's ok to love America'"
"When Trump was in power we sold a lot of collectibles. A lot of peace coins and positive things. Now the buying trend has switched to be in support of our rights and to defend the fundamentals of American rights. Our people don't want to wear Biden on their shirts. I don't even think Biden's people want to wear Biden stuff! It's all about The Second Amendment, making a statement, and getting their voices heard to say they don't support the current government- and rightfully so. We've had a good run of pro-military and pro-police stuff and staying positive and spreading patriotism. People are really jumping on board the Second Amendment because they want to protect themselves."
Jack's views don't always go down too well with social media policies, but he's learned to err on the side of caution and refrain from temptation when it comes to releasing new slogans.
"We've had social media accounts banned so many times," he says. "It's also not uncommon for Facebook to change their rules overnight without warning. From November 3rd-March 3rd we couldn't run political ads on Facebook, which is obviously a huge traffic channel for us, so we had to run things completely organically. We didn't want to lose our staff to COVID benefits so we just had to make it work. Every day we wake up to something new. It's hard to build momentum and be consistent, but it's a challenge worth fighting. We've over forty employees now."
From college dorm room to bedroom, to garage- 'I Love My Freedom' has already outgrown three warehouses, and now operates from a 20,000 square foot premises.
"The next financial milestone is hitting $100m in revenue"
"Things have grown pretty quickly and I try to invest my money as best I can," says Jack. "You can burn through money pretty fast. I got myself a nice car, but I got married a couple of years ago and my wife and I are trying to build a family together. We're investing in the long game. I try not to be too crazy. I've worked a minimum of seventy hours a week for the last three years. I put in at least ten hours a day. I also work in my sleep- you can't turn it off. It's an addiction. At 3 am I'll wake up with ideas and strategies running through my head. It's fun, I enjoy it.
"I also try to balance fitness and mental health. Every day I do something physically active, whether that's playing tennis with family, boxing with my trainer, or walking the dogs at midnight. I eat smart and just keep working harder. If you don't take care of yourself you can burn yourself out pretty fast. Food and fitness is a big deal for me. I always track my sleep and body metrics and I never skip breakfast- it's my favorite meal of the day. I get very, very hangry, very fast. For lunch, I have some meal prep stuff and then we have a personal chef for dinner so I don't want to miss that. I eat three to four meals a day.
"The majority of orders come via our own email database and SMS assets," says Jack. "We have a lot of subscription revenue, but we do spend money on Facebook ads too. Our repeat customers make up about 40% of sales, so we've definitely done a good job of serving our customers and showing them what we stand for and why we align with them. It's great to have such a solid repeat order rate. You can't just rely on social media or Instagram influencers, because those games change really fast, so it's crucial to leverage your own traffic. We also have an app and news website called 'Trending Politics' where we send push notifications with political news. This really adds value and keeps our customers engaged."
"At 3 am I'll wake up with ideas and strategies running through my head"
The 'I Love My Freedom' range keeps on developing and customers can't miss the next catchy slogan.
"We launch 60-70 new products every quarter. We react to what's going on in the news with what people are asking for. There's a little bit of intuition among our team involved too.
"We sell mostly hats, flags and t-shirts. We're looking at dog collars and leashes, onesies for babies that say 'I CRY LESS THAN A DEMOCRAT'… those would be fun. First and foremost we quality control a solid foundation, which means a new t-shirt every Friday for $5 plus postage. We recently partnered with a cookie company called 'Operation Cookies'. Our Red Friday t-shirt today has a soldier saluting on the front of it. With every sale we make, we'll donate and ship a cookie to the military overseas to show them we're thinking of them and want them to come home safe and make their day a little sweeter. The small things add up. We try to put a little more purpose into things and help stand for something and do something good in the process- not just make money."
Jack has some pretty big financial goals and it seems there's no stopping the 'I Love My Freedom' movement.
"My next goal is to get us to ten million orders," he says. "The next financial milestone is hitting $100m in revenue. We've done almost $30m so far. We promise to continue to make our customers happy, get products in their hands, and hopefully not get ourselves kicked off the internet! We could get a lot more crazy and fun with the designs but I don't want to get banned off social media completely- it's not worth the risk. We've got a product development graveyard and there's some fun stuff down there, but we try to keep everything clean and faithful. We have one Biden t-shirt that people go crazy about that says 'Biden for nursing home', but we have to keep things as clean as we can because sadly one political party doesn't enjoy having fun and making jokes."
From politics to punk rock, this next entrepreneur's moto-based clothing line is all about PUNK ROCK POSITIVITY.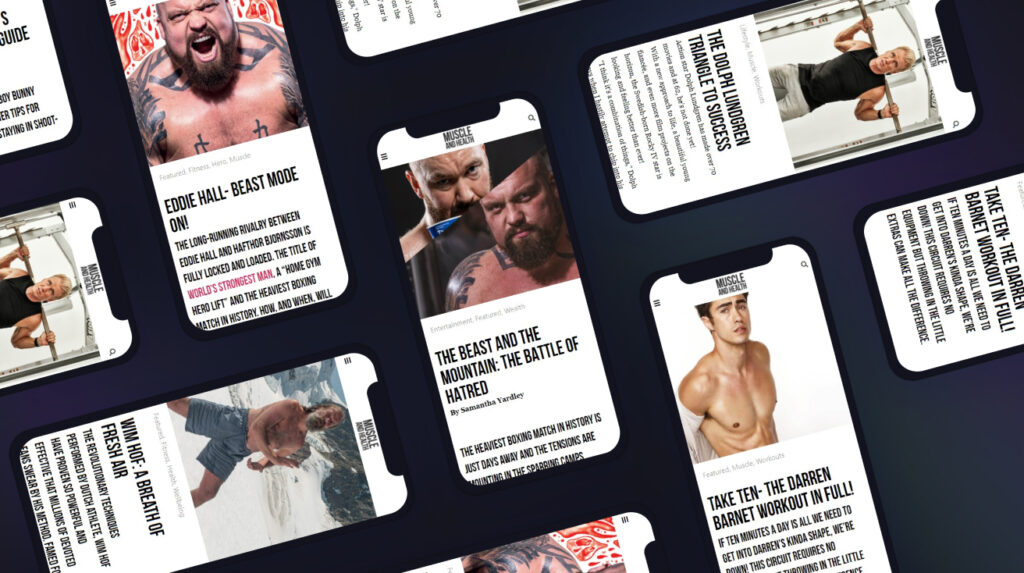 get all the latest mucle, health and wealth news delivered straight to your inbox