By Samantha Yardley
The craze for fermentation shows no sign of going bad with the health-conscious seeking out natural ways to boost their gut health. The latest cookbook from author Ursel Barnes, offers nutrient-packed dishes featuring fermented food recipes to boost your mood.
Featuring over 100 recipes, this beautifully designed book takes you on a journey into the wonderful world of fermenting, while championing intuitive eating and inclusive food so we can all 'go with our gut'.
Whether you are already a ferments fan or have never thought much about how to improve your gut health before, the High Mood Food cookbook offers a complete guide to natural 'living' food alongside an array of enticing recipes, designed to help you change your diet for the better and create a way of life that promotes a happier, healthier lifestyle.
Sourdough Bread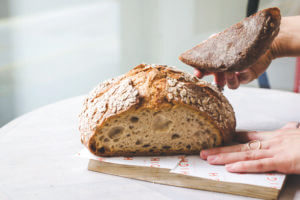 Ingredients
• 3.5 oz Kamut (Khorasan) flour
• 10.5 oz bread flour
• 13 oz warm water
• 2-3 tbsp sourdough starter
• 0.5 oz sea salt flakes
Method
In a mixing bowl, combine the flours with the water and sourdough starter on a low speed. Slowly increase the speed and mix for 10 minutes. Add salt and mix for an additional 5 minutes. Wrap the bowl in cling film and leave at room temperature for 2 hours to rise.
Place the dough onto a floured surface then knead until it has a smooth consistency. Cover with a cloth and allow to rest for another hour, then knead the dough again, working more gently as the dough becomes elastic. Repeat the process until the dough feels smooth and bouncy.
Pull all the corners of your dough into the center and pinch them together to create a seam. Place the dough in a floured proving basket with the seam facing upwards. Leave in the fridge for 12 hours and remove 4 hours before baking.
Preheat your oven to 430°F with your cast iron pot or baking tray inside. Lightly flour the hot tray and turn your bread onto it with the seam facing down. Score the top in one quick slice.
Return to the oven and put an ovenproof dish half-filled with water on the bottom of the oven to create steam. Bake for 10 minutes and then turn the oven down to 350°F and bake for another 40 minutes. Tap the base of the loaf. If it sounds hollow, it's ready. Allow to cool for 20 minutes before slicing.
Beet, Kefir and Fresh Curd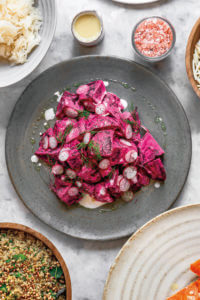 Ingredients
• 3-4 large beets
• A splash of apple cider vinegar
• 1 tsp sea salt
• 3.5 oz cow's curd (substitute for ricotta or a mixture of kefir and yogurt)
• 1 fl oz kefir
• 1 tbsp dill, finely chopped
• 6 pink radishes, finely sliced
Method
Preheat the oven to 350°F. Wrap each beet individually in foil and cook for 45 minutes until tender. Allow to cool, then peel with a knife. The skin should come off easily.
While the beet is still warm, cut into bite-size pieces and season it with apple cider vinegar and salt. In a separate bowl, mix the curd with the kefir. Once cool, toss the beet with the curd and chopped dill. Finish with dill sprigs and finely sliced pink radishes.
Five Grain, Five Herb Miso Oats
(Serves 4)
Ingredients
• 7 oz ancient grains (black quinoa, buckwheat, amaranth, red rice and spelt)
• 12 fl oz water
• 2 tbsp dark miso
• 2 tbsp extra virgin olive oil
• Handful of fresh herbs (mint, basil, parsley, cilantro, and chives)
Toppings
• 1 eggplant
• 1 tbsp dark miso
• 2 tbsp extra virgin olive oil
• 1 tsp white or black sesame seeds
• A few chives, finely chopped
• Eggs, poached (optional)
Method
Soak the grains overnight. Drain and rinse, then place in a saucepan with the water. Bring to the boil then turn the heat down to a simmer for 10 to 12 minutes until the water has been absorbed. In a separate bowl, combine the miso with the olive oil, adding a touch of water if needed to make a smooth paste. Stir into the grain mix and add herbs of your choice and a pinch of salt.
Preheat the oven to 390°F while you cut the eggplant into 1" slices. Mix the miso and olive oil together into a smooth paste, brush this over both sides of the eggplant slices and place them on a baking tray lined with greaseproof paper. Place in the oven and roast for 12 to 15 minutes, turning halfway through so each side cooks evenly. Serve the miso-porridge topped with the roasted eggplant and sprinkled with sesame seeds and chives.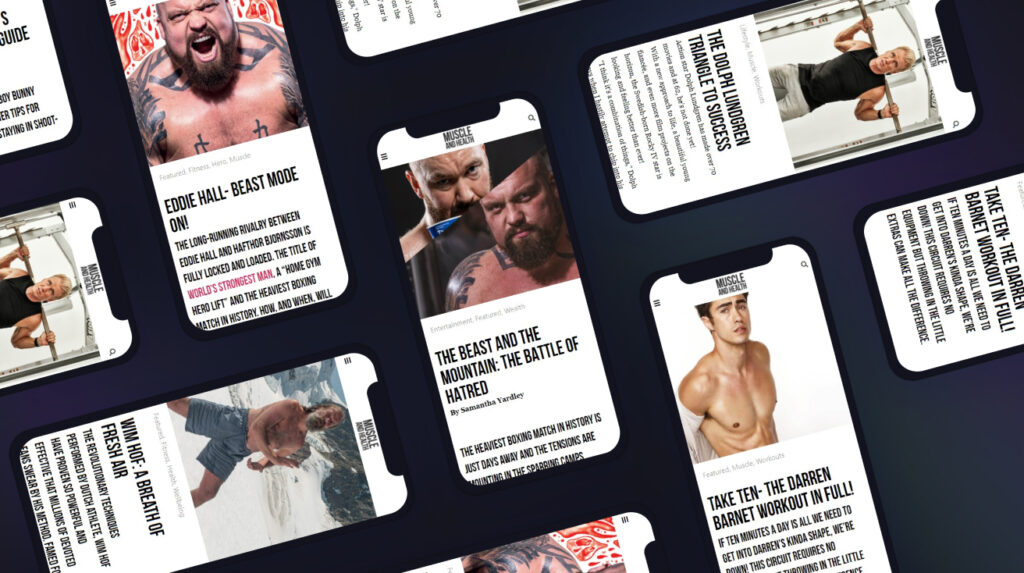 get all the latest mucle, health and wealth news delivered straight to your inbox