By Jack Franks
Thanks to the impressive array of gym bags that saturates today's market, lugging around your fitness essentials has never been more stylish and convenient.
From sleek and sophisticated designs to rugged options built for durability, the world of workout gear transport has evolved into an arena of innovation and functionality.
Whether you're a cardio enthusiast, weightlifting aficionado, or yoga devotee, the right gym bag can be a game-changer in your fitness journey.
Muscle and Health has scoured the market and explored the cream of the crop among gym bags, showcasing the pinnacle of design, technology, and practicality.
Get ready to discover the perfect companion to carry your fitness ambitions with you wherever you go effortlessly.
Best overall: Built For Athletes Pro Series Backpack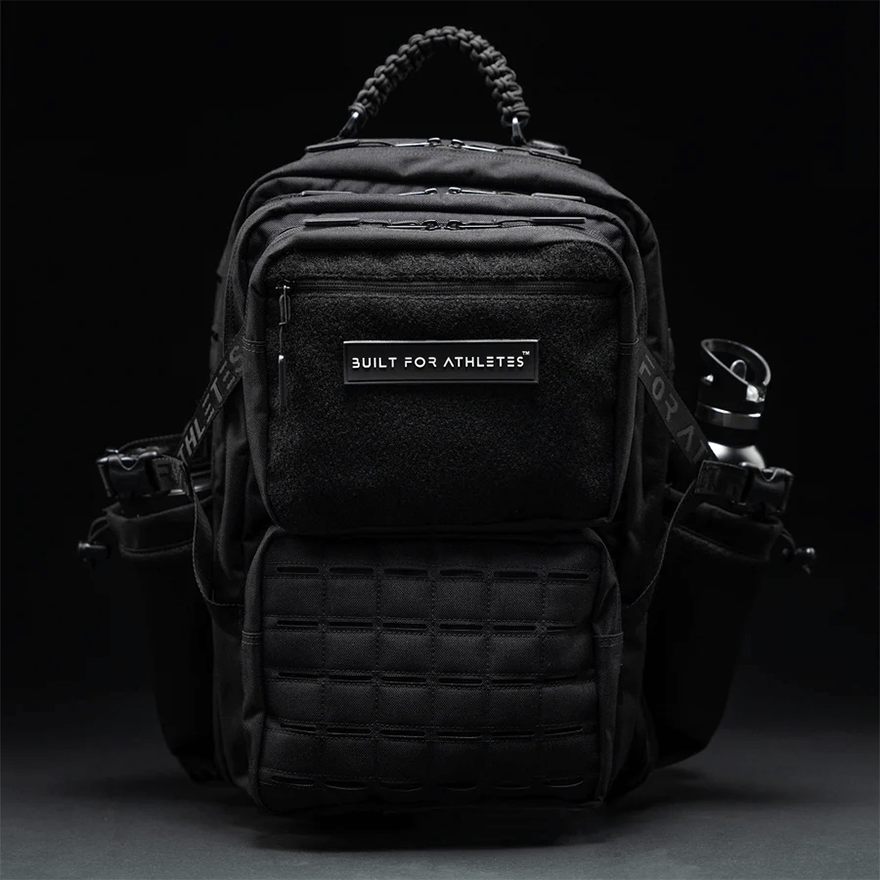 Dimensions: 31cm x 48cm x 22cm
Litres: 45
Key Features: Reinforced YKK Zippers, Ultra Strong Rip Proof Fabric, Load Tested to 30KG
Designed for the elite gym-goers, Built For Athletes' pro offering of their large gym bag ticks every box, boasting an unmatched storage capacity of 45L and capable of carrying (deep intake of breath) your weightlifting shoes, a pair of trainers, a 17″ Laptop, a lifting belt, meal prep box, drinks bottle, wash bag, knee sleeves, skipping rope, and as many snacks as your heart desires.
It's also fully waterproof and comes with its wet bag should the heavens decide to open en route to your workout, and those nasty-smelling odors feasting in sweat-drenched shoes will never be a problem again with the bag's Anti-Microbial Odour Reducing Lining. It's the most technical bag the company – founded by CrossFit enthusiast Nick Costello in late 2018 – has created. As with all Built for Athletes products, you can add your customization for that personal touch.
Best for style: Bennett Winch Weekender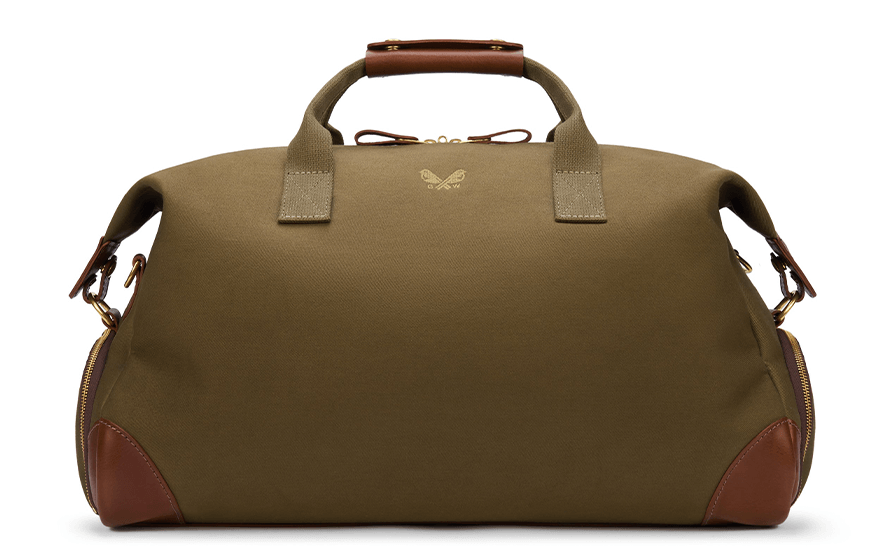 Dimensions: 55cm x 36cm x 25cm / 9.8inch (H)
Litres: 42
Key Features: Concealed external passport/phone pocket, internal iPad / tech pocket, detachable military grade cotton shoulder strap with solid brass clasps
While not showcasing the most sporty-looking aesthetic, this offering from luxury British-made company Bennett Winch offers one key ingredient: style. 
It oozes out of every piece of fabric, guaranteeing the turning of heads as you stroll into the gym. But this isn't just an accessory to look good.
With ample storage space and a dedicated shoe compartment, you can effortlessly transition from Metcons to monk straps for a seamless shift to the office after your morning workout. Moreover, a convenient quick-access zipped pocket on the opposite side ensures that post-gym activewear stays separate from your office attire. And when you're taking a break from training, this versatile bag quickly transforms into a travel companion for weekend getaways or extended trips. It also comes in five colors: Olive, Chocolate, Sand, Black and Navy. Boujee.
Best for storage: Nike Gym Club Training Bag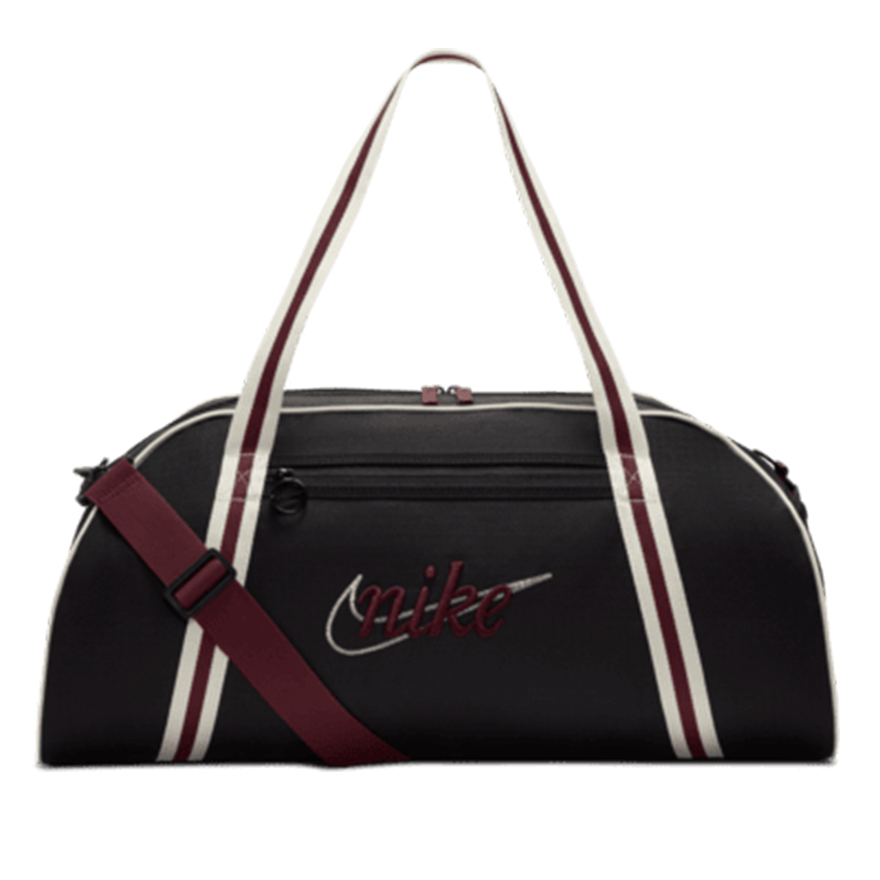 Dimensions: 33cm x 51cm x 23cm
Litres: 24
Key Features: Dual handles, adjustable shoulder strap, and internal zipped pouch made from at least 65% recycled polyester fibers.
This is the bag you need if you need to know how much you will need to pack. In doubt? Just throw it all in. It has the space! With its spacious, elongated storage compartment, this bag is tailor-made for fitness enthusiasts with a penchant for toting around their sports gear. Whether rackets or hockey sticks, this bag has room to spare. It's so roomy that you might consider fitting your workout partner inside.
Its ability to store items at will is also complemented by its aesthetically pleasing exterior. Nike always delivers when it comes to simple style, but the retro twist on offer here is guaranteed to get your fellow gym buddies asking for a link to bring their own. And it's relatively cheap compared to some of the other bags on this list and within the growing market. 
Best for affordability: Adidas Essentials Seasonal Duffel Bag Medium
Dimensions: 58 cm x 27 cm x 25.5 cm
Litres: 53
Key features: Slip-in pocket on end, adjustable padded shoulder strap, Side zip pocket
On a strict budget? This multi-purpose duffel offering from German giants Adidas is the perfect tonic. But it's not just the cheap price tag that is enticing. There's an undeniable air of sophistication in the design of this gym bag. Its sleek appearance, complemented by a stylish black drawstring, makes it a perfect fit for the gym and your morning commute, coffee break, and even work meetings.
With side slip-in pockets, inner compartments, and a top zip valuables pocket, its practicality seamlessly matches its aesthetics. Crafted using various repurposed materials, this bag incorporates at least 40% recycled content. This item is a testament to our commitment to combat plastic waste and offer sustainable solutions.
Best for compactness: Gymshark Everyday Mini Backpack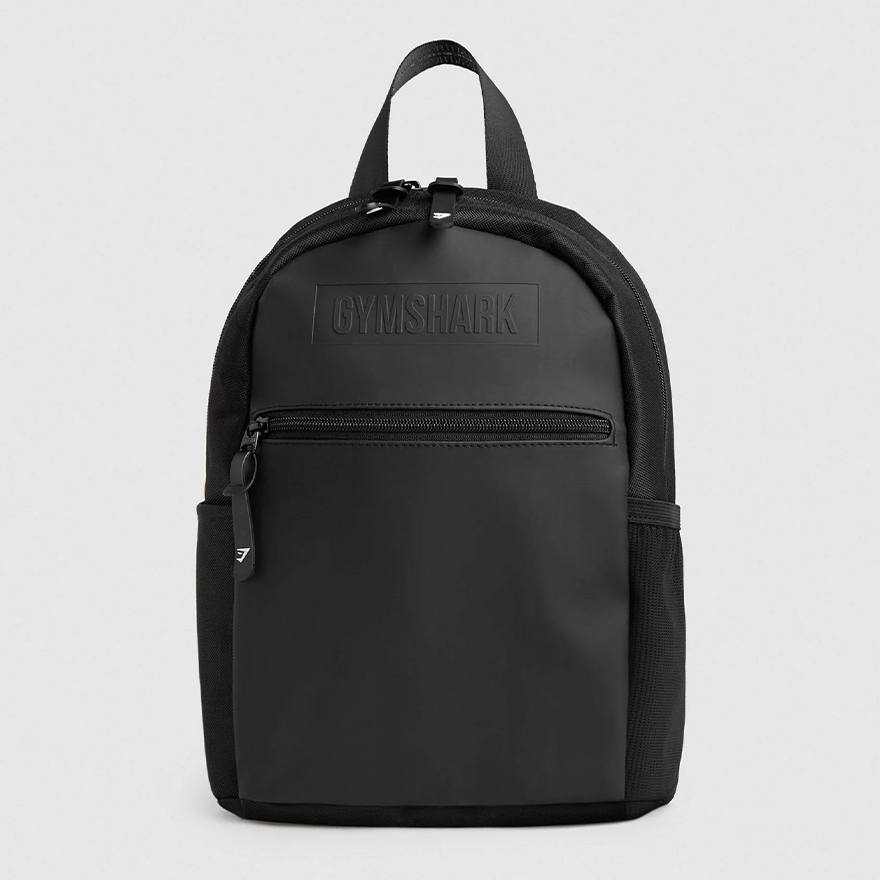 Dimensions: 32 cm x 25 cm x 10 cm
Litres: 8L
Key Features: Side split pockets, adjustable straps, and an internal zip pocket.
Sometimes, less is more, and subtlety overcomes superiority. This is the case when it comes to Gymshark's Everyday Mini Backpack. Diminutive in size but not functionality, the product arrives in two colors and has fine craftsmanship and attention to detail seen throughout the Gymshark range.
Revolutionizing urban style embellishments, the backpack features unembellished side split pockets, and a primary entry compartment, and its pared-down strategy guarantees an elegantly streamlined outline. Immerse yourself in the world of an exceedingly lightweight structure and adaptable straps to elevate your comfort quotient. Bigger, the better. This backpack tends to disagree.
Best for powerlifters: King Kong CORE25 Backpack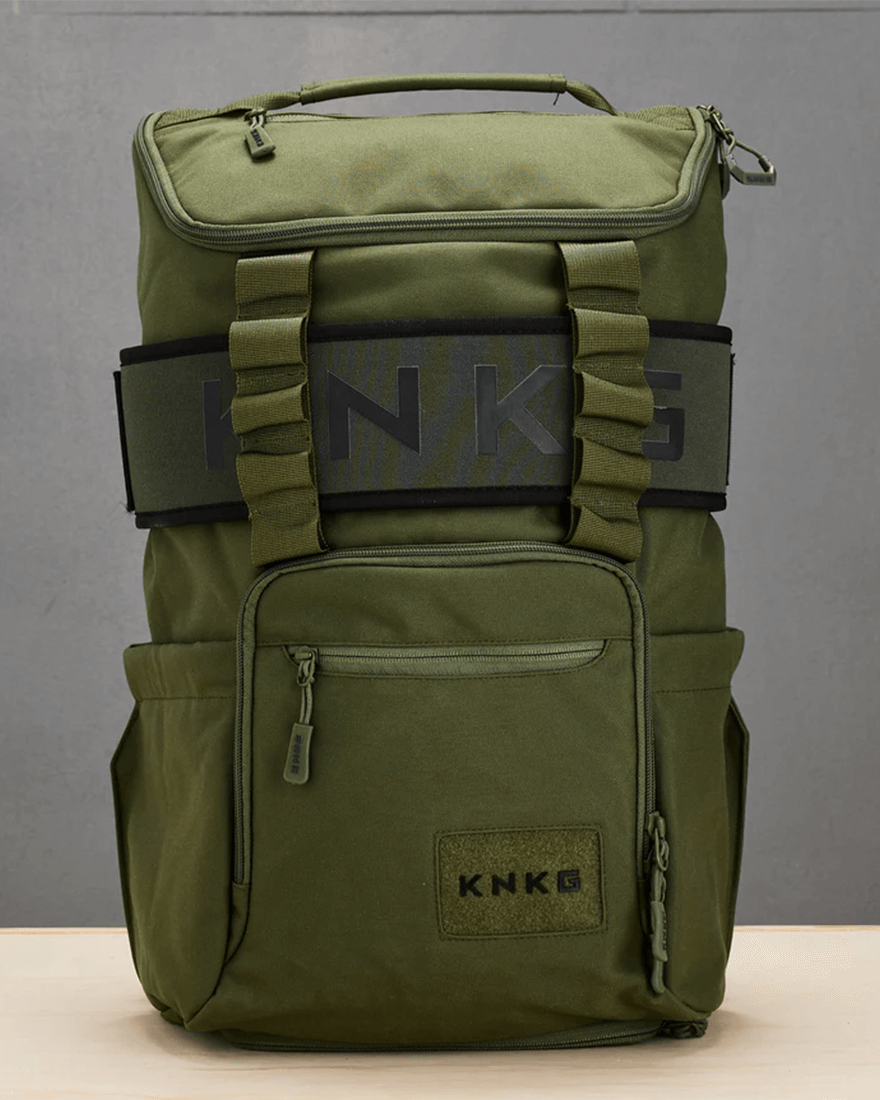 Dimensions: 28cm x 45cm x 28cm
Litres: 33
Key Features: Internal shoe compartment, dual bottle pockets, multiple compartments and pockets
When it comes to gym bags, the King Kong Jnr Kong Bag stands out as a true contender. Upon grasping this bag, a discernible difference in quality became apparent compared to the array of others on the market. Constructed from 1,000-denier nylon, this material is noticeably thicker and more resilient than the nylon found in typical sports bags. It's a powerlifter's dream.
It's akin to distinguishing between a school knapsack and a robust canvas duffle bag. Beyond its primary compartment, the Jnr Kong Bag boasts an expansive 30-liter capacity, accompanied by four accessory pockets – including a Velcro-sealed option for those prone to mishaps – a mesh catchall and a dedicated shoe compartment. The bag's strength is evidenced in its intricate details, from double-stitched seams to solid metal fasteners. With a 25-year warranty protecting it for the original purchaser, the Jnr Kong's reliability is a testament to its quality.
Best for versatility: Herschel Novel Duffle
Dimensions: 11.75" H x 20.5" W x 11" D
Litres: 42.5
Key Features: Waterproof zippered closure, signature shoe compartment, EVA-padded shoulder straps
Looking for something to cover all bases? The Herschel Novel Duffle, available in various colors and boasting a volume of 33 liters, presents itself as a stylish companion for spontaneous weekend escapades or consistent gym workouts. Its spacious main compartment features a meticulously sealed, water-resistant zipper, offering ample space to accommodate clothing and gear for two to three days.
One standout feature is the distinct shoe pocket, thoughtfully designed to keep your footwear or soiled garments separate from your other belongings. Nevertheless, the bag needs smaller pockets beyond this designated shoe compartment for meticulous organization. Whether it's karate, hiking, or basketball, the bag's weight won't become a burden on your journey.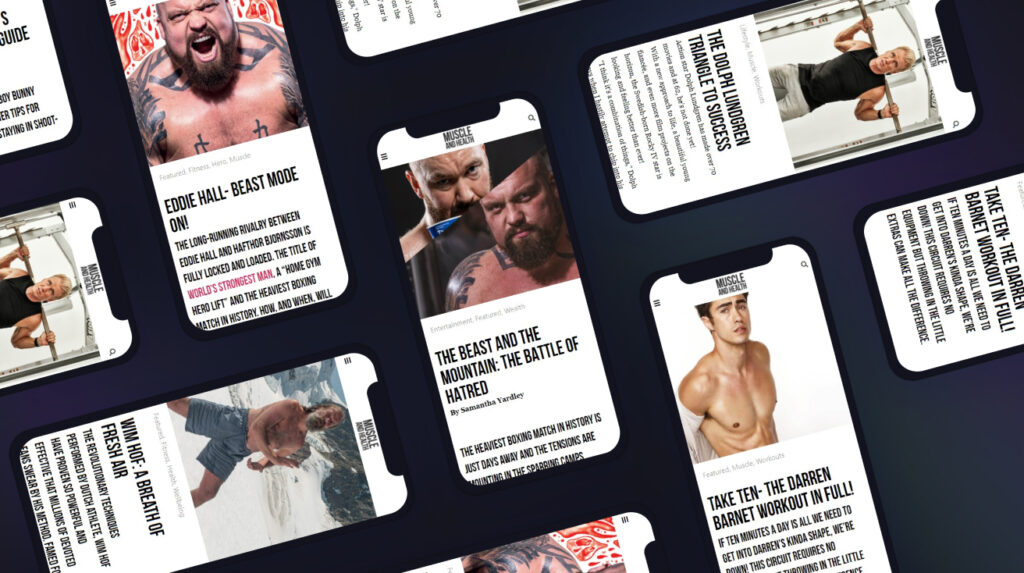 get all the latest mucle, health and wealth news delivered straight to your inbox