Words by Jack Franks
Original article by Samantha Yardley in Summer 2023 Print Edition
Photo Credit: Jacob & Co.
Following the unveiling of Jacob & Co.'s $20 million Billionaire Timeless Treasure Yellow Diamond watch earlier this year in Geneva, the company – spearheaded by Jacob Arabo – has further proven its position as the pioneer of creativity and innovation in the timepiece market.
Of course, this is not the first Billionaire watch the brand has built. In fact, in 2015, it released its first Billionaire watch adorned with 260 carats of white diamonds, then three years later, Floyd Mayweather memorably snapped up one for the bargain price of $18M.
It's no surprise that Jacob & Co's creations have been the choice of so many statement-making stars.
Musicians Jay-Z, Drake, 50 Cent, Madonna, Rihanna, Pharrell Williams, Elton John, Jennifer Lopez, Mariah Carey, as well as sportspersons David Beckham (and Victoria Beckham), Michael Jordan, Cristiano Ronaldo, and Lionel Messi are just a few of the brand's well-known patrons from over the years.
The brand's creativity and bold character are glaringly evident with each novelty. Even with their more simple and accessible 'everyday' watches, they still manage to make a mark that sets them apart.
We pick a few of our favorite timepieces that exemplify this and reflect their distinctive personality.
Retail price: $48,000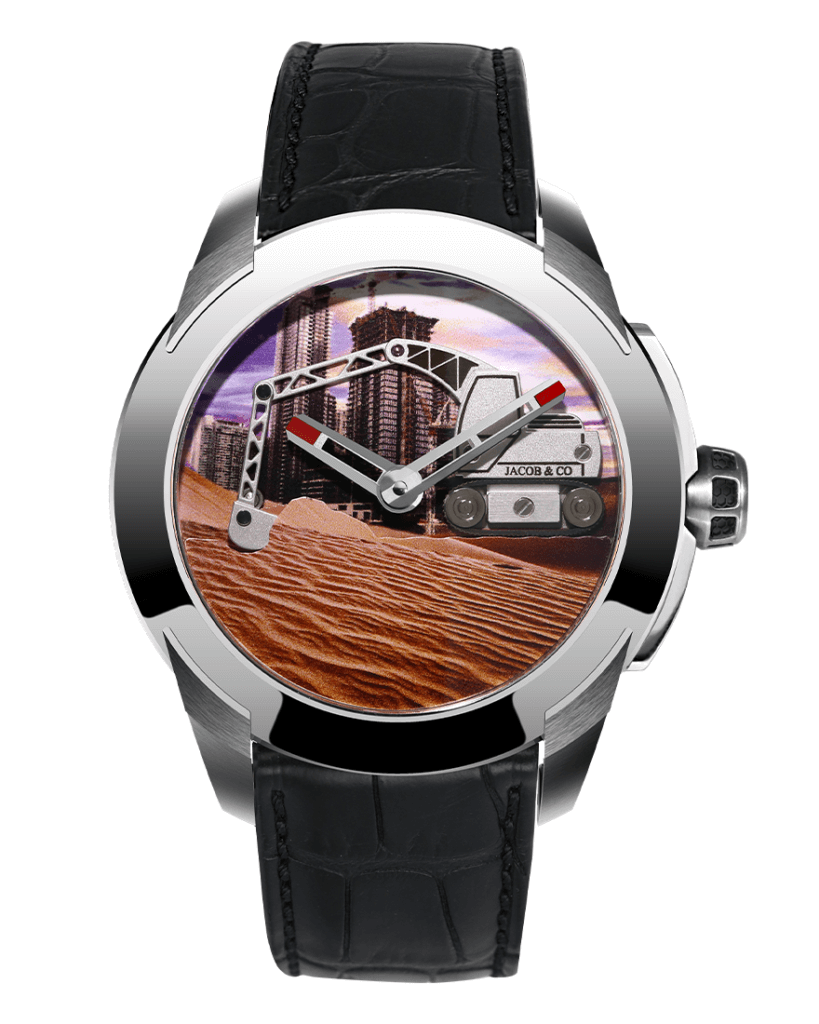 Case Size: 49mm
Case: Titanium
Dial Colour: Painted Skyscraper & Desert Scene
Family: Pioneer
Strap Colour: Black
Strap Type: Alligator
You can complete your look with the Pioneer Automatic timepiece for a smart-casual style. It features a grade 5 titanium case that adds to its durability element. The face features a unique print that gives the watch a simple touch. It has a 48-hour power reserve limit and is water-resistant up to depths of 50 meters. It has a robust leather strap ensuring the watch serves you for a long time.
Retail price: £1,300,000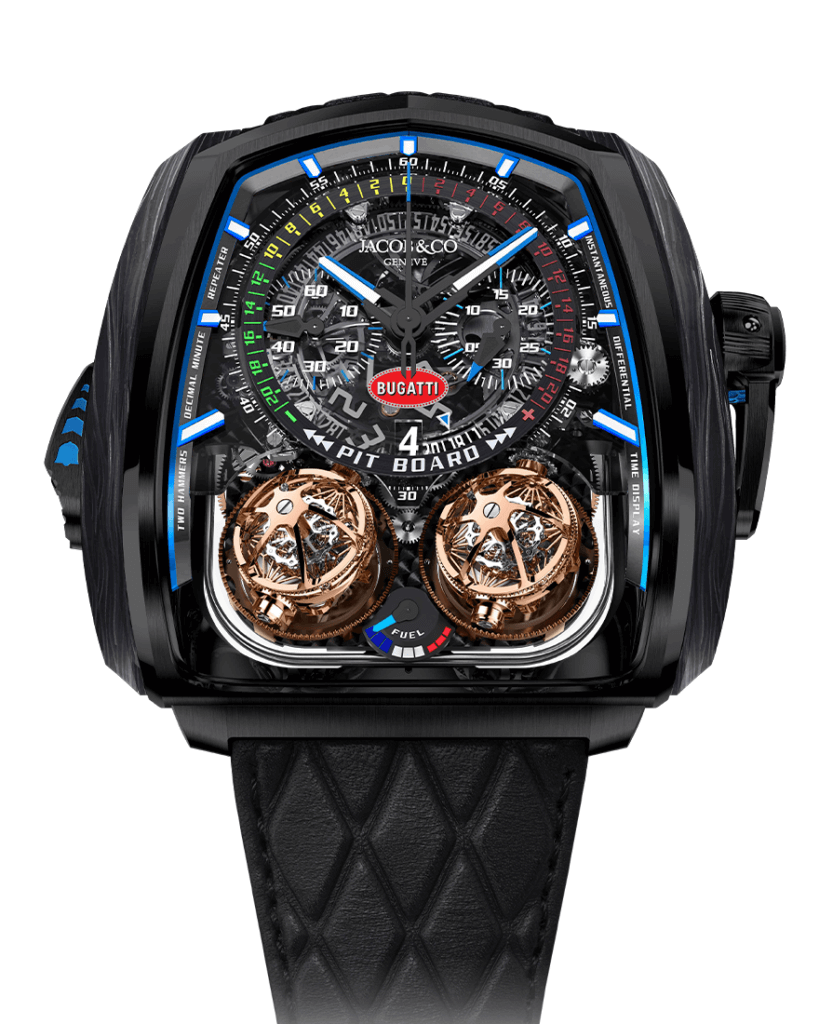 Case Size: 57mm
Case: 18ct Rose Gold / Carbon Fibre
Dial Colour: Movement View
Family: Twin Turbo
Strap Colour: Black
Strap Type: Alligator
Talk about the fusion of a skeleton watch and a sports watch, and you get the Twin Turbo Furious Bugatti timepiece. It looks both vintage and futuristic with the visible gears giving it a vintage retro look. It is a durable piece featuring an 18 karat gold and forged carbon casing, with a polished finishing that makes it shiny. With 200-meter water deep resistance, this is a durable watch with only 18 pieces coming from the manufacturing table.
Retail price: $380,000
Case Size: 42.5mm
Case: Gemstones, Rose Gold / Pink Gold
Dial Colour: Skeleton Dial
Family: Fleurs De Jardin
Strap Colour: White fabric/textile
Strap Type: White alligator leather
Recreating a beautiful garden of flowers on your wrist, the Astronomia Fleurs de Jardin Full Pink will leave you tickled pink. The delicate butterfly flying tourbillon, time display and upper-level pink sapphire kite-shaped flowers all turn around the dial clockwise in ten minutes, while the mother-of-pearl base set with pink sapphires turns counter-clockwise at the same speed. The 18k rose gold case features a bezel and inner ring set with pink sapphires, and sitting atop the movement is a 288-facet Tsavorite Jacob cut.
Retail price: $280,000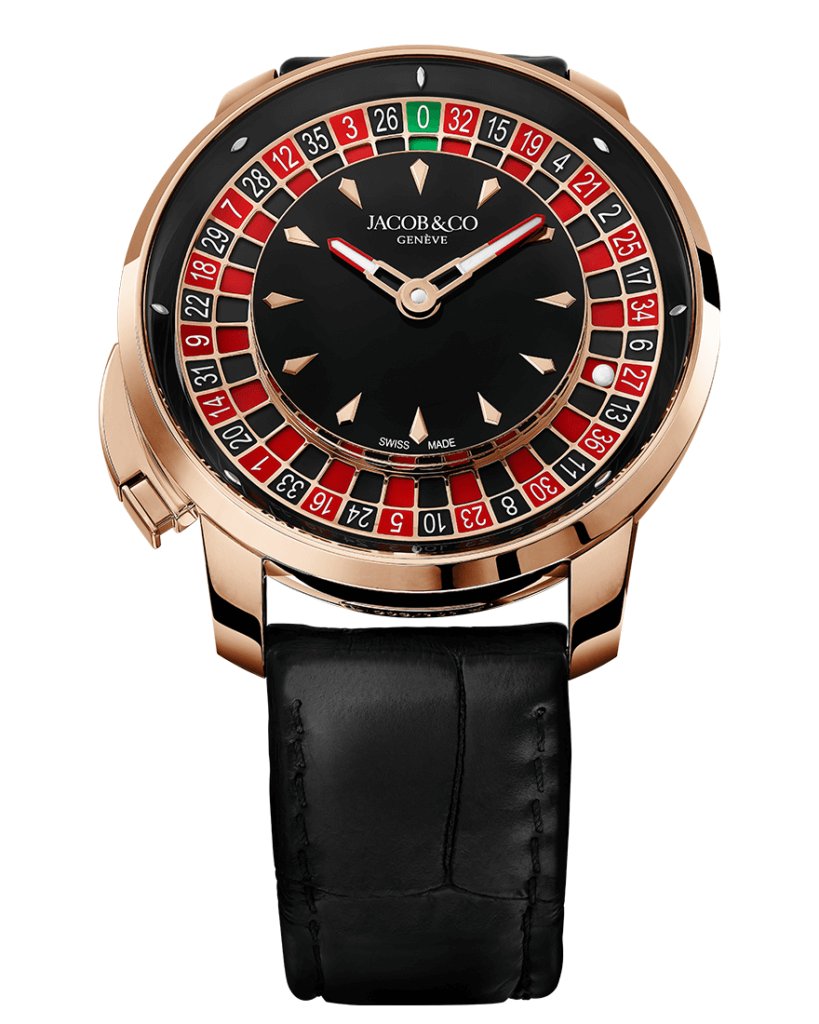 Case Size: 44mm
Case: 18K rose gold case, polished
Dial Colour: Black onyx with gold kite-shaped indices
Family: Tourbillion
Strap Colour: Black
Strap Type: Gold deployant buckle
The Jacob & Co. Casino Tourbillon is a perfect way to play and show your love of the game. The 44mm round polished gold case comfortably fits most wrists; the crown, as in the Astronomia Casino, is absent, and the only protruding element is the square-shaped button at 8 o'clock to activate the roulette wheel.
Retail price: $22,000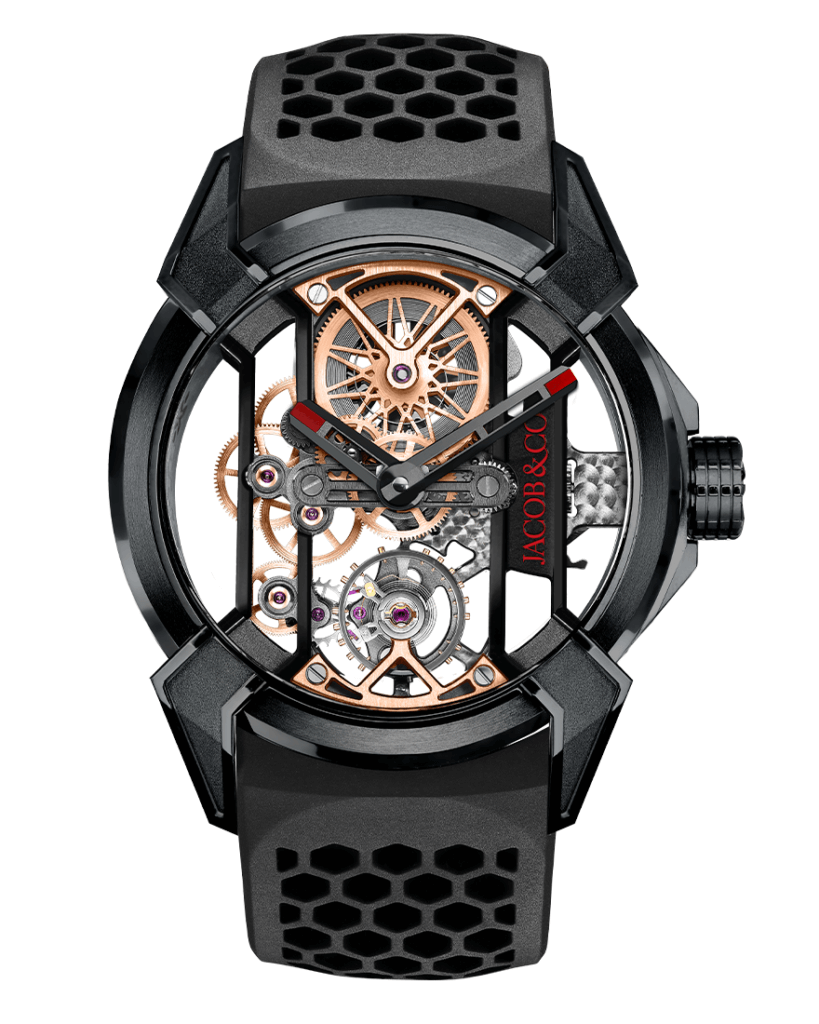 Case Size: 44mm
Case: Titanium
Dial Colour: Black
Family: Epic X
Strap Colour: Black
Strap Type: Rubber
The Epic X is a modern evolution of one of the most traditional forms of watchmaking, with its open-worked, or "skeletonized" timepiece allowing the movement to be visible both through the dial and the back of the watch, with as much metal removed as possible without compromising functionality. A bold and elegant yet robust case, will truly accompany you through your day, to the office, out for a casual dinner or even to an elegant party.
Retail price: $5,500
Case Size: 47mm
Case: Carbon
Dial Colour: Black
Family: Ghost
Strap Colour: Black PVD Stainless Steel
Strap Type: Camouflage rubber
Powered by a Swiss-made precision digital movement, the Ghost collection forges horological craftsmanship and digital age technology, presenting the time in 20 selected cities via an on-demand activated LCD screen. Customizable to display the time in a spectrum of colors, the Ghost takes a spectacular approach to cosmopolitan horology with a daring use of electronics that redefines the boundaries of watchmaking.
Retail price: $1,300,000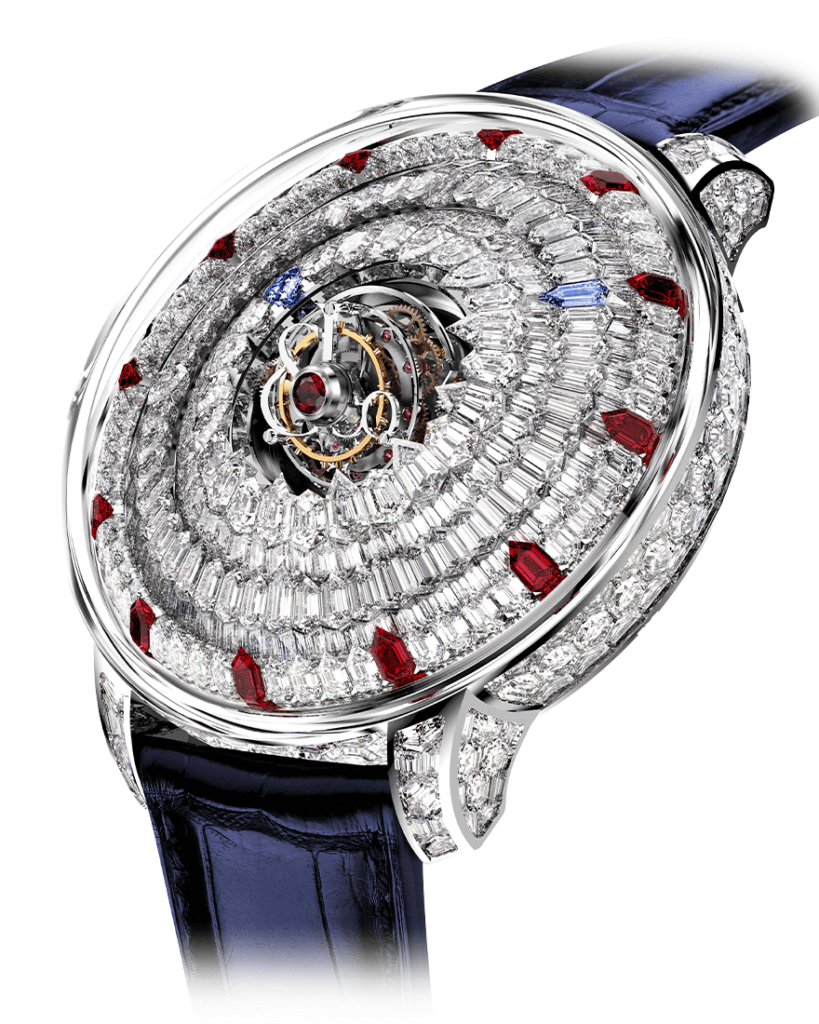 Case Size: 50mm
Case: Gemstones, Sapphire Crystal, White Gold
Dial Colour: Diamonds dial
Family: Tourbillon
Strap Colour: Blue alligator leather
Strap Type: 18K white gold & diamonds
The Mystery Tourbillon combines high watchmaking, a world first with two linked central, back-to-back triple-axis tourbillons, with high jewelry, as the case is invisibly set with baguette hexagonal diamonds and the dial is set with hexagonal, "overlapping" diamonds. The sophisticated and ground-breaking Mystery was more than one year in development.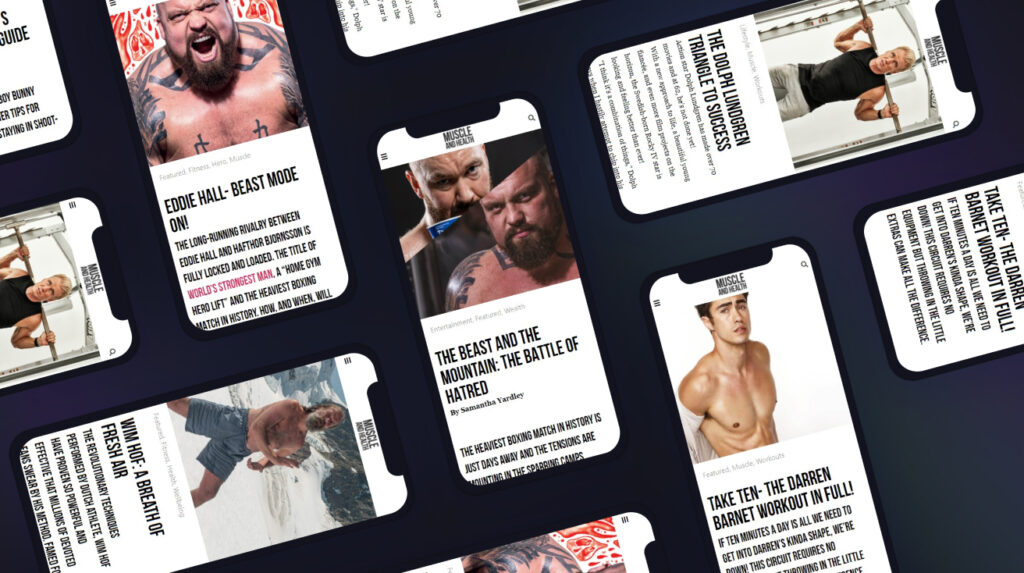 get all the latest mucle, health and wealth news delivered straight to your inbox