By Jack Franks
Original Interview by Samantha Yardley for Summer 2023 Edition
Photo Credit: Bare Performance Nutrition
"I'm going to make a million dollars this first year." 
Back in 2012, Nick Bare, founder of Bare Performance Nutrition (BPN) uttered these now immortal words to his Dad, only to be met with:
'Nick, if it were that easy, everyone would do it.' 
Those words proved to be fateful, as in the initial year, they made $20,000 in revenue, missing the mark significantly.
"I was humbled very early on," said Nick
Bare started BPN out of his college apartment in Pennsylvania using a handful of core ingredients: a pinch of a military loan, a scoop of trial and error, a dash of free help from friends and a sprinkle of not having any idea of what he was doing.
Ten years later, BPN wrapped up 2022 with 40 million in revenue.
With the company's slogan, 'Go One More,' now deep-rooted in BPN's DNA and tattooed on many body parts of followers, Bare's business continues to grow at an alarming rate.
But what's behind the success of this ever-growing empire?
From humble beginnings…
When he started BPN eleven years ago, Bare was a nobody in the world of social media, lacking any reach or exposure, which is a critical factor in driving sales and expansion in modern business.
A $20,000 loan provided by the military-associated bank, USAA, was the kickstart BPN needed. While his friends were buying engagement rings and new cars and dining out on caviar in exotic locations, Bare saw this as his "golden ticket" to start his own company.
"I found a manufacturer in the US. I placed my first production order for pre-workout and spent all the money on that production order. And then, I quickly realized I needed more money to design work labels, websites, and advertising. So I sourced all of that through friends and family for free."
The nutrition student would buy raw ingredients in bulk, measure them on a food scale that only weighed in one-gram increments, scoop the mixtures into baggies and sell them out of his dorm room for $5 a pop.
As the blends caught on, Bare enlisted a friend to build their website for free, another to design the labels, and he dieted down to take marketing photos.
"When I was early in college and deciding that's what I wanted to do, I was very naive and ignorant to the risks I took early on. I thought I knew what building a business looked like, and I thought I knew how challenging it would be, but I had yet to learn, and I had no clue."
Living in an apartment with five other guys, he would ship a few packages every other day, occasionally running 50% off deals to push inventory. However, it took Bare a whole year to sell the minimum order of 500 bottles.
BPN stagnated due to a young and brave budding entrepreneur riding a steep learning curve, admitting that numbers suffered partly due to poor branding, marketing and graphic design.
For three years, BPN barely broke even.
Growth could have been faster, with a lack of funds delaying investment in amino acids, creatine and proteins. No investors were coming forward, and Bare quickly realized this was no 'get rich quick' scheme.
Military Precision for the Win…
It was something Bare was aware of before jumping in at the deep end, and with a love of health and fitness fuelling his quest to break into the market, early signs of potential failure never deterred him.
"The military instilled a lot of leadership capabilities and practices into me, and I'm very grateful for that. That contributed to the success of the company and the organization. But entrepreneurship was just something that I jumped into through a passion and then learned by doing, not necessarily through a mentor, guide, coach, or parent."
"It was just, "Hey, you're in it now; let's figure it out." And for me, that's the best way to learn something.
"It started as a passion for health and fitness. Growing up, there were entrepreneurs in my family, but they were farmers.
"My dad's side of the family were dairy farmers and were self-employed people, and they were very hardworking. Dairy farmers are milking the cows every morning, and they're milking the cows every night.
"So I watched my grandpa invest everything of his life into this farm, for good and evil. I respected and loved watching that."
Following stagnant sales growth from 2012-2016, Bare decided to make the leap, get out of the US Army and go all in on his entrepreneurial venture in 2017, which turned out to pay off — literally.
But, it could have all been very different in late 2015 had he gone through with a potential liquidation of the company.
Upon returning home on Christmas leave in Pennsylvania, Bare heavily considered shutting down the business altogether due to no sign of profits on the horizon and hard work not converting into sales.
Bare abandoned his festive plans – likely to the annoyance of his family – and decided to dig in. He conducted a partial re-brand, re-doing the website and getting products professionally captured.
Social media was utilized more significantly, with Bare reaching out to fitness enthusiasts in the hope of a share, retweeting or liking. Still, his efforts were in limbo when he deployed to South Korea for nine months.
Before leaving, Nick Bare and his brother – and business partner – Preston made a pact. Make $10,000 a month in revenue. Within 30 days, that plan was a reality.
"The supplement company still wasn't growing, and it wasn't scaling, and there needed to be awareness. I started a YouTube channel documenting my life, training, and business building.
"This YouTube channel started picking up traction and an audience and consumers, which then correlated to an increase in sales, and that's where BPN slowly started to grow; it was just organically on social media by documenting the journey of building a business from someone who had no reason to build a business.
"We were the underdog; we had nothing going for us. We had no money, but we had all the passion and drive.
"That's precisely why it's so important and unique that we are where we are today because the amount of resiliency we had to go through to get to this point over this last decade has been tremendous.
"Everything was against us when we first got started."
A New Path for Nick Bare…
Fast-forward to 2023, and BPN is an esteemed nutrition brand for hybrid athletes. Its products are available on its website and emerging into retail, first in the company's home state of Texas in HEB stores and Vitamin Shoppe.
The supplement line is pivoting to a new message for the new year – a sub-campaign, "Prove Yourself Right" –  alongside Bare stepping down as CEO.
Earlier this month, BPN announced that Kat Thomas would take on the role of Chief Operating Officer following intentional efforts to separate Bare from being the sole identity of the line.
"I stepped down from the CEO role in January so that I could focus on creating content and building the brand rather than being as operational in the business.
"That's been game-changing for me, but for the brand as a whole, the impact I can make is through brand awareness and storytelling, not necessarily from an operational perspective.
Not content to rest on a monumental year for revenue turnover, BPN launched into Vitamin Shoppe stores nationwide, H-E-B grocery stores, SCHEELS sporting goods stores and Wegmans grocery stores.
2023 is another year of groundbreaking growth for Bare and BPN, allowing the founder to reflect on a stunning rise from his college dorm to a multi-million dollar business.
"These past ten years of my life have been challenging, rewarding and demanding. But I'm very grateful for these last ten years because it's gotten me to this point. 
"But it was never something when I was in college; I never said, 'I want to be an entrepreneur.'
"Now, a lot of my passion is through this community of people who bought into this brand and our mission. We have thousands of people tattooed 'Go One More' on their bodies.
"So now, a huge responsibility and obligation of mine are to show up for this community who is pushing so hard to get their life to a certain point. Now we need to be this role model and leader in a space to help them get there as well."
Related Article:  "I just fell in love with control": Nick Bare on his eating disorder and relationship with food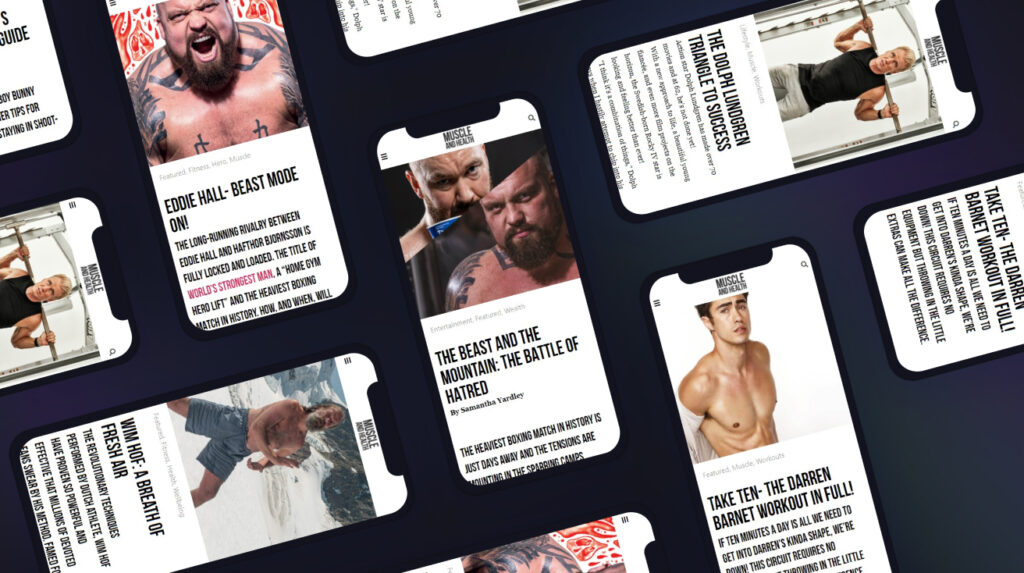 get all the latest mucle, health and wealth news delivered straight to your inbox