By Jack Franks
Korean show Physical 100 has taken Netflix by storm, accumulating 95.4 million hours of watch time since its release in February. 
The latest in an ever-expanding universe of reality fitness shows, Muscle and Health explores the desire to watch our fellow humans put through physical stress.
Physical: 100 – A real-life Squid Game (sort of)
Sometimes people get a kick out of watching others in pain. 
It seems obvious when pondering why so many of us religiously tune in to see a select group of individuals push their bodies, minds, and, at times, sanity to the extremes.
No longer a niche TV selection, Netflix's Korean competition series has taken the streaming platform by storm in 2023, pitting 100 contestants from various sporting and fitness backgrounds against each other with one singular aim: to discover the perfect physique. 
The winner takes home a cash prize of 300 million won (about USD 230,000) and has the accolade of protecting their very own statue sculpted to their exact body specifications. The other 99 statues that don't make it are destroyed in many spectacular ways.
Physical: 100 benefits from a unique and absorbing setting, with rooms and challenges offering an-almost game show-esque backdrop and a collection of quirky, watchable and (most importantly) supernaturally fit athletes. Plus, the addition of a faceless narrator who guides the contestants through the journey and drops in when rules need explaining.
Hmmmmm….something about that sounds familiar.
Ah yes! Squid Game. The link between 2021's most memorable show and Physical: 100 is too noticeable to ignore. Two participants even refer to the drama, saying they feel like they have been transported into Squid Game's life-or-death stakes game. 
Luckily for the 100, there is no such jeopardy. Unless you think moving a 1.5-ton ship is in jeopardy. Then it is.
What swings in Physical: 100's favor is the evident respect the athletes have for each other, with the forced drama and storyline-based reality missing entirely. Despite each contestant's goal being aligned, no unsporting behavior is on display. Yes, there are times when the competitiveness and in-built desire to conquer is clear, but it's always measured.
Some of the scenes could have benefitted from more time in the editing suite, Physical: 100 keeps you gripped and cursing Netflix's decision to release two episodes per week (this will no longer be an issue to those looking to binge from start to finish). 
The mix of individual, head-to-head and team challenges elevates the contest from a potentially mindless onslaught of lifting and grunting to a more rounded, tactical and psychological battle.
Physical: 100 is not the first and certainly will not be the last in reality fitness shows' increasingly active conveyer belt. It shows that the production value level is constantly growing, with the viewer now demanding bigger, stronger and more entertaining contestants, settings and obstacles. 
The question is: Why?
Survivor: laying the foundations of reality fitness TV
The origins of reality-based fitness can be traced back to the turn of the millennium. Or to be more precise May 2000. 
It was a different time…Gladiator made its premiere, Eminem released his now best-selling studio album, 'The Marshall Mathers LP,' and India's population reached 1 billion (just some of the highlights of a great year).
But when it comes to reality TV, one of the greatest moments was the debut of 'Survivor' on CBS. Based on the Swedish Show, 'Expedition Robinson', the concept was revolutionary. It saw 16 contestants split into two tribes and placed in an isolated location without food, fire or shelter. The participants were required to entirely fend for themselves, with one being voted out every three days. There were challenges to win prizes, some memorable and groundbreaking.
In the first season, set in a remote area of Borneo, Malaysia, contestants had to race to light a burning man, swim into deep water to drag a chest along the ocean floor and rescue a fellow islander who was dangling from a tree in the jungle via a parachute.
Survivor's influence on modern-day reality is glaringly apparent, even outside the fitness sphere. The challenge titled "Face-Off" from Series 8 in 2004
Purely psychological and designed to cause friction and create division between players, loaded questions such as, "Who is under the false impression that they are smart?" would require an answer. Now a common technique deployed within reality shows, it never fails to keep audiences bitching along with contestants.
Survivor is still going strong, having racked up 43 seasons across three decades, five continents and 18 countries. A new set of contestants are set to embark on the 44th installment of the seven-time Emmy-winning show in March 2023. Survivors walked so the rest could run.
Jumping on the fitness reality bandwagon…
Survival was only the beginning, and since then, there has been a slew of fitness-based reality shows to compete as producers realized just how widespread the dramatic elements of reality shows could be. 
They have also given way to a new age of "reality stars," with some gaining popularity and other notoriety from the shows. 
Honorable mention goes to 'The Challenge' – which merged the late 90s shows 'The Real World' and 'Road Rules.' The series sprang to notoriety in 2002 when the show added eliminations, throwing in a layer of scheming and manipulation.
Iconic challenges include 'Stratos-Fear', which required contestants to complete a bungee jump and the injury-inducing 'Car Crash', which saw players jump from car to car while suspended. Filming was halted the following days due to the wounds those unfortunate to be selected suffered. None of the protection contestants get today. This was real and raw.
Casting an eye over some of the tests put together for our viewing pleasure over the last 38 seasons and 524 episodes makes you question the sanity of contestants and viewers.
Fast forward to 2009, and a new kid on the block. 'American Ninja Warrior,' which concluded its 14th season in August 2022. The reality fitness show took inspiration from the Japanese show 'Sasuke' in which 100 competitors took on four obstacle courses of increasing difficulty.
The aim? 
Reach kanzenseiha, which roughly translates as 'complete domination.' Obstacles are heavily dominated by climbing, swinging, balance and speed elements, and remarkably, only four competitors have ever reached the peak across 40 editions of the long-running show. To this day, Ninja Warrior has spread its wings across 18 countries, including the more niche destinations of Denmark, South Africa, Finland, New Zealand and Croatia. 
And the final spot in the reality fitness hall of fame must go to SAS: Who Dares Wins, broadcast in both the United Kingdom and Australia. Going strong into its fifth and third seasons, respectively, the show pits participants into harsh environments and puts them through a condensed version of the United Kingdom Special Forces selection course. 
It was one of the first shows to focus on the mental side of fitness, with regular interrogations lifting the lid on contestants who all carried emotional baggage and trauma. When the final task arrived, in which participants were held hostage and forced not to reveal critical information at their own cost, you cared for these people.
Why do we enjoy watching the struggle?
So is it schadenfreude or something else?
Do we enjoy people in pain while we sit cozy in our homes, or are we rooting for these people?
Television producer Max Burnett initially brought the Swedish concept of 'Survivor' to the US and can be held responsible for fitness reality tv as we know it today. But he was keen to avoid the mean-spirited nature of the original process.
Burnett wanted to focus more on the human drama experience under pressure. That is why shows like 'Survivor', 'Ninja Warrior', 'Physical: 100' and 'The Challenge' are so successful. 
It's human nature to want to understand what we can do in testing conditions.  But because so many of us will never likely experience these tests ourselves, we get our fix by digesting the efforts of others. It's almost a type of therapy.
Teyhou Smyth, Ph.D., LMFT, a teacher of psychology at the Graduate School of Education and Psychology at Pepperdine University, believes:
"Often reality shows cause us to reflect on what we might do in a similar situation, which can be a good exercise in values exploration. We enjoy watching the struggle, whether it is a competition for love, money, fame, or notoriety. When we root for our favorite reality show participant, we identify something compelling within them, which may say a lot about us if we choose to explore it."
The shows above scarcely deserve a place in the 'guilty pleasures' category of our day-to-day viewing choices (we're looking at you, 'The Real Housewives' and 'The Bachelor'). A long list of shows is tailored to those seeking escapism to avoid everyday life's monotony.
While reality shows centered around fitness offer escapism and a chance to experience something otherwise out of reach, they are also tools for education, improvement and understanding.
It's incredibly likely someone has created a training plan or incorporated a new routine into their training because of something they've heard a professional athlete mention on 'Physical: 100', not to mention opening their mind up to a different culture and way of thinking.
Althia G McLaughlin, MA, LCMHC has the opinion that:
 "These programs appeal to the voyeuristic nature in most of us — we are getting a window into how different people respond to varying circumstances. This valuable information can enable us to learn about others and ourselves. How would WE handle that same situation? And why?"
Next time you watch a professional strongman hold a 110-pound boulder on his shoulder for two hours (episode 7 of Physical: 100 if you're interested), ask yourself how YOU would handle the same situation.
We can probably guess the answer.
Related Articles
VR Fitness: The Best Virtual Reality (VR) Workout Games
The Pub-inspired Class That Guarantees You Leave with a Six-pack… of Beer
Need More Time? Stop Watching TV! Here's Why Television Is Stopping You Experiencing Your Life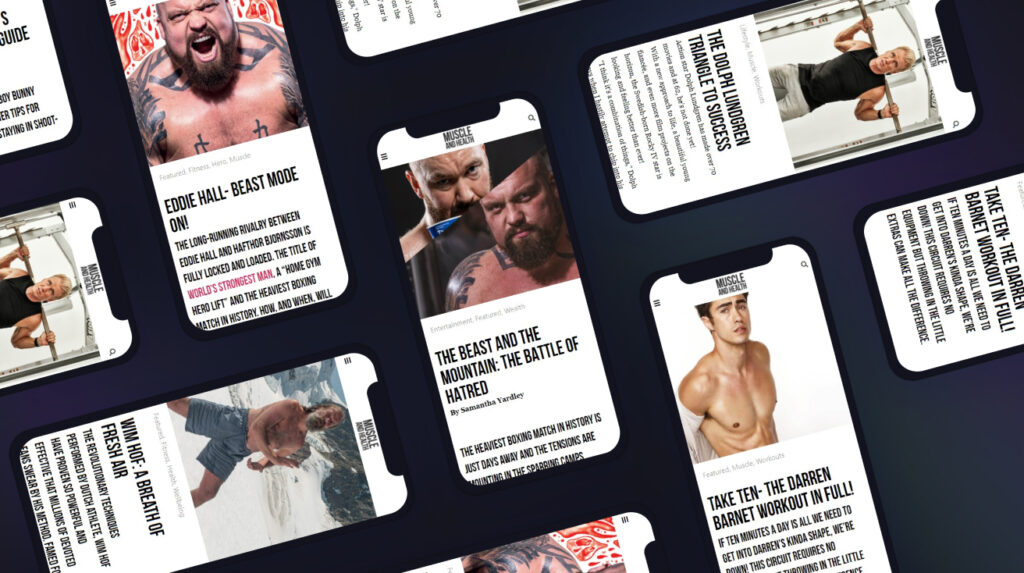 get all the latest mucle, health and wealth news delivered straight to your inbox