By Danni Levy
There is no doubt that chicken is a hit across the world, and with so many ways to make it, it's not hard to see why. 
We pecked at the poultry plates served by five countries to see how they compare in taste, nutritional value and convenience.
Portugal: Peri-Peri Chicken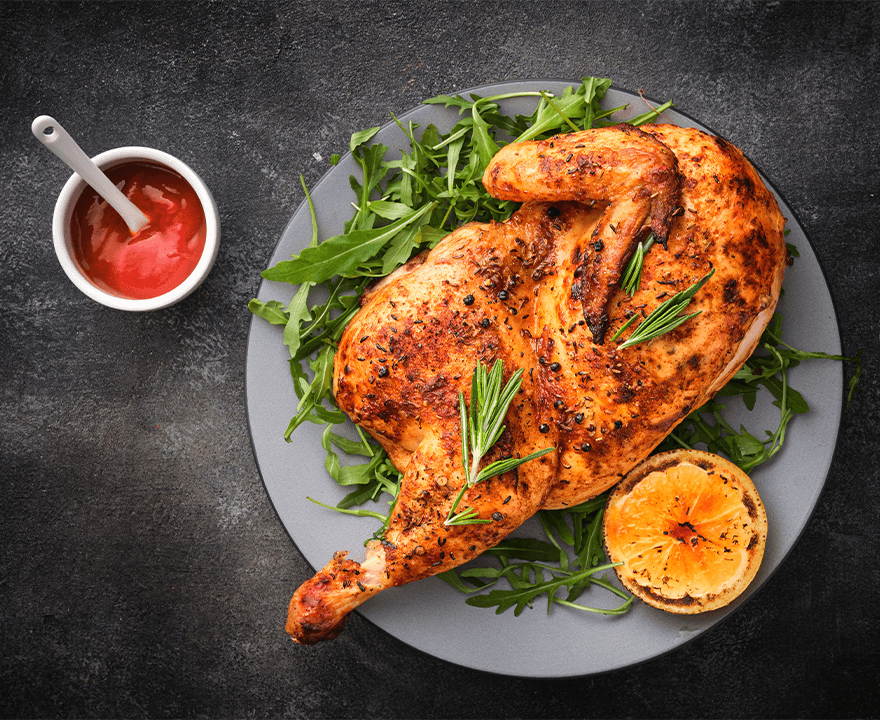 Peri-peri, otherwise known as Piri-piri, is thought to have been created by Portuguese explorers in Mozambique in the 15th century.
The Pepper to the Peri
In traditional Algarvian cuisine, a chicken is split open and grilled before being doused in a fiery sauce consisting of piquant pepper, garlic, vinegar, olive oil, salt, bay leaves and lemon juice. While there are numerous variations of the dish, it has become as ubiquitous in many countries as dishes of their origin. 
Satisfaction Rating: 9/10
What's not to love?!
Macros per 150g (breast meat): Carbs: 7.8g, Protein: 51g, Fat: 11.6g, Calories: 342
Health Rating: 9/10
Protein-packed and full of kick! A dish makes our taste buds tick! 
OVERALL SCORE: 18/20
Jamaica: Jerk Chicken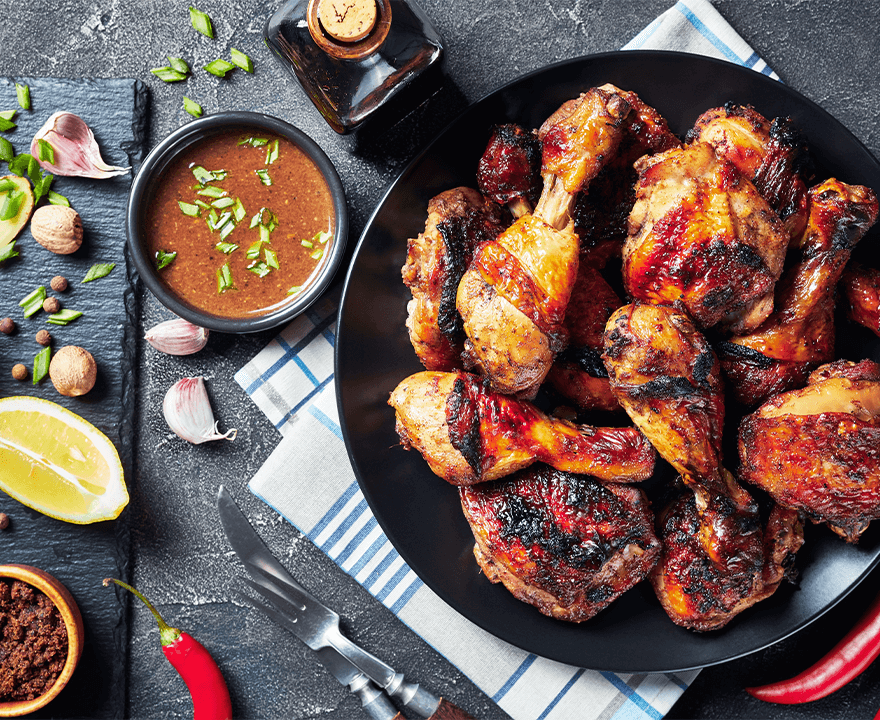 One of the most well-known Caribbean foods, the origins of this recipe go back 2500 years to the settling of Jamaica by the Arawak tribe. This tribe from Peru used the word charqui for strips of dried meat. We now know those strips of the dried meat as "jerky," and thus began the tale of Jamaican Jerk chicken. 
What Makes Jerk so Juicy?
Jamaican Jerk flavoring is a paste or a marinade consisting of pimento, or allspice, and scotch bonnet peppers. The meat is doused in the marinade and slow-cooked over a pimento board to create its signature smoky flavor. Chefs and home cooks will often add scallions, pepper, salt, thyme, and other spices native to Jamaica to their recipes.
Satisfaction Rating: 8/10
Unless it's raining and cold outside, this dish gets us in the mood for Caribbean food.
Macros per 150g (breast meat): Carbs: 11g, Protein: 51g, Fat: 21g, Calories: 437
Health Rating: 8/10
Provided breast meat is used, the fat content of this dish is relatively low. Some chefs add soy sauce or opt to make the Jerk sauce super salty, but most variations rate highly on the health chart.
OVERALL SCORE: 16/20
England: Roast Chicken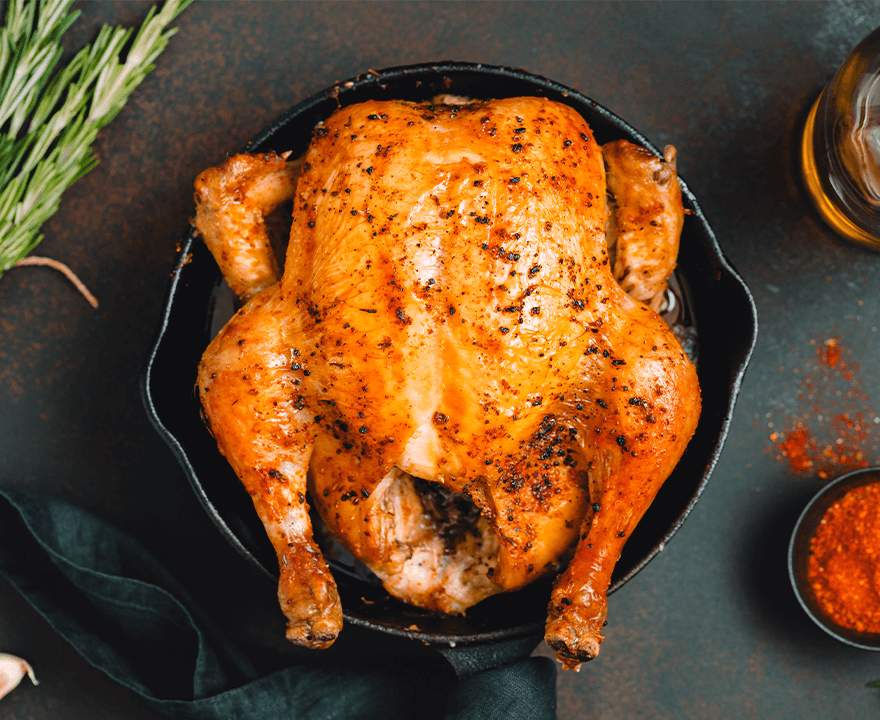 For centuries, the British were famous for their roast chickens, attached to a spit, before being hand-turned in front of a devilish fire. We no longer do this. Today, we cook them in the oven, so technically, they are baked meats, not roasted ones. In honor of the great Sunday roast, here's our technical analysis.
Succulent Sunday Secrets
In British cuisine, a chicken is traditionally prepared to roast with softened butter and seasoned with salt and pepper before being delighted with a generous helping of gravy.
Satisfaction Rating: 8/10
Unless you're a lamb lover, beating a Sunday date with a well-roasted bird is pretty tough.
Macros per 150g (breast meat with gravy): Carbs: 4g, Protein: 51g, Fat: 40g, Calories: 580
Health Rating: 6/10
Sadly, adding butter melts away a good few health points, and the gravy leaves a salty taste in our mouths. 
OVERALL SCORE: 14/20
American South: Southern-Fried Chicken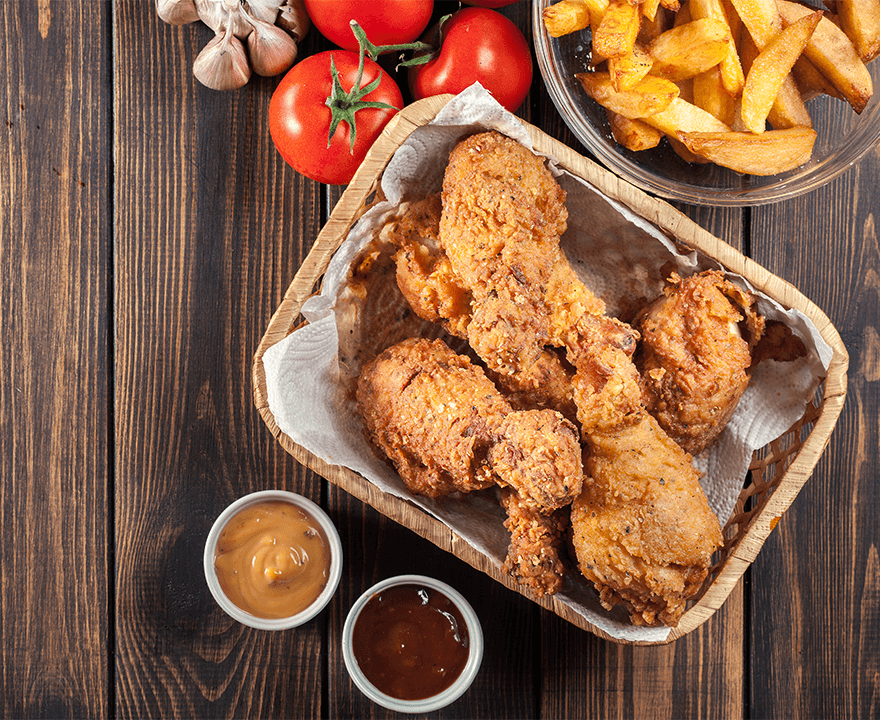 While the Scots were the first to fry their chicken deep, this method is now more commonly associated with Southern American cuisine. Known as soul food, this dish strikes a balance between flavorful, tender meat on the inside and a perfectly crispy coating on the outside.
The Steps to Deep and Soulful Food
The chicken, typically thigh meat, is coated in a batter of oil, eggs, buttermilk, various seasonings and flour before being deep-fried to perfection. 
Satisfaction Rating: 7/10
While this dish can be a little greasy, there's no denying the caveman crunch can be supremely satisfying.
Macros per 150g (thigh meat): Carbs: 7.4g, Protein: 41.7g, Fat: 27.5g, Calories: 296
Health Rating: 6/10
Provided you opt for a good oil and don't overdo the flour, this dish isn't as bad for your arteries as you may think. There's always the air-fryer option if you're home cooking, but we had to knock a few points off for those greasy take-away outlets that send our generous macro-analysis off the chart.
OVERALL SCORE: 13/20
Australia: Barbecue Chicken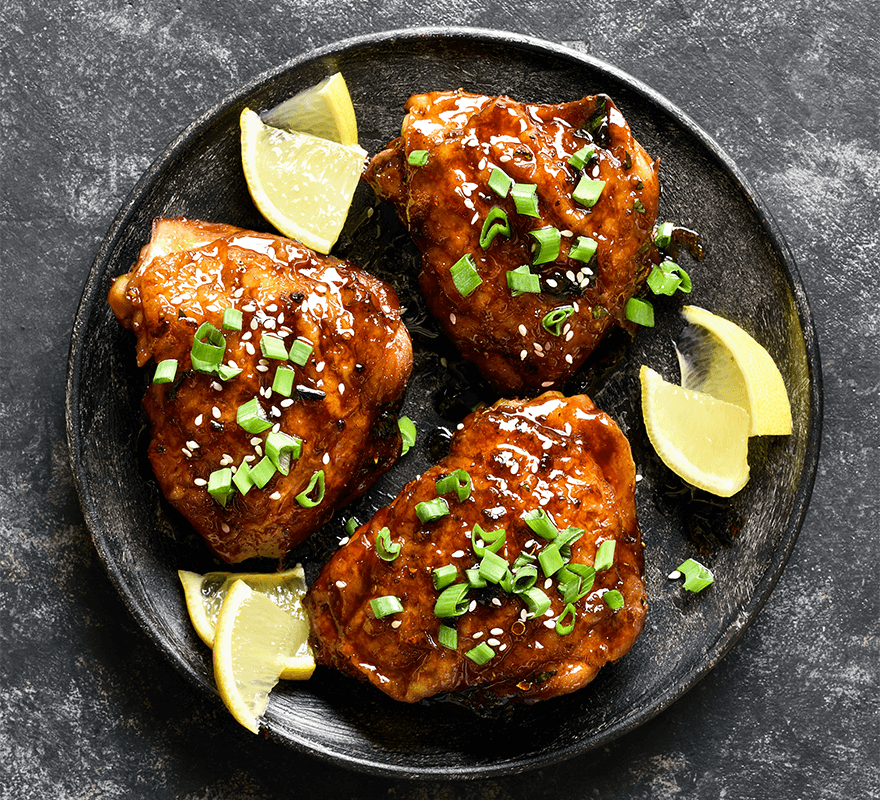 Whilst the Aussie aren't the only ones capable of throwing a good BBQ, we had to credit them with this cooking method because, well, we love a good old bird on the barbie.
How to Turn Up the Heat
Usually, chicken is coated in barbecue sauce before being cooked over coals or gas. The use of sugar, honey and ketchup are common in home-cooked versions of this condiment. 
Satisfaction Rating: 10/10
Provided the sun is out, we can't find any flaws! 
Macros per 150g (chicken breast with 1tbsp barbecue sauce): Carbs: 12.7g, Protein, 51g, Fat: 3g, Calories: 281
Health Rating: 9/10
Perhaps a little sugary but there's little to fault about this sizzler! 
OVERALL SCORE: 19/20
WINNER: AUSTRALIA
Related Articles
Licence To Grill: Heat Your Meat BBQ-Style This Summer
Flavor For Days: Baked Paprika Chicken(Opens in a new browser tab)
The Whitehouse Chef's Angry Chicken Recipe: Polish Off the Most Flavorsome Palatable Piece of Poultry Ever
Cannabliss: Mouthwatering Muscle-building Meals from Marbella's First Cannabis Members' Club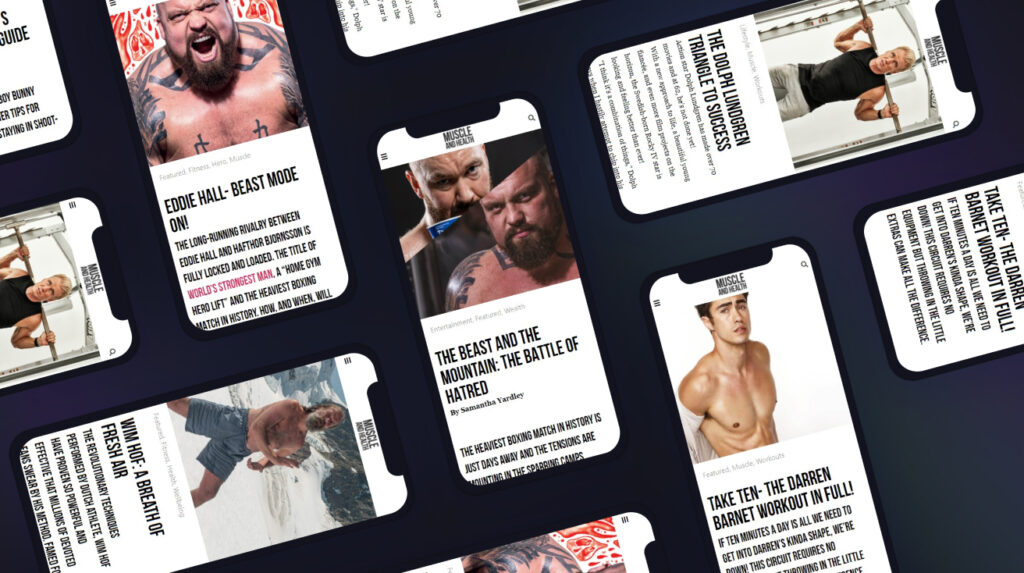 get all the latest mucle, health and wealth news delivered straight to your inbox