By Jack Franks
Food, glorious food.
It's at the epicenter of our daily lives, dictating how we feel and fuelling our hectic 21st-century schedules and commitments.
It's also only possible to avoid headlining our social media feeds and dominating a chunky proportion of apps, and that's not to mention the bombardment of ads catapulted toward our eyeballs on any screen that can accommodate.
While the allure of fast food still reigns supreme courtesy of mega-bucks sponsorship deals and appearances from that celebrity you recognize but can't quite put your finger on, the health-conscious generation is approaching fast in the rearview mirror.
People are now constantly looking for the latest trends, recipes and options ready to be chopped, sprinkled, grilled or air-fried, as is the norm for 2023.
Processed foods are becoming a vision of the past. The Business Research Company predicts that increasing fitness awareness among society and the ever-growing number of health-conscious consumers will drive the organic food market over the next ten years.
The report estimates the global organic food market will grow from $259 billion in 2022 to $294.5 billion in 2023 at a compound annual growth rate (CAGR) of more than 13%. That's enough for a starter, main and dessert with all the trimmings.
It's unsurprising that foodie social media influencers and the space dominate a significant dollop of the pie.
Influencing the way we look at food
According to Tiger Menu, 38% of Instagram users look at food content, with 27% sharing content with scrumptious food on offer, highlighting the desire of consumers to salivate over freshly cooked goodness in all shapes, sizes, colors and flavors.
How often have you seen an overhead shot of a dish being cooked, the process documented at a speed that perfectly aligns with your need for quickly digestible content and appealing visuals?
You've likely gone on to either like or comment on that post or share it with a friend, declaring your passion to have a go yourself or find someone else to do the leg work. Food influencing works and millions of social media-savvy pioneers are capitalizing on the movement.
Brands and restaurants now religiously seek out the best fitting influencer to collaborate with and promote their food, consistently increasing customers, sales and exposure. In fact, a report shows that 93% of marketers stated they'd used influencer marketing within their overall strategy. Makes you think of the 7% who are missing out.
With the power to forge connections and strike up relationships between brands and consumers, it's no surprise brands have realized it's a match made in culinary heaven, further evidenced by a recent study that discovered that influencer marketing can increase purchase intent by a mouth-watering 5%.
Influencer marketing has transformed the food industry and our own concepts of eating habits. People love food. People love subjects they can relate to. People love visuals. People love recommendations.
Mix those ingredients together, sprinkle in some quirky personality and Michelin star charm, and the perfect recipe is born.
The best healthy food accounts to follow
To contextualize the sheer scale of food's vice-like grip on social media users, the hashtag #foodstagram alone has been used over 118,000,000 times. That's relatively high.
However, not every account, influencer or piece of food-related content is steered toward a healthy lifestyle. Unsurprisingly, consumers are more stimulated by fast food and calorie-dense foods than a bowl of spinach. 
A 2021 BBC report stated that 'scientists are becoming increasingly concerned that food-related content on social media is making us think differently about food. Social media algorithms promote content that users engage with more, so viewing more unhealthy food means seeing more of it on our social media feeds, according to Ethan Pancer, professor of marketing at Saint Mary's University in Halifax, Nova Scotia, Canada.
While takeaways and sugary drinks have their glued audiences, the shift has been noticeable in recent years to a greener outlook, promises fewer clogged arteries and enhanced livelihoods. 
But who do you follow in such an over-saturated and saturated fat-heavy space? Cut through the crap, sift out the sugar and sieve out the salt. Muscle and Health brings you the best healthy food accounts and influencers to follow today.
nutritiouslydelicia
@nutritiouslydelicia This is my favourite way to make a smoothie bowl. I really love the added protein and fats to make it a more filling meal! 🤍 Raspberry Protein Smoothie Bowl Ingredients 2 frozen bananas 2 handfuls frozen raspberries 1 scoop protein powder @freesoulsistas 1 tbsp milled flaxseed 2 tbsp milk I used oat Toppings Strawberries Raspberries Blueberries Granola Method 1. Add all the ingredients to a food processor and blend until smooth 2. Once smooth add to a bowl and then top with your toppings of choice! . . . . . #healthybreakfastideas #healthybreakfast #healthyrecipes #breakfastinspo #smoothiebowl ♬ Nice Day – Muspace Lofi
UK-based Delicia Bale is a qualified nutritionist who offers aesthetically pleasing healthy food pallets in a simple, easy-to-follow structure.
We loved her Chilli Honey Halloumi Flatbread recipe, and she even puts the full rundown in her video descriptions so you can have a go yourself. 
Declicia also offers a 1-1 nutrition consultation and plan, where she can talk through your health and lifestyle choices, provide tips and give dietary recommendations. 
tonichealth
A modern-day health and foodie expose influencer, tonichealth aims to provide daily health truths, cutting through the bullshit and getting straight to the main course.
Most of his videos are set in supermarket aisles, where he uncovers the dirty truth and harsh reality behind some of the so-called healthy options. Shoppers, beware: he's coming for you, too, dissecting trolleys and shaming the sugar hounds.
Ever wondered what's actually inside an Oreo? Why is sugar the first ingredient of lots of vitamins? And what's worse: cocaine or sugar? It's a wormhole of findings.
plantyou
Carleigh Bodrug is a New York Times Bestselling Cookbook Author and has racked up around 6.5 million followers across TikTok and Instagram with her pioneering plant-based brand.
First of all, she's a great host. Likable and energetic, her personality shines during her recipe videos, and many focused on utilizing spare food to lower wastage. This is plant-based heaven from full meals like her Peanut Butter Curry, her secret green sauce, and desserts ranging from Blueberry Chia Pudding to Frozen Pancake Batter.
She's now incorporating series into her content, with 15-minute quickies, recession recipes and leftover hacks. Head to her Linktree to discover everything she has to offer.
thegoodbite
@thegoodbite Garlic-Honey BBQ Chicken Burger😍😍 This is such a banging little burger and only 444 calories! SAVE this recipe for later, and tag a friend! ❤️ Here's your shopping list: 2 chicken large breasts – butterflied. 1/2 tbsp of garlic granules. 1/2 tbsp of smoked paprika. Salt, to taste. 2 egg whites. 100g of cornflakes, break some up with hands. 3 tbsp of honey. 3 tbsp of BBQ sauce. Tbsp of soy sauce. Juice of 1/2 a lemon. Tsp of garlic granules. 4 brioche buns. Tbsp of light mayonnaise. Chopped iceberg lettuce. The full recipe is on our website. Link in bio. #TheGoodBite #Chicken #Garlic #Honey #BBQ #Burger #LightBites #Series #HighProtein #Food #Delicious #Easy ♬ Me Against the World – 2Pac
Our mouths are watering, and yours will be soon. From the outside looking in, you'd be forgiven for thinking this was a fast food account, with burgers, chicken, and carbs in most of the zesty thumbnails. Fear not; this is for those looking to indulge but stay on track with their diet and macros.
Low-calorie alternatives to your staple cheat foods are on glorious offer here, from BBQ Chicken & Pepperoni Pizza to Garlic-Honey BBQ Chicken Burgers, a clear winner with foodies considering the 8.5 million views!
Guilt-free goodness. Yes, please.
zack.chug
Zack Chug is a superhero living in Dubai. Let me rephrase that he is the 'World's First Public Superhero. Presenting high-protein and low-calorie recipes, his work within his community is just as impressive as his scrumptious meal prep plans.
A perfect influencer for gym-goers looking to pack on muscle and stay lean, Zack musters up the likes of Sticky Korean Fried Beef, Chicken Gyros, Butter Garlic Chicken and Loaded Fries, all of which are macro-friendly and last a week.
Hats off to his use of comic book-style special effects and snazzy outfits. He's carved out a niche as the Superman of the food influencer world.
mattrosenman
Something a bit different here. Matt Rosenman is a health food branding expert who has garnered attention for his health-focused rebranding of popular unhealthy food items such as Coca-Cola, Doritos, Skittles and Snickers.
He aims to educate people about reading up and learning about the nutritional elements and ingredients of what they consume. Matt wants people to stop making food choices because of the packaging and selecting options based on how they sound and present themselves. 
He also offers some fun macro-focused recipes and some educational calorie guide graphics. It is a nifty account with lots to offer and some cool designs to admire.
emthenutritionist
@emthenutritionist A day of high protein balanced meals 124g protein A requested WIEIAD to show you some tips and tricks on how to create meals that are light, high in protein but still satisfying. Remember, this is just a source of inspiration; nutrition is about self-care and love. VEGETABLE OMELETTES Bulking out omelettes with egg whites and vegetables boosts protein and portion size to keep you fuller for longer. I like to recommend L-glutamine, too, as it is not only good for the gut but helps with sugar cravings. Pickles and ferments like kimchi can help boost satiety further, and add extra high fibre carbs to leave your blood sugar balanced all the way until lunch. CRISPY BAKED CHICKEN TACOS Adding spices to the chicken taco mix helps it become more filling, as well as adding fibre-rich black beans to slow digestion. Making food you also enjoy is key, deprivation is not the answer. If you restrict, you will only want it more. CLEAR WHEY SMOOTHIE A @myprotein clear whey smoothie for an afternoon pick-me-up. It is blended with water, keeping a light but protein-filled option. I added some raspberries, spinach and chia seeds. SPAGHETTI AND MEATBALLS I like to sneak grated courgette into my meatballs which not only adds volume but also makes them so soft and gorgeous. Packing my sauce with lots of vegetables and opting for a protein-based pasta made from split peas @ZENB_UK is an amazing way to get in even more fibre and protein compared with traditional pasta. HONOUR YOUR SWEET TOOTH Cap the sweet tooth craving, or you will just obsess over it! #wieiad #wieiadweightloss #wieiadhealthy ♬ original sound – Emily English
Emily English has one goal. Provide food you want to eat that is nutritionally balanced. A King's College London graduate, she's front and present in most of her color-popping videos, with exquisitely presented dishes packed with goodness bursting out of the screen.
She also does voiceover videos documenting what she eats daily as a nutritionist, offering viewers a more raw and revealing side to the influencer. Some excellent breakfast options here: Healthy Egg Wrap Parcels and Air Fryer Granola, our personal faves.
fatlossfoodie
Lou Deanie sometimes stares into your soul in his chaotic and snappy videos, but one thing is for sure: we always gain a nugget of value after watching. Topics range from calories, 
supplement truths, health fads and self-poisoning by drinking coffee. Yeah, who knew? 
Ultimately, fatlossfoodie's primary goal is to help you become the best version of yourself. A quick 10 minutes on his profile, we've come away with the following: the average person is exposed to over 80,000 chemicals daily, smoking a cigarette swallows 11 minutes off your life expectancy, and the human body is not designed to get sick. Mind blown.
@fitmencook
View this post on Instagram
With over 1.5 million followers on Instagram, Kevin Curry and his 'Fit Men Cook' brand has taken off. A self-taught cook after rising blood pressure jolted him into drastic lifestyle changes, he now boasts his own cookbook featuring 100 meal prep recipes.
There are some ingenious recipes on here. Ever tried a roasted beet smoothie? Thought not. Our favorite simple meal prep idea is his easy chicken meal prep recipe. It's such a great solution to minimize your effort while maximizing flavor. And Kevin is a super chill and nice guy to follow. Win-win.
ketorecipes
@ketorecipes LOWCARB HALAL CART BOWL. . This meal is UNREAL. Just make it. . I made this HIGH PROTEIN and LOWCARB with my @Kaizen Food Company lowcarb rice. Use code TIKTOK to save 20% on my kaizen lowcarb pasta or rice. . Here is how to make it: . 1. Dice 2 lbs chicken thighs and add to a bowl. Mix with 1 tbsp smoked paprika, 1 tbsp garlic powder, 1/2 tbsp sumac, 1/2 tbsp oregano, 1/2 tsp cumin, 1/4 tsp cinnamon, a few pinches of salt, & ground pepper along with 2 tbsp plain yogurt and juice of half a lemon. Mix VERY well, then ideally let this marinate for 2 hours to overnight, but if you want to make it right away you can. . 2.When you're ready to eat, bring a pan to medium heat, add 1 tbsp avocado oil, add the chicken, and cook it through on medium heat, mixing often with a spatula. This takes about 10-12 mins depending on thickness of chicken. . 3.Make the sumac pickled red onions by cutting a large red onion in half & thinly slicing it. Add to a bowl, sprinkle with 2-3 pinches salt, 1 to 2 tbsp of sumac, and juice of 1 large lemon. Mix well, then let it sit for about 10-15 mins, stirring it a couple of times. . 4.Get your other veggies ready: thinly slice iceberg lettuce, tomato, and finely chop some fresh parsley. . 5 Make the white sauce by mixing 3 tbsp mayo, 2 tbsp sour cream, 3 tbsp white vinegar, a small pinch of salt, & lots of fresh cracked pepper. Mix well. . 6.Finally, get your base ready. To keep this lowcarb, I used my Kaizen lowcarb rice (just 6 net carbs + 20g protein per serving), but you can use rice, cauli rice, quinoa, or whatever you like. I boiled my rice for 5 mins in a mixture of salted water & chicken broth to add flavor. . 7.When rice is cooked, add a serving to the bowl, some chicken, then pile it high with lettuce, tomato, pickled onions, fresh herbs, and drizzle it up with the white sauce and hot sauce or sriracha. ENJOY. . Remember you can get my Kaizen lowcarb rice or pasta on my profile and use code TIKTOK to save 20%, or you can find it on Amazon. . . #lowcarb #lowcarbrecipes #lowcarbrice #keto #ketorice #ketorecipes #healthyrecipes #halalcartchickenandrice ♬ time travel – chief. & nobuddy
Arash Hashemi is proof that the keto diet works wonders. The foodie with over 1m followers on both TikTok and Instagram has lost over 100 pounds during his keto journey, and he wants to help the world do the same.
For those who are not aware, the keto diet goes very low on carbs, instead replacing them with fats to help the body burn fat for energy. With that being said, there are low-carb salads, sushi, Marry Me pasta, tortillas, halloumi, tandoori chicken…you get the idea. This is a haven for keto connoisseurs. 
Checkout our article with Hulk Hogan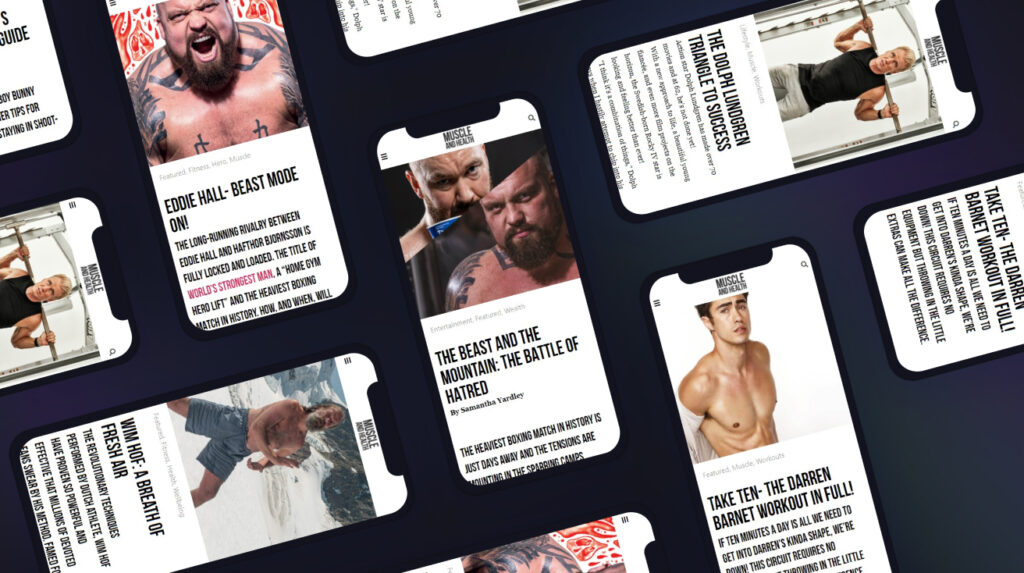 get all the latest mucle, health and wealth news delivered straight to your inbox