Words by Jack Franks
In today's fast-paced world, many of us turn to energy drinks to quickly boost energy and improve our focus.
However, most commercial energy drinks are packed with artificial ingredients, excessive sugar, and high levels of caffeine, which can adversely affect our health. 
But fear not!
There is a better alternative – natural energy drinks. These beverages provide a clean, sustainable energy boost without harmful side effects. So what is the most natural energy drink?
This comprehensive guide will explore the best natural energy drinks available on the market, their benefits, and how they can enhance your overall well-being. 
Benefits of Natural Energy Drinks
 Natural energy drinks offer a range of benefits that can help you power through your day without compromising your health. Here are some key advantages of incorporating natural energy drinks into your routine:
Clean Ingredients

: Natural alternatives are made with clean, organic ingredients, unlike conventional energy drinks. You won't find any artificial additives or preservatives in these beverages.

Sustained Energy

: Natural energy drinks provide a sustained release of energy, preventing the dreaded crash that often accompanies traditional energy drinks.

Improved Focus and Concentration

: Many natural energy drinks contain ingredients like green tea and botanical extracts that can help improve mental focus and concentration.

Enhanced Athletic Performance

: Some natural energy drinks are specifically formulated to boost athletic performance, providing an extra edge during workouts or competitions.

Caffeine-Free Options

: If you're looking to reduce your caffeine intake, plenty of natural energy drinks are available that are caffeine-free but still provide a refreshing energy boost.

Variety of Flavors

: Natural energy drinks come in a wide range of sumptuous tastes, from Tropical to Tumeric.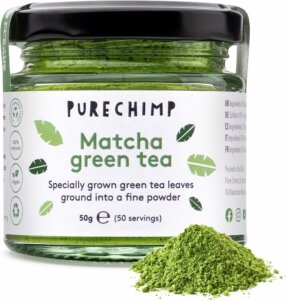 Caffeine:

120 mg

Calories:

40

Serving:

12 fluid ounces (fl oz)

Price:

$32.99

Sugar content:

2 grams (g)

Sodium content:

0.01 g
Flavors: Cinnamon Matcha, Lemongrass Matcha, Matcha, Mint Matcha, Rooibos, Turmeric Matcha
A delightful taste of mango that boasts a concoction of fruit juice, ceremonial grade matcha, and green tea extract in its composition; studies indicate that matcha powder has improved attention and specific aspects of memory.
Additionally, an older review highlights the numerous benefits of green tea extract, including antioxidant effects, reduction of body weight, and resistance to degenerative conditions. 
Recent research conducted in 2020 reveals that the high concentration of catechins present in matcha green tea provides exceptional anti-inflammatory and antioxidant effects, which can benefit one's overall physical health.
Caffeine:

150 mg

Calories:

100

Serving:

15.5 fl oz

Price:

$35.88

Sugar content:

23 g

Sodium content:

5 mg
Flavors: Bluephoria, Enlighten Mint, Leon Elation, Revel Berry
A delicious blend of organic fruit juice and brewed yerba mate with a zesty lemon twist. Yerba mate is no ordinary plant. It's naturally caffeinated, delivering a boost in energy levels similar to a cup of coffee. Fun fact: a 150 ml cup of yerba mate tea has about 80 mg of caffeine! But that's not all – recent research from 2021 suggests that yerba mate possesses antioxidant and anti-inflammatory properties that can be great for maintaining a healthy heart.
They use Fairtrade ingredients so that the people who produce them get paid fairly. Just one thing to remember: this drink is not for children, pregnant or nursing individuals, or those sensitive to caffeine.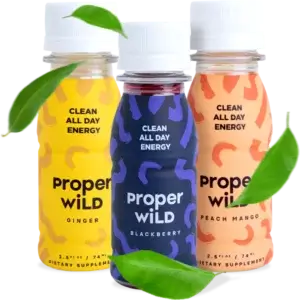 Caffeine:

100 mg

Calories:

45

Serving:

2.5 fl oz

Price:

$23.99

Sugar content:

9 g

Sodium content:

10 mg
Flavors: Blackberry, Peach Mango, Ginger, Apple, Lemon Lime, Strawberry Kiwi
With a delicious ginger flavor, it's got 100 mg of caffeine to keep you going strong. And get this: it also packs 120 mg of L-theanine, a compound found in tea that some studies suggest can help keep you alert when paired with caffeine.
Beyond the caffeine and L-theanine, this drink is brimming with good-for-you ingredients. Ginger is known for its antioxidant and anti-inflammatory properties, while white grape juice has impressive benefits. A 2019 study found that white grape juice can reduce body mass index in older women.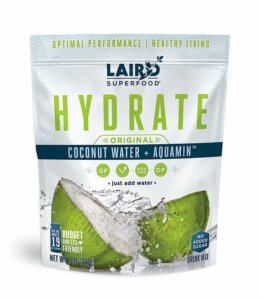 Caffeine:

0 mg

Calories:

40

Serving:

8 oz

Price:

$14.81

Sugar content:

9 g

Sodium content:

5 mg
Flavors: Original, Pineapple Mango, Lemon, Orange Guava
If you're sensitive to caffeine or have a tree nut allergy, Laird Hydrate Coconut Water + Aquamin is your drink mix. It's made with two simple ingredients: freeze-dried coconut water and Aquaman.
This mix might not give you a pick-me-up like some caffeinated drinks do, but it can help keep your energy levels stable. Here's why: it contains 2 mg of iron, 11% of your recommended daily value. Iron is an all-important mineral that plays a role in carrying oxygen throughout your body. Low iron levels make you feel sluggish and tired since your muscles aren't getting the needed oxygen.
Caffeine:

160 mg

Calories:

15

Serving:

12 oz

Price:

$39.99 (24-pack)

Sugar content:

0 g

Sodium content:

110 mg
Flavors: Wild Orange, Tropical Punch, White Peach, Cherry Limeade, Frosted Grape, Strawberry Watermelon, Pineapple Coconut, Super Berry
Brought to you by none other than Dwayne "The Rock" Johnson himself, Zoa Zero Energy Drink has everything you need to power through your day: 160 mg of caffeine from natural sources like green tea extract, a range of mouthwatering flavors that'll have you reaching for another can, and did we mention it's completely sugar-free? One can of this drink has only 15 calories, and it's chock-full of 250 mg of branched-chain amino acids.
You also get a whopping 100% of your daily dose of vitamins C, B6, and B12 when you crack open a can of this drink. These vitamins are all critical for keeping your body running smoothly and performing at its best.
Best natural energy drink for focus and concentration: FocusAid Clean Energy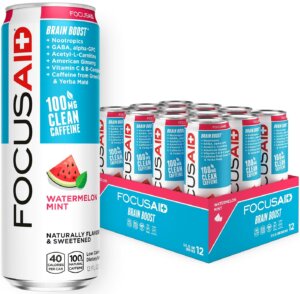 Caffeine:

100 mg

Calories:

40

Serving:

12 oz

Price:

$29.76 (12-pack)

Sugar content:

7 g

Sodium content:

0 mg
Flavors: Watermelon Mint, Melon Mate
Packed with energizing B vitamins and a hit of 100 mg natural caffeine sourced from yerba mate leaves, not only is this energy drink gluten-free and vegan certified, but it is low in calories too. Unlike other options, it's sweetened only with organic agave nectar and organic stevia leaf extract, giving you the perfect natural sweetness free from harmful sucralose.
While it may only come in two flavors, this drink is like taking a multivitamin, thanks to its nutritional value. One can of this drink delivers 100% of the daily value for most nutrients.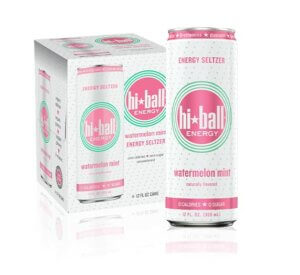 Caffeine:

160 mg

Calories:

0

Serving:

16 oz

Price:

$35.43 (8-pack)

Sugar content:

0 g

Sodium content:

0 mg
Flavors: Blackberry, Wild Berry, Grapefruit, Watermelon Mint, Peach, Lemon Lime, Vanilla
Hi Ball, the calorie-free beverage in this popular pick contains no preservatives, artificial sweeteners, or taurine, making it unique. Unlike most energy drinks available at the grocery store today, Hi Ball doesn't just contain excessive amounts of sugar and caffeine but is free from preservatives too.
It's not only one of the least harmful options on the market but also keto-friendly. Every 16-ounce can is packed with organic caffeine, ginseng, organic Guarana, and plenty of B vitamins.
One of the natural herbs that iBall uses in their drinks is Paullinia cupana, better known as Guarana. Indigenous to Brazil, this plant grows in the Amazon River basin and is packed with caffeine-rich fruit often used for its energy-boosting properties. It's been used by Amazonian tribes for centuries, and its therapeutic benefits are still admired worldwide today.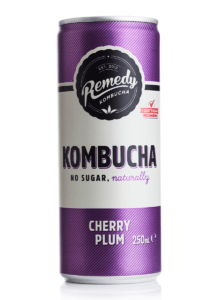 Caffeine:

60 mg

Calories:

5

Serving:

8.5 oz

Price:

$29.99 (12-pack)

Sugar content:

0 g

Sodium content:

0 mg
Flavors: Blackberry, Berry Blast, Tropical Twist
A boost of energy from green coffee beans and ginseng gives way to 60mg of caffeine per can; this USDA organic pick is made with raw kombucha as its primary ingredient, ensuring that you're getting something natural and wholesome.
While Remedy claims to ferment all the sugar from the drink, you'll be delighted to know it's generously rich in live cultures. It gets even better when you consider that it's low in calories and entirely sugar-free. Yes, it does contain a touch of erythritol and stevia extract to hit that perfect sweet spot, but we know some people would prefer to steer clear.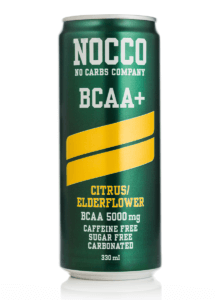 Caffeine:

180 mg

Calories:

12

Serving:

12 oz

Price:

$55.78 (24-pack)

Sugar content:

0 g

Sodium content:

0 mg
Flavors: Melon Blast, Miami Strawberry, Blood Orange, Caribbean, Apple, Tropical
Nocco's range of sugar-free energy drinks is the perfect post-workout pick-me-up, courtesy of the Swedish health and exercise powerhouse, No Carbs Company.
Their drinks come in an extensive range of flavors, so there's something for every taste bud. Whether you're looking for something refreshing or fruity, Nocco has covered you.
But, if you're looking for a drink that goes above and beyond, their BCAA+ range, packed with branch-chain amino acids, is where you need to be. Indulge in the irresistible apple, citrus/elderflower flavors, and fuel your workout beyond what other energy drinks can provide.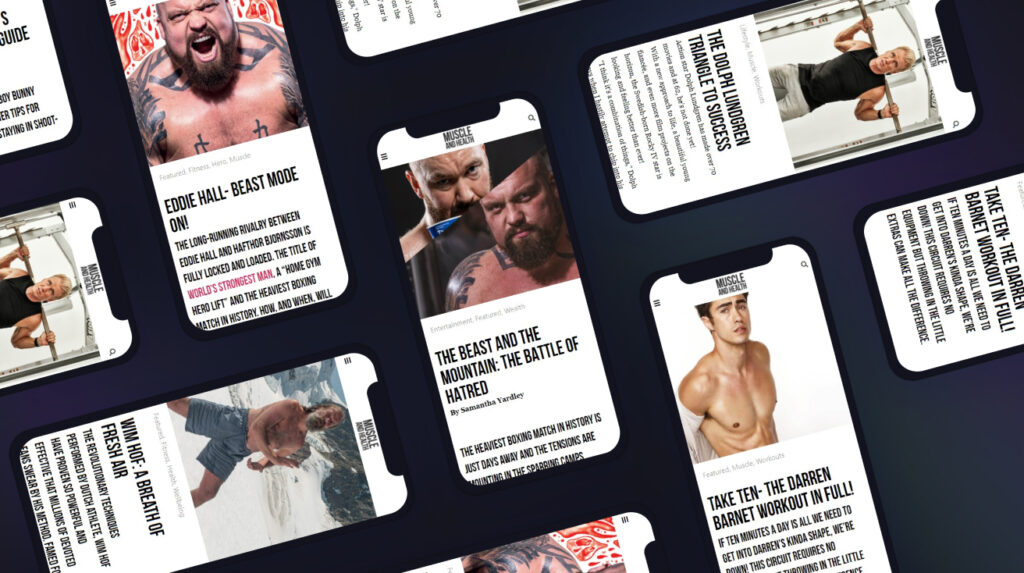 get all the latest mucle, health and wealth news delivered straight to your inbox