By Jack Franks
Easter has arrived, ushering in a small timeframe in which indulging in chocolatey goodness is deemed perfectly acceptable. 
For some, it's the best time of year. I mean, who doesn't love chocolate?
However, for those looking to keep their body in check and not fall into a sugar-induced coma, plenty of alternative options are on the market. Whether you're looking for a lower-calorie option, an added kick of protein, or an egg that satisfies your macros, there is something to satisfy all needs and cravings.
The terms health and Easter eggs may seem extremely incompatible. Still, it's important to stress we are looking at those options which offer more nutritional value than your average shelf-filling egg of delight.
The eggs we have on offer may be:
Made from dark chocolate rather than milk or white chocolate 

Made with oat milk or one of the best milk alternatives

Include protein powder  

Be embellished with fiber-rich fruit and/or nuts 

Smaller in portion size
While looking to always make the most out of the food you are putting in, it's also good to remember that it's perfectly acceptable to sample our favorite guilty pleasures in moderation. 
"In reality, for one day out of the year, this registered dietitian says enjoy the traditional chocolate Easter egg," says Leigh-Anne Wooten, MS, RDN/LDN, FAND, a registered dietitian. "Let it be a fun bonding moment with your family, who may enjoy the exhilaration of the Easter egg hunt and the holiday. Food is not just meant to supply us with energy, it's part of our heritage and culture. Embrace and enjoy it."
Regardless of the time of year, it won't make that much difference if chocolate is consumed in moderation. "Every type of food, even treats, can be included in a healthy, balanced diet as long as we think of portion size," adds Alin Ursache, a sports and exercise nutritionist specializing in weight loss.
Without further ado, feast your eyes on the finest Easter egg alternatives to give you a shot of serotine and maintain your peace of mind.
Cocoa+ Large Dark Protein Chocolate Easter Egg
Specifications
Weight: 150g
Calories per 100g: 568
Protein per 100g: 27.4g
Pros
Four times more protein than a standard grocery store Easter egg

30% less sugar than most standard eggs

Well priced
Cons
Ships from UK with fees applied for US delivery
Price
RRP: $13.60 / £10.99
Where to buy
If you want to maintain your gains over Easter and still get your protein fix, this offering Cocoa+ is the only option. Voted Best Alternative Easter Egg by BBC Good Food in 2018, this Large Dark Protein Chocolate Easter Egg offers 40g of protein per egg.
While it contains a hefty amount of calories, its protein offering is sure to suffice for those attempting to build muscle via strength training. Coined as the World's First High Protein Chocolate Egg, there are limited eggs, so don't waste any time!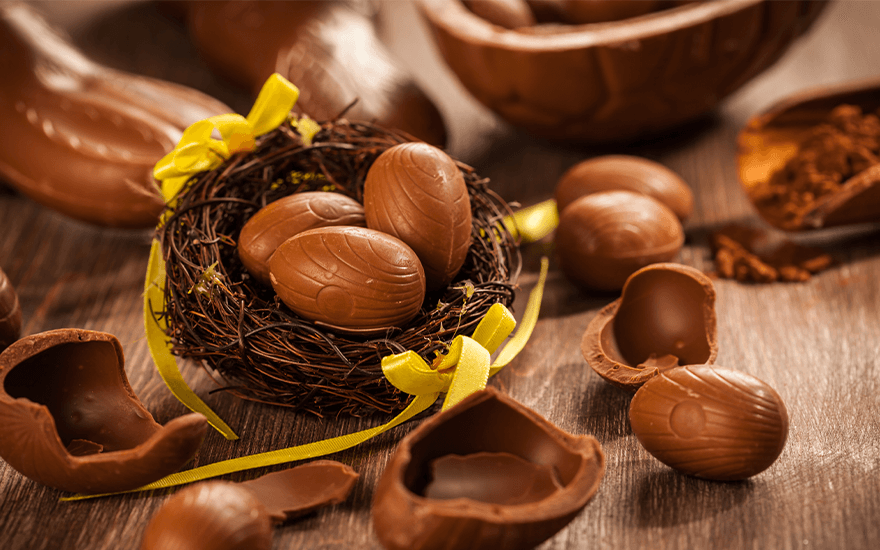 Balance Mix Praline Reduced Sugar Easter Eggs
Specifications
Weight: 150g
Calories per 100g: 354
Protein per 100g: 5g
Pros
Almost 200 calories less than other options

Available in milk chocolate or a mix of white and dark

Made with natural sugars
Cons
Expensive delivery to the US
Price
RRP: $6.19 / £5
Where to buy
A balanced offering from the aptly named company Balance, these lower-calorie alternatives are the perfect Easter for those seeking a guilt-free weekend. Balance specializes in reduced-sugar chocolate and has produced various products for over 10 years.
The standard milk chocolate praline eggs only have 7.4g of naturally occurring sugar per 100g, with only 354 calories per 100g, making them around 300 calories less per 100g than some of the most popular eggs on the market. There's a broad range of flavors to pick from, with dark, white and sea salt just a few of the mouth-watering options.
Chocolate and Protein Chocolate and Hazelnut Squares
Specifications
Weight: 156g
Calories per 100g: 512
Protein per 100g: 25g
Pros
Lower calorie option

An impressive amount of protein per 100g

Includes nuts
Cons
Only ships to the US

Must buy in bulk
Price
RRP: $18 for two boxes / $50 for six boxes
Where to buy
While slightly bending the rules as this option isn't an Easter egg, this offering from Eating Evolved – who has been on a mission to develop delicious chocolate with zero compromises since 2012 – contains eight squares of dark chocolate made with collagen protein and dry-roasted hazelnuts per box.
Containing 10g of protein and just 6g of sugar per serving, they are a much healthier choice compared to traditional Easter eggs, despite boasting a high-calorie figure. They also come in three flavors – dark chocolate and hazelnut, white macadamia and dark chocolate and quinoa.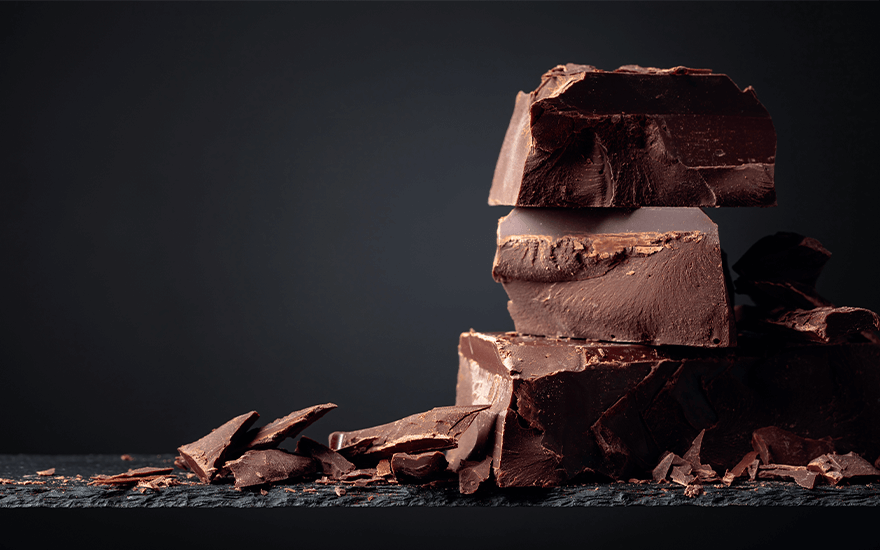 Montezumas Organic Dark Chocolate Eco Egg
Specifications
Weight: 150g
Calories per 100g: 582
Protein per 100g: 9g
Pros
Perfect option for vegans

Pure organic ingredients

No palm oil ns plastic-free container
Cons
Price
RRP: £6.99
Where to buy
Looking for a traditional vegan egg without the milk? This is the perfect option for you. There are no nasties in Montezuma's organic dark chocolate eco egg as it is just a combination of organic cocoa mass, organic cane sugar, organic cocoa butter and organic vanilla extract.
But this isn't one for the kids – it is dark chocolate with 74 percent cocoa solids.
But if you like your chocolate properly dark, then this is a perfect choice. It doesn't use palm oil and comes in a plastic-free container, so you are doing your bit for the planet too.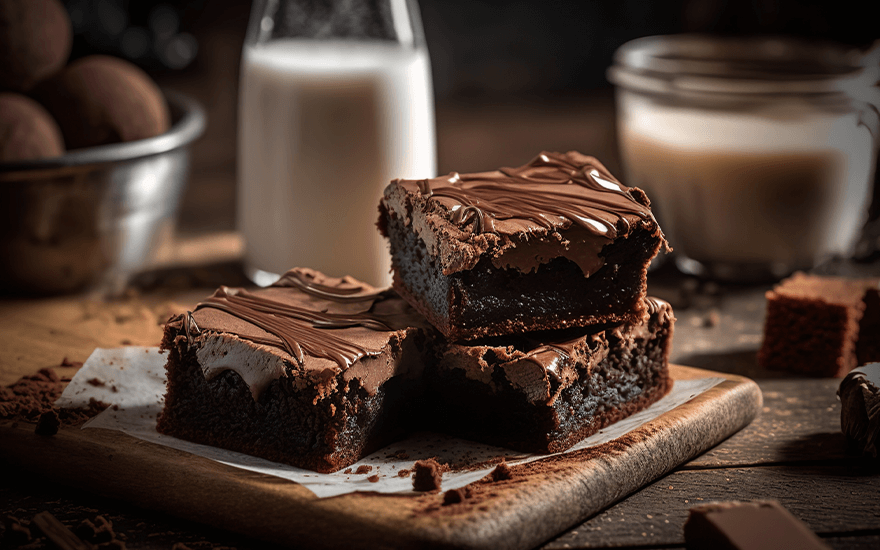 MyProtein Protein Chocolate
Specifications
Weight: 35g
Calories per 100g: 525
Protein per 100g: 27g
Pros
62% less sugar than standard supermarket alternatives

19g protein per bar

Made with minimum 54% cocoa solids
Cons
Not an egg

Expensive for one bar
Price
RRP: £5.99
Where to buy
Okay, we are cheating a bit here. But, MyProtein's dark chocolate offering is the ideal choice for packing in the protein. With 19g of quality whey protein isolate, this chocolate will support your training progress rather than setting it back — helping you to grow and maintain important muscle, which is vital for any fitness goal.
It's the ideal treat on hand this weekend when you feel tempted by your sweet tooth — you won't feel like you're missing out because of your training regime again.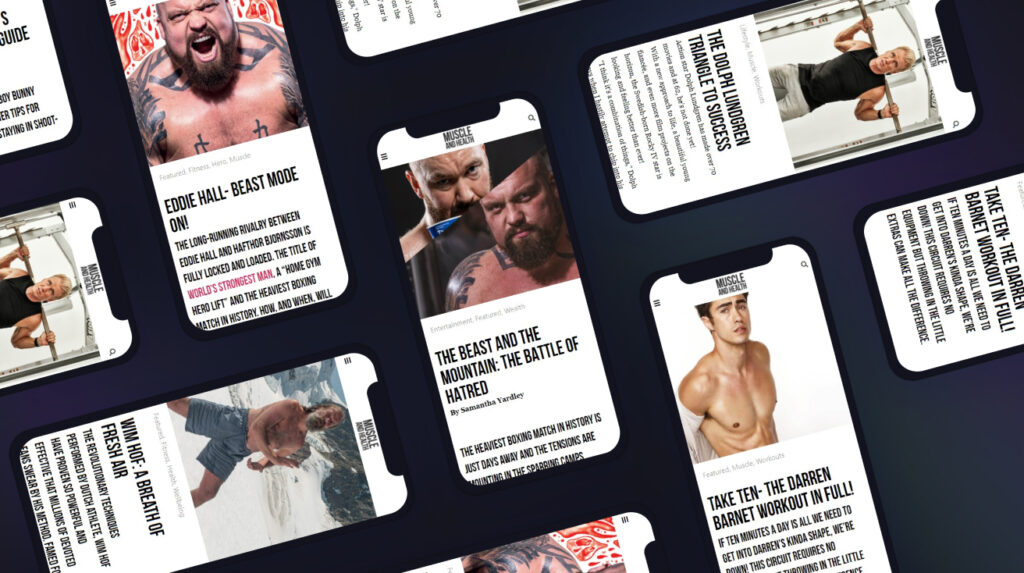 get all the latest mucle, health and wealth news delivered straight to your inbox