Alchemy-based chef and nutritionist Luke Baker in on a mission to encourage playful, healthy cooking. He created these sexy little numbers during the lockdown. Shroom recipes anyone. We're game!
Super Shrooms (Vegan)
Medicinal mushrooms have a place in my heart and make a very worthy essential. Considered an adaptogen due to their ability to support the adrenal glands and help us adapt to stress, they keep the body in balance.
Their beneficial bacteria and gut-boosting properties support a healthy microbiome. Mushrooms are jam-packed with immune-boosting properties, a great source of energy for the body and also have disease-fighting properties.
I've created a delicious blend using some creamy dairy-free yoghurt, raw spinach and fresh lemon thyme. Perfectly creamy and versatile. Best served as a breakfast option or a smaller side dish.
Ingredients 
250g chestnut mushrooms/shiitake mushrooms, sliced
1 shallot, finely chopped
2-3 cloves of garlic, crushed
1-2 handfuls baby spinach
1-2 tbsps coconut yoghurt
Small bunch of fresh lemon thyme or normal thyme
Squeeze of lemon
Method 
. Saute the shallot until nice and caramelised and add the crushed garlic
. Add the mushrooms and season well with sea salt and pepper
. Add the dairy-free/coconut yoghurt
. Allow to cook for several minutes so the mushrooms soak up all that lovely flavour
. Add the lemon juice and raw spinach
. Finish with your choice of lemon thyme / thyme
Macro Profile:                                  
Kcals: 231                              
Protein: 6
Fat: 13
Carbs:27
Macro Profile (Served on 1 slice of Dr Zaks Protein bread, toasted)
Kcals: 513
Protein: 32
Fat: 27
Carbs: 32
Chickpea Chocolate Truffles (Vegan)
Chickpeas are a nutrient-dense food rich in both fiber and protein. These form a staple part of my diet and are a great cost-effective way of creating a low-sugar energy balls. The chickpeas provide a wonderfully smooth and soft truffle texture. Choose a good quality dark chocolate for the "bliss chemical" ANANDAMIDE, which is a neurotransmitter involved in regulating mood, cognition and feel-good hormones. Combine that with the abundant flavonoids and trace minerals present in the raw cacao and you'll have a nutritious, guilt-free snack.
Ingredients

400g chickpeas, drained and rinsed (keep the liquid – perfect egg replacement)
2 heaped tbsps raw cacao
2 tsps vanilla bean paste / vanilla extract (natural)
2 tbsps maple / agave
2 tbsps raw nut butter (almond, cashew, peanut, hazelnut)
Optional – 1 tsp maca root powder
125g dark chocolate (70% minimum), melted
Pinch of sea salt
Method
. Blitz the truffle mixture in a food processor
. You can add your own personality to these as you wish (cinnamon, cardamom, peppermint)
. Mould into balls- use around a tbsp for each ball
. Allow to set in the fridge or freezer whilst melting the chocolate
. Dip the truffles into the chocolate add cover evenly
. Finish with a pinch of sea salt or coconut and set in the fridge or freezer
Macro Profile:
Per serving (1 truffle)
Kcal: 124
Protein: 4
Fat: 7
Carbs: 11
Luke's Thai Lemongrass Mojito (Vegan)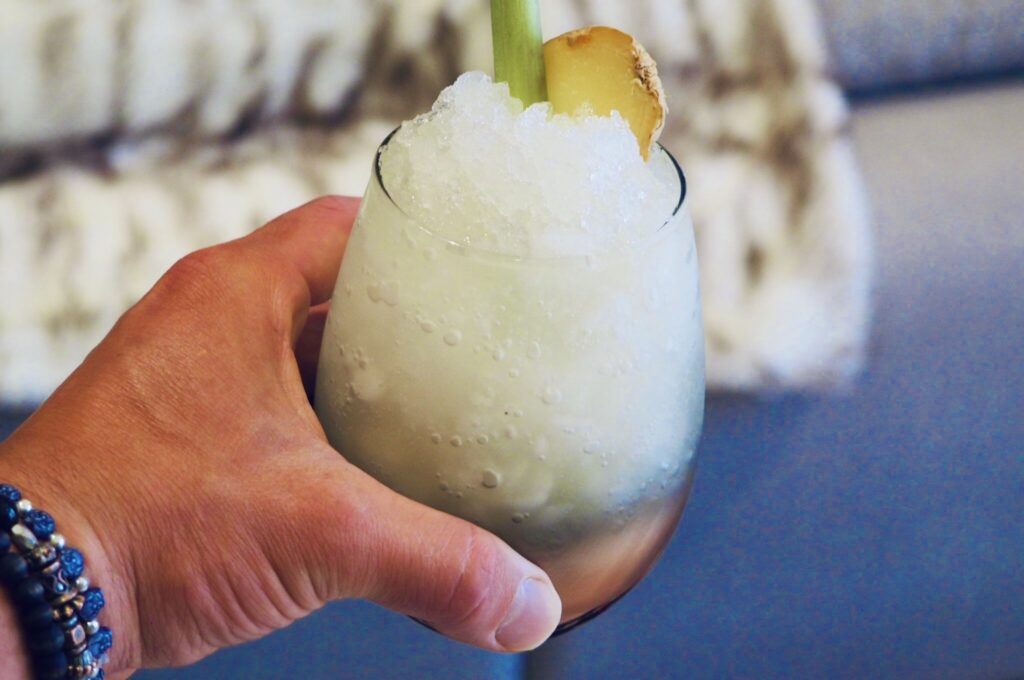 A little twist on the mojito and a healthier alternative. Expect a carnival of flavors with the perfect marriage of kaffir lime, the natural oils from the lemongrass and fresh mint. This can be made either as an alcohol-based cocktail using a good quality rum, a mocktail using a soft soda water, or even a cooled green tea.
Ingredients
1 lemongrass stalk, chop ends and bruise (crush using the back of a knife)
6-8 fresh mint leaves (spank the leaves for the oils to release)
50ml white rum OR green tea (cooled)
Soda water (for those using rum)
Kaffir lime syrup (agave or Stevia, kaffir lime leaves and lime juice)
Lime wedge, to serve
Crushed ice
Method
. Chop the base off the lemongrass and bruise using the back of your knife (give it a BASH!!)
. Add to your glass along with your mint leaves (give them a little spank / bruising)
. Add the kaffir lime syrup and give everything a little mix
. Pour in the white rum (if using)
. Top the glass with lots crushed ice and soda water
. Serve with a sprig of mint and a wedge of lime
Watermelon Gin Punch (Vegan)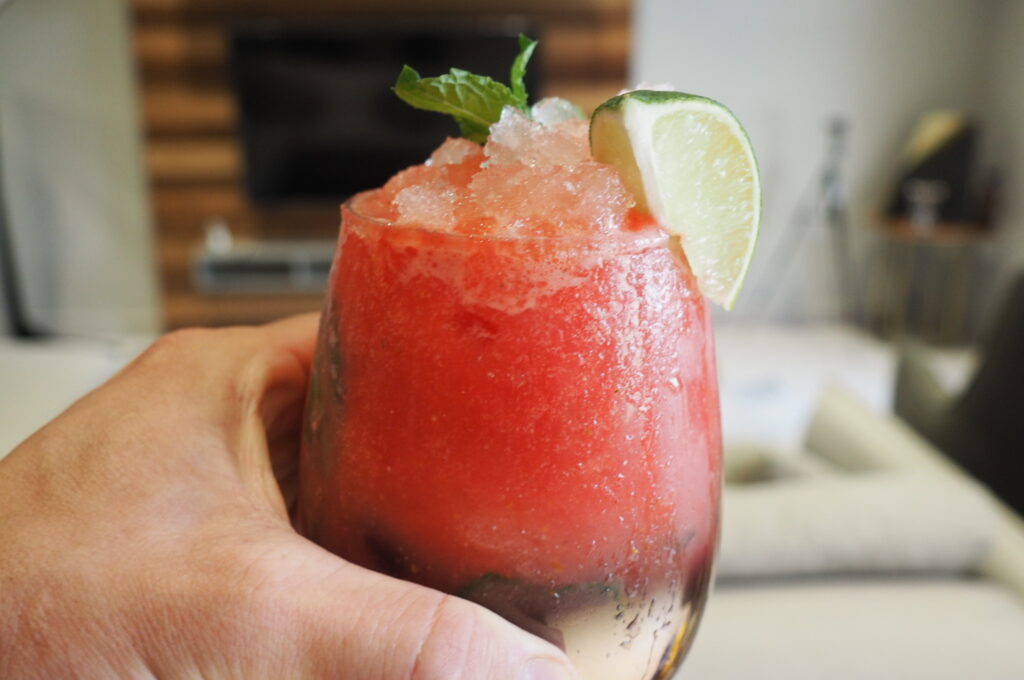 Watermelon is a natural aphrodisiac and mood elevator with some powerful hormonal balancing benefits. Combine this with the nations favourite gin; the gentle fizz of some ginger ale and a squeeze of lime for a perfect cooling bevvy.
Ingredients (Serves 4)
5 cups fresh watermelon
6 ounces gin
8 tbsp lime juice and lime wedges, to serve
1 1/3 cups ginger ale
Method
. Puree 4 cups of watermelon
. Strain; dividing the juice among four glasses
. Top with 2 tbsp lime juice and 1.5 ounces of your choice of gin
. Add 1/3 cup ginger ale
. Top with lots of crushed ice
. Sprig of mint and lime to serve
Luke Baker, MScR BSc.Hons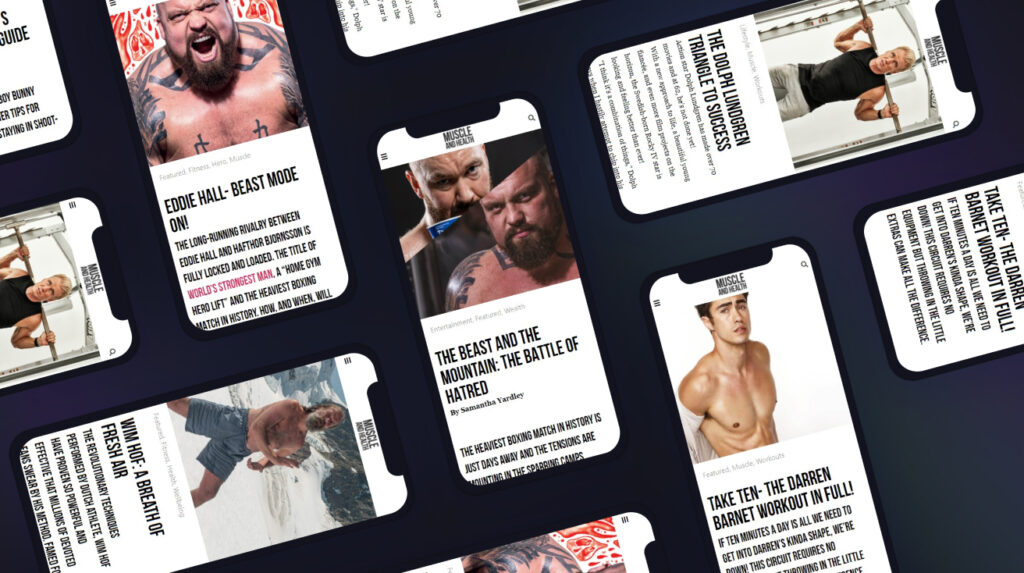 get all the latest mucle, health and wealth news delivered straight to your inbox