Pomegranate juice is a healthy fridge go-to that provides an abundance of antioxidants to fight free radicals. Low in calories but packed full of vitamins and minerals, this vibrant fruit provides lots of nutritional bang for your buck. 
If you're looking for a unique flavor profile to level-up to your gastronomical repertoire, you can't go far wrong with the zesty and often unaerated addition of pomegranate. With a wealth of health benefits, and even a decent amount of protein per serving for fruit, this seed-laden and downright delicious ingredient can help fight inflammation and up your urinary and heart health gains. 
High in vitamin C, magnesium, potassium, iron, and folate the health-boosting properties of pomegranate keep on giving. It's even been linked to help fight cancer by slowing the progress of cancerous cell growth and reduce the formation of kidney stones. 
By using ready-made pomegranate juice, you also omit the arduous chore of prepping this nourishing superfood, giving you more time to enjoy the fruits of your meal prep labor. Delicious in smoothies, as part of a salad dressing, or as a marinade for meats.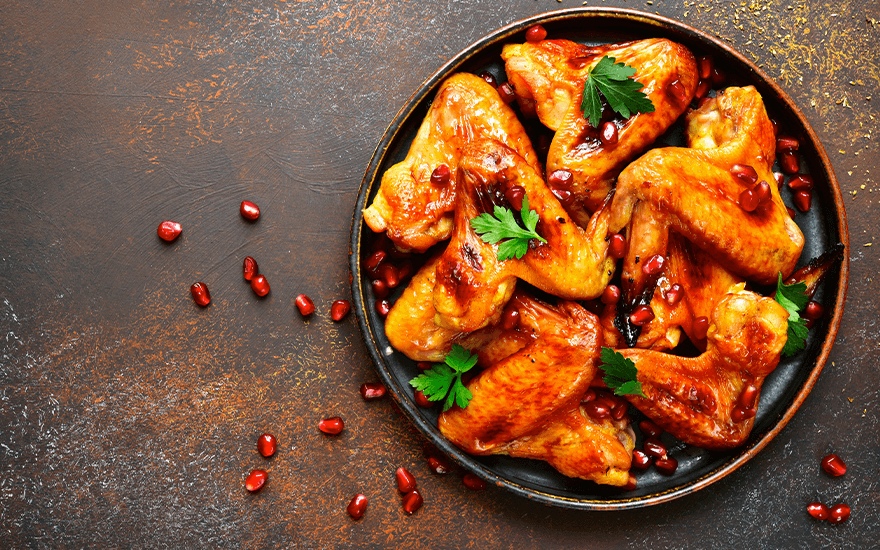 Pomegranate Glazed Chicken Wings
A sweet-tart flavor base, and sumac and red wine vinaigrette balance perfectly with apricot preserves and honey. 
Prep: 10 minutes
Cook: 50 minutes
Serves: 4 (5 pieces/person)
Ingredients
2 cups 100% pomegranate juice

½ cup sugar-free apricot jam

½ tsp sea salt

1 tbsp sumac spice

1 tbsp balsamic vinegar

1 tbsp honey

2 tbsp red wine vinaigrette

20 pieces (2 lbs.) chicken wings

Cooking spray

1 tbsp avocado oil
Method
In a saucepan, combine the pomegranate juice, apricot jam, balsamic, honey, and vinaigrette. Season with salt and sumac spice. Bring to the boil, reduce heat and simmer for 40 minutes, until it's reduced to about ½ cup, stirring occasionally.

Preheat oven to 400°F, line a baking sheet with aluminum foil, and spray with cooking spray. Arrange the wings on the baking sheet and drizzle with avocado oil.

Bake for 15 to 30 minutes (depending on the size of the wings and your oven), until golden and cooked through.

Remove from the oven and brush the wings generously on all sides with pomegranate glaze.

Return to the oven and broil on high for about one minute, paying close attention not to burn the wings.

Serve hot.
Kcals: 612
Carbs: 49g
Protein: 23g
Fat: 38g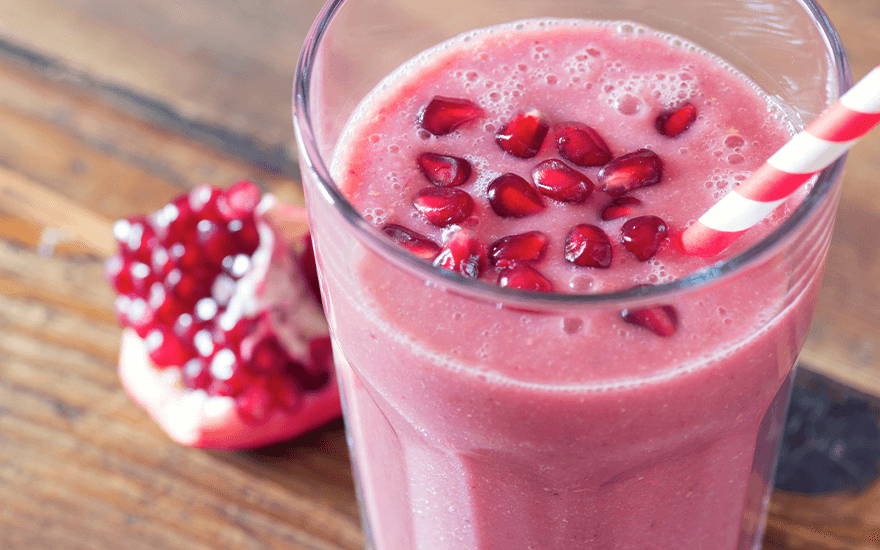 Antioxidant-rich Smoothie
Greek yogurt acts as the protein and avocado oil as the healthy fat to make this a perfectly balanced colorful smoothie recipe. 
Serves: 1
Ingredients
1 cup low-fat plain Greek yogurt

½ cup 100% Pomegranate Juice

2 tsp honey

1 tbsp of avocado oil

½ cup of ice
Method
Combine the ingredients in a blender and purée until smooth. 

Pour into glasses and serve cold. You can even freeze it and enjoy it as dessert!
Kcals: 602
Carbs: 55g
Protein: 45g
Fat: 24g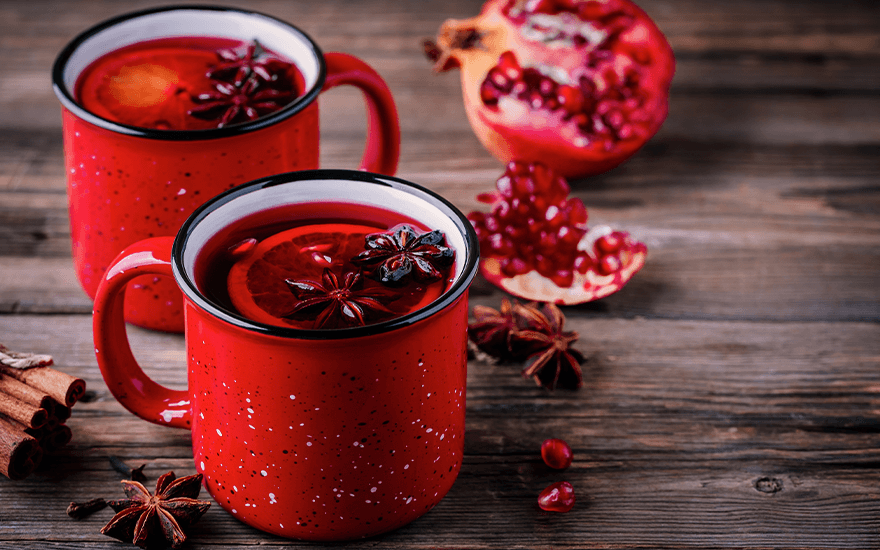 Spiced POM Cider
This spicy and fragrant beverage hits the palate with warming tones from the cloves and cinnamon. Make it a cozy cocktail if you're in the mood for a more adult kick to sit back and relax with. 
Serves: 2
Ingredients
32 oz 100% Pomegranate Juice

8 oz water 

4 cinnamon sticks (broken in half)

6 whole cloves

1 star anise

6 green cardamom pods

6 juniper berries

1½ tsp vanilla extract

Zest and juice from half an orange



Method
Combine all ingredients in a medium pot and bring to a slow simmer over low heat.




Simmer for 45 minutes, then remove from the heat.




Allow mixture to steep for at least two hours.




Strain and refrigerate.




Garnish with an orange slice and serve hot or cold.

For an alcoholic beverage, add 1 oz apple brandy and ½ oz Cointreau per serving. 
Kcals: 340
Carbs: 84g
Protein: 3g
Fat: 0g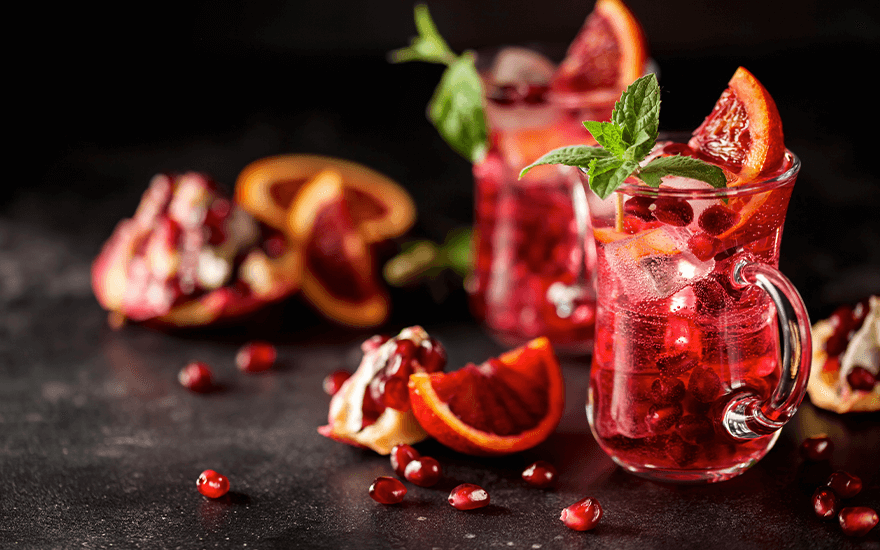 POM Refresh
Simple and refreshing, this mocktail complements any meal. Fresh mint uplifts the sweet flavor notes of the pomegranate, making this effortless and time-friendly classic a real winner year-round. 
Ingredients:
6 oz 100% Pomegranate Juice

10 fresh mint leaves 

 Pinch of pink Himalayan salt
Method
In a tall glass muddle 10 large leaves of fresh mint and a generous pinch of salt.

Pour in 6 oz of 100% pomegranate juice and 2oz of water. 

Stir to dissolve salt.

Add ice and garnish with a fresh mint sprig.
Kcals: 117
Carbs: 30g
Protein: 1g
Fat: 0g
Recipes contributed by Nutritionist Rania Batayneh NPH, author of the Number 1 Amazon best-selling book, The One One One Diet.
4 Ways with Pistachios: Snack and Dinner Recipes to Go Nuts For
Related Articles
Ross Edgley's Grilled Chicken, Pomegranate & Almond Salad
Pumpkin Spice and All Things Nice
Fire In the Hole: Man VS Food Challenge. The Spice Edition
Nyesha Arrington's Five Spiced Chicken Meatballs En Cabbage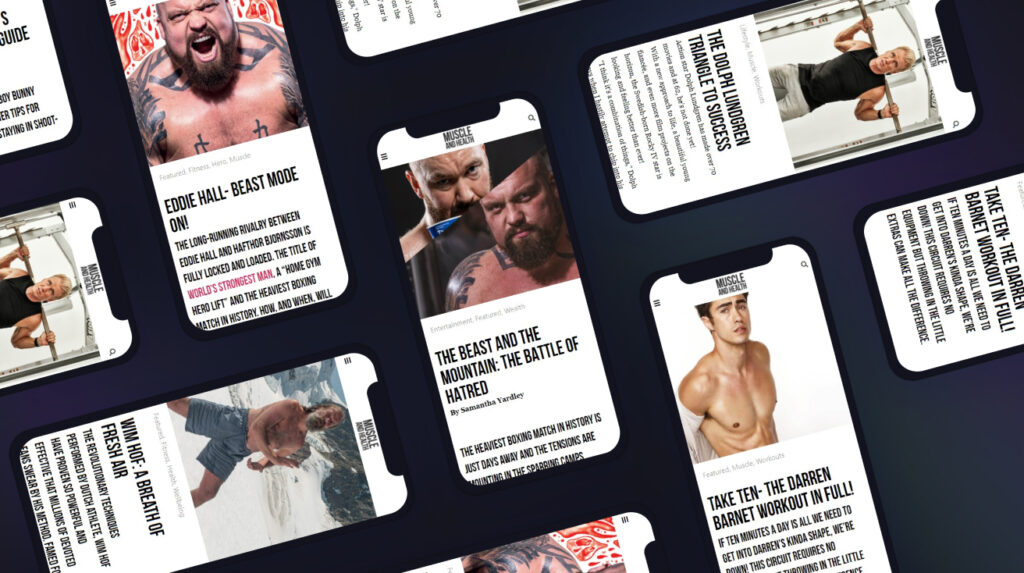 get all the latest mucle, health and wealth news delivered straight to your inbox