Words by Jack Franks
July 27, 2023. Approximately 10:45 am. History is made.
Kristin Harila, mentally and physically exhausted following 92 days of vertical ascent in some of the earth's harshest conditions above sea level, has reached her nirvana.
The site of this world record-breaking scene is K2, the second tallest mountain in the world – just thirty-eight meters shy of Everest – tucked away in the northwestern Karakoram Range of Pakistan.
It's the 14th summit the Norwegian has made alongside her Sherpa guide Tenjin, signaling the end (albeit she still had to get back down on the solid ground) of a journey that suffered significant setbacks, risks, hospital visits and literal mountains of time and sacrifice.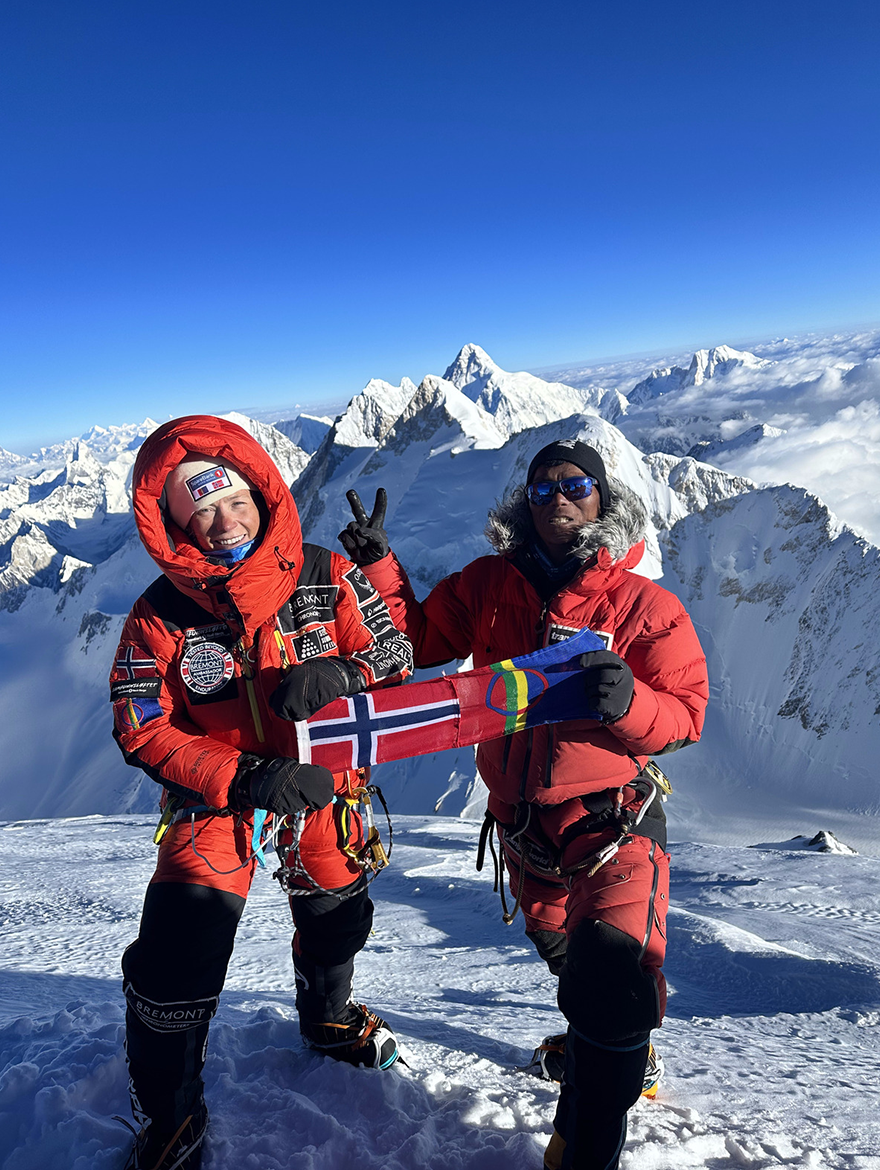 "I just wanted to get home," Kristin told Muscle and Health after her mission, 'She Moves Mountains,' was completed, stating she hadn't been home in her native homeland since February.
Her achievement is a feat that is unlikely to be touched, never mind beaten, given the fact she could have spent an additional 188 days taking stock and still shattered Nirmal Purja's previous record.
The Nepal-born British citizen who scaled them in 189 days in 2019 had beaten the previous record of more than seven years set by a South Korean climber.
Now, Kristin Harila stands alone as the quickest person to scale the world's 14 highest mountains – all of which stand above 8,000 meters – locking her in the climbing history books and solidifying her as an undoubted legend of the profession.
For her, the big climbs are now over.
Journey to the top of the world…
Having accumulated over 28,000 meters and scaled the likes of Cho Oyu, Lotshe and Manaslu, Kristin announced her retirement from climbing high peaks upon her return to Kathmandu, where she received a hero's welcome.
Hundreds of mountaineers, government officials and well-wishers gathered with flower garlands, a fitting conclusion to Kristin's quest to conquer the record and highlight the need for more spotlight on women in a largely male-dominated space.
Just one day since returning to Norway, it's evident that Kristin Harila still feels the physically draining effects of the peaks and the monumental effort her body has been through over the last four years.
Her path to the summit of modern-day climbing folklore will be documented in a book via motivational talks and speeches. As part of a feature documentary, capturing a period of life she is now leaving behind but will never forget.
Her life in the clouds began in the far northeast of Norway, where the sky meets the sea lies Vadsø, glittering in summer's midnight sun and winter's northern lights.
Known for its fishing, hunting and hiking amongst an area of unspoiled natural beauty set against an Arctic backdrop, the town in Finnmark County is where Kristin grew up on a farm with her family.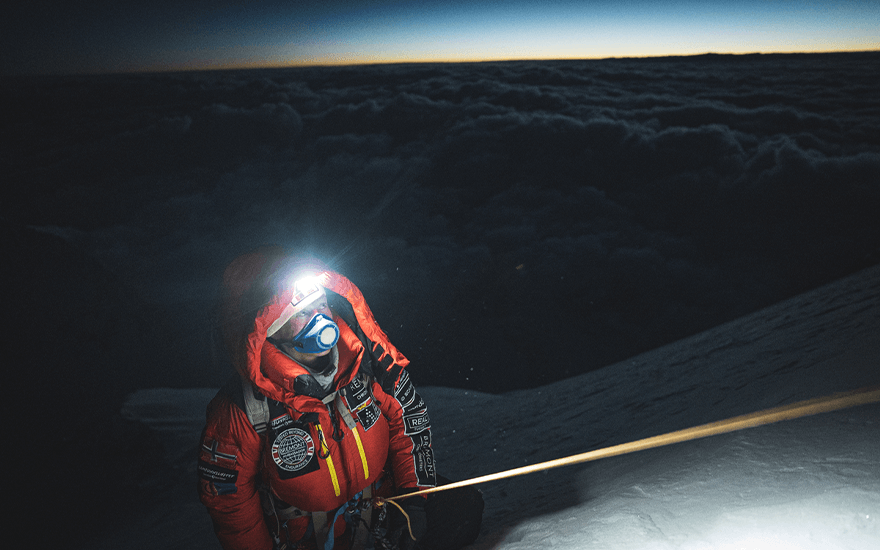 Given the outdoor nature of the scenery – albeit the town was relatively flat – she naturally adapted to a physically-led and adventurous upbringing, primarily inspired by her father, who was also a touch athlete and a skier.
At 16, she moved to Lillehammer to pursue a career and focus on cross-country skiing. Still, despite 44th and 46th places in two Norwegian Championships from her club, IL Polarstjernen, the step from junior to senior disciplines was too steep.
The prospect of a vertical shift and a climbing life didn't come into her vision until 2015, only eight years before she would cement her place at the top.
While working at the Norwegian home furniture store Skeidar, she won a prize for climbing Mount Kilimanjaro – the highest mountain in Africa -and it was the flame to light the fuse inside her.
Within four years, Kristin left her well-paid senior management position with the company to pursue a newfound dream of summiting the world's highest peaks. This mission began with Lobuche East and Dhaulagiri VII in Nepal before taking her to South America to summit Aconcagua Co Adolfo Calle and Pico Vallecitos.
In 2021, she stood atop Mount Everest, then the neighboring summit Lhotse in record time.
Her burning passion for climbing quickly led her to undergo 'Bremont 14 peaks', her first attempt at toppling Nims' time on the clock set in 2019.
Starting on April 28, 2022, with the summit of Annapurna I, Kristin was on course to beat Nims' record, climbing the last six world's highest peaks in just 29 days and Everest and Lhotse in a single push.
However, with twelve mountains down, the ongoing after-effects of the COVID-pandemic – which led to travel restrictions – along with visa and permit issues, ultimately meant Kristin Harila and her team could not gain access to climb Cho Oyo and Shisapangama.
While this setback would have derailed many, Kristin told Muscle and Health: "I was always going to return and complete what I had started, as we got so close with twelve of the fourteen peaks.
"The perfect training for these heights is climbing high altitude, so my body was already prepared to go for it again the following year."
What's next for the record-breaker…
The 37-year-old returned to the mountains this year, scaling Mount Shishapangma on April 26, followed by other peaks in China and Nepal, Everest.
The early part of the challenge exposed Kristin to her toughest moments on and off the mountains, climbing a summit every 4.5 days and having to spend two separate stints in a Nepalese hospital due to dehydration.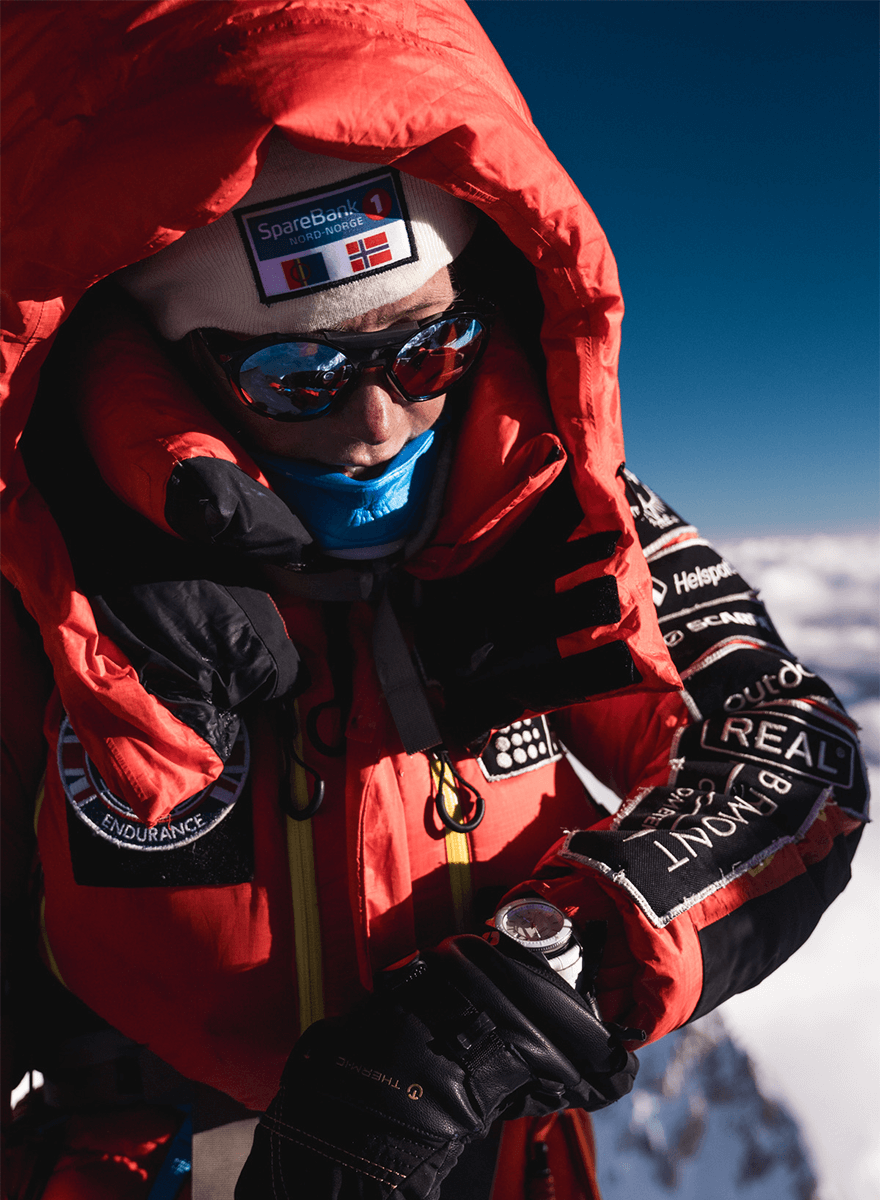 Along with Tenjin "Lama" Sherpa – who has been Kristin's guide since the age of 16 – the pair conquered food poisoning, drastic weight loss, sub-zero temperatures and oxygen-starved air to summit Mount Everest and Lhotse on May 23, Annapurna on June 5, K2 on July 27 and nine other peaks over 8,000 meters in between.
K2 – the final hurdle – proved particularly challenging with hazardous weather conditions blanketing the mountain with deep snow that, together with a bottleneck of climbers, almost tripled the final stage of the ascent from five hours to 14.
Norwegian adventurer, Børge Ousland, said: "This is one of the greatest in the expedition world for many years. She sets high goals and meets them. It's so impressive, and we can only congratulate her."
Ousland is just one of many in awe of Kristin's immense effort, but for now, she is looking forward to leading an everyday life with her partner, Jens, and her dog back in Norway.
Her vertical exploits may be over, but she is already signed up for her next race.
This time, it's firmly on solid ground.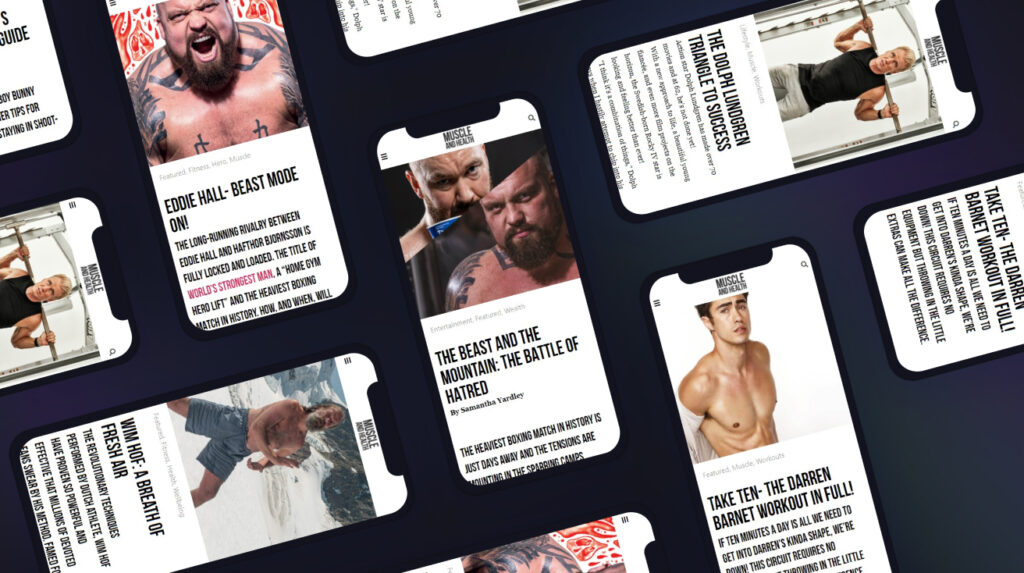 get all the latest mucle, health and wealth news delivered straight to your inbox