by Jack Franks
We live in the golden age of sports documentaries. Barely a month goes by in which we have yet to be treated to a new piece of stunning cinematic brilliance documenting a part of sporting history.
The sight of an empty chair, followed by the main subject taking a pew before the screen turns black, has become the iconic staple of modern-day docs.
But in a land of sports stories that now bolsters a population well over the thousand mark, finding the gems is akin to discovering the pesky needle in the hypothetical haystack.
That's why Muscle and Health has spent hours watching, researching and shining a light on the best of the bunch.
As with all ranking lists, there will be disagreement. That's only natural in a world where opinions wildly vary. We have included as many sports as possible, covering the net as far and wide as possible.
There are glaring exclusions; Drive To Survive, Netflix's hugely popular fly-on-the-wall Formula One series, still needs to make it, mainly because it's ongoing.
Enough permutations; let's get into the 100 best sports documentaries of all time, each of which you can watch on the streaming services available at your fingertips.
Grab your cheat sheet
100: The Figo Affair: The Transfer that Changed Football (2022)
A surprisingly entertaining and unearthing delve into the transfer that shook Football worldwide. Luis Figo was at the peak of his powers and a crowd favorite at Spanish side F.C. Barcelona when he joined arch-rivals Real Madrid.
99: Maria and her Shadow (2013)
Aged 21, Maria Lindberg suffers a cerebral hemorrhage during a boxing match. She miraculously recovers, but her fight begins when she wants to return to the ring.
The Swedish Boxing Federation won't let her fight because of the accident; her mother is reluctant to even hear Maria talk about boxing, and wherever in the world she travels to fight, it seems like someone is trying to stop her as if a shadow was following her every step of the way.
98: Dave Not Coming Back (2020)
This film focuses on the diving expedition in South Africa that Don Shirley and Dave Shaw embarked on in 2004. This dive led them to discover the body of fellow diver Deon Dryer, who died and was trapped below a 300-meter sinkhole for a decade. They launched a sizable rescue mission to draw out the body. We won't spoil the rest.
The film has Don narrating and reenacting some scenes of that rescue, interspersed with camcorder footage of the actual mission.
97: On the Edge of Freedom (2017)
This Danish film portrays the riveting everyday lives of Angela and Vlad, a roofer from Moscow and a pioneer digger from Kyiv, offering a unique insight into the ever-growing phenomenon.
Through urban exploration, anti-authoritarian young Russians and Ukrainians have found a way to take control of their own lives by confronting fear and sharing their death-defying stunts with millions of viewers online.
96: Forever Pure (2016)
Beitar Jerusalem F.C. is the most popular and controversial football team in Israel, the only club in the Premier League never to sign an Arab player. Mid-way through the 2012-13 season, a secretive transfer deal by the owner, Russian-Israeli oligarch Arcadi Gaydamak, brought two Muslim players from Chechnya.
The deal inspired the most racist campaign in Israeli sport that sent the club spiraling out of control. One season in the life of this famed club is a story of Israeli society, personal identity, politics, money and a window into how racism is destroying a team and culture from within.
95: The Life and Times of Hank Greenberg (1998)
Delve into the enchanting world of one of baseball's greatest legends, where nostalgia and humor intertwine to paint a vivid portrait of a remarkable athlete. Beyond the diamond, this towering figure held a special place in the hearts of American Jews, leaving an indelible mark on their lives and shaping their sense of identity.
94: Ice Guardians (2016)
Embark on a thoughtful exploration of one of the most contentious roles in the world of sports: the hockey enforcer. In this contemplative journey, delve deep into the complexities surrounding this polarizing position and its impact on the game and the players who fill its ranks.
93: That Peter Crouch Film
A humble and hilarious tale of an unlikely cult hero and personality. Standing at 6 feet 7 inches, Peter Crouch is not your average footballer. The film tackles the torrent of abuse subjected to players during matches, a theme which littered Crouchs' early career and upbringing, but also highlights the growth of the former Premier League striker.
92: Of Miracles and Men (2015)
There have been plenty of retellings of Team U.S.A.'s miraculous hockey gold medal at the 1980 Olympics. This one is from the perspective of the Soviets they upset, and it's utterly fascinating.
91: The Art of Flight (2011)
The Art of Flight is a critical visual experience and is steadfast in its love of snowboarding, and the quality of action here is the highest. Beyond that, though, the incidental nature and scenic cinematography really conquer this film: There is a feeling of being overwhelmed here, and it's a most pleasing sensation, too.
90: The Year of the Yao (2004)
Yao Ming. He's 7'5″ tall, weighs 296 lbs. and carries the hopes and dreams of 1.3 billion people on his athletic shoulders. This vibrant documentary captures not only the exceptional athlete and Chinese hero who arrived in America with no English language but also the simple guy who now lives with his mother in Houston, Texas and likes hanging out with friends, surfing the internet and playing video games.
89: Vick (2020)
Michael Vick is one of the most essential N.F.L. players of the 21st century. His prodigious talent made him appointment viewing on Sundays with the Atlanta Falcons. When his downfall came, it stunned the sports world.
Vick is a comprehensive look at the complicated career and legacy of Michael Vick, and even though most people know his story, it's still compelling viewing.
88: Nature Boy (2017)
Step into the extraordinary world of pro wrestling and the man who revolutionized the sport, Ric Flair, the "Nature Boy." This captivating ESPN Plus documentary delves deep into the life of the iconic figure who transcended traditional fan circles, becoming a national sensation.
87: Super Greed: The Fight For Football
Documenting the most dramatic 48 hours in the history of Football: the rise and rapid fall of the European Super League, an attempt by the wealthiest soccer teams in the world to break off from their previous leagues and form this new organization in April 2021.
The proposal was immediately scorned by soccer fans worldwide, and this documentary shows how this league quickly collapsed in a matter of days, thanks to massive fan protests.
86: Maidentrip (2013)
On the surface, "Maidentrip" is a documentary that recounts the incredible feat of Laura Dekker, the Dutch schoolgirl who became the youngest person to sail solo worldwide in January 2012 at age 16.
But this is no fight-to-the-finish quest to break a sports record or dangerous struggle for survival against the elements. Instead, it is a high-seas chanty of a coming-of-age tale.
85: Home2Home (2020)
"Home2Home" is a documentary featuring a young German bike rider, Dennis Kailing, covering 41 countries over 761 days on a solo bike ride worldwide. It's a story of a person who takes a break from his monotonous life, follows the same routine without any motivation, and decides to go on an exciting journey to explore the world and make memories. Prepare to be inspired.
84: Jurek (2014)
Jurek Kukuczka isn't a household name, but his feats made him a legend in the niche of alpinism.
Using archival footage, interviews with friends and photographs, Jurek creates a portrait of a man whose outward stoicism masked an intense fire to be in the mountains — giving insight into a mountaineer known by many but understood by few.
83: Lionesses: How Football Came Home (2023)
No senior England football team had claimed a significant tournament title since 1966 until the women's side secured an unforgettable 2-1 win in the final against old enemies Germany in 2022.
This documentary features all the critical moments on the pitch, while candid interviews with the likes of Leah Williamson, player of the tournament Beth Mead and England stalwarts Jill Scott, Ellen White and Lucy Bronze offer a unique behind-the-scenes insight.
82: Don't Take Me Home (2017)
A brisk documentary that follows the Welsh football team from 2012 to their incredible European Championships performance four years later, where Chris Coleman's side reached the competition's semi-finals.
81: The Weight of Water (2018)
Emmy Award–winning director Michael Brown's documentary takes us into Erik Weihenmayer's journey as he paddles, in a solo kayak, the 277 miles of the Grand Canyon. The catch? He is blind.
Weihenmayer is joined by Lonnie Bedwell, who is also blind, and a crew of river guides and camera operators. Weihenmayer didn't start kayaking until he was nearly 40, but his eyes serve as a naked and beautiful metaphor for the vast potential of the human experience.
80: Boston (2017)
Narrated by Hollywood icon Matt Damon, 'Boston' becomes an undeniably affecting salute to Bostonians' toughness, selflessness and sacrifice in the face of unthinkable horrors, and also to their decision, one year later, to return to the Boston Marathon race in a concerted show of courage and resolve.
79: Dejame Vivir (2014)
In Spanish, 'déjame vivid means 'let me live.' On its most simplistic level, Déjame Vivir documents Kilian's adventures during the summer of 2013, including his Mont Blanc running record in July, his experiments on Mount Elbrus in mid-September, and his speed record on the Matterhorn.
78: Living with Lions (1997)
Chronically the British and Irish Lion's tour to South Africa in the summer of 1997, this film provides unprecedented behind-the-scenes access to the team, shows the preparations, the training, the fun, the team selection, the 'earthy' language, the bonding, the extraordinary task of playing and some shocking footage of injuries.
77: Red Army (2014)
Gabe Polsky's "Red Army" is a sports documentary like no other, emotionally charged, viscerally exciting and consistently enlightening. Though it centers on an elite Soviet hockey team of the 1980s and '90s, it's about so much more: the collapse of the Soviet Union and a subsequent world order dominated by the United States and its allies.
76: Maradona in Mexico (2019)
Arguably the greatest football player of all time, Argentina's Diego Maradona is also one of the sport's most divisive figures. He is almost as well-known for his problems with substance abuse and ties to organized crime as he is for his on-field brilliance.
One of the numerous recent documentaries about the troubled star, "Maradona in Mexico," is perhaps the most unusual, following his one-season spell as the manager of Dorados de Sinaloa, a Mexican second-division team.
75: Catching Hell (2011)
Alex Gibney's 102-minute film, billed as an examination of the causes and consequences of scapegoating, covers a lot of ground as it tells the parallel stories of Mr. Bartman in 2003, who was blamed for keeping the Cubs out of the World Series for the 58th straight year, and of Bill Buckner in 1986, who was blamed for fumbling the Boston Red Sox' best chance to win a Series in 68 years.
74: Back on Board: Greg Louganis (2014)
A refreshingly candid documentary film about this four-time Olympic champion, Back on Board follows Greg Louganis over three years as he struggles with financial security and reunites with the sport he once dominated but was not welcomed in.
The threat of losing his house during the recent financial crisis forces Louganis to re-evaluate his career choices, relationships, and missed opportunities.
73: The Barkley Marathons: The Race That Eats Its Young (2014)
The Barkley Marathons documentary – The Race That Eats It's Young – captures the uniquely crazy Barkley experience. The movie is warm and endearing while offering a genuine fly-on-the-wall perspective of what many regard as the world's toughest race.
72: The Birth of Big Air (2010)
Mat Hoffman is a BMX legend, 10-time World Champion, and X Games icon; he has a medical hit list that includes dozens of broken bones, concussions, and multiple comas.
Some assume Hoffman has a death wish. But it's a life wish: to find out what's possible on a BMX bike. Combine big dreams and lots of plywood, and you have the birth of big air.
71: Any One Of Us (2019)
Fernando Villena's documentary 'Any One of Us chronicles the efforts of mountain biker Paul Basagoitia to recover from a devastating spinal cord injury. The film begins with harrowing footage of the biking accident that damaged Basagoitia's spinal cord, with one doctor commenting, "There's a solid chance he's not going to walk again."
The doc effectively broadens its scope by including testimony from numerous other victims of spinal cord injuries who comment directly to the camera.
70: Rocky & Wrighty: From Brockley to the Big Time (2017)
The 2017 documentary Rocky and Wrighty is a heartfelt, moving, and nostalgic review of David Rocastle and Ian Wright's careers in Football, their rise, friendship, and Rocastle's untimely and tragic death.
From Brockley, London, childhood friends Ian Wright and David Rocastle took different paths to realize their footballing dreams, with Wright the late bloomer and Rocastle the child prodigy.
69: Rossi (2022)
An icon of motorcycling, this 2022 B.T. Sports film looks back at Valentino Rossi's career in MotoGP after he brought to an end his 25 years in the sport.
The documentary provides a rare insight into Rossi's career at the top level, in his own words. He relives all the action which has made him one of the world's most recognizable sporting heroes. Rossi also reveals the secrets of his success and speaks candidly about the fierce rivalries that have defined his time at the top of the sport.
68: Resurface (2017)
A short 2017 documentary on the transformative benefits surf therapy has had on veterans suffering from the emotional and physical traumas of war. Veterans speak frankly of their experiences during and after fighting, of injuries sustained, the ravages of PTSD, and the depression upon returning home. Worth 27 minutes of your day.
67: Fastball (2015)
A baseball documentary for old-timers and young analytics acolytes alike, "Fastball" sets out, as its nominal goal, to deduce who threw history's all-time fastest pitch. That intention, however, is merely the pretext for an alternately mythologizing and scientific inquiry into the art of pitching. This seemingly simple act has taken on legendary status throughout baseball's century-plus lifespan.
66: Changing the Game
"Changing the Game," which offers an earnest look at the way transgender teens around the country are fighting for self-actualization in the fraught world of student athletics, could have gone further, analyzing how fairness in sports is a myth, to begin with.
But the movie is interested in something other than rewriting the rules; it instead introduces us to the brave young people who are. The documentary illustrates how rules differ from state to state: The skier Sarah Rose Huckman, who lives in New Hampshire, describes a policy that hinges on gender confirmation surgery, whereas, at a high school in Connecticut, the runner Andraya Yearwood can compete on the team she wants.
65: Andre the Giant (2018)
An incredible documentary about the professional wrestling phenomenon, André, The Giant, the documentary is comprehensive in the way that it opens with Andre's modest upbringing in a small town in France to his rise to become an almost mythological figure, and finally ends with the story of his somewhat untimely death in 1993.
Simultaneously, the film regaled the viewers with whimsical tales of Andre's legendary drinking and his weird knack for flatulence. It also looks at a man who brought joy to those around him and fans worldwide, all while suffering in pain most of the time.
64: TT3D: Closer To The Edge (2020)
Step into the adrenaline-fueled world of the Isle of Man Tourist Trophy, or T.T., often hailed as the pinnacle of motorcycle road racing. In this captivating film, we delve into the rich tapestry of its legendary rivalries and storied past, unraveling the timeless allure that draws modern T.T. riders to push the boundaries of human and machine.
63: Elway to Marino (2013)
The twisting tale threaded the byzantine connection between John Elway—the first player in the 1983 draft—and fellow Hall of Famer Dan Marino, taken 27th, and how that shaped the N.F.L. for a generation.
It's a revealing behind-the-scenes look at the 1983 Draft that changed the N.F.L., which saw a record six Q.B.s taken in the first round. HBO never misses.
62: Fine Lines (2019)
For nearly three years, Dina Khreino, the director, embarked on an extraordinary journey of discovery, immersing herself in the world of world-class mountain climbing athletes.
Through countless interviews, she sought to unravel the enigmatic allure that drives these adventurers to abandon the comforts of everyday life and embrace the treacherous paths of the unknown.
61: The Last Mountain (2021)
The Last Mountain | Official Trailer
The compelling story of 30-year-old climber Tom Ballard who disappeared on one of the Himalayas' most deadly mountains, Nanga Parbat, in February 2019.
The film features revealing interviews with those left behind. Combining 25 years of intimate, unseen family archive material with footage of the family that director Chris Terrill has shot in the years since, the documentary tells the unforgettable story of a family who lived – and were prepared to die for – the love of scaling the icy heights of the world's highest peaks.
60: McGregor: Notorious (2017)
As "Conor McGregor: Notorious" unfolds, it presents a portrayal of Conor McGregor that deviates from the norm. A younger version of himself emerges, devoid of his signature gorilla tattoo adorning his chest. However, the most striking contrast is his financial situation – when he lacked the wealth he would later accumulate.
These initial segments of the documentary serve as its pinnacle. What's truly noteworthy is the unprecedented level of transparency granted to the camera crew, capturing the life of a fighter who, at this juncture in his journey, operated on the fringes of the mainstream M.M.A. realm.
59: The Game Changers (2018)
A documentary that shifted the mindset of many, The Game Changers highlights the health benefits of plant-based eating, with a particular focus on athletes and professions such as firefighters. It has now been watched by over 100 million viewers and is credited with changing many people's mindsets around the false perception of the "manliness" of meat consumption.
James Cameron, Arnold Schwarzenegger, Novak Djokovic, Jackie Chan, Lewis Hamilton, and Chris Paul are all executive producers of the original film. It also featured Patrik Baboumian, a vegan strongman who held the world log lift record and once lifted 420 pounds.
58: Untold: Crime & Penalties (2021)
Shows like The Sopranos and movies like GoodFellas or The Godfather showed us one thing—people love an organized crime story, but the most fascinating ones are the ones you may not have heard: the real-life ones. The Galante family is one of those stories.
It doesn't matter if you're a diehard hockey fan or you've never watched a single game; Crime & Penalties is an absolute riot.
"Did I check kids into the boards when I was a coach?" Pomposello asks, sporting an ear-to-ear grin. "Yeah. Cocaine is a hell of a drug."
57: Murderball (2005)
"Murderball" is a sports documentary that introduces an unfamiliar sport to its audience and unveils the fierce rivalry that simmers even within athletes constrained by profound physical limitations. The narrative of "Murderball" traces the path of the U.S. quad rugby team as they navigate their journey towards the 2004 Paralympics in Athens.
The documentary's scope extends far beyond sports, delving into many subjects. These include the athletes' insights into training, their experiences in competition, life beyond the confines of the sport, relationships, and the tragic events that forever bound them to wheelchairs. "Murderball" prompts athletes of all proficiency levels to scrutinize the rigor of their training routines while nurturing a sense of gratitude for their ability to execute even the most fundamental requirements of their respective sports.
56: Ronaldo (2015)
Without a doubt, one of the biggest sporting superstars on the planet. Cristiano Ronaldo has broken every record possible, won the lot (bar a World Cup) and has a highlight reel of memorable moments to fill endless scrapbooks.
In this fly-on-the-wall insight into his life, please learn more about the 5-time Ballon d'Or winner and what motivates his unprecedented success. Shot during his prime years at Real Madrid, join Ronaldo as he pursues a first Champions League title with Los Blancos.
55: Perfect (2016)
Perfect follows the Canadian synchronized swimming team on their quest to reach Rio 2016. They have several championships between now and then, with teams they must beat to reach their goal.
First-time writer and director Jeremie Battaglia takes us to the depths of various pools and sets out to dispel some myths around this sport that are often met with derision.
54: Sir Alex Ferguson: Never Give In (2021)
The Alex Ferguson portrayed in "Never Give In" is a far cry from the figure known for his intense yelling and confrontations, famously labeled as 'the hairdryer treatment.'
Directed by his son Jason, this intimate film takes the trajectory of his recovery following a brain hemorrhage in 2018 as a guiding thread. It presents a reflective Ferguson who recalls his footballing journey with the candidness of a seasoned warrior.
53: I Believe In Miracles (2015)
Seizing the crown in the First Division, conquering the F.A. Cup, and clinching the UEFA Cup – the astonishing spree of Nottingham Forest in the late '70s continues to defy belief even today. Rekindling recollections through conversations with the reunited squad, Jonny Owen's triumphant documentary extends its appeal beyond football fervor, metamorphosing into a universal tale of the underdog. TA's pulsating disco soundtrack further amplifies The narrative's potency infusing a palpable rhythm into the match footage.
At the core of this saga stands Brian Clough, the unquestionable hero whose brutally uncomplicated tactics ("Work hard, play well, enjoy it") ruthlessly diminish today's labyrinthine managerial strategies. A crowning gem is his fabled training sessions – an excursion through stinging nettles followed by a pint. Utterly priceless and absolutely memorable.
52: The Deepest Breath (2023)
It's been touted as an anti-adrenaline sport. Netflix's 2023 documentary will leave you appreciating oxygen more than ever as the freediving world becomes intertwined with a heartbreaking story of love and limits.
Following the journey of Alessia Zecchini, an Italian diver aiming to conquer the world of the sport, and Irish safety diver, Stephen Keenan, the story blends scenes of genuine terror, claustrophobia and heartbreak, punctuated by an overarching feeling of awe and admiration.
51: Ronnie Coleman: The King (2018)
Ronnie Coleman: The King; eight Mr. Olympia victories have led to eight major surgeries.
He can barely walk straight anymore. However, that sells the film as being more melancholy than it actually is – Yudin's old-school portrait of arguably the greatest bodybuilder of all time is undoubtedly heart-tugging but also somewhat inspiring.
Seeing a successful bodybuilder physically breaking apart toes the line towards being a cautionary tale, but the view of his private life ultimately saves it. He continues to enjoy life, has a great relationship with his kids, can take care of himself, and, most importantly, continues to lift.
50: The Unknown Runner
All runners know the importance of a good pair of running shoes. But have you ever tried running barefoot?
The Unknown Runner follows Geoffrey Kipsang Kamworor as he trains barefoot on dirt roads in Kenya.
Discover the world behind Kenyan long-distance runners. See how they train, live, and work hard to realize their dreams. Watch Kipsang as he teaches and paces for Haile Gebrselassie and makes his debut at the 2012 Berlin Marathon.
49: Bad Sport: Gold War (2021)
The 2002 Salt Lake City Winter Games scandal is in all its glory. The highly anticipated Pairs Ice Skating gold medal duel between Canada's Jamie Sale & David Pelletier and Russia's Elena Berezhnaya & Anton Sikharulidze turned into much more off the ice.
Despite a widely recognized flawless performance versus at least one visible mistake by the Russians, the Canadians finished second for the silver medal, to the disbelief of the vast majority of fans and pundits. Five judges voted for the Russians and four for the Canadians. Cue a whirlwind scandal that shook the sport.
48: The Wall: Climb for Gold (2022)
The Wall: Climb for Gold is a 90-minute, four-person documentary that begins in 2019. The film focuses on Brooke Raboutou, Miho Nonaka, Shauna Coxsey and Janja Garnbret, four prolific competitive climbers representing the United States, Japan, Great Britain, and Slovenia, respectively.
This film will be remembered as another turning point in climbing history. It will become a topic of conversation with the Olympics, and these 12 months will be immortalized as the time climbing and its athletes begin to reach new heights.
47: Generation Iron (2013)
"Generation Iron" succeeds where other rote sports docs often struggle. Instead of clinging to clichés, Yudin wisely uses the inherent eccentricities of the bodybuilding community to help distance his film from the convention. These are colorful characters populating the gyms and global competitions filmed for "Iron," and they have fascinating stories.
"Iron" opens a window to an exclusive club and gives valuable insight into a small, dedicated, proudly unique community.
46: The Armstrong Lie (2013)
Oscar-winning director Alex Gibney's film was started in 2008, the year before Lance Armstrong's return to competitive cycling after a three-year retirement, and was all but completed a few years later.
Filming resumed hours after his January 2013 television interview with Oprah Winfrey, where he admitted doping. In the footage Gibney initially shot, Armstrong lied about taking drugs. That's one reason "The Armstrong Lie" feels like two movies — a before and after — roughly stitched together. Fascinating as much as it is hard to stomach, the Armstrong saga gets the treatment it deserves.
45: The River Runner (2021)
Famed whitewater kayaker Scott Lindgren takes viewers on a 20-year journey to being the first person to run four rivers that originate from Mount Kailash in Tibet but faces a difficult medical diagnosis that threatens him from realizing his dream.
The scenery and kayaking scenes in this movie are genuinely breathtaking. Lindgren faced some incredible challenges during his whitewater kayaking career, and his story inspires anyone with big dreams and difficult obstacles.
44: Steph Curry: Underrated (2023)
One of the most recent releases on this list, the N.B.A.'s all-time three-point leading scorer opens up and shares his unique journey with the world. Director Peter Nicks has created something special in his latest work that ensures it moves beyond mere documentary mythmaking, delving into something more multifaceted as a character study of Curry and the road he took to become one of the greatest basketball players ever.
Recurring interviews with talking heads—a staple of the form that can quickly become overly congratulatory—offer something that feels more honest. While it can get somewhat stuck looking back without providing as much insight into the present, there is much to appreciate in its focus on the material.
43: Schumacher (2021)
Michael Schumacher is undoubtedly one of the all-time greats of Formula One. His nineteen years in the sport yielded 91 wins and 7 World Drivers' Championships – both records until last year – but a few dubious moves on track have left a question mark over his integrity.
The big story outside of his racing career surrounds the terrible events of December 29, 2013, and this is only covered fleetingly in the final eight minutes of the film. There is little in the way of an update on his health, but this is a beautifully made documentary in the classic sense and is well worth a watch, even for those who are only mildly interested in Formula One.
42: I Am Bolt (2016)
Everyone knows Usain Bolt. A name synonymous with the sport of sprinting and the Olympics, the Jamaican world record holder opens the doors and peels back the curtain on his life in this insightful documentary.
Aside from the iconic races and gold medal haul, we get hints of what it takes to win all those races, Bolt training till his legs bleed, and his veins look fit to burst. The H.D. Olympic footage works surprisingly well on the big screen, Bolt's clear superiority on show far more than on your home setup, his body becoming a spectacle in its own right.
41: Fittest On Earth: A Decade of Fitness (2017)
CrossFit has provided a host of addictive documentaries over the years, each of which dedicates its run time to providing a cinematic overview of a CrossFit Games competition. Our top pick is the recap of the 2016 Games, the start of the Fraser era and the conclusion of the Katrin Davidsdottir domination.
Watch some of the fittest physical specimens on the planet perform feats that shouldn't be possible, over and over again, across a grueling five-day, 15-event test to find the fittest man and woman on Earth.
40: Alex Schwazer: Running For My Life
Based on the life of Olympic gold medalist Alex Schwazer, this documentary is directed by Massimo Cappello. It is divided into four episodes, delving into the aftermath of his positive doping test at the 2012 London Olympics.
Witness the fallout, the media coverage, public scrutiny, and the impact on Schwarzer's personal life as he attempts to rebuild his life and reputation from scratch. The docuseries also offers a never before seen analysis of the doping scandals and puts forth a stressful view of the intricacy of the tests and their results, successfully presenting Schwazer's complete story without diluting any details.
39: Wingmen (2015)
Embarking on a global adventure, three world-renowned BASE jumpers – Jokke Sommer, Espen Fadnes, and Ludovic Woerth – set out to explore extraordinary and demanding locations for wingsuit proximity flying and BASE jumping.
This remarkable journey, directed and produced by Siesta Films in collaboration with Elliott and Winther Film, guides Jokke, Espen, and Ludo through iconic destinations like Rio de Janeiro, Chamonix, The Reunion Island, China's Tianmen Mountains, and the vibrant city of Bangkok. The expedition culminates with a planned final jump into the dazzling cityscape of Dubai.
38: The Alpinist (2021)
The remarkable and nerve-shredding tale of Marc-Andre Leclerc, a free-spirit solo climber who made some of the boldest ascents in history. Revealing extensive details about the destination of "The Alpinist" would disregard the deliberate narrative decisions crafted by the filmmakers. However, climbers among the viewers are probably familiar with the trajectory of Leclerc's journey.
While celebrating a pursuit as hazardous as alpinism inherently carries certain dangers, 'signing the breath-catching exhilaration of witnessing Leclerc fully immersed in his element is impossible. As he pursues an unimaginable aspiration in his own conditions, the film encapsulates the essence of the sublime.
37: Beyond the Mat (1999)
Well before Vice's series, "Dark Side of the Ring," brought to light the more dubious and tragic narratives within the realm of professional wrestling, "Beyond The Mat" emerged as the pioneer that unveiled the industry's inner workings. This documentary intimately portrays the real-life narratives of several of the sport's most prominent figures. Unveiled during the zenith of the wrestling explosion in the late 1990s, "Beyond The Mat" zeroes in on the personal lives of renowned wrestlers: Mick Foley, Terry Funk, Darren Drozdov, and Jake "The Snake" Roberts.
Through its lens, this documentary forms a captivating cinematic experience, catering to a broad audience, regardless of their familiarity or interest in professional wrestling.
36: Uppity: The Willy T. Ribbs Story (2020)
A film centered around Willy T Ribbs, an unyielding driver who shattered racial barriers in American auto racing, ultimately becoming the pioneer to break the color barrier in the Indy 500.
Co-helmed by Nate Adams and Adam Carolla, this cinematic work chronicles Ribbs' journey, meticulously capturing his existence as an athlete who tenaciously navigated numerous obstacles within an industry that resisted his presence. The documentary delves into Ribbs' history, incorporating insightful interviews from Ribbs himself, his close-knit circle of friends, family, and fellow race car drivers.
35: Building Jerusalem (2015)
S.S.E. Presents Building Jerusalem
Bearing a symbolic title that pays homage to the rousing rugby anthem, "Building Jerusalem" is a fascinating cinematic piece that intricately traces the remarkable narrative of the England National Rugby Union team's evolution and triumph. This film artfully combines archival footage with fresh interviews featuring luminaries like star player Jonny Wilkinson, former captain Martin Johnson, and coach Clive Woodward.
Director James Erskine's approach revolves around infusing a more personal dimension into a story already familiar to many. The focus zooms in on these three central figures, who pivotally propelled England to their illustrious victory in the 2003 World Cup. This strategic shift grants the documentary an intimate perspective, allowing for a reflective exploration of history's pages.
34: Gazza (2022)
Paul Gascoigne, known as The Lost Boy of English football, remains an enduring enigma for devoted football enthusiasts. This B.B.C. documentary centered around the former Newcastle and Spurs midfielder takes a distinct approach, steering away from a conventional hagiography. Instead, it presents a candid and, at times, emotionally poignant reevaluation of how the voracious tabloid media mercilessly exploited his innate innocence, amiable disposition, and inner demons.
Beyond his individual journey, the documentary also serves as a cutting commentary on the 1990s era, where the complexities of fame and vulnerability intersected in his story, leaving a profound imprint on the collective memory.
33: 14 Peaks: Nothing Is Impossible (2021)
Two words. Nirmal Purja. You will know him as Nims by watching this epic documentary, which genuinely displays the strength of human will, grit and desire. Released in November 2021 on Netflix, 14 Peaks takes an impossible challenge and makes it look like a stroll along the beach.
The documentary benefits from excellent editing, which is even more admirable considering it was compiled from over 100 hours of footage from climbs and interviews stretching from April to October 2019. Nims' quest is simple (ish) in this uplifting and inspiring story.
To climb all 14 eight thousand peaks within a record time of under seven months. Combining loveable characters, a stunning backdrop and a phenomenal music score, you will be googling your nearest mountain hike within seconds of the credits rolling.
32: Make Us Dream (2018)
Backed by an emotionally charged soundtrack from Roger Goula, 'Make Us Dream' documents the life of – arguably – Liverpool FC's most outstanding player, Steven Gerrard. Born and bred in the city, the former midfielder's rise from a shy child to a powerhouse icon to millions is superbly weaved together by Director Sam Blair.
Expect dramatic scenes from Gerrard's illustrious career, ranging from the highs of winning the Champions League in 2005 to scoring twice to win the F.A. Cup in what was dubbed 'The Gerrard Final.' There were lows, too; a near-move to Chelsea which caused fans to burn his shirt, and the slip which played a part in Liverpool's title collapse in 2014.
31: All or Nothing: A Season with the Arizona Cardinals (2016)
It was almost impossible to pick the best of Amazon Prime's 'All or Nothing' series, so I went with the highest-rated and the one that started it all. In 2016, this groundbreaking behind-the-scenes doc featuring the Arizona Cardinals was an emotionally charged, eye-opening look at the inner workings of a National Football League team.
During the 2015-2016 season for the Arizona Cardinals, this championship-winning team went on an impressive run and had their sights set on clutching the lucrative prize of a Super Bowl championship at the end of the season. Whether you know how this story ends or not, the episodes are emotionally charged and surprisingly well-paced throughout, building up to the final two episodes dominated by on-field action during the Cardinals' most important games of the season.
30: Rising Phoenix (2020)
The Netflix documentary titled "Rising Phoenix" offers an illuminating revelation: "para" in Paralympics is derived from "parallel," not "paralyzed." Within this realm, athletes of unparalleled caliber defy expectations, showcasing remarkable prowess. For instance, an individual without arms engages in archery, deftly employing his legs and feet to draw back the bowstring and release the arrow, hitting the bullseye with precision.
This cinematic piece delves into the global lives of numerous Paralympic athletes, chronicling their journeys as they gear up for the 2016 Games in Rio. Moreover, it provides an enlightening exploration of the foundation and historical evolution of the Paralympic Games, contributing to an educational appreciation of this extraordinary event.
29: Welcome to Wrexham (2022)
"Welcome to Wrexham" offers an intriguing portrayal of the now-famous collaboration between Rob McElhenney (known for "It's Always Sunny in Philadelphia") and Ryan Reynolds (one of the standout Hollywood figures) as they embark on the acquisition of Wrexham A.F.C., a Welsh football team competing in lower leagues.
Through a captivating fly-on-the-wall docuseries format, the show captures the team's remarkable upswing under the stewardship of these high-profile owners, infusing glitz into its operations. The documentary also delves into the deep personal bond that blossomed between the charismatic new proprietors and the genuine fans who swiftly embraced their arrival. Understandably so, as they are present at nearly every game, further solidifying the particular connection.
28: Undefeated (2011)
Recipient of an Academy Award for Best Documentary Feature, "Undefeated" shadows the journey of the Manassas Tigers, led by coach Bill Courtney, through the heart of inner-city Memphis. In this gripping narrative, Courtney, a volunteer coach, ardently aspires to mold a triumphant team on the field while steering his players away from the dangerous streets and potential pitfalls. Against considerable odds, he guides the team towards an unprecedented winning season, overturning their status as a perennial underdog in the state's football scene.
"Football doesn't merely shape character; it unveils it," Courtney passionately imparts to his players in a pivotal scene, a statement that echoes the essence of Friday Night Lights but carries a distinct enthusiasm and determination. Throughout "Undefeated," several instances will undoubtedly stir viewers' emotions, evoking tears and provoking deep empathy for the challenges these athletes confront.
27: An Endless Summer (1966)
In 1964, filmmaker Bruce Brown embarked on a unique quest: trailing two global surfers, driven by the pursuit of the ultimate wave. With a modest budget of $50 thousand and armed with a 16mm camera, Brown adeptly encapsulated the very soul, the thrill of adventure, and the sheer artistry of surfing.
The resulting masterpiece, "The Endless Summer," resonated as a rallying cry within the global surfing community. This film ignited an international passion for surfing and kindled an enduring love that persists. "The Endless Summer" fundamentally introduced the world to top-tier surfing, marking a pivotal moment when the Earth opened its arms to embrace this captivating pursuit.
26: Meru (2015)
In the heart-pounding documentary by Jimmy Chin and Elizabeth Chai Vasarhelyi, events unfold that can leave you in awe. Events like avalanches, frostbite, trench foot, starvation, and even punctured skulls…
With one hand gripping a rope and the other clutching a camera, Chin's immersive video diary beckons you to join him on a visceral journey up the treacherous and seemingly unconquerable Meru Peak. This peak resembles an intricate obstacle course, intertwining ice, rock, and wall climbs, culminating in a daunting 4,000-foot granite façade known as the Shark's Fin. Side by side with Conrad Anker and Renan Ozturk, "Meru" pushes boundaries in genuinely revolutionary ways, showcasing the thrilling potential of new camera technology to transport its audience.
While it is a captivating spectacle, providing a vertigo-inducing, first-person perspective, it's equally fascinating as an authentic psychological and survival drama, offering an immersive insight into the candid and intense psyche of those battling for survival.
25: Last Breath (2019)
Not one for those who have claustrophobia. On September 18, 2012, a routine maintenance operation on an oil well manifold took a devastating turn in the North Sea. This unfortunate incident unfolded when a computer error led to diver Chris Lemons becoming trapped on the seabed with a mere five minutes of breathing gas remaining. The prospect of rescue remained at least half an hour away, adding to the gravity of the situation.
Encompassing a blend of camcorder footage, black box recordings, interviews with key figures, and skillfully woven reconstructions, the heart of the documentary revolves around a gripping race-against-time narrative. This narrative is a thrilling cornerstone, meticulously chronicling the calamity that left Lemons isolated in the depths, grappling with a severed umbilical line.
24: The Redeem Team (2022)
As the 21st century unfolded, the well-worn narrative of U.S. Basketball's Olympic dominance began to lose its luster. Esteemed stars started to decline participation in the additional summer tournament. In a shocking turn of events in 2004, the unthinkable transpired – the United States suffered defeats and had to settle for a bronze medal.
The dire need for redemption was evident, and that moment arrived in 2008, fueled by a rejuvenated team-first strategy. This new approach was spearheaded by the experienced Duke University head coach, Mike Krzyzewski, and was powered by luminaries like LeBron James, Kobe Bryant, and Carmelo Anthony. Their mission extended beyond reclaiming the gold; it initiated events that would shape the N.B.A. landscape for over a decade.
23: Take the Ball, Pass the Ball (2018)
F.C. Barcelona, 2011. Some regard them as the greatest soccer team of all time. In the documentary, Take The Ball, Pass The Ball, former and current Barça players look back at when Pep Guardiola led the team to 14 trophies in four years from 2008-2012. Featuring interviews with Lionel Messi, Xavi, Andreas Iniesta, Thierry Henry, and everyone else who was part of an era-defining team, this is the definitive tale of the inventors of 'tiki tika.'
The all-star cast reveals the tension of the bitter Guardiola-Mourinho rivalry, the importance of Johan Cruyff's vision and blueprint for success, the emotion of Abidal's fight back from cancer and how the club almost rejected Messi as a teenager. Vital viewing.
22: Team Foxcatcher (2016)
"Team Foxcatcher" is a sports documentary that lays bare the unsettling truth that money and influence can forge a pathway to unprecedented influence over aspiring young athletes. This tale simultaneously unravels the disturbing effect of power.
Following its rechristening as Foxcatcher Farm, the establishment's allure stemmed from John DuPont's association with the late matriarch, attracting burgeoning athletes from all corners of the nation seeking a guiding hand. A particular bond was forged with Dave Schultz, an erstwhile Olympic gold medalist striving for a triumphant comeback. As recounted in the documentary, the narrative traces DuPont's descent, beginning with the demise of his mother. This spiral saw him morph from an affluent philanthropist into a figure plagued by instability and paranoia, culminating in a chilling act of murder.
21: Slaying the Badger (2014)
Preceding the era of Lance Armstrong, the spotlight belonged to Greg LeMond – the sole American to have triumphed in the Tour de France. Within this captivating documentary, LeMond casts his gaze back upon the pivotal 1986 Tour, an epoch marked by a fierce rivalry that grew increasingly bitter with his close friend, teammate, and mentor, Bernard Hinault.
As the reigning Tour champion, Hinault earned a reputation as a ruthless competitor nicknamed "The Badger." He 'pledged' his support to aid LeMond's pursuit of his first victory, hinging on LeMond's backing during the prior year. Yet, in a sport ostensibly emphasizing teamwork, the prevailing truth remains that every rider ultimately vies for individual glory.
20: Tyson (2008)
This documentary is an absolute must-watch for anyone with an affinity for boxing. Mike Tyson's narrative flows almost incessantly, painting vivid details of his personal journey. The filmmaking techniques employed are masterful, but they demand your complete attention. Toback ingeniously interlaces multiple dynamic split screens at various junctures, prompting a need to attentively "follow" the dialogue as it transfers from one screen to another.
Throughout the documentary, the audience is granted an intimate glimpse into Tyson's life, a perspective that likely eludes all but his closest confidants. Moments of vulnerability emerge, punctuated by his emotional pauses and tears that he valiantly fights back. This portrayal offers an extraordinary window into Tyson's character, revealing facets of him that are seldom witnessed.
19: Last Chance U (2016)
'Last Chance U' follows the 2015 football season of East Mississippi Community College (a.k.a. "Scooba Tech"), a documentary that centers on genuine individuals. The focal points of L.C.U. are individuals who frequently grapple with poverty and precarious domestic circumstances. Their stories resonate even more profoundly because they transcend being mere symbolic figures embodying universal realities; instead, they are authentic human beings residing in the rural landscapes of Mississippi.
What holds the greatest depth and simultaneously evokes a robust emotional response within the narratives of the individuals in L.C.U. is that despite their academic and personal struggles, they radiate as remarkable talents on the football field. The viewer's desire for a brighter future for them is undeniable. Yet, beyond Football, it's not merely a question of facing adversity; instead, these individuals are unfamiliar with an alternative path.
18: No No: A Dockumentary (2014)
In 1876, George Bradley etched his name in history by achieving the first official no-hitter acknowledged by Major League Baseball. Since then, an impressive 312 no-hitters have been accomplished by big-league pitchers. However, among this illustrious roster, few remain as unforgettable as the 1970 "no-no" executed by Dock Ellis of the Pittsburgh Pirates.
A former All-Star, the man in the spotlight held only fragmented memories of that remarkable performance. Astonishingly, he confessed to having been under the influence of L.S.D. during the game, a consequence of a night of revelry and a mix-up in his starting days. "No No: A Documentary" revisits his unparalleled no-hitter against the San Diego Padres while delving into this right-handed pitcher's extensive journey.
The documentary chronicles his prolific career, his vocal advocacy for the rights of Black players in the Major Leagues, and his struggles with alcohol and amphetamine addiction. Furthermore, it sheds light on Ellis' dedicated efforts to support fellow addicts in their pursuit of sobriety — efforts that continued until his passing at the age of 63 in 2008.
17: Pumping Iron (1977)
Retracing the steps of the 1975 Mr. Olympia competition, a stage where Schwarzenegger squared off against the television's Hulk, Lou Ferrigno, this film has evolved into a captivating chronicle of Schwarzenegger's pre-superstar era rather than a mere exploration of bodybuilding.
Helmed by George Butler and Robert Fiore, "Pumping Iron" epitomizes the quintessential documentary experience. It immerses its unsuspecting audience into an uncharted realm that likely remained beyond their purview until the theater lights dimmed—an arena brimming with perspiration, fixation, self-adoration, anguish, and euphoria. This hypnotic and gripping cinematic creation unveils a domain where brute strength occasionally takes a backseat to strategic mind games and ruthless machinations, transforming the arena into a gladiatorial spectacle.
16: The Two Escobars (2010)
Regarded by many as the quintessential 30 for 30 productions, "The Two Escobars," crafted by Jeff and Michael Zimbalist, shines as a remarkable cinematic accomplishment. The documentary unveils the narrative of what is famously labeled as "narco-soccer."
This term harks back to a period in Colombia's history when cocaine kingpins utilized soccer clubs as a means of laundering their illicit gains. None of these drug lords had a more profound influence than Pablo Escobar.
The other Escobar, while less steeped in controversy, stands just as captivating. Andrés Escobar, unrelated to Pablo, was the celebrated defensive star of Colombia's national team. Nurtured in a devout Catholic upbringing, he believed he could uplift his nation through soccer. Andrés garnered global acclaim when he inadvertently scored an own goal in the 1994 World Cup match against the United States.
Jeff and Michael Zimbalist's directorial prowess results in an artistic triumph. Although most of the interviews are in Spanish, the willingness to read subtitles becomes a minor concession. "The Two Escobars" is an extraordinary film that masterfully depicts how a seemingly simple game can profoundly impact an entire nation.
15: Fire In Babylon (2010)
While we possess ample knowledge about the most renowned teams in the annals of U.S. sports, the unparalleled supremacy of the West Indian cricket team during the 1970s and 1980s stands as a rare exemplar of dominance. "Fire in Babylon" zeroes in on the team's meteoric ascent to supremacy, intricately intertwined with the charismatic personas of its individual players, which frequently thrust them into the limelight.
However, the documentary also sheds light on the colonial legacy underpinning cricket's sports history. It provocatively underscores that cricket's trajectory in India, and its subsequent popularity, might never have come to fruition had the U.K. not colonized the nation.
14: Bobby Robson: More Than A Manager (2018)
A poetic and heartfelt love letter to one of England's most loved and decorated football managers, More Than a Manager perfectly bottles up the man that was Sir Bobby Robson, releasing his story in a flowing and moving documentary. Following the same format as 'The Last Dance,' we follow the life of Robson, native to County Durham but managed in five different countries during his time in Spain with Barcelona in 1996.
Key flashpoints and milestones in his personal life, playing career and highly successful stint in the dugout are pieced together, peaking with his run to the semi-finals of the 1990 World Cup with England. Featuring appearances from Pep Guardiola, Alan Shearer, Ronaldo (the Brazilian one) and Jose Mourinho, this doc is a must for football fans. The final line from Mourinho perfectly sums up the tone.
"A person only dies when the last person who loves him dies."
13: Next Goal Wins (2014)
It unfolds as the quintessential underdog narrative: American Samoa, the world's most challenged football team, embarks on a quest to secure a spot in the World Cup. Up to this juncture, the Samoan team remains untarnished by any affiliation with Fifa, and their recent memory is dominated by a demoralizing 31-0 defeat against Australia. (Indeed, Australia's harsh approach towards Samoa raises questions.) Despite their admirable personalities, it's undeniable that their performance on the field has been, to put it kindly, subpar.
In a bid to invigorate football culture on the islands, the arrival of Dutch-American coach Thomas Rongen sparks a spirited transformation. He's determined to whip them into shape and leave a lasting impact. As the Samoan players, among them Jaiyah Saelua – who identifies as fa'afafine, a distinct gender in Samoan society – embrace Rongen's strategies, a profound understanding of the Samoan community and culture unfurls for both him and the viewers. This journey proves to be profoundly moving and inspiring. The narrative is an embodiment of sheer positivity. Magnificent, truly magnificent.
12: Touching the Void (2003)
An extraordinary tale that translated into a profoundly captivating work of non-fiction cinema, "Touching the Void" didn't come without its share of controversy due to its extensive use of re-enactments. Consequently, for some, it blurs the lines of being a genuine documentary.
Yet, how does one portray an actual event without camera footage?
It's akin to the age-old "pics, or it didn't happen" quandary that predates the Instagram era. The remedy? Create those visual representations while upholding the authenticity of the narrative. The film also propels each viewer to confront an inescapable question, "What would you do if faced with such a circumstance?" this aspect only heightens its enthralling nature.
The scenario unfurls with two climbers, one incapacitated with a broken leg, suspended precariously from a rope on a Peruvian mountain. Stranded without water, devoid of fuel to melt snow for hydration, and with inclement weather looming, both climbers are bound for doom unless the injured individual is severed from the rope, granting the uninjured climber an opportunity to seek help. Now, envision yourself in the shoes of the unharmed climber armed with a knife. The question lingers, what would you do? This ethical dilemma thrusts you into a situation that demands careful consideration.
11: The Battered Bastards of Baseball (2014)
"The Battered Bastards of Baseball" is best encapsulated as an evolved iteration of the "Bad News Bears," which has matured. This documentary illuminates the factual narrative of the Portland Mavericks, conjuring an image reminiscent of a grown-up version of the classic tale. The brainchild of Bing Russell, a seasoned actor and the father of Kurt Russell, "The Battered Bastards of Baseball" chronicles the inception of America's inaugural independent baseball team in 1973. Initially branded as a "recipe for failure," Russell astoundingly steered the organization toward resounding triumph.
The Mavericks defied expectations, shattering attendance records while competing in the remote location of Portland. This unconventional team attracted players from various corners of the nation, all seeking a final shot at organized baseball. "The Battered Bastards of Baseball" emerges as an impeccable sports documentary that rekindles the passion that draws us to sports and underscores the lengths individuals are willing to traverse to uphold the dream of playing, regardless of the sacrifices involved.
10: Diego Maradona (2019)
"Diego Maradona" delves into the narrative of one of soccer's most illustrious yet tumultuous figures, spotlighting the unparalleled prowess of Diego Maradona both on and off the field. The documentary immerses itself in Maradona's remarkable achievements as a player, intricately intertwined with numerous headlines chronicling his off-field escapades. A select few possessed the magnetic charisma necessary to command media attention consistently over decades, and Maradona unequivocally belonged to this exclusive category. However, even amidst his media-worthy antics, his on-field brilliance remained undeniable.
A pivotal chapter in the documentary revolves around Maradona's instrumental role in propelling Argentina to a World Cup victory, a testament to his extraordinary skills. His legacy endures, with his name continuing to resonate in discussions regarding the greatest player in the sport's history, decades after his prime.
9: Hoop Dreams (1994)
Hailed as the "Citizen Kane" of sports documentaries, "Hoop Dreams" is a monumental influence for virtually every filmmaker who ventured into this domain after that. Its impact was revolutionary in terms of its innovative format and captivating content. A dedicated film crew immersed themselves in the lives of two aspiring schoolboy basketball players and their families over five years in Chicago, crafting an expansive and profound three-hour film that achieved a level of insight previously unseen.
Although the narrative of a youth from the wrong side of the tracks striving for a better life through sports has been recounted numerous times, no film has entirely encapsulated that world with the depth and authenticity of "Hoop Dreams." The documentary resonates with unabated emotional potency and dramatic intensity; arguably, these qualities have only grown with time. When viewing it today, a stark realization emerges – the subjects aren't projecting a contrived persona for the camera's sake. This authenticity is even more profound considering the subsequent rise of reality television over the past decade, where such unfiltered representation is a rarity.
8: The Dawn Wall (2018)
Immersing its viewers in awe and wonder, this documentary plants you squarely on the surface of the world's most formidable rock face. In the company of intrepid climbers Tommy Caldwell and Kevin Jorgeson, the history-making 2015 free climb is vividly relived. While at its core, it's a story of companionship, it's also a tale of sheer courage, as Jorgeson steps in as Caldwell's partner during the eleventh hour.
The film unwraps the climb into 32 distinct "pitches," or segments, with the most astoundingly demanding among them being an almost featureless stretch of rock that scarcely affords a fingertip's grip. Jorgeson's attempts in this section are ceaseless, each time ending in a fall midway. He wrestles not just against the formidable physical forces but also his own inner demons, creating a gripping drama that unfolds through daring determination.
Even with their mastery of the craft, the documentary portrays a narrative of audacious ventures and unwavering commitment. Their ascent defies the conventions of human capabilities, epitomizing the very essence of the human spirit – to surmount the odds. "The Dawn Wall" grants us intimate proximity to their remarkable feat, allowing us to share in it vicariously. Such a potent representation is enough to stoke the audience's aspirations, kindling within each viewer the desire to reach for the unattainable, much like aiming for the moon.
7: Athlete A (2020)
Spanning more than two decades, the shocking saga of the U.S.A. Gymnastics doctor Larry Nassar's sexual abuse of young female athletes unfolds as a disheartening tale of impunity. Despite numerous complaints lodged against him, Nassar evaded justice. His prosecution in 2016 eventually exposed a chilling reality – more than 260 young girls and women stepped forward, accusing him of sexual assault. Netflix's "Athlete A" delves into this distressing narrative, shedding light on the deeply disturbing dynamics that enabled Nassar's heinous acts to persist unchecked.
Directed by Bonni Cohen and Jon Shenk, the documentary intricately examines how a network of institutional protection provided a shield for Nassar's crimes. Shockingly, a staggering 54 coaches faced allegations of misconduct spanning a decade, underscoring the magnitude of the problem. Cohen and Shenk engage survivors in candid interviews and trace reporters' journeys from the Indianapolis Star newspaper, which played a pivotal role in exposing the truth. The documentary does more than unveil an organizational cover-up; it reveals the profound vulnerabilities embedded within the American gymnastics system, raising meaningful discussions about safeguarding young athletes.
6: When We Were Kings (1996)
Muhammad Ali is an unparalleled athlete whose essence will likely remain unmatched. "When We Were Kings" thrusts the spotlight onto this world champion boxer, a humanitarian figure of immense controversy, capturing him at the zenith of his prowess. The documentary centers around the monumental 1974 heavyweight boxing match in Zaire, famously known as "The Rumble in the Jungle." At this juncture, George Foreman, the reigning heavyweight champion, grappled with his own challenges, emerging as an unexpected underdog pitted against the remarkable Ali. Despite Ali's age of 32, a perception lingered that he was past his prime, rendering Foreman's victory seemingly inevitable.
Boxing experts dismissed Ali's chances of triumphing over Foreman, who was not only a decade younger but also in the peak form of his career. The fight was orchestrated with the involvement of rising boxing promoter Don King, who shelled out a staggering $5 million to each fighter as a lure. The documentary meticulously traces the events leading to this legendary showdown and chronicles the accompanying music festival that was held as a part of the grand spectacle.
The culmination of this narrative was the bestowment of the Academy Award for Best Feature Documentary in 1996, a resounding recognition of its impact. At the awards ceremony, Ali and Foreman, who had long buried their differences to form a bond of friendship, graced the stage alongside the filmmakers, thereby etching an iconic historical moment.
5: O.J. Made in America (2016)
Undoubtedly, this sweeping portrayal of the life and era of OJ Simpson stands as a pinnacle in documentary craftsmanship. Boasting myriad interviews with key individuals involved (excluding the central figure, who – spoiler alert – faces a parole hearing this year), the documentary artfully navigates archival materials and steadfastly pursues a well-balanced narrative. Yet, for those whose acquaintance with OJ Simpson is confined to his descriptor as a "former N.F.L. player acquitted of killing his wife and also in The Naked Gun," the film emerges as a profound revelation.
The narrative unfolds in a tapestry of captivating moments: delving into his affiliation with the Black Power movement, pioneering endeavors to transform athletic acclaim into mainstream, high-earning stardom; his staggering self-assuredness; the transformation of his murder trial from an O.J. versus The Man spectacle to a broader confrontation of Black versus White in America; the intricate tale of how the controversial book "If I Did It" – a purportedly hypothetical account of his wife Nicole Brown Simpson and her friend Ron Goldman's murder – found its way into publication by Goldman's father.
Notably, the documentary benefits immensely from the candid and fearless contributions of animated defense attorney Carl Douglas, who emerges as the epitome of a compelling talking head in documentary storytelling.
4: Icarus (2017)
The allure of "Icarus" lies in its inherent unpredictability. In Bryan Fogel's odyssey to unearth the truth about doping in sports, an unexpected encounter with a Russian scientist sets off a seismic chain of events that reshapes the narrative. While steering clear of divulging too much about this incredulous and enthralling saga, it's safe to affirm that this documentary confronts the issue of corruption within the upper echelons of sports and directly influences its trajectory.
Recipient of an impressive seven awards, including the coveted Best Documentary Feature at the 2018 Academy Awards, "Icarus" masterfully intertwines the realms of sports, politics, journalism, and power, concocting a documentary blend that's nothing short of sublime.
Care for a "doc-tail," anyone?
3: Senna (2011)
Asif Kapadia set a new benchmark for all biographical documentaries, transcending the sports genre and the entire field. His portrayal of Ayrton Senna's life is a testament to this accomplishment. By exclusively employing archival footage and abstaining from captions or interviews, he created an unmediated connection between the audience and the racing legend's private and public spheres. This approach eliminated the observer's detachment, placing them directly within the narrative's orbit.
The uniqueness and poignancy of Senna's life undoubtedly lent itself to this endeavor. Remarkably, the absence of breaks for analysis or retrospective context renders the film absolutely captivating, maintaining an enthralling grip from the very inception to the closing credits. Kapadia's subsequent work, "Amy," chronicling the life of singer Amy Winehouse in 2015, followed a similar path. Presently engaged in crafting a biography of Diego Maradona, replete with the full backing and access to the man himself along with his personal footage, Kapadia's forthcoming endeavor holds promise. However, rivaling the blazing brilliance of "Senna" will be an ardent task.
2: Free Solo (2018)
At times astonishing, occasionally inadvertently amusing, and frequently deeply emotional, this documentary is consistently riveting. Even after multiple viewings of Elizabeth Chai Vasarhelyi and Jimmy Chin's award-winning documentary, you might find your Fitbit indicating an elevated heart rate as you witness the audacious Alex Honnold, the protagonist of this climbing saga, undertaking an unimaginable display of courage and expertise.
Honnold's distinct persona and perspective on life's fundamental principles could qualify for an Oscar nomination.
However, when you add his ascent of Yosemite National Park's El Capitan without using a harness, rope, or any conventional gear, it becomes evident why this documentary secured the Best Documentary Feature award at the 91st Academy Awards in 2019.
Credit is due to Chin and his team of seasoned climbers. After visibly grappling with the ethical implications of the most hazardous scenarios captured during filming, they meticulously shot over 700 hours of footage across 12 cameras. The outcome is a documentary that stands as one of the most nerve-wracking, visually awe-inspiring, and mind-bending creations, sure to have you on the edge of your seat and leave an indelible impact on your mind.
1: The Last Dance (2020)
And here we stand, face to face with the ultimate sports documentary. Those lockdown Mondays likely transformed into moments of anticipation when Netflix graced us with two episodes each week during April and May of 2020.
"The Last Dance" unfolds the saga of the legendary Chicago Bulls, primarily centering on the life and journey of Michael Jordan, while incorporating insightful perspectives from an exceptional ensemble cast including Scottie Pippen, Phil Jackson, and the delightfully eccentric Dennis Rodman. The narrative seamlessly transitions between the 'Present Day' of the 1997/98 season, the peak of their triumph before bidding farewell, and previously unrevealed footage showcasing Jordan's ascent to global icon status.
In a flawless blend, the documentary captures and interweaves an uplifting expedition of teamwork, determination, and raw emotion. The highest compliment one can extend to "The Last Dance" is that the personal growth of these characters off the court is just as captivating as watching a figure like Steve Kerr, an unsung hero of the Bulls, sink the decisive shot against the Utah Jazz in Game Six of the 1997 Finals.
In its entirety, we are presented with a breathtaking portrait of an intricately complex individual who harnessed his imperfections to attain perfection—someone as unrelatable as he is occasionally unlikable. Simultaneously, we witness the transformation of an individual into a global powerhouse, a money-generating entity with blockbuster movies and chart-topping sneakers under his belt, catalyzing a new era of celebrity dynamics in his trailblazing wake. Coupled with an electrifying soundtrack that starts with a bang and sustains its energy throughout the extensive 500-minute runtime, star-studded cameos, polished editing, and… well, that should suffice.
Now, without further ado, immerse yourself in this masterpiece.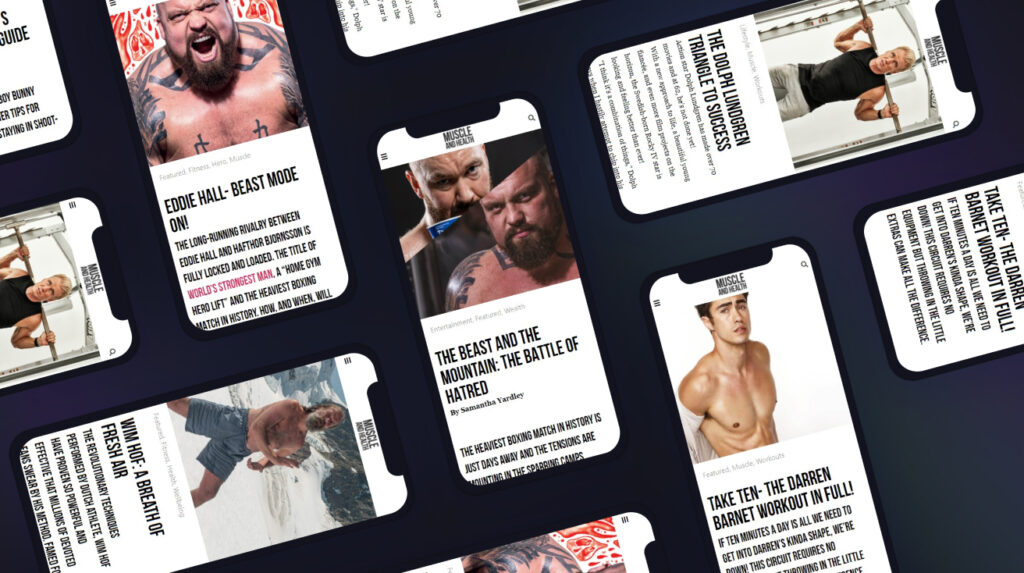 get all the latest mucle, health and wealth news delivered straight to your inbox