Words by Jack Franks
Phoebe Schecter has a flight to catch.
It's early in the United Kingdom, where the Connecticut-born female athletic pioneer calls home following her move across the pond at 22.
Any rustiness would be forgiven with her coming off the back of a busy day at the Efe Obada Youth Camp, hosted at the Crystal Palace National Sports Centre. Still, Phoebe is bright-eyed and ready to rock, a familiar theme throughout her professional journey.
When it comes to CVs, her's is the prime example of varied.
A former NFL coach – Britain's first female coach in the sport – she is also the captain of the GB women's team, a flag football ambassador and a broadcaster with Sky Sports and talkSPORT.
Somehow, she found the time to spend a year as a coach with the Buffalo Bills in the NFL, but this wasn't always the path she seemed destined for.
Horses and equestrians dominated her upbringing, with her passion eventually taking her to a place known locally as Beartown, Congestion, a pretty market town halfway between Manchester and Stoke and perfectly placed to access the Cheshire Peak District.
American Football was an unknown quantity until a social media advertisement caught her attention, and with Phoebe looking to forge connections, little did she know it would be so much more; the sliding doors moment would signal the start of a new chapter.
Before returning to the States, Phoebe spoke to Muscle and Health about her ground-breaking ride as a leading ambassador for female inclusion in sport.
First, tell me what you got up to at the Crystal Palace National Sports Centre.
"Of course! It was Efe Obada's camp that he ran with Big Kid Foundation and NFL Foundation, and we had 150 kids there with a mixture of school children and some from the Big Kid Foundation.
"There were meditation stations; they played games outside and learned the basic skills of American football and flag football, the five-a-side version. It was just a lot of good energy.
"A lot of Efe's friends through the league were there with some of our old international pathway guys like Christian Scott Williamson, and some of the NFL Academy people were in attendance as well."
Growing up in Connecticut, where traditional sports such as football, basketball and baseball dominated the sporting landscape, what did you find yourself leaning towards?
"Horses were always number one for me, so I moved to the UK. Other than that, I played everything. I was on the boy's basketball team and played softball across the country, but lacrosse stuck when I was about 13.
"Lacrosse is huge in the northeast of the States as well. I played lacrosse goalie and had gotten offers to play in college, but I needed to gain my traditional college experience because I was working, so I never could play sports.
So, the irony of when I moved to the UK and got to play a sport that I'm continuing to play as an adult is mind-boggling and something I'm very grateful for."
I read that duckpin bowling is a game closely linked with your state. Have you ever played it?
"Bowling was popular because we were about an hour outside New York City, a more suburban area, so we had more free time. So you're more suburbs. When I was younger, they used to have nickel bowling nights where you would go bowling and get a beer for 5 cents.
"Everyone would go because it was an excellent activity to keep people off the streets. It gave them somewhere to go with intention, like our Big Kid Foundation."
When you moved to the UK to work for Andrew Heffernan's Dutch Equestrian eventing team, were you entirely in the mindset that the rest of your career would center around horses and equestrian, or did you know there were other avenues you wanted to explore?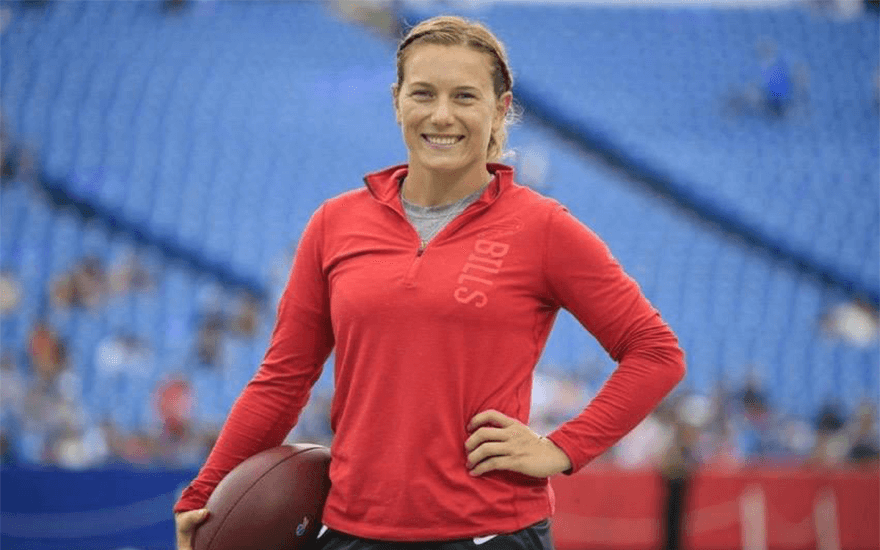 "I thought I would be working with horses my whole life. I studied it at university, and I intended to do that. I'm so passionate about it to this day.
"When I moved over, I said I would just make a year contract with him because I left an excellent job back in the US and was away from friends and family. When he offered me the job in the first place, I was in shock. I couldn't believe it was going to happen.
I never intended to stay in the UK, but I found and started playing American football, which gave me roots, and I built my community from there.
I'd left friends and family. That was the real tie for me because I could sense that I was starting to like this new confident and strong person that I'm becoming, and I didn't want to give that up."
What made you fall in love with American Football after coming across a social media post? You went from playing your first game to becoming GB Team captain in five years. Was it a natural fit?
"It was the social community initially because horses are very full on. They're six days a week, and it's its little world when you're within that. So when I got to play American football, it combined all the things I didn't even know I wanted and needed.
"It was that bit of American culture. I started as a quarterback, mainly because of my accent, because nothing else should have put me in that position.
"But when I found linebacker, that's where I fell in love with it. It became my source of meditation. It was somewhere I could go where I didn't think about anything else and focus on what was at hand.
"There's nothing I can find to replace that confidence that I built up again, and it was funny; I was talking to people yesterday about before I moved to the UK, I never would be doing any of this stuff. I would never talk to a big group of people. I would never have done anything like that.
"But because of my experiences within sport now, I have this inner confidence."
You described your time at the Buffalo Bills as an assistant quality control coach as an honor and a new chapter. How vital was Kim Pegula in creating an environment where women could flourish in opportunities in the NFL, with yourself, Charmaine Viegas, Mackenzie Marques, Hayley Elizabeth and Corria Dolan forming a strong bond?
"It was a combination of having Kim Pegula, who's a fantastic role model being one of the few female owners of an NFL team. I think she feels that she wants to have representation.
"But there's also Coach Mcdermott. He sits on the NFL diversity board, has daughters, and all those pieces come together. You also have the idea that you want to be that 1% better in the NFL. So how do I achieve that?
"Well, if I open up 50% of the gender pool, I might just be able to find that 1% gives us the edge. So there's a multitude of things in there, but representation is so crucial for young girls and young boys to see women in these roles and their sisters, moms, and friends in these positions.
"You're already changing the mindset of a younger generation. So, as these young boys grow up, they're growing up with the idea that women can coach, they can be a GM, or own a team. It becomes the norm for them and for young girls to see people that look like them that they can relate to.
"It's not until you see someone in that position that you think this might be an opportunity for me."
What were the most significant cultural differences you recognized after moving from the US to the UK?
"I think people in the UK are so great because they're so reserved. Nobody wants to say anything. I remember being in a grocery store and trying to get yogurt or something, and everyone would just stand there so politely, just waiting for the people in front. I think it's a charming way of being, whereas you get to the States, and everyone lets you know what they're thinking, and everyone's got an opinion and pushing through people.
"The UK has also got a nice view on work-life balance too. It's imperative to make sure you value your time with friends, family and time for yourself.
"The UK is more forward-thinking than the States in those ways. I'll be straight like I love the UK. This is my home, my house, and my life is here. I always want to move back to the States part-time. I'm quite fortunate now that I get to go back and forth. But, apart from the occasional rain up in Manchester, this is my home."
How have you found the transition into television and analysis, and do you feel there is room for more female pundits in American Football?
"I still don't always believe that it's happening. I'd done some radio and commentary on NFL games, but the television work started during COVID. I was coaching in Germany for a men's team, and they were trying to find ways to do a show, eventually opting to do it over Zoom.
"So I went to a show called Overtime and made several appearances. Most people enjoyed it, and it was going well, but it came down to one Sunday after Christmas when the show's primary host, Neil Reynolds, got COVID and he couldn't come into the studio.
"They called me and another female, Hannah Wilkes, who works for Sky Sports, and asked if we would like to cover. Of course, we said yes, and a lot of that was all about a stay-ready mentality because I was immediately good to go.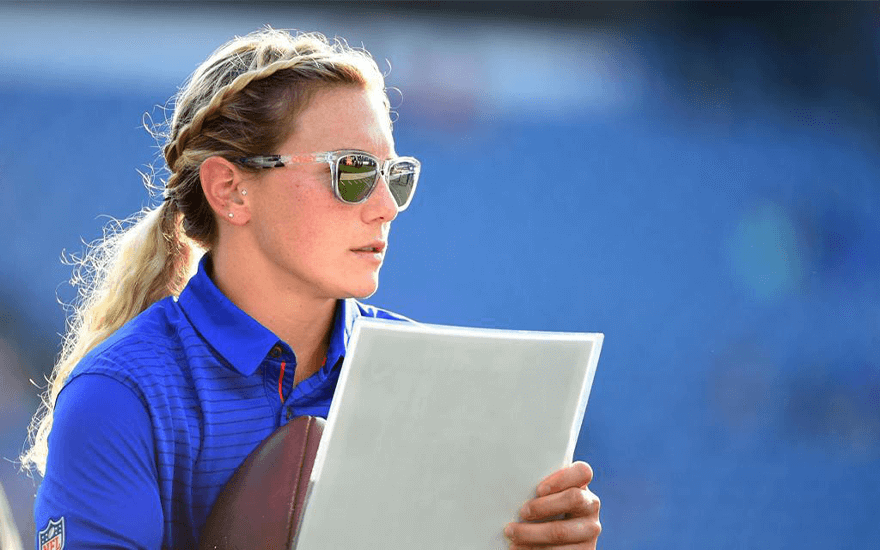 "We showed up and did a great job – if I say so myself – for our first time doing anything like that. When the crew realized we didn't ruin the show and mess it up, they knew we were good to go, and we were happy to give us another shot.
"It's kept building since then, and the team has always been terrific in giving me feedback on areas I can improve. As an athlete, I always love feedback. I want to know what I can do better in a world I don't know anything about.
"Neil and Jason Bell have been amazing in terms of helping me. We're our little team up there. The fact that we get to have these conversations almost like coaches, breaking down the film together also fulfills that need that I have to be a part of a team."
You've already ticked so many boxes in your career. Do you have a long-term vision of where you see yourself?
"I used to have a five-year or ten-year plan, but there have been so many surprises in this journey that I'm almost thinking, let's just let this flow a bit. I have a plan for where I see myself and what I would love to achieve. I'm 33 and feel like I've not achieved anything.
"But it's more about taking the opportunities when they come, you know if they feel right? There's nothing to be afraid of. So much of it for most people is that we're all just afraid of failing, but actually, I don't feel that fear.
"Even though it may not work this first time, who knows when something could pop up again? I'm just going after those opportunities, challenging myself, and putting myself out of my comfort zone to ensure that I'm constantly keeping myself on the edge regarding what I'm trying to do.
"There's a lot more learning in this journey for me. Ultimately, I'm guided by how I can help give back to the British American football community in the UK. That's given me so much in life.
"If I can find a way to send that elevator back down to ensure I'm not the last to take this journey. It's about ensuring more people have access to these opportunities and getting them to fall in love with the sport."
Recently, a study found that female fans make up 33% of NFL UK fans. Is that a number that we could see rise shortly, and is seeing that figure increase a goal of yours?
"Massively. So many people are not involved in the NFL because there are barriers to understanding the game. The rules seem complicated; it's start/stop, and there are so many people. How can I help you to break those barriers down?
"Getting kids started at a younger age is also a big part. If you can start learning from the age of nine or ten, you can teach your parents what that sport is later in life. I'm working with a company, and we're doing a girls-only NFL trip, which will be the first of its kind. We want to take women to watch NFL games in the States and give them a space that's their own.
"This is what's very cool about the NFL and the sport of American football. It is for everybody, and everybody can take ownership and make it what they want to make out of it."
The Efe Obada Youth Camp is a partnership with the BIGKID Foundation and the NFL Foundation. To learn more about the NFL Foundation and its commitment to supporting young people, please visit https://www.nflfoundationuk.org/. For more information on the BIGKID Foundation and its mission to end social exclusion and youth violence, please visit https://www.bigkidfoundation.org/.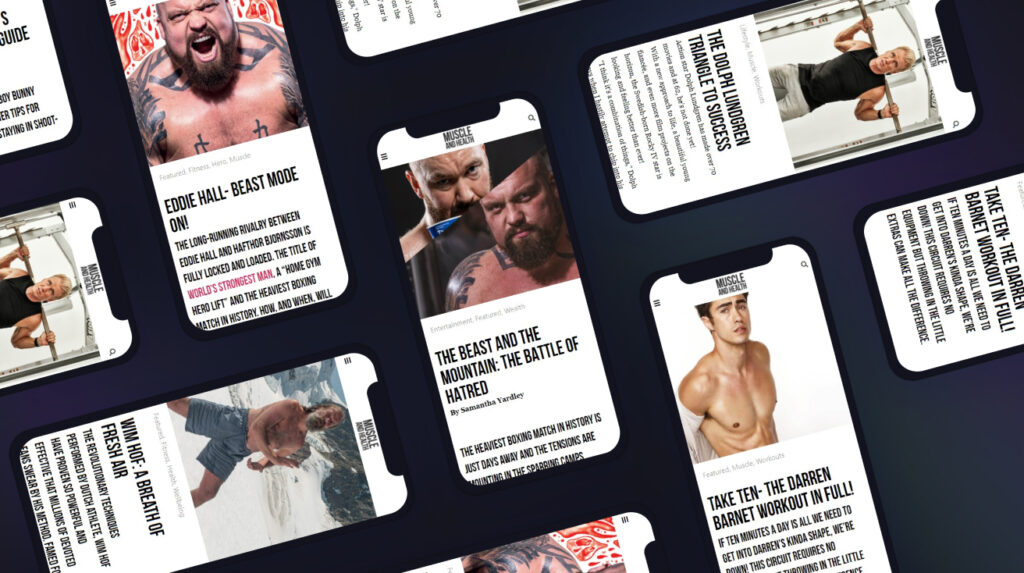 get all the latest mucle, health and wealth news delivered straight to your inbox