Nutritional powerhouse pistachios are a complete protein, containing all nine essential amino acids plus healthy unsaturated fats. One serving provides 6g of protein and 3g of fiber. Try using them in dishes as an alternative to croutons, in yogurt for a crunch, as well as in dips, or to make wholesome energy balls. Try these pistachio recipes today!
No-bake Energy Balls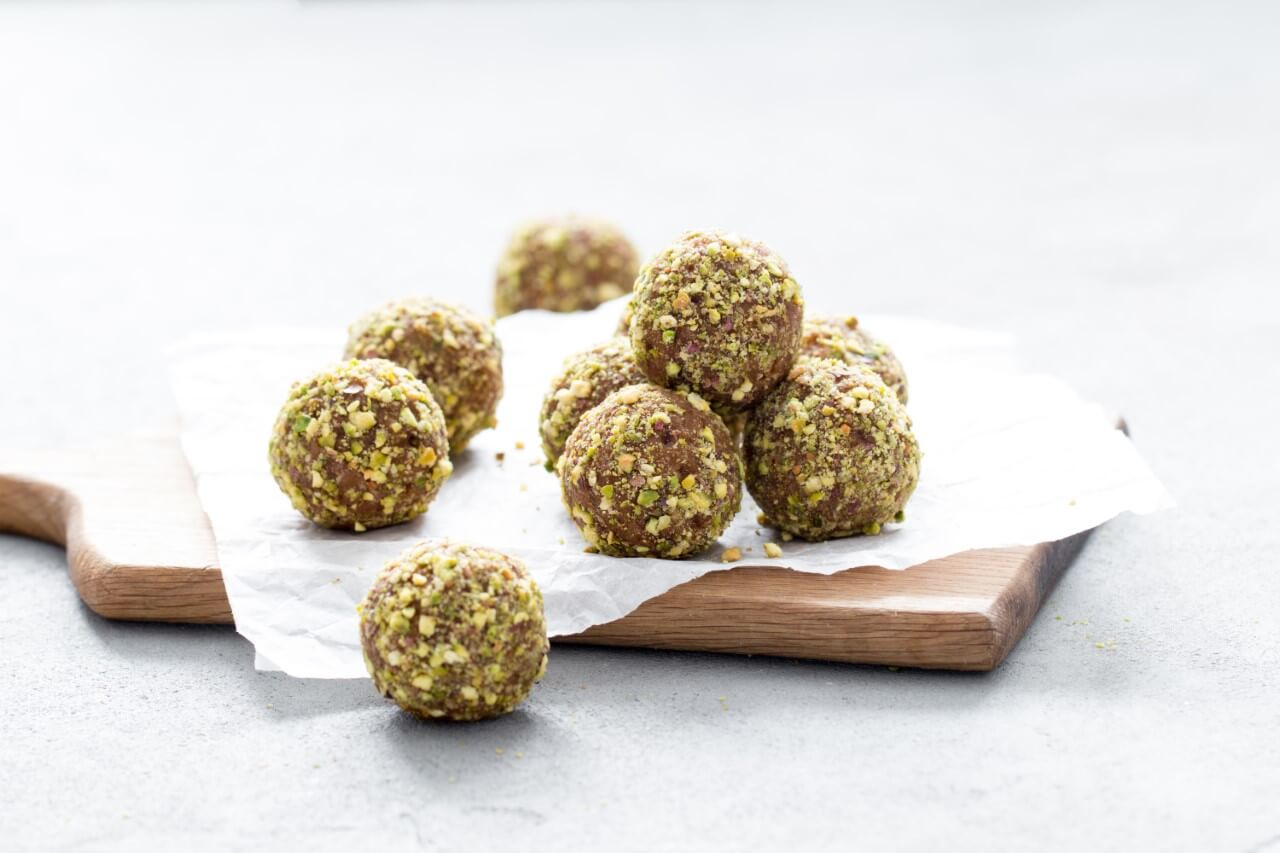 A quick and easy pre-workout option to grab on your way to the gym in a hurry. Simple, sweet, and portable: what's not to love?
Instructions
Prep time: 10 minutes
Chill time: 2 hours
Serves: 4 (3 energy balls per serving)
Ingredients
1 cup oats

1 cup dates, pitted

¾ cup pistachios (no shells), roasted and salted

½ cup nut butter (try homemade pistachio butter)

¼ cup vegan dark chocolate chips

¼ cup coconut, shredded

1 tsp vanilla extract

Pinch of salt

Place ¼ cup of the pistachios into a food processor. Pulse until finely chopped and set aside.

Add the remaining ingredients to the food processor and pulse until well combined.

Add 2 tbsp of warm water and pulse again.

Place the mixture into a medium-sized bowl and form into 1" balls. Roll in the reserved chopped pistachios to coat.

Place the balls onto a baking sheet lined with parchment paper. Chill for 2 hours before serving and store up to 7 days in the refrigerator.
Kcals: 525
Carbs: 63g
Protein: 14g
Fat: 27g
Pistachio Kale Pesto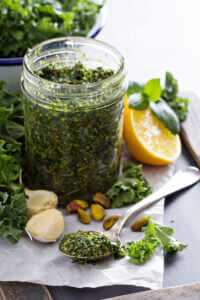 Basil and pine nuts are the traditional ingredients in pesto, but this kale pistachio version takes it to a whole other level! Kale replaces the green from the basil, and pistachios lends itself to a richer, elevated pesto that's more cost-effective than the classic variety too. 
Instructions
Cook time: 5 minutes
Serves: 12 (1 tbsp per serving)
Ingredients
4 cups kale, stems removed

1 cup pistachios (no shells), lightly salted 

2 garlic cloves

½ tsp salt

1/3 cup avocado oil

1/3 cup water

1 cup Parmesan cheese, grated
Add kale, pistachios, garlic, and salt to blender or food processor and blend until thoroughly combined. 

Slowly add avocado oil and water until smooth. Add the Parmesan cheese and blend for 10 more seconds. 

Can be stored in the fridge for up to 5 days in an airtight container.
Kcals: 143
Carbs: 3g
Protein: 5g
Fat: 13g
Pistachio Coconut Crusted Chicken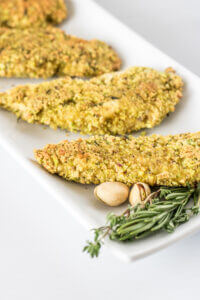 This delicious pistachio recipe is a gluten-free combination of pistachios, parmesan cheese, and coconut flour create a glorious synergy of a crunchy exterior with a tender and juicy chicken tender inside. 
Instructions
Prep time: 10 minutes
Cook time: 25 minutes
Serves: 4
Ingredients
1 cup pistachios (No Shells), roasted and salted

1 lb chicken tenders

½ cup Parmesan cheese, grated 

2 tbsp fresh thyme, chopped 

1 tbsp fresh rosemary, chopped

½ cup coconut flour

¼ tsp black pepper

2 eggs
Preheat oven to 350°F and set aside baking sheet.

In a blender, pulse pistachios until ground to a coarse powder. Add the Parmesan cheese, thyme, and rosemary and pulse again until finely chopped. Transfer the mixture to a plate.

In a bowl, mix the coconut flour, salt, and pepper. In another bowl, beat the eggs.

Dip the chicken tenders in the flour and roll to coat. Dip the chicken in the eggs, shaking off any excess. Roll in the pistachio-Parmesan mixture and place on the baking sheet. Repeat with each tender.

Bake for 20 to 25 minutes, flipping once halfway through, until browned and cooked through. 
Kcals: 393
Carbs: 16g
Protein: 37g
Fat: 20g
Savory Oatmeal with Pistachios, Kale, Grape Tomatoes, and Feta
This easy-peasy savory twist on oats works wanders for a unique breakfast or as a hearty post-workout meal. 
Instructions
Serves: 4
Cook time: 15 minutes
Total time: 20 minutes
Ingredients
½ cup pistachios (no shells), lightly salted

5 cups low-sodium vegetable broth

¼ tsp hot pepper flakes

2 cups old-fashioned whole grain rolled oats

1 ¼ cups grape tomatoes, quartered 

2 5 oz bags of fresh baby kale

1 tbsp lemon zest

¼ tsp sea salt

¼ cup feta cheese, crumbled 

1 lemon, cut into wedges
In a large saucepan, bring the vegetable broth and pepper flakes to a boil over high heat. Reduce heat to medium, add the oats and grape tomatoes, and stir occasionally until just cooked through, about 5 minutes. 

Add the kale, 1 ½ tsp of the lemon zest, and season with salt. Stir until the kale is fully wilted, about 1 minute. 

Transfer to bowls and sprinkle with the pistachios, feta cheese, and remaining 1 ½ tsp of lemon zest. Serve with lemon wedges on the side. 
Kcals: 318
Carbs: 47g
Protein: 14g
Fat: 13g
These pistachio recipes were contributed by Nutritionist Rania Batayneh NPH, author of the Number 1 Amazon best-selling book, The One One One Diet.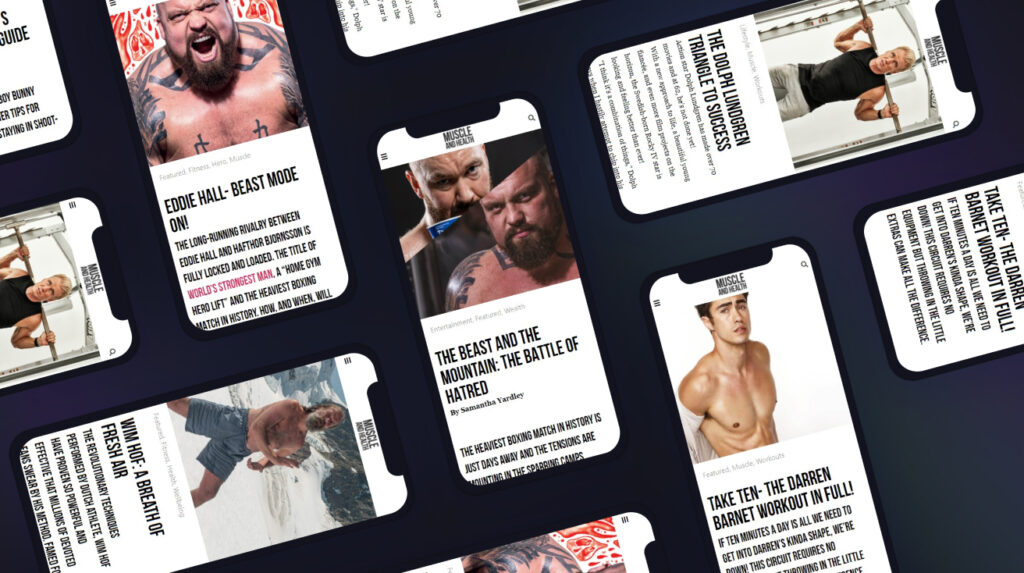 get all the latest mucle, health and wealth news delivered straight to your inbox