These protein pudding recipes are pure perfection. Pleasure personified. Yes, we like alliteration almost as much as we like protein pudding, and these dishes, courtesy of LINDAHLS take our love of protein products in the chilled aisle to the next level. 
If you have a gym membership or have just browsed the internet with good intentions to embark upon your fitness journey, chances are you're aware of the importance of packing protein into your diet. Protein increases satiety, builds muscle mass, and has a waistline-friendly thermogenic effect during digestion. Indulge your sweet tooth without sacrificing your health goals, and thank us later. 
Low-cal Peanut Butter Chocolate Cheesecake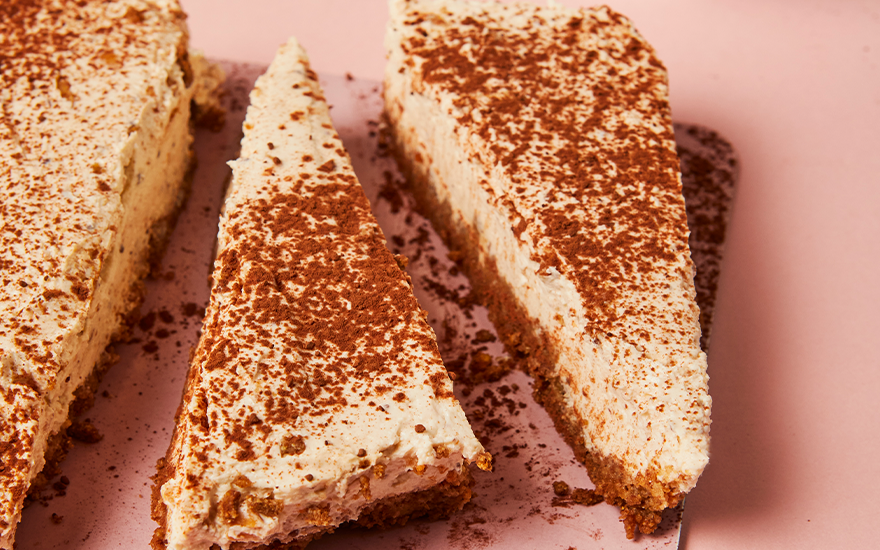 Serves: 4 
Ingredients
3 Stracciatella Lindahls KVARG pots
3 tbsp crunchy peanut butter
1 tbsp maca powder (optional)
For the base:
2 oz bran, crushed
1 tbsp peanut butter
For decoration:
Cocoa powder
Method
Start with making the base. Crush the bran into small crumbs and combine with the peanut butter. 

Spread the mixture over the base of a small glass container and press it down with the back of a spoon.

In a separate bowl, mix together the Lindahls KVARG, another 2 tablespoons of peanut butter and maca powder.

Dollop spoons of the cheesecake mix over the crunchy base and spread/smoothen with a palette knife.

Cover the container with a lid and leave in a fridge for a few hours or overnight.

Sprinkle cocoa powder on top of the cheesecake and serve with a large spoon or cut to slices and lift out with an angled palette knife.
Pop It Like It's Hot Popcorn Bites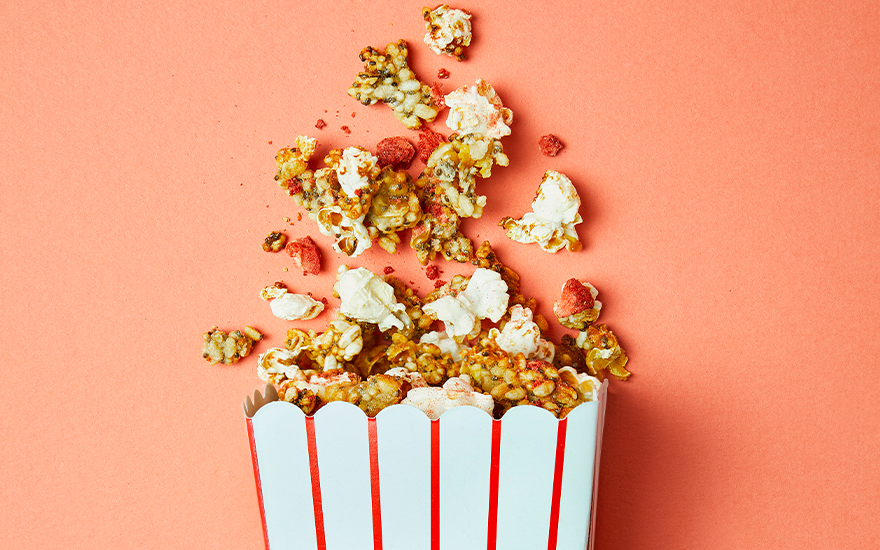 Ingredients
1 oz coconut oil, melted
3.5 oz agave syrup
1 Lindahls KVARG
3.5 oz mix of salted popcorn, brown puffed rice, puffed quinoa
0.5 oz freeze dried fruit, chopped, or crushed
Method
Preheat the oven to 170°F Line a baking tray with parchment paper or a silicone mat.

Mix the melted coconut oil and agave syrup in a large mixing bowl. Add the Lindahls KVARG and mix until well combined, using a whisk or a spatula.

Add the popcorn, brown puffed rice, and puffed quinoa. 

Mix with the wet ingredients quickly and spread out on the lined tray. 

Bake for 40-45 minutes, turning the tray halfway through. 

Take the tray out and leave to cool. 

Lastly, sprinkle the dried fruit over the bites and enjoy as an afternoon snack or use as a granola in the morning. 

Store in a jar or airtight container.
On-Point Fruity Brownies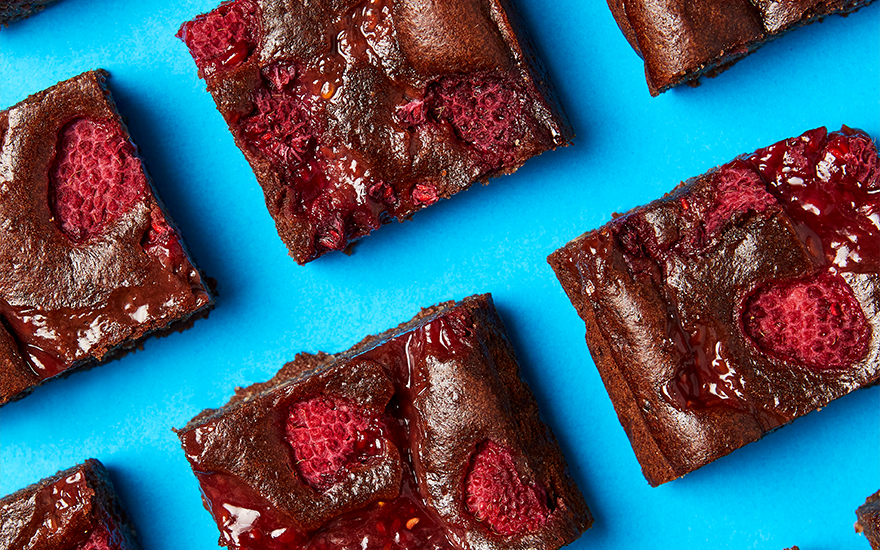 Makes: 12 
Ingredients
2 Lindahls KVARG chocolate protein pudding pots
3 eggs, beaten
1 oz cocoa powder
5 oz ground almonds
2 oz coconut sugar
Pinch of salt
3 oz butter, melted
3 oz dark chocolate, melted
7 oz frozen raspberries or raspberry jelly

Method
Preheat the oven to 350°F. 

Line a square 20 cm/8-inch cake tin with parchment paper.

Add the eggs and Lindahls KVARG to a large mixing bowl. Using a whisk, beat them together until the mixture is smooth.

In a second bowl, mix all the dry ingredients: ground almonds, coconut sugar, and salt.

Add the dry ingredients to the wet ones and fold with a spatula. 

Slowly add the chocolate and fold. 

Last, add the butter and fold again until all the ingredients are well combined.

Transfer the brownie batter into the lined tin and spread the frozen raspberries or jelly over the top. 

Bake for 40-45 minutes, until just set and cooked through. 

Leave to cool completely before cutting. 

Cut the brownie into normal or bite size squares.
Creamy Miso Mushroom Ramen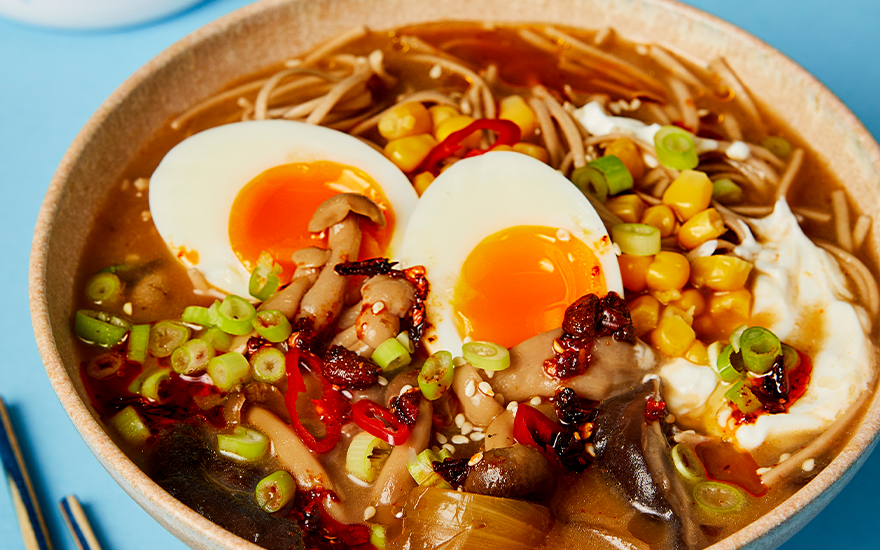 Serves: 4
Ingredients
1 tbsp sesame oil
1 yellow onion, trimmed and peeled, cut to quarters
1" ginger, peeled and sliced in half
3 garlic cloves, crushed and peeled
7 oz mixed mushrooms, roughly chopped
5 shiitake mushrooms, soaked in boiling water
34 fl oz water
1 tsp white ground pepper
2 tbsp Soy sauce
1 tbsp chili sauce
1 tsp Mirin
2 tbsp miso paste
2 tbsp natural Lindahls KVARG
To serve:
2 nori sheets, halved
4 eggs, cooked for 5 min, peeled and halved
Scallions, finely sliced
Sweetcorn
Method
First, warm the oil in a large, heavy based skillet. 

Add the onion and ginger and fry until brown over a medium heat for about 5 minutes, stirring from time to time. 

Add the garlic and stir for another minute. 

Add the mixed mushrooms and continue stirring for another 5 minutes. The mushrooms should be cooked through and lightly browned. 

Add the soaked shiitake and the water used for soaking. 

Add the remaining water and ground pepper and turn the heat up to bring the broth to a boil. 

When boiled, turn the heat down to low and cover the pan with a lid. 

Leave to simmer for 20 minutes, then take the lid off and simmer for another 10 minutes.

Take the pan off the heat and season the broth with soy sauce, chili sauce, mirin, miso and Lindahls KVARG. Stir well and taste. Add more Lindahls KVARG for creaminess, soy sauce or miso for saltiness, or chili sauce if you prefer more heat.

Cook the noodles following the instructions on the packet and add them to 4 large ramen bowls. 

Add the broth with some mushrooms and then the remaining toppings: nori sheets, eggs, scallions, and sweetcorn.
Bonanza Banoffee Pie Chia Puddings
Makes: 4
Ingredients
2 Lindahls KVARG banoffee
3 tbsp chia seeds
For the caramel:
1 oz coconut sugar
0.5 oz butter
1 tbsp cream
For the crumble:
1.5 oz roasted hazelnuts, skinless
0.5 oz butter, melted
Pinch of salt
2 bananas, peeled and sliced
For decoration (optional):
Dark chocolate curls/shavings
Method
Begin by adding the Lindahls KVARG to a medium size mixing bowl with the chia seeds. Mix well and leave aside until needed.

Next, make the caramel. Add the sugar and butter to a small skillet and warm over a low heat until the sugar dissolves, stirring continuously with a small whisk. 

Turn the heat up slightly and stir for 3-5 minutes until the caramel is glossy and thickened. 

Take the pan off the heat and whisk in the cream.

Follow by making the crumble. Add the hazelnuts to a food processor bowl and pulse until finely chopped. 

Add the melted butter and salt and pulse again just until all the ingredients are combined.

Spread the crumble between 4 small tumbler glasses, add the banana slices, chia Lindahls KVARG mixture, and drizzle with the caramel. 

Top with dark chocolate curls or shavings.
Ross Edgley's Mini Plant-Based Jammy Dodger Protein Cheesecakes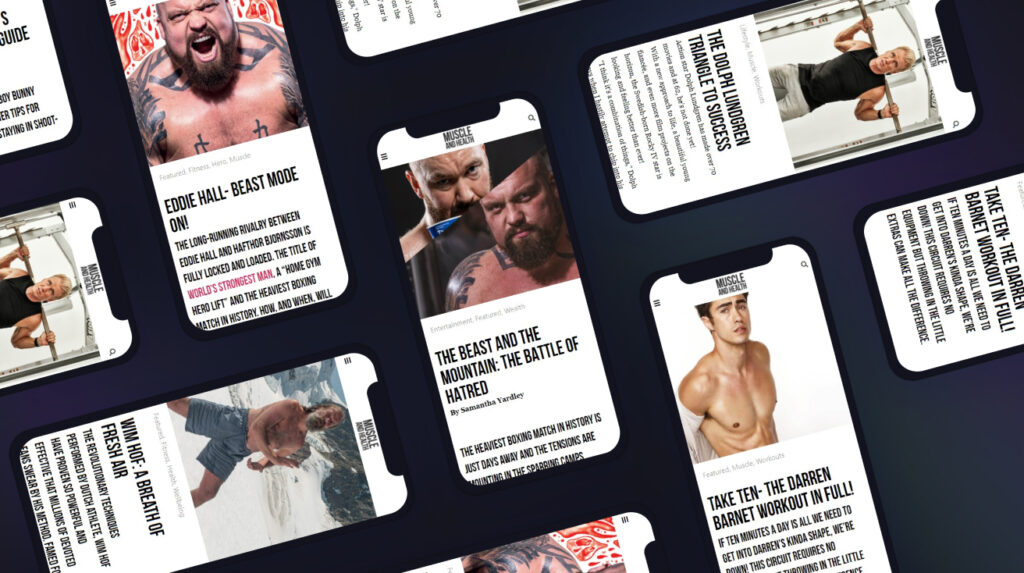 get all the latest mucle, health and wealth news delivered straight to your inbox