By Jack Franks
'Out of suffering have emerged the strongest souls; the most massive characters are seared with scars.'
Marnie Swindells is currently living an out-of-body experience, watching herself from a vantage point that offers the perfect view of a girl living out a lifelong ambition.
Confidence and assurance define her warm demeanor, and, following a £250,000 investment from Lord Sugar into her gym, 'Bronx', who can blame her for being dressed with a permanent smile that gleams from ear to ear?
The latest winner of the UK version of 'The Apprentice' has the world at her feet as she aims to grow her boxing gym and open up the sport to the wider community and mass market.
Her journey to this point – as is often the case with successful people – has not been one of ease, with tragedies, setbacks and personal challenges providing obstacles along a bumpy trail.
Driven by grief, anger and confusion, the boxing ring has acted as a magnetic pull for Marnie since the unexpected passing of her father when she was just eight years old, offering a safe haven and beacon to channel her negative energy positively.
A natural risk-taker, evidenced by her packing her bags for London at the age of 18 in pursuit of a new adventure, she even had the time to take a career diversion, swapping the ring for the courtroom, but boxing always had her heart.
The gloves may have been removed. The mouth guard may be back in its case. The punches may have stopped. But Marnie continues to fight for her dreams and the dreams of others.
Not bad for a girl who grew up in a caravan in Oldham.
From the most insignificant beginnings…
Nestled amongst the Pennines – described as 'the backbone of England' – and lying between the rivers Irk and Medlock sits the North West town of Oldham.
In 1994 (the year Marnie was born), the town's previous status as one of the most important centers of cotton and textiles in England was unraveling. At it's pinnacle, Oldham was the world's most productive cotton-spinning mill town at its zenith, producing more cotton than France and Germany combined.
But, the hay days were well and truly over, with the industry falling into an unstoppable decline in the mid-20th century before the town's last mill closed in 1998. A more depressing outlook lurked, with the declining high street and cut to public spending by the government threatening to cloud over the ambition at the heart of Oldham.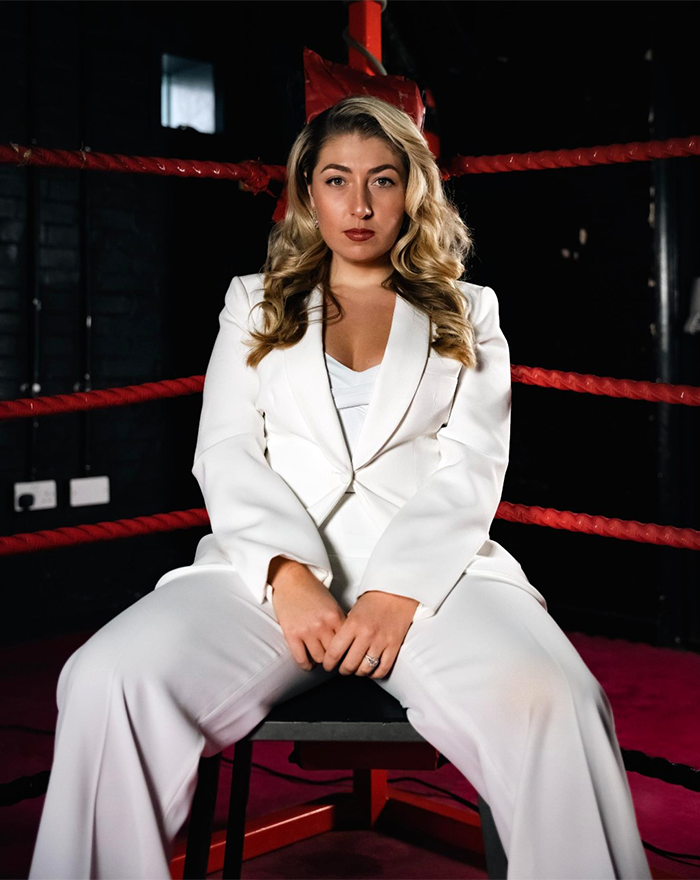 Described as a town 'that grew the quickest, from the most insignificant beginnings', there is a poetic correlation and connection between Swindells' story and the place she calls home.
"Even though it was a humble beginning, there was so much happiness.
"I think there's definitely something to say about the simplicity of a life where there isn't much materialistic stuff.
"It lets you focus on all the other good things. And I think we've lost that now. Everything is now about being so fast-paced that there's no moment to just be in the present and just enjoy it. I miss that. I miss the simplicity of it.
"There was a real sense of hard work. We used to do car boots and markets a lot, which was one of my mom's main sources of income growing up.
"Every Sunday, we'd be in the field at three and four o'clock in the morning setting up. That moment when you're wrapping up at the end of the day provides some real satisfaction that you just don't get it anymore.
"Corporate life, working in an office, and everything that comes with it just doesn't have the same heart and grit to it. And I miss it. A good, honest, laborious hard day's work. I love it."
The humble start to her life was set against the backdrop of a static caravan with her parents – who were childhood sweethearts – where she lived until the age of 13.
Money was a constant worry, as was Swindell's shame in inviting school friends over, but the family got by through arduous times despite financial struggles.
But, greater worries were to come when, just weeks before her ninth birthday, Marnie witnessed her father's passing at the age of 47. Such a traumatic episode would send most people into a downward spiral, but she stood strong for her mother, adopting the role of man of the house.
"I saw the whole thing happen, and I was the person that got the ambulance. I ran to direct them because they couldn't get to the site where we lived.
"I was running in my school uniform in front of the ambulance, and there was this immense pressure to get them to the caravan quickly to try and help.
"I felt I had to step up and become the man of the house because my mum was never very good with forms or letters, all the admin that comes when someone dies, even at eight years old, I felt very responsible. I became my dad, I had to step into those shoes."
Off the canvas and into the ring
Confused and fuelled by a harboring sense of anger following her father's passing, Swindells discovered boxing at the age of 17. It was a sliding door moment that shifted the horizon of her future.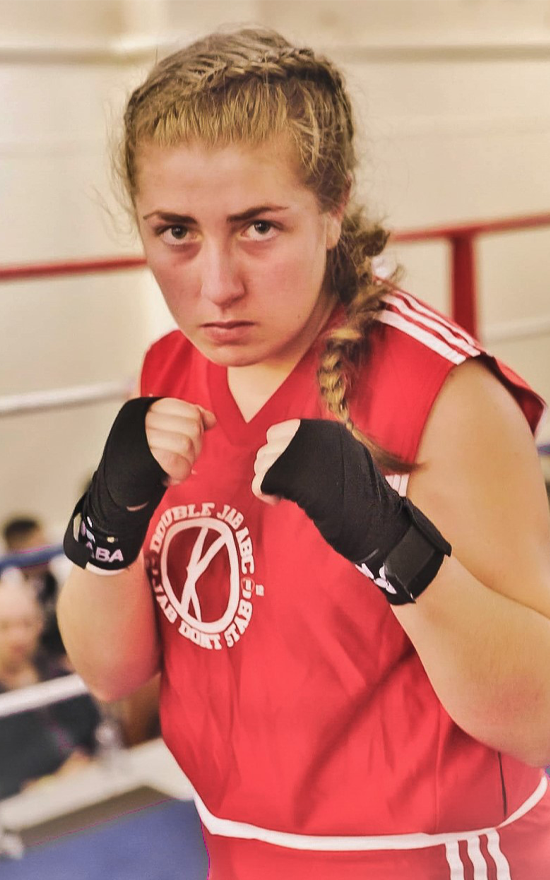 She "vividly" remembers walking through the doors of a boy's boxing club before being given a speech that represented a sign of the times in the early 2010s and encapsulated women's standing within the sport of boxing.
"We only really train boys, so if you want to train with us, you have to do X, Y, and Z. That didn't really phase me. I was like, 'No problem. Got it.'
"As soon as you start showing that you can keep up and showing you are just there to do the same thing they are, you gain that sense of respect. That mood shifted very quickly from "There's a girl in the gym" to, "It's just Marnie," which was nice.
"I think that's definitely something that I would recommend other girls going into boxing gyms, treat it just go in there as yourself. Not as a woman, just as yourself."
Marnie was an aggressive boxer from the outset, as proven by her first sparring session with a fellow female fighter. Lacking technique and temperament and without an appreciation for the art of the sport, she adopted a "hands down, go forward, charges" approach.
Her opponent felt the full force of Marnie's early style of fighting, being left "a little bit phased but not concussed", which led to premature thoughts that she had cracked the boxing code.
"She came out of the spar and had to take a minute. She sat down and didn't have a lot of recollection of what had just happened. Someone said to her, "Are you okay after that spar?" And she said, "What spar?"
"But, then I did my first spar at someone else's gym, and I got absolutely battered. It really humbled me.
"It was the first moment I appreciated it as a sport and the art of it because this girl was much less aggressive, but she really honed the skill of boxing.
"She was doing a lot less work and it was a lot more effective. That was when I really started to appreciate the skill behind it all and recognize the art, the sweet science."
Once she learned to harness the anger, Marnie quickly began to make a name for herself, winning two gold medals at the Haringey Box Cup, billed as Europe's largest amateur boxing event at Alexandra Palace in London, as well as having an assessment to become part of the Team GB squad.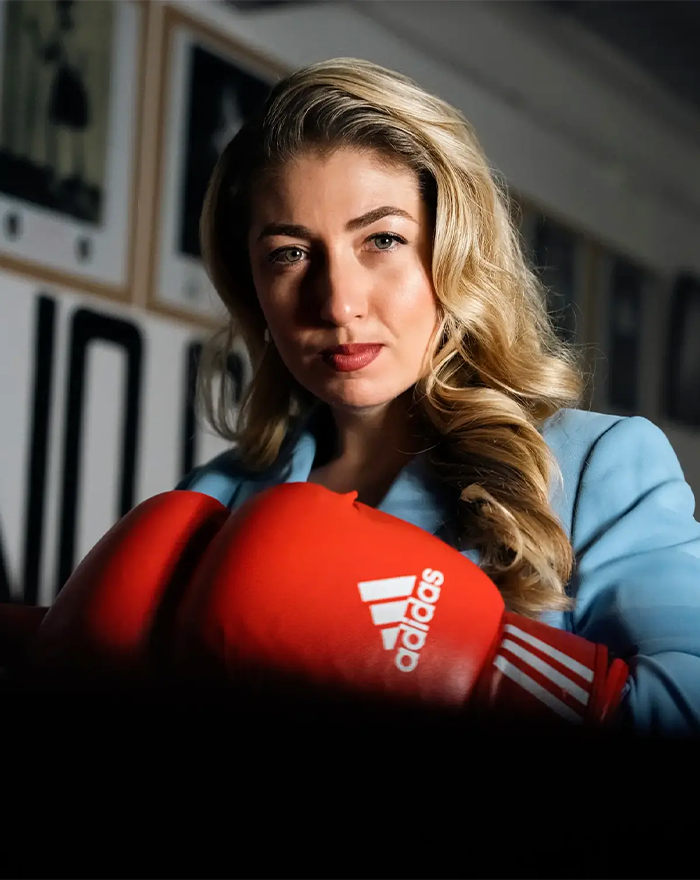 But, despite evidently possessing talent and potential, she never felt boxing got the best of her. "I was a good boxer, I was handy at it. I was really good with the technical side of things, powerful. But I was never disciplined enough.
"I never could give it everything. I'm also impatient. If I don't see results quickly enough, if I don't have that fight in sight, then I lose interest.
"I do miss it. And I always think there is some unfinished business there. And maybe one day."
The all-or-nothing nature of boxing proved too much for her to focus solely on, clashing with law commitments that would dominate her detour away from the ring.
As Sugar Ray Leonard once said: 'You don't play boxing'.
The golden era
At 18, Marnie was ready to board a coach to London with eight suitcases packed to the brim, with her mother posing a final question before the inevitable departure.
"Are you sure this is what you want to do? Are you okay?"
Fuelled with the same cock-sureness she displayed in her first sparring match, Marnie brushed off the magnitude of the situation and simply replied: "No problem. I've got it."
After an eight-hour journey to the capital, she departed the coach with her entourage of bags before reality suddenly hit like a haymaker.
"What have I just done? I must have stood there for 40 minutes just saying, 'oh my god, what did I just do?"
It was a rare moment of fear, but an upbringing that forced her to mature in fast forward allowed Marnie to adapt to her new surroundings rapidly. Studying History and Politics at Goldsmiths, University of London, she would sit out and look at her stunning view of the city every night, likely escaping the "crummy" student digs within the walls.
Studying may have drawn her to the Big Smoke, but it wasn't long until the pull of boxing shimmied back into Marnie's subconscious.
In New Cross, South West London, lies Double Jab Boxing, one part of the Moonshot Centre, which nestles in the eastern part of Fordham Park.
They offer the youth of London an escape, a sanctuary and an opportunity to get off the streets and protect those most vulnerable from knife crime.
Now ranked in the Top 10 Boxing Clubs in London by GQ magazine, their service goes far beyond teaching boxing, coaching young people through the struggles they may face outside of the ring. 
The discovery of the community gym was a pivotal moment in Marnie's journey and one which she holds dear as one of the best phases of her life.
"The early days at Double Jab were the happiest days of my life. They top any other time I've had. It was the best chapter.
"Even now, we all collectively refer to that time as Double Jab and our golden era. It was a moment where I was 18 at that time, so I'd just started boxing back up north, but I hadn't yet fought.
"I came to London and joined Double Jab within the first two weeks of studying, and I barely saw my uni because I spent all of my spare time in the gym. It just really, really created a sense of family.
A deep dive into Marnie's Instagram encapsulates the family feeling she gained from the club, permanently surrounded by smiling faces, fellow fighters and the younger generation. She would go on to become the head coach of female boxing at the gym between 2015 and 2020 and is now engaged to Michael Harris, Head Coach at Double Jab.
Harris's work within the community saw him win London's Unsung Hero of the Year in 2016 and the Prime Minister's Light Award in 2018.
Surrounded by men, in a male dominated and stereotypically male environment, Marnie filled a void in her life that had been vacated since her father's passing: "I'm an only child, single parent family. To be there, to be around all the men as well, it was like father figures. It was just beautiful.
"I think that cemented my love for boxing more than the sport. It was about that feeling. Whenever I speak about the power of boxing, I'm talking about that moment.
"We'd all go get food together, we'd go to shows together. We'd travel up and down the country together. Because even though boxing is a very independent sport in that you fight by yourself, you'd be nothing without your family and your team. I loved it."
Double Jab's work within the community and, more specifically, efforts to lower knife crime led to a visit from HR Prince Harry.
Knife crime within London – the heart of all knife incidents in England – has been a pandemic for some time, highlighted by the 13,405 incidents involving knives between October 2021 and June 2022. There were also 49,991 non-fatal crimes recorded across England and Wales, equivalent to 136 incidents daily.
Marnie has seen the tragedy and impact of knife crime first hand, first at Double Jab, before a blood-curdling incident in April 2022.
"A lot of the guys in the gym would take their tops off and compare stab wounds at the end of sessions. It's a rife issue. Double Jab really is on the front line of it.
"A kid was actually murdered inside our gym last year. He was stabbed just outside the doors of the gym as he was coming. He ran inside, and he actually died in our reception.
"I can't tell you how real of a threat it is and an issue it is, and boxing is front and center of it, especially Double Jab. A lot of people said, "Well, if kids are still getting murdered, it's not doing its job."
"It's why we are on the frontline, we're at the risk of this all the time. Unfortunately, that was one kid that we couldn't save, but many kids we do."
 Called the Bar, but not her calling
Marnie's love of boxing was wavering when a conversation at Double Jab one evening changed the trajectory of her existence.
"I was talking to this lady and telling her that I didn't know what to do with my life. I felt a bit lost. I lost my love for boxing. If I'm not going to be fully in and completely disciplined to it, then I won't be anything to it.
"The lady was a barrister and asked me to come and shadow her. It went from there."
Marnie completed a law conversion course at BPP University Law School and worked as a paralegal at Oracle Solicitors, and for a while, boxing took a back seat.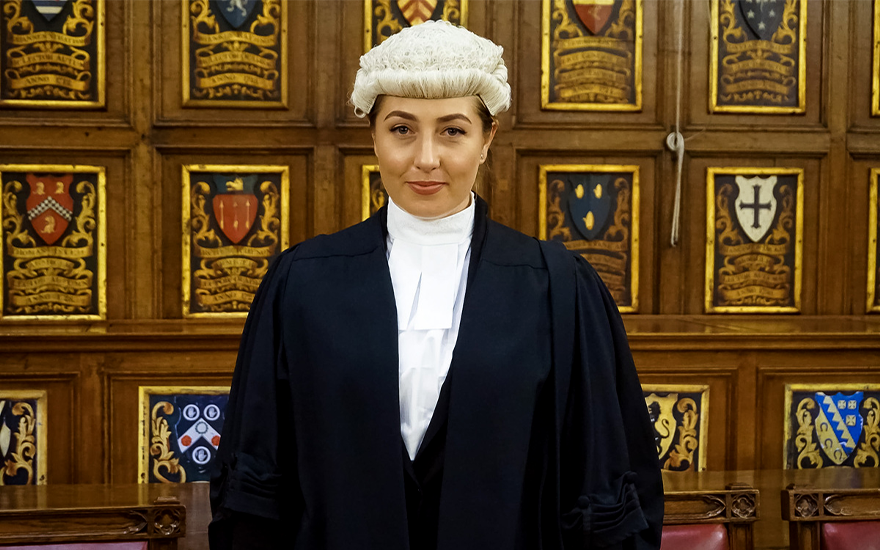 "I remember running on a treadmill with my legal notes in front of me, revising for bar exams, and I just knew it was impossible to give a bit of myself to both. At that moment in time, I picked the legal stuff."
Just two years after that chance meeting, Marnie was Called to the Bar. In sync with what came previous, she showed immense personal strength, perseverance and self-belief to pass 12 exams, work exhausting 10-hour shifts and neglect everything and everyone around her.
But it wasn't her dream.
In December 2022, she announced to her 46.2k followers that a big change was coming.
"Three months ago I handed in my notice, but it was three years ago when I resigned. I resigned from the idea that I could make my dreams come true whilst pouring myself into a job that didn't love me back.
"The words kept churning around my head until they got too loud to ignore: 'Put down the pen someone else gave you, no one ever drafted a life worth living on borrowed ink.'
"How could I accept a life less than the one I was capable of? I would wake up flooded with despair at the thought of one day leaving this life without a legacy, without something I can call my own. So I put my own pen to paper, made a plan and began the relentless pursuit of executing a life I envisioned.
"Of course, nothing worth having comes easy, and this has been a journey that could put hell to shame. Who knew the path to reaching your dreams was laid with torment, paved with heartache and littered with self-doubt?
"It has been three long agonizing years of struggling silently in the shadows, battling on all fronts and fighting just to get people to bet on me, but what could be more worth fighting for than a future I can call my own?
"And here it is, that future is now, and I'm finally living out the dream that drove me all the way here. With keys in my hand, hope in my heart and the world at my feet, I'm writing this next chapter with my own ink. I'm going to call it 'the one when I opened my gym'
Bronx was born from a dilapidated building in Vicarage Grove, Camberwell, just 15 minutes from Double Jab.
The building was far from ideal. Derelict, unoccupied for eight years, and covered in sewage and asbestos, there were also lease and political issues looming.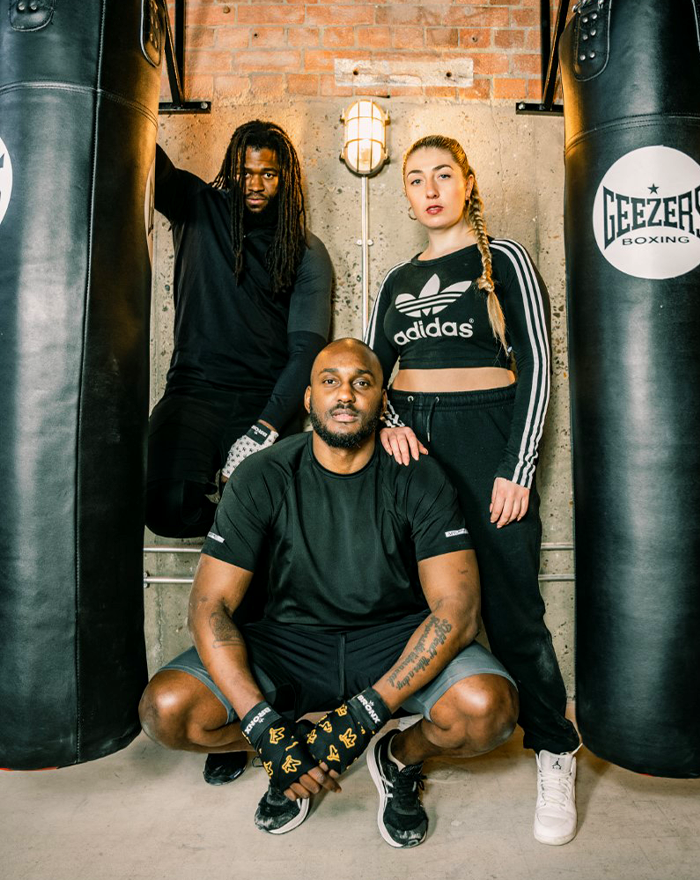 "It was a massive, massive risk. But for me, with that fighter mentality, I knew I would make it work.
"I was never scared to make that jump because I knew, as my mom always says, where there's a will, there's a way. I always figured I will just make it work.
"As long as I commit to it enough, I will figure everything out as we go along. I've done that, but it was hard."
Slowly, Bronx was beginning to take shape, with Marnie posting about the building's regeneration and renovation process before, on 23rd February 2023, it was time for launch.
A transformed space was unveiled in front of her friends, family, and the boxing community. As fate would have it, this moment was running parallel to another major victory.
A sprinkling of Sugar
The cocksure girl from Oldham who arrived in London with very little has come a long way.
Marnie gets stopped for photos and autographs on the way to her gym at 5 am, a product of her appearance on the UK version of The Apprentice.
Filmed last year, Marnie fought off competition from 17 other candidates, excelling through weekly tasks centered around bao buns, children's lunchboxes, dog food and electric motorbikes.
After navigating through the toughest stage of the entire process – the dreaded interviews – she won Lord Sugar's £250,000 investment following a champion-worthy pitch to some big hitters in the industry.
"I think Lord Sugar is like me in the sense that he likes a bit of a challenge. He's a risk-taker. He said that in that final scene where he picked me.
"He said, business is about gambling and I'm going to take on new horizons and go with you. I think he's drawn to the challenge of it and its new territory, which is also why I was.
"But I also think he has faith that I'll be able to do something different in that space."
Since the final aired, Marnie has been showered with support from women who want to take up boxing, with the 2023 Apprentice winner receiving widespread love for opening up about her struggles in her early years.
Bronx, already showing signs of momentum, is only set to grow further following Lord Sugar's intervention. Her fiance Harris, now gym director, is planning to spend the new investment on opening gyms.
"I think his business mind can see there's a real opportunity here, and there's a massive gap in the market for a boxing gym that focuses on authentic boxing, is accessible but is also scalable.
"Because that's the issue. Amateur gyms are these magical, magical places, but there was no way Double Jab would ever be able to scale because it just, in its ambitions or in its infrastructure, doesn't have those things in place that would allow it to do so.
"It's about finding that balance between two. And I think I pitched that well to Lord Sugar and he bought in."
With future plans and ambitions to get involved in boxing promotion, something Marnie admits she "has a lot to learn about" before making that step, this is only the beginning of what is set to be an iconic chapter in her life.
20 years on from losing her father and being thrust into a life where she naturally fought for everything that came her way, the thought of what a young Marnie would make of all of this is never far from her mind.
"I wanted to be everything that my mom hadn't been. My mum was a cleaner. My dad worked on the railway. My mum was always so hot on me getting an education and the academic side of things.
"But if I could go back, I probably would've followed my instincts towards business from the outset.
"Wherever I've been, whether it's been in boxing or law, I've always been looking for opportunities and had that mindset. I think if I just followed my gut, I would've gotten here sooner."
We can't see Marnie throwing in the towel anytime soon.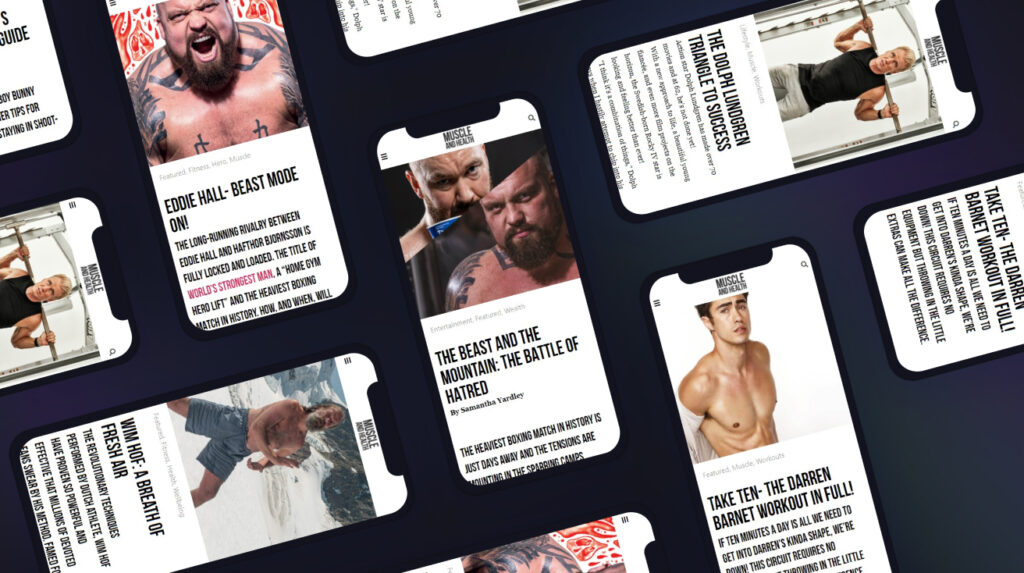 get all the latest mucle, health and wealth news delivered straight to your inbox