Words by Jack Franks
Not much can prepare you for high-intensity functional fitness.
Of course, you can train religiously, eat like a pro and perfect every technique in the book, but even the most brutal of regimes designed to acclimatize the body to the extremities of WODs, AMRAPs, EMOM and Chippers – amongst others – isn't enough.
I was aware of this before the drive North across the border to participate in the CaveFit Games in Edinburgh. This competition spawned from a biannual series of community-based workouts hosted at the gym's Waterfront and the Grand locations.
Five years of constant development and growth have seen the Games take on a new identity, with competitors, athletes, and your superfit wannabes (including myself in that conversation) entering the various categories and standards.
"CaveFit games started off as an in-house competition, with a focus on getting the internal community together to get a sweat on sharing the good energy, which is what we are all about," said Laura Anderson, Lead of Recruitment, Culture and Diversity at CaveFit.
"Both our internal and external community has been growing ever since, and that has allowed us to host competitions at the likes of Peffermill Playing Fields, attract competitors from places as far away as Newcastle and Dumfries, and expand our categories from standard to everyday and elite.
"This means we get the hardcore athletes in attendance, but it's also the perfect place to come if it's your first-ever comp. CaveFit truly is something for everyone."
On the road to CaveFit…
As I punched in the postcode for Peffermill, a vast 27-acre University of Edinburgh site almost three hours away, the temperature gauge in my car read 19 degrees Celsius at 6 am. 
Functional Fitness is challenging enough in the winter, never mind during a period that seems to defy the United Kingdom's miserably wet stereotype.
As the reality of the task ahead dawned, the anticipation and excitement of participating in my first competition marginally overrode that sensation of existential dread.
A car journey fuelled by discussion of the upcoming four workouts and Aldi's own Protein Porridge – with my partner for the day, Liam – ended upon arrival in Scotland's capital.
Emerging from my car, the sound of bass rippled across the car park, no doubt the soundtrack for the early starters already putting themselves through the wringer. Indeed, the women's elite category was already on the floor before my pre-workout had risen from its slumber.
Utilizing a running track between two hockey courts, the four event stations were staggered in a row, with four to five lanes, allowing space for pairs to go head to head. At the back of the track was a handy warm-up zone for stretching, cardio prep and foam rollers, and copious amounts of Crazy Nutrition Salted Caramel Protein Powder and Intensive Pre-Train Green Apple samples.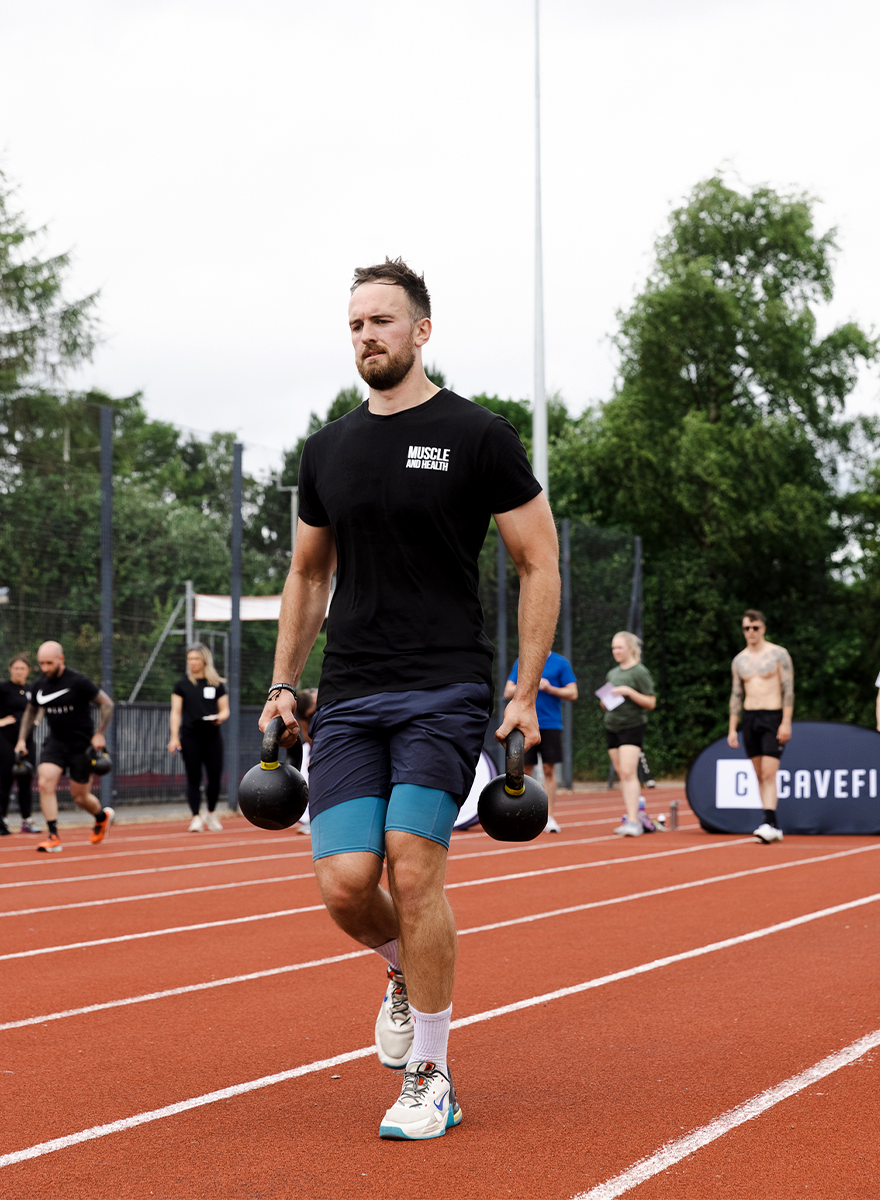 Beyond that are the weights, rigs and racking stations where the second event would occur. Even at 9 am, the atmosphere was bubbling, with spectators allowed to get close to the action for support and a much-needed boost.
Greeted by smiling faces and sunglass-donning event staff and judges, I felt an instant sense of warmth (not from the muggy cloud cover), and that only increased when I met Scott Anderson, Lead of Group Training Product at CaveFit.
Full of evident passion and energy for the day ahead, Scott gave an overview of the set-up and a few pieces of advice and wished us well as we began preparations for the first event.
As Laura explained, the event takes time and logistical planning to organize, but it's an element of the Games that the CaveFit team "thrive on."
"We've got an incredible team who all devised the workouts collaboratively, which happens a few months before the event takes place.
"We're lucky to have a fantastic relationship with Peffermill, who helped us source many things, and we used some of the University equipment.
"As much as the community comes together on days like this, the gyms in Edinburgh come together, and we are so proud to have other gyms competing at CaveFit. We also have University students judging and giving us their time. As much stress as it could be, everyone puts a shift in and wants to get stuck in."
Aptly named 'Mighty Wolfson,' the first representing the box we train in, Mighty Fitness, and the latter repping Wolfson Brands, we were in the Male Everyday Pairs category. Remarkably, I had the nerve to put our team in the elite class before a harsh reality check saw a swift change. It proved to be a wise decision.
Pitted against teams such as the superbly named Fatboy Slim (Boy), 2Jerks and Caffeine and Cleans, the first event was a lung-sucking assault of the senses, predominantly forcing you to suffer on an echo bike for 1.2km every round, with the notorious trio of burpees, butterfly sit-ups and squat jumps on hand to compliment.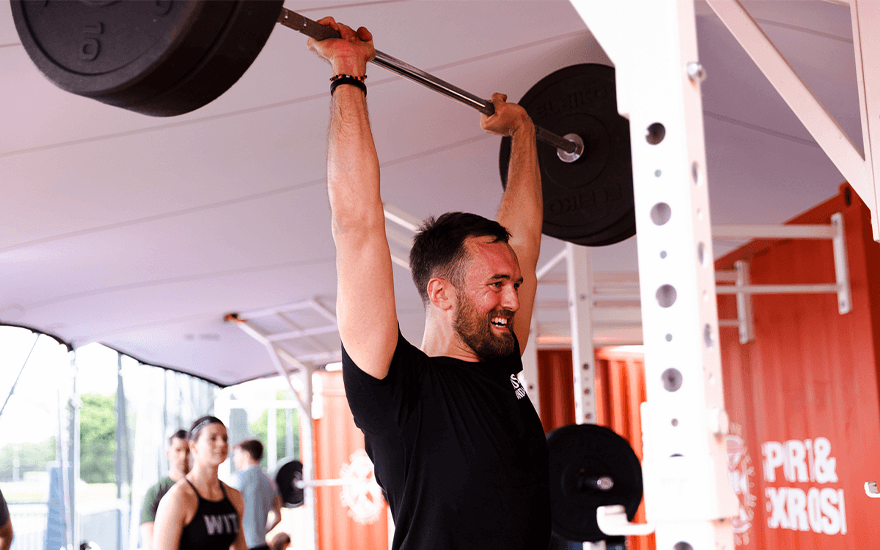 We pushed hard and drained a pair of tanks now predominantly powered by BCAA's and pre-workout. Still, it was clear upon glancing to my right in the final minute that we were lagging behind slightly – a soul-crushing realization when you're operating at your limit.
However, despite being weighed down by the burning of lactic acid in the thighs, a big lift from Liam saw us put ourselves back in the mix, ranking us top of our heat but behind two other teams who shifted some serious numbers.
A Competitive Spirit
The beauty of CaveFit was the spirit of competition. Competitiveness was displayed; teams wanted to beat others and do well. But everyone supported each other, congratulated lifts and performances, and had an overriding sense of community on show.
One team, featuring two guys who were also tackling their debut competition, Gregor Lees and Brian Mulholland – who went for the self-explanatory team name of Bri/Gregor – didn't enter until the night before, with Gregor experiencing the sensation of pulling a SkiErg for the first occasion during workout three. Not an ideal scenario considering your overall score was calories burnt on…the SkiErg.
After the competition had concluded, Gregor admitted, "I didn't sleep much the night before. It was a proper baptism of fire."
Round three was a high point, putting us in with a good shout for a podium finish. However, every pull of the SkiErg drained my tumbling energy reserves which required serious replenishment ahead of the final swansong.
A 15-minute AMRAP poetically titled 'Carry It Home' – involving a 20-meter run, a 30 kg sandbag carry and 16 kg farmers walks – coincided with a light shower gifted from the gods above, its cooling droplets rippling my face as I laid flat on my back following my last lap.
The spirit of the competitors was fully evidenced before the results were revealed, with all teams conversing and congratulating each other's physical exertions. Even two fellow Northeast lads in our category had made a similar journey to ourselves that morning.
For Laura and the rest of the CaveFit team, this sense of synchronized camaraderie is what CaveFit Games is all about: "I would run the event every day if I could. Our community gave us fantastic feedback: everyone was so friendly, fun and welcoming, and that was music to my ears.
"Ultimately, that is all we want. People have a really positive relationship with fitness and healthy competition. We want to encourage people to leave their comfort zones and push themselves to their limits."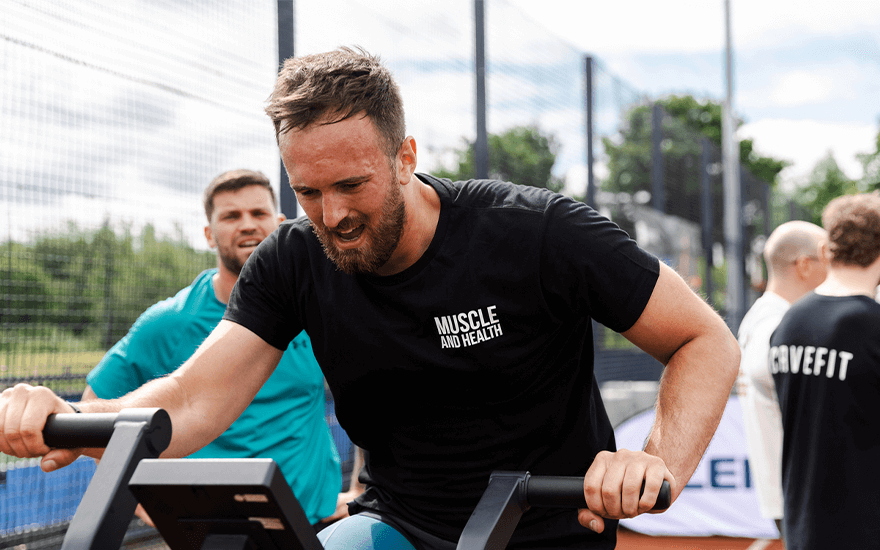 I trekked miles beyond the limits of my comfort zone, and I left Edinburgh with an overwhelming sense of eagerness to compete again. 
CaveFit Games' Summer edition lit the fire inside me, igniting a competitive spirit fundamental to functional fitness and self-growth.
The next CaveFit games…
CaveFit Games returns on September 30th, again in Peffermill, and I will be back. If you're interested in functional fitness, or looking for a challenge to break new ground on your athletic journey, then CaveFit is the perfect starting place.
It's a view shared by Laura, who is already planning for September: "There's something for everyone. Even if it's your first fitness competition, we will do everything we can to make you feel at home, from the athlete briefings on the day to all the workout standards in advance.
"We regularly do Q&A's on Instagram and sometimes go live to put your mind at ease, but the best thing to do is attend classes. If you're based in Edinburgh, come to CaveFit, where many of the workouts originate. They are the true heart of what we do."
See you in September, CaveFit.
We came joint-4th, marginally missing out on a coveted podium finish. Next time that bronze medal is ours.
Head to CaveFit's website and sign-up for a 30 day trial for £55 today here.
Sign up for the CaveFit Games in September here.
Follow CaveFit on Instagram here.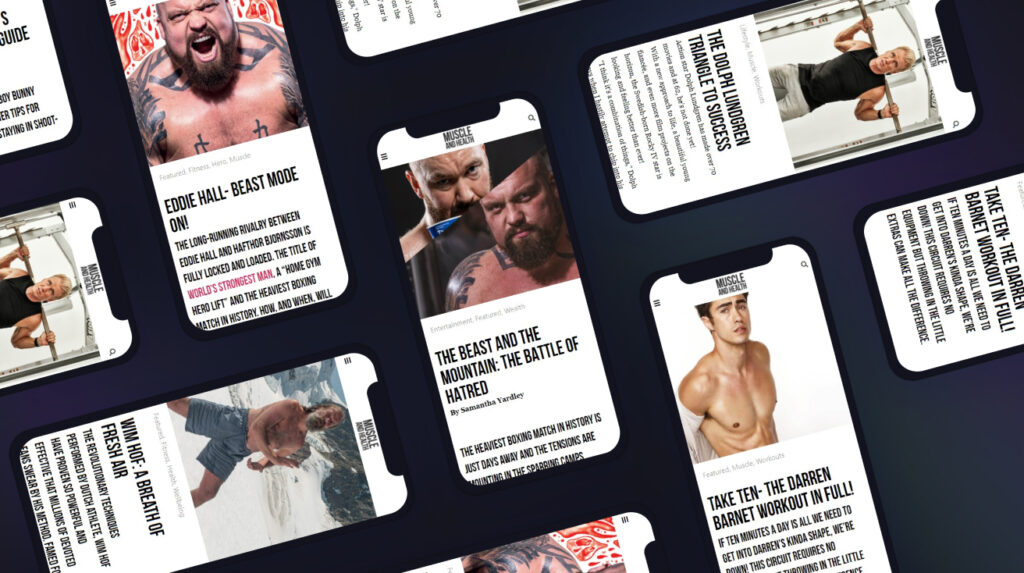 get all the latest mucle, health and wealth news delivered straight to your inbox