By Jack Franks
Capitalizing on the global success of 'Formula One: Drive To Survive' and 'Break Point' – both of which gave viewers an unprecedented and unique insight into Formula One and Tennis, respectively – Netflix has now lifted the lid on the world-famous PGA Tour and major championships in the sphere of Golf.
One thing pops out immediately: the demanding schedule that faces the elite. In August 2022, the PGA Tour announced a 17-tournament series within the 2023 schedule. It covers eight months from January to August, that's an average of 2.23 events per month. 
It's hard to feel sorry for Golf's finest when you look at the eye-watering prize pots. The events include purses totaling over $340 million (and no, there isn't an accidental zero at the end of that sum). 
Aside from the non-stop nature of the sport, which would almost guarantee a large chunk of time spent traveling the world, it's essential to recognize the physical demands of repeatedly swinging a club on the human body.
To make it to the top, these are the critical areas of fitness required to convert Bogies to Birdies.
The Five Pillars of Golf Fitness
It's evident for most people that Golf doesn't require the same fitness level as other elite sports. Players don't need bulging muscles or a seismic set of lungs to meander across an 18-hole course. After all, Golf is a sport for the methodical thinkers who have mastered the art of patience.
But there are some vital elements and mechanics that need to be developed and fine-tuned to maximize a Golfer's potential:
Stability
You need excellent stability in the following joints: the knees, lumbar spine (lower back), shoulder blade and elbows.
Co-Ordination
To produce shots with power, the process of your swing is crucial. The ideal sequence to produce power is hips, torso, arms, and club head.
Balance
The most important aspect of balance for golf is "feel" balance, and you can test this by standing on one leg and closing your eyes. If you can hit the 25-second mark, count that as a great score!
Flexibility
The joints that need to be flexible for golf are ankles, hips, thoracic spine (mid-back), shoulder and wrist.
Power
Combining and honing the techniques above will result in greater power in your swing.
More Gym Than You May Think
The modern golfer has transformed over the years and has been highly influenced and adapted due to improvements in technology and equipment.
Strength training and gym work are now as necessary as technique and biomechanics, with more and more elite golfers spending hours building muscle and improving their athleticism.
A glance at the likes of Paul Casey, Brooks Koepka, Jordan Spieth and Dustin Johnson ideally provides the elite Golfer aesthetic. In his days playing for the Arizona State University golf team, Casey worked out at 6.45 am three times a week.
Johnson, the first player to win each of the four World Golf Championship events, utilizes a medicine ball in his training, emulating his swing and generating the levels of explosive power needed to maintain his record-breaking drive distances.
Perhaps the most surprising example of an elite Golfer utilizing strength training to their advantage is from the iconic Tiger Woods.
Woods has been known to lift weights on competition days, prioritizing high reps and low weights to hone in on his balance, control, endurance and speed.
Before that takes place, he also incorporates a 30-45 minute stretching circuit focusing on flexibility.
Oh, then he plays Golf!
Without dedication to the gym and focusing on improving strength, the average golfer would struggle to reach the distances required to compete in major competitions.
The biggest compliment you can pay to elite golfers is that they wouldn't look out of place hurting around an athletics track.
Rory's Routine
The original question raised at this article's curtain raiser was 'How fit do you need to be to join Golf's elite?", so what better way to forge an answer than by analyzing how one of the world's best keeps himself in shape?
Rory McIlroy, currently ranked number one in the PGA Tour World Rankings, has 36 professional wins and is one of three players to win four majors by age 25. The aforementioned Woods and legendary Jack Nicklaus make up the rest of the trio.
Following a light warm-up and stretching routine, a typical McIlroy routine looks something like this:
Workout One (repeat three times)
Heavy Dumbbell Deadlift x5
Pull-Up Hangs 5-10
Alternative Plank Leg Raises
Workout Two (repeat three times)
Lunges (walking backward)
Dumbell Plank Rows x10
Lateral Duck Walk x10
Rotation Exercises
 Medicine Ball Rotations x10 on each side
Lasting around 35 minutes, the session may seem short, but it contains a blend of movements and incorporates the main areas of stability, strength, flexibility and speed.
So, How Fit Do You Need To Be?
The short answer to this is…very. But that's only if you are part of the small percentage who rise through the ranks and make it to the top.
Golf has enjoyed a welcome transition from a retirement hobby to an elite sport over time, perfectly encapsulated by the level of dedication its pioneering players undertake.
One of the key differentiators between the best players in the world and the rest is the small margins.
Focusing attention on the specific mechanics of the golf swing is the key part of Golf. That goes without saying. But how many Golfers are prepared to dedicate themselves to a consistent fitness regime which allows them to achieve those small gains?
Those marginal gains differ between making a shot under pressure to win a significant or fluffing your lines and sinking it in the water.
Want to improve your Golf game? 
Maybe it's time to put the clubs down and pick the dumbbells up.
Related Articles
Valentine's Day Couples Workout
Seven Causes of Extreme Fatigue
4 Ways Your Phone Is Sabotaging Your Gym Session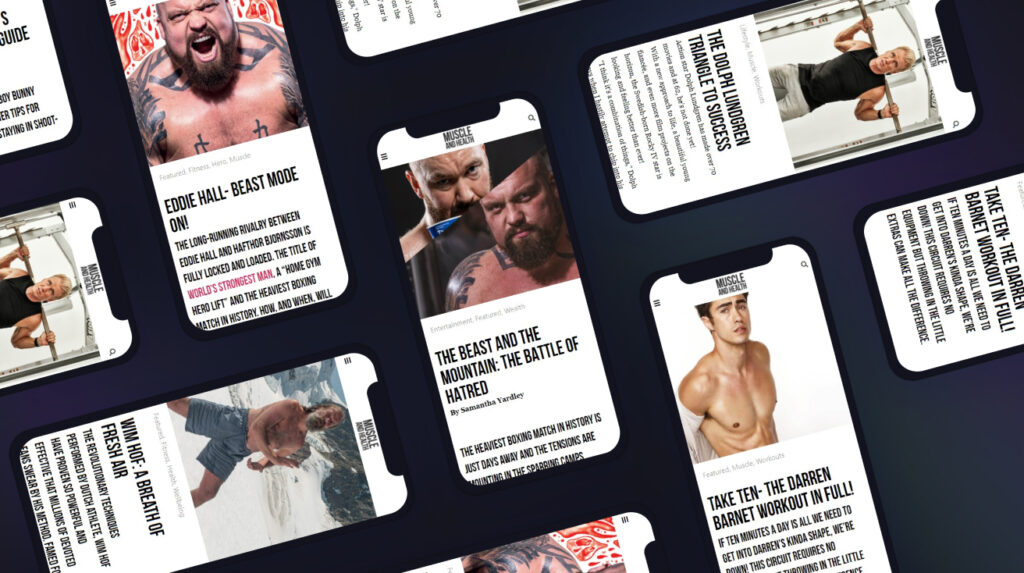 get all the latest mucle, health and wealth news delivered straight to your inbox