By Darren Croft
2020 is a year that none of us will forget, but certain sporting activities really took off as we were encouraged to exercise more often. One sport that gained in its popularity was golf. The National Golf Foundation reported that over 24.8 million people played golf in 2020, which was the sport's most significant boom in participation in 17 years. 
So for those looking to combine their love of travel with their desire to play golf, we've pinpointed ten best golf course locations you might want to consider seriously.
Related content: In 'Full Swing': How Fit do you need to be to join golf's elite
The Best Golf Courses in North America…


Want to stick close to home to perfect your swing? We're sharing our favorite golf courses in North America.
Pine Valley, USA

There are many excellent courses in America, but Pine Valley ticks all the boxes as pretty much the "perfect" course, as it offers a complete test of golfing skills. Often described as the best course for great golf, Pine Valley is set in a stunning location and arguably contains some of the world's trickiest hazards. 
The greens are always kept in pristine condition, and the layout is one of the most sophisticated in the world. It's a course that every golding enthusiast should play at least once in their lifetime.
National Golf Links of America, USA
NGLA, or "National," is one of the true greats, according to most experts. It has everything you'd expect of a quality course. It will host the 2030 Curtis Cup, where all of the best amateurs in the USA, Great Britain and Ireland will contest the prize. 
It's an exclusive club, but plans are in place to allow the general public to play and experience the thrill of playing on one of the best golf courses in the world with some truly great holes.
Oakmount, USA
It's often been described as a tricky course and not an "all thrills" experience, but Oakmount thrives on this idea and is what many golfers call a "proper" course. The course doesn't need the all-singing, all-dancing gimmicks, as it's pretty much perfect just the way it is. Some of the views along the way are stunning. 
It's a basic course with no water, and only a few trees and the greens are some of the biggest in the country. It's a course known for its difficulty, especially emphasizing the ability to putt accurately—a class act with some standout holes.
Chambers Bay Golf Club 
A golf course prides itself on not only the quality of the course but also the surrounding landscape. Chambers Bay has stunning views of the Olympic Mountains and Puget Sound, and it can comfortably be described as a golfer's paradise. It was designed for quality players with a breathtaking, open landscape, as many undoubtedly noticed when it hosted the 2015 US Open Championship.
Cabot Cliffs (Canada)
Another picturesque course with stunning panoramic views and a quality course to play on too! The rolling fairways suit all styles, and the course itself will take you on a journey covering many different types of terrain, from clifftops to sand dunes. 
Cabot Cliffs is a walk-only course, so you get a good feel of the landscape and a proper connection with the course from start to finish. Canada has undoubtedly done itself proud with this course, and no golfing trip to Canada is complete without a visit.
The Best Golf Courses in Europe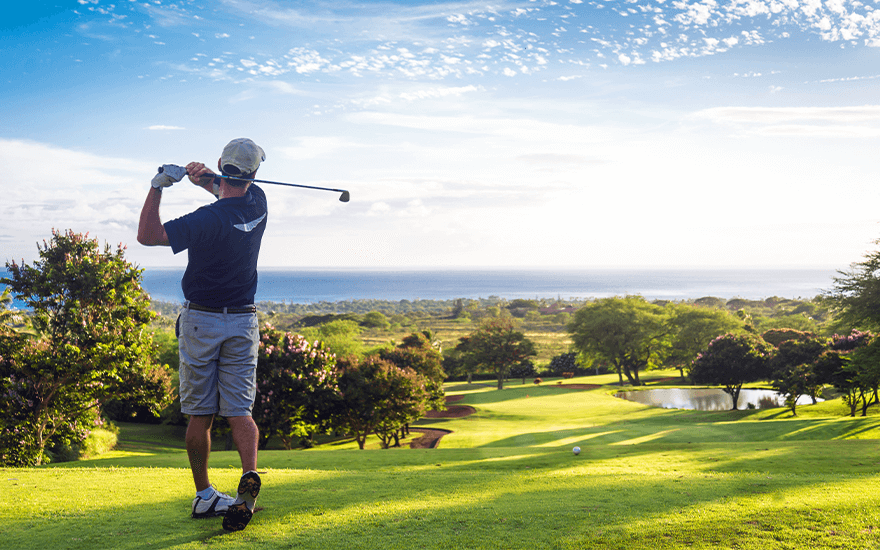 Want to travel a little further afield, then Europe is home to some of the best golf courses in the world.
Morfontaine, France
Morfontaine has two courses – the Valiere, a 9-hole course, and the Grand Parcourse, which often gets overlooked regarding lists of top European courses. Quite wrongly, this peaceful course is one of the hidden gems of great golf courses. 
The peaceful courses demand precision and accuracy, and the greens are hard to predict with their many undulations. Playing at Morfontaine will make you feel like Tiger Woods if you put up a decent show.
Costa Navarino, Greece
Golf courses are plentiful, but we couldn't compile a list without mentioning the hidden gem of the Dunes Golf Course at Costa Navarino. Playing in the beautiful weather, surrounded by stunning views, is a challenging links course. 
Former US Masters Champion Bernhard Langer was in charge of the course design, and it takes you on a wonderful journey alongside the beach. Seaside golf doesn't get much better than this. It's a fair course that will cater to golfers of all standards, and if you're just starting, it's the kind of course that will make you fall in love with the sport very quickly.
The Best Golf Courses in the Rest of the World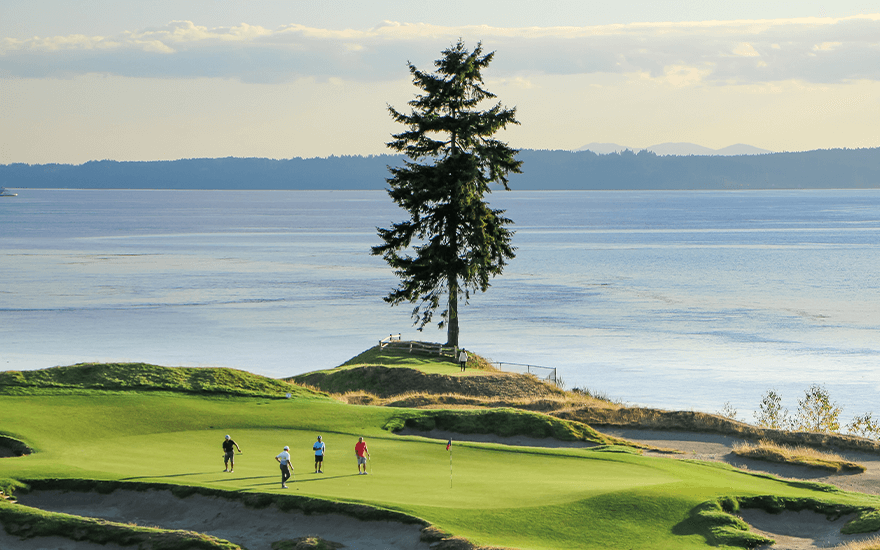 Fancy flying off to the other side of the world? Let's look further a field for the best golf courses. 
Royal Melbourne Golf Club, Australia
A list of golf courses would only be complete with a mention of the Royal Melbourne Golf Club, which sits nicely within the Australian Sand Belt. There are two courses; no matter which one you choose to play, you'll face the same difficulty level. 
They are both deceptive courses in that they look, on paper, reasonably straightforward to play, but there are hidden challenges along the way, and they are trickier than they first appear. This stunning course has everything from the well-contoured, generous greens to the deep bunkers.
Tara Iti, New Zealand
With ocean views, quality greens, and fairways, "class act" could not be more appropriate. Tara Iti is all about quality, and it's the kind you could never grow bored of, no matter how often you play here. 
Unusually, there are no bunkers, but plenty of surrounding sand to avoid instead. It's a well-designed course, yet it still looks natural and one that players of all standards can enjoy.
Hirono Golf Club, Japan
We have learned over the years that Japan loves its challenges, and this course is certainly no stranger to that concept. Set in amongst a pine forest with greens positioned on the crest of ridges, the course is tricky for amateurs and professionals alike. 
The bunkers are exceptionally creative and range from cross-diagonal to ragged-edge bunkers. We can't recommend this course highly enough for those looking for something a bit different and a proper test of golfing skills.
Whether you're looking for a golf course with spectacular scenery or one that will put your golfing prowess to the test, there's something for everyone. Maybe this year, you should take the plunge and take your golfing to a new setting and a new level.
In 'Full Swing': How Fit Do You Need To Be To Join Golf's Elite?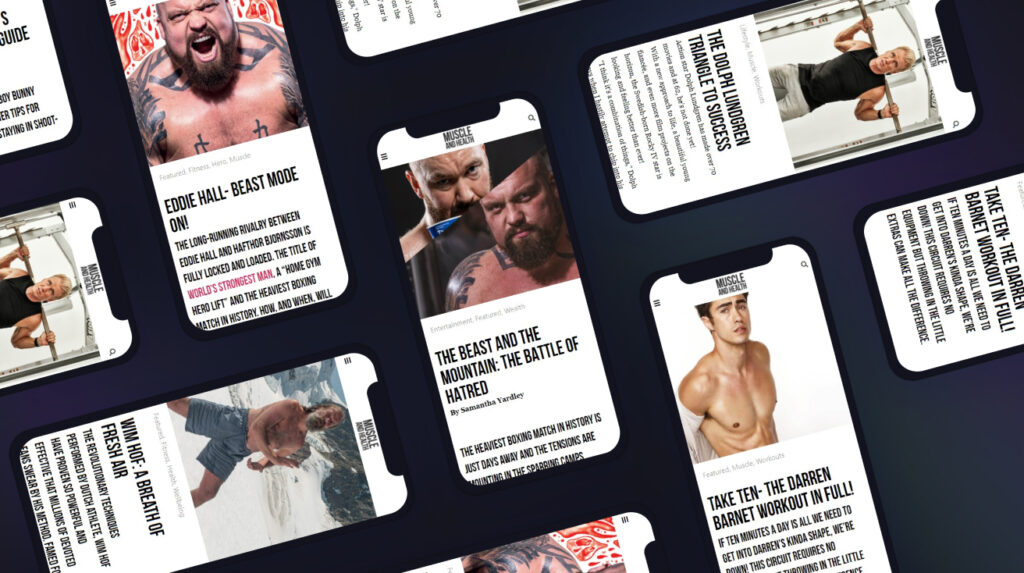 get all the latest mucle, health and wealth news delivered straight to your inbox