by Jack Franks
Embarking on global adventures and immersing oneself in diverse cultures is a remarkable experience. Yet, venturing beyond familiar territories can pose sustainability challenges when it comes to you travel essentials.
Even though aspects like airfares and accommodations might be beyond your influence, there are numerous ways to minimize the ecological impact of your journeys.
An excellent starting point is the items you choose to pack.
Introducing environmentally-friendly travel products will enable you to journey with a lighter environmental footprint.
So, bid farewell to your environmental concerns at home and pack judiciously for your upcoming eco-conscious travel escapade with these travel essentials.
Sustainable backpacks and luggage
Good quality travel luggage that lasts is a travel staple, and these options take the sustainability factor up a notch.
Solgaard luggage and bags
View this post on Instagram
Solgaard's commitment to sustainability shines through in their Shore-Tex™ and Artemis product lines, crafted entirely from recycled ocean-bound plastic. Their claim of being "Sustainable A.F." is well-founded.
Solgaard holds its factories and suppliers to the highest audit standards as a Certified B Corp. All travel gear factories have undergone audits within the past year, ensuring accountability.
An impressive 85% of their partners utilize respected third-party audits such as WRAP or ICAS, intending to reach 100%.
Backing their ethical backpacks with a 10-year warranty, Solgaard dedicates itself to ensuring its products accompany adventurers on many journeys.
Solgaard has been instrumental in diverting 1.4 million pounds of plastic from our oceans through plastic removal partnerships, furthering its commitment to becoming a climate-positive company.
Price: $125 – $245
8000Kicks backpacks
View this post on Instagram
8000Kicks invites you to "embrace hemp from head to toe" with its innovative offerings.
Not limited to being a sustainable hiking shoe brand, they also present an array of all-natural, eco-friendly backpacks an other travel essentials for hiking escapades.
Beyond their robust hardware, these eco backpacks are fashioned entirely from 100% durable hemp fabric. Utilizing the natural water-repellent qualities of hemp, these packs exhibit water resistance without resorting to PFCs.
With manufacturing facilities in China and Portugal, 8000Kicks ensures stringent oversight through frequent inspections.
The family-owned Portuguese factory goes the extra mile by offering dedicated workers free healthcare and education benefits.
Price: $159
Cotopaxi
View this post on Instagram
Cotopaxi, deriving its name from the renowned active volcano in the Ecuadorian Andes, holds a deep personal connection to its founder, Davis Smith, who spent much of his upbringing near the volcano. The brand embarks on a straightforward yet inspiring mission to create a positive impact.
For your eco-conscious carrying needs, their Del Dia collection stands out as the ideal choice for sustainable backpacks for biking or adding a vibrant touch to your office attire.
Under the banner of "Made With (Re)Purpose™," the entire Del Dia range of vegan-friendly backpacks is crafted from excess fabric sourced from the surplus production runs of other companies. In essence, deadstock becomes the defining essence of the day.
Other product lines, such as the Batac series, also incorporate repurposed nylon, while certain styles utilize virgin synthetics.
As a Certified B Corporation, Cotopaxi maintains stringent ethical standards across all its factories, with third-party audits confirming compliance.
The manufacturing hub for these backpacks lies in Bataan, Philippines. This facility, evaluated through the Higg Index, specializes in reclaiming fabric remnants, enabling the creation of the distinctive Del Dia line.
Price: $55 – $220
Paraval
View this post on Instagram
Paravel's dedication to sustainability surpasses the use of recycled materials alone. They consciously minimize their carbon footprint through local manufacturing, partnering with energy-efficient factories, and waste reduction initiatives. Their Aviator Carry-On, skillfully crafted from recycled polycarbonate, showcases elements like vegan leather, recycled zippers, and a water-resistant lining.
Equipped with a compression pad for efficient packing and a TSA-approved lock for security, this carry-on exemplifies Paravel's commitment to practicality. Their eco-conscious approach extends seamlessly to their duffels, totes, and backpacks. Prioritizing sustainable packaging, they employ recycled materials and promote reuse.
Paravel's unwavering dedication to travel essentials sustainability encompasses its products, production processes, and packaging strategies, making it an ideal choice for conscientious travelers seeking environmentally-friendly options.
Reusable water bottles
A water bottle, it's one of those travel essentials we all need. Worldwide, humans produce over 400 million tonnes of plastic waste every year – and water bottles are leading the way in that figure.
Of course, it's not always possible to get access to safe, clean water when traveling. But for when you can, having a reusable water bottle is a great way to stay hydrated and reduce plastic waste. 
Contigo chill couture auto seal vacuum-insulated water bottle, 720ml
The bottle's seal exhibits impeccable leakproof qualities, proven when we leave it horizontally for extended periods without drips. Its functionality revolves around a front button that effortlessly elevates the spout upon pressing. When retracted, a protective cover shields it from dirt – a thoughtful addition.
Employing a double-wall vacuum insulation mechanism, this bottle maintains the chill of your beverages for a remarkable 28 hours, enduring even when left inside our car throughout the day. 
The inclusion of a convenient carry handle further enhances its user-friendliness. Your search ends here for those seeking a water bottle that can be stowed away in a bag for an entire day without worry.
Ocean Bottle Original
View this post on Instagram

Shop The Original Ocean Bottle
Since its inception in 2019, Ocean Bottle has steadfastly pursued a singular mission: combat plastic pollution in our oceans by collecting plastic waste and integrating a portion of it into reusable bottles, all while contributing to the welfare of local communities.
Ocean Bottle has formed impactful collaborations, including partnerships with organizations like Plastics for Change, which establishes plastic collection points in regions severely affected by plastic pollution.
With each Ocean Bottle purchase, the company facilitates the collection of 11.4kg of plastic, equating to more than 1000 plastic bottles. This initiative predominantly targets plastic retrieval from rivers and waterways, preventing its entry into the ocean.
The bottle's design prioritizes convenience, aiming to become an integral part of your daily routine: it boasts leakproof features, maintains your beverages at optimal temperatures for extended periods (no more spilled coffee in your bag or lukewarm drinks), and offers effortless cleaning, even being dishwasher-safe.
Opting for an Ocean Bottle not only serves your personal needs but also has a direct impact on reducing ocean plastic pollution. Every sold bottle contributes to the collection of 1000 plastic bottles that would otherwise find their way into the ocean.
Price: $50 – $55
Purifyou Glass Water Bottle
View this post on Instagram
Purifyou is a family-owned and operated venture, embodying an eco-conscious lifestyle ethos and offering a convenient means to enhance your hydration experience through its range of eco-friendly glass bottles.
Constructed from BPA-free glass and accompanied by a detachable silicone sleeve, these environmentally considerate bottles are designed for your ease. Their dishwasher-safe attribute holds, whether with or without the protective cover.
Originating from China and finding their way to distribution centers in the U.S., each reusable glass water bottle's journey is well-traveled.
Purifyou takes a proactive approach to ensure your sustained use of their reusable bottles, providing replacement lids for scenarios involving breakage or loss of the original ones.
Elevating its commitment, the brand allocates a portion of its profits towards installing wells in communities deprived of clean drinking water.
Price: $19.97 – $39.99
LifeStraw Go Bottle
As we said, getting clean water when travelling isn't always that easy, so ditching single-use plastic water bottles can be a challenge. 
That's where LifeStraw comes in with its 2-stage filtration straw filtration system that improves the taste of your water and provides even better protection. 
The Go Bottle incorporates a carbon capsule that reduces bad taste, odor, chlorine and organic chemical matter, making drinking safe and clean water on the go convenient. 
Price:$39
Organic hemp clothing
TenTree
View this post on Instagram
Hailing from Canada, TenTree emerges as an ethical clothing enterprise, crafting a range of stylish outdoor and casual wear that proudly boasts ethical and sustainable production practices.
The brand's name, TenTree, perfectly encapsulates its philanthropic approach – for every item you invest in, they ensure the planting of ten trees.
This arboreal effort spans various nations, with Madagascar and Indonesia as primary beneficiaries. Collaboration with diverse charitable organizations, like Trees for the Future, ensures tree planting becomes meaningful and enduring.
Underlining its commitment to ethical practices, TenTree is a certified B-Corp. Beyond its remarkable tree-planting initiative, the brand's dedication to sustainability takes many forms. While not exclusively focused on hemp clothing, each TenTree creation stands as a testament to ethical craftsmanship, solely utilizing sustainable and responsibly sourced materials like cork, coconut, and hemp.
Komodo
View this post on Instagram
Established in 1988, Komodo stands as a pioneering force in ethical fashion. Their collection is a harmonious fusion of style and ethics, offering a range of clothing sourced from ethical, organic, and natural fibers.
The brand takes pride in being at the forefront of ethical clothing brands, with most of its products bearing vegan and cruelty-free stamps.
Komodo's commitment to sustainability is deeply woven into their fabric choices, as they prioritize premium quality organic, natural, and eco-friendly fibers. Notably, hemp takes center stage in Komodo's men's and women's clothing collections.
From the blend of vegan jeans infused with hemp to tops and tees expertly crafted from a mix of hemp and GOTS-certified organic cotton, the spectrum of options available allows you to incorporate hemp into your wardrobe with style and purpose seamlessly.
7319 Maison Chanvre
Discover the world of sustainable streetwear crafted from hemp with 7319 Maison Chanvre, now available in the U.K. through Veo.
Dedicated to reshaping the fashion landscape, this gender-neutral hemp clothing brand aims to provide sustainable and enduring everyday essentials without compromising quality.
Every piece in the 7319 Maison Chanvre collection is meticulously crafted in Portugal using a blend of 67% hemp and 33% organic cotton. This combination yields a breathable and durable fabric and gains a refined and opulent texture with each wash.
Sustainability reigns supreme at Maison Chanvre. Every aspect of the manufacturing process is thoughtfully curated to minimize its impact on the planet. This commitment extends to the details, including labels crafted from hemp and plastic-free packaging, embodying an ethos of care for both fashion and the environment.
Eco-friendly travel toiletries
Travel toiletries are those little luxuries that make abroad feel like home, so not only do they have to be sustainable, but great quality, luxurious products that do the job right. 
OneNine5 wash bag
View this post on Instagram
The unassuming travel toiletry organizer. Select the right one, and you could hold onto this essential companion for years.
OneNine5, a new name in eco-friendly travel, has wholly reimagined this vacation must-have with a focus on sustainability.
Their eco-conscious travel toiletry organizers are derived from 100% recycled plastic.
Designed for a circular economy, it's recyclable after use. Moreover, it features a detachable clear pouch, eliminating the need for single-use, see-through bags during security checks.
Every organizer is generously equipped with compartments, accommodating all your eco-friendly toiletries. It's a comprehensive solution that can be conveniently hung up, from your bamboo toothbrush to a discreet pocket for valuables.
Whether you're camping, attending festivals, or indulging in a stay at a luxurious eco-hotel, this travel toiletry organizer has you covered.
Green People organic sunscreen
View this post on Instagram
Sunscreen is one of those travel essentials that we can't do without in hot climates. Green People's commitment to eco-friendly skincare extends to what they omit from their products – think parabens, petrochemicals, propylene glycol, and more. Their list of exclusions is longer than what they include. The "green" philosophy is evident in their packaging, products, and processes.
Regarding packaging, Green People opts for plant-based bottles crafted from renewable sugarcane. These bottles are not only recyclable but also carbon neutral. The dedication to sustainability continues within their products. EVERYTHING IS VEGAN AND ENVIRONMENTALLY CONSCIOUS, from U.V. to UVB to UVA protection.
Their plant-based sunscreen aligns with their commitment to sustainability and ethical practices. Reef-safe and water-repellent, this sunscreen takes care of you and the ocean.
Green People's initiatives extend beyond their products. They contribute 30p from each full-sized marine-friendly suncream purchase to the Marine Conservation Society. This dedication to the environment is evident in every aspect of the brand.
Check out some of our sun screen top picks here
Brushed toothpaste tablets
Elevate your zero-waste toiletries routine while traveling with Brushd toothpaste tablets.
These tablets, packaged in plastic-free materials, eliminate the need for traditional toothpaste tubes and negate the necessity for travel-sized versions. Pop one pill in your mouth and chew – the organic peppermint powder ensures you still enjoy the same minty flavor. Plus, you have the option to choose tablets with or without fluoride.
This approach reduces your reliance on single-use plastic in your bathroom and wash bag and offers refill packs to replenish the glass jar provided in your initial order and concerned about traveling with glass? Transfer the tablets to an aluminum tin for a fuss-free and mess-free solution.
Enhance your eco-conscious oral care regimen with Brushd's mouthwash tabs, bamboo toothbrushes, and dental floss, and quickly achieve an environmentally-friendly oral hygiene routine.
Wild deodorant
View this post on Instagram
Wild is on a mission to revolutionize the disposable culture surrounding everyday bathroom products.
Their deodorant applicators boast a sleek and stylish design that promotes reusability, benefiting from durable aluminum and recycled plastic. The deodorant refill, which is entirely plastic-free, is derived from natural sources and is fully compostable.
Every product within Wild's skincare range adheres to its commitment to being vegan-friendly, cruelty-free, dermatologically tested, and devoid of artificial fragrances, parabens, sulfates, and aluminum.
In line with their ethos, the deodorant is gentle on the skin while providing robust sweat protection. Put it on your travel essentials list today.
Shoreline Shaving kit
View this post on Instagram
Based in Manchester, Shoreline Shaving dedicates itself to providing shaving solutions that are 100% plastic-free, embodying zero-waste principles and eco-friendliness.
Their collection of safety razors encompasses two distinct styles: one featuring a bamboo grain handle with a chrome-plated finish and the other showcasing vibrant metal razors with a textured grip.
Complementing these razors is their opulent orange and lavender shaving soap, derived from natural ingredients, cruelty-free, and devoid of sulfates, parabens, and palm oil.
For those seeking travel-friendly options, Shoreline Shaving offers an array of choices. Moreover, each razor minimizes skin irritation and shaving rash.
Shoreline Shaving's commitment to environmental causes shines through in its business practices. Every bamboo razor purchase contributes a portion of the profits to The Ocean Cleanup. Similarly, for each razor sold from the Coral Collection, a part of the proceeds go to initiatives dedicated to safeguarding the world's coral reefs.
Hope you enjoyed our eco-conscious travel essentials list and found a few items to add to your bag next time you travel!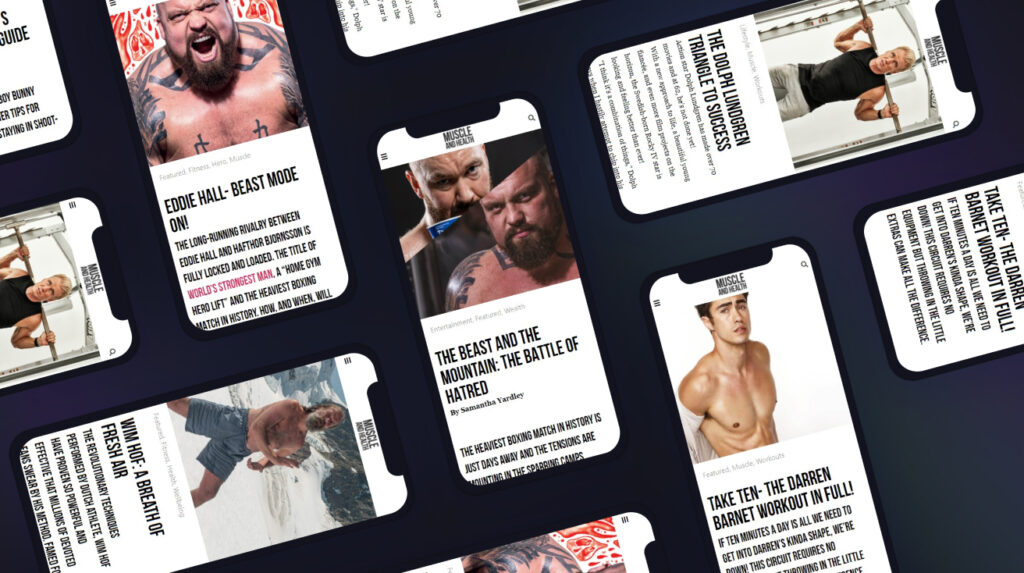 get all the latest mucle, health and wealth news delivered straight to your inbox