By Darren Croft
It's that time of year again when we start thinking about where in the world we'd like to be apart from right now. 
Somewhere we can escape to so we can stay away from the rainy weather in our hometown. Let's whet your appetite with some real sizzlers, guaranteed to give you the holiday of a lifetime and plenty of vitamin D. 
Grab the sunscreen and let's go.
The Best Spring Sunshine Travel Locations in North America
There are a plethora of sunny spots to choose from in the USA and the rest of North America, but if it's warm weather, blue skies and palm trees you're after, you'll do well to top these locations.
Laguna Beach, Southern California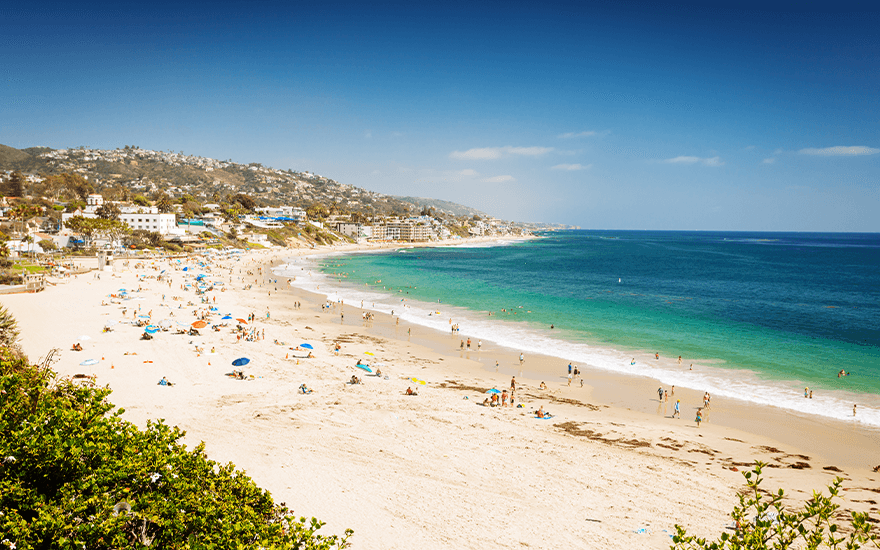 This dreamy beach town is ideal for making memories with the sun on your back. With its clear water and quality sand, it's no wonder it's a popular place for tourists and holidaymakers. 
Daily high temperatures range from 68°F to 69°F, rarely falling below 61°F or exceeding 80°F. 
Whether swimming, surfing, walking, relaxing in the bars or cafes or simply lapping up the sun on the dunes and enjoying the landscape, Laguna Beach has what you're looking for.
Orlando, Florida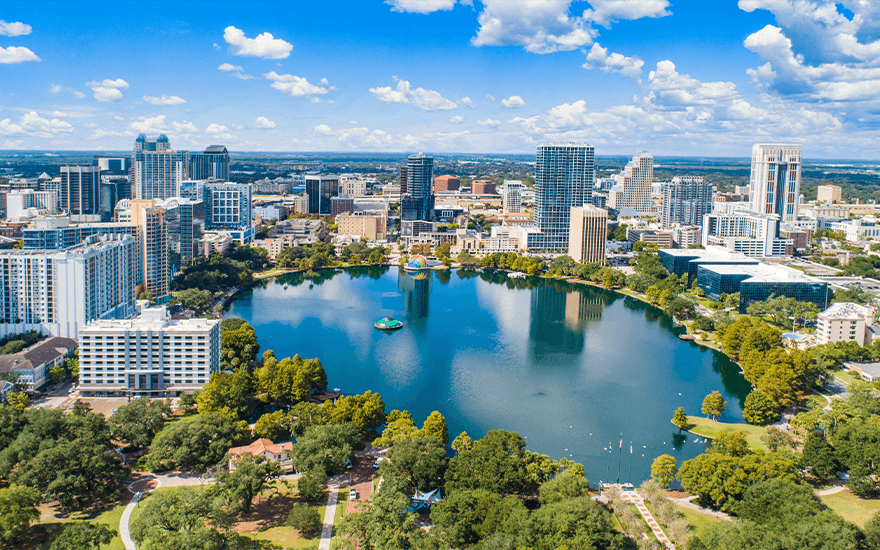 It won't be the biggest surprise to many that Orlando gets a mention on our top ten list of best spring sunshine travel locations, but realistically, it's hard to ignore its claims. There's so much going on that no matter what holiday pace you prefer, something should cater to your taste. 
Whether it's the water parks, theme parks, or just enjoying the Florida sun from the many beautiful, peaceful locations, you'll get your dose of vitamin D without question. Average springtime temperatures tend to be between 75°F to 88°F, though it's not unusual for it to rise higher. 
Don't be surprised if you get hit with the odd rain shower, though it might be a welcome relief.
Lake Geneva, Wisconsin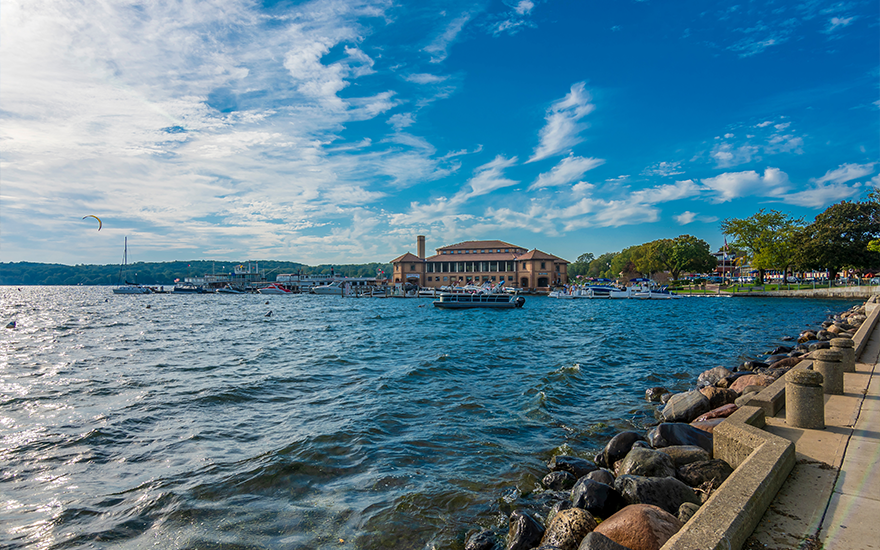 Lake Geneva, Wisconsin, strikes a nice balance for those looking to grab some sun but without being surrounded by huge crowds. You can expect temperatures to rise as high as 74 degrees Fahrenheit in the spring. 
The scenery is simply stunning, and there's plenty to explore from the outstanding beaches, the Big Foot Beach State Park, and the Geneva Lake Museum, there's plenty to explore. If you want to relax, you'll find plenty of places to press the pause button and take in the breathtaking scenery. For adrenaline junkies, there are parks such as Timber Ridge Lodge and Water Park, where you'll find plenty to get your heart rate up.
Victoria, British Columbia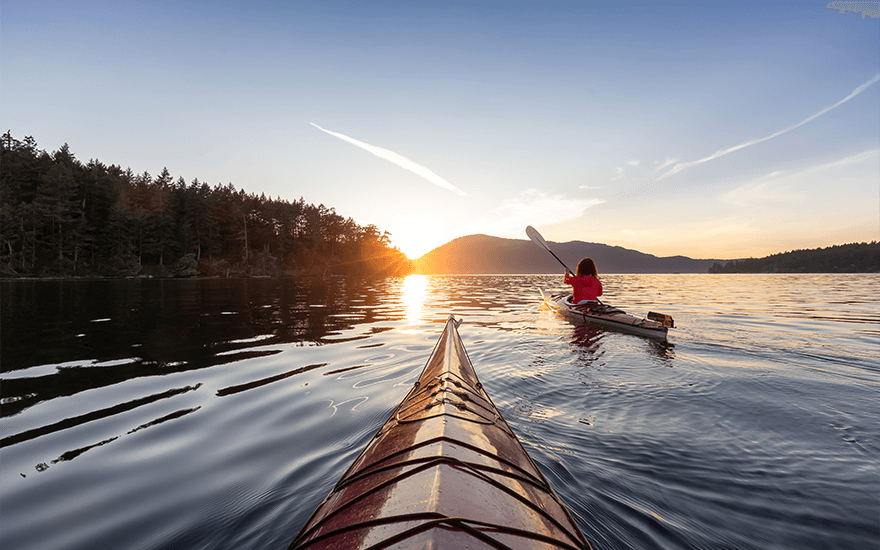 This is a lively and highly cultural place, with plenty of festivals catering to most tastes. There are plenty of hiking trails, bike tours, kayaking, and many places to explore. Y
ou can attend festivals or visit farm-to-table restaurants if you like your food. It's also great for sightseeing as you take in the history of the place while soaking up the sunshine. Although it may not be the warmest place to visit in the spring, Victoria boasts an average of 2,193 hours of sunshine yearly and an eight-month frost-free season.
Cancun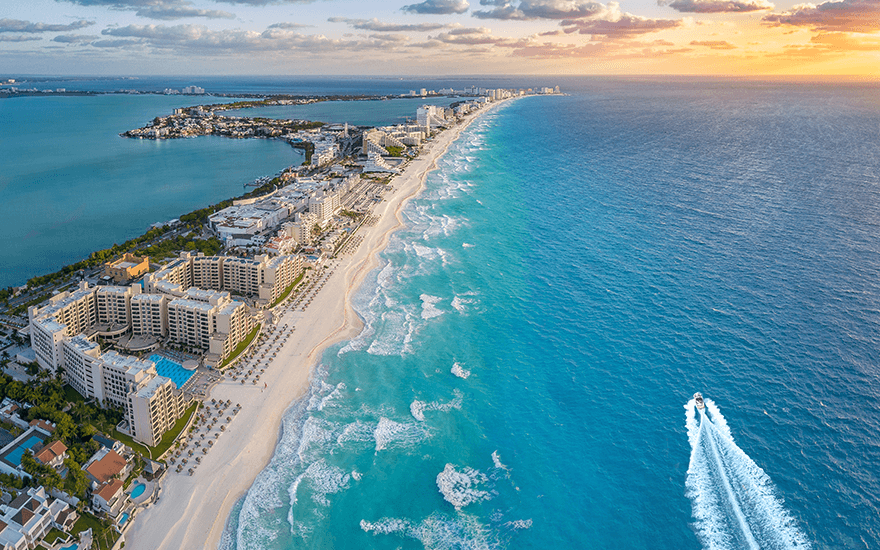 Cancun is one of those places that everyone should visit at some point in their lives, and if you're looking to make some happy sunny memories, you need to add this destination to your travel priority list. ​​
The hottest season is December and April, with warm highs of 30°C. Those who enjoy swimming will be delighted that the sea is warm all year, with an average temperature of 27°C. Sunshine hours increase in spring to ten hours a day in March and April, so needless to say, it's a top-notch choice for this time of year. 
Plenty is going on whether you're a nature lover or a nocturnal nightlife clubber. There are markets, traditional-style restaurants, and many quality hotels.
The Best Spring Sunshine Travel Locations in Europe
From skiing in the sunshine to lazing on a hot southern beach, you'll not go short on the vitamin D if you know where to go and when. Europe is full of diverse cultures, landscapes and cuisines with so many incredible places to explore if you fancy travelling further afield. 
Santorini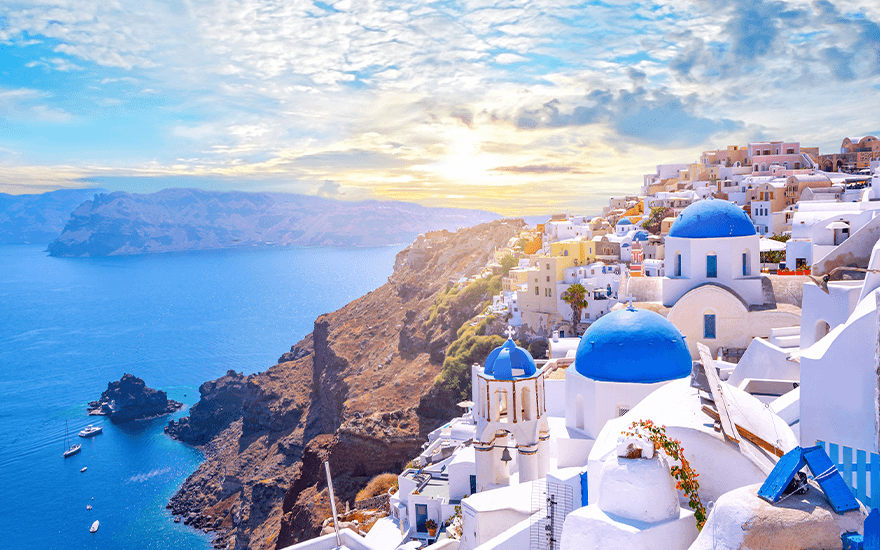 Santorini tends to warm up in April, reaching a height of around 72°F, and you'll catch eight hours of sunshine daily. It has often been described as a romantic island, and if you're looking to get away from it all and soak up the sun at a slower pace, you'll do well to top this beautiful island. 
The stunning views and spectacular sunsets are worth the trip, but there's so much more to the island. Persissa, Kamari and Perivolos are just three stylish beaches on offer, though check to see when the beach season opens before you book, as it tends to be late spring. There's a great choice of restaurants and quality hotels on offer, and whether you're looking for a lively time or a more family-friendly vacation, you'll find what you're looking for.
The French Riviera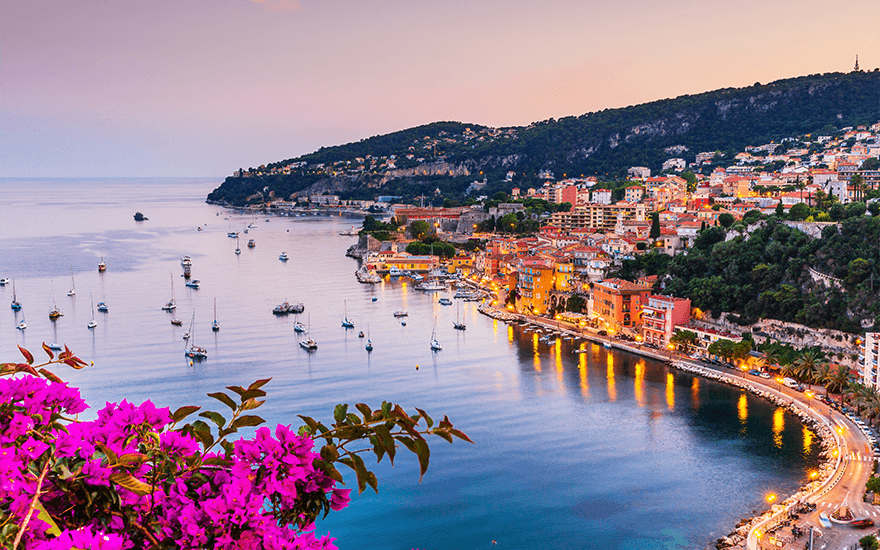 The French Riviera is studded with sandy coastlines overlooking azure waters that are ideal for swimming and virtually guaranteed sunshine. The temperature tends to fluctuate between 57°Fand 68°F with the warmer springtime months being April and May. 
The French Riviera covers a vast area with many visit options, such as Nice, Cannes, St Tropez, Monaco, Grasse, Frejus, Menton, Antibes and Villefranche-sur-Mer. Spring's sunny, warm months are a great time to catch the area at its supreme best, take full advantage of regional beaches, and enjoy watersports or scenic walks. There's so much to do in the Côte d'Azur, but we advise biking and exploring. 
The Best Spring Sunshine Travel Location in the Rest of the World
The "rest of the world" is a vast area, but we're guessing that if you're looking for sunshine, you'll want the warm temperature to go with it so let's look at a couple of sizzling must-visit locations you won't want to miss out on.
Marrakech, Morocco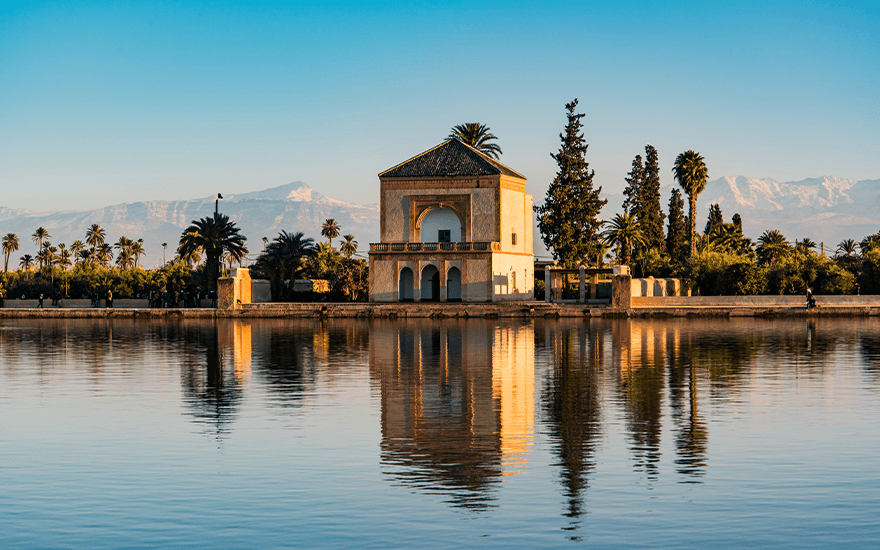 Springtime temperatures soar above 90°F in this, the fourth largest city in the Kingdom of Morocco. It's the perfect getaway and a chance to sample a new culture, whether you take a camel ride in the desert, take in the city's impressive architecture, enjoy its traditional food, or enjoy taking on a new cultural experience. 
Shoppers will love the many bazaars, and if you head to Jemaa el-Fnaa at the center of the city, you'll discover scores of traditional mobile restaurants set up in the evening. Springtime is probably the best window for travellers who enjoy it being hot, but not too hot (as it tends to me during the summer months).
Malawi
If you have a taste for adventure, why not take a trip to a tropical paradise that will give you an experience like no other? 
Malawi is unrivaled regarding landscape, wildlife and culture, so seeing it become an increasingly popular tourist destination is of little surprise. Take a safari and experience nature at its most natural, or relax on one of the popular yoga retreats. Perfect for fans of the sun and particularly the heat, Malawi boast some sky-high temperatures during its hot wet season with temperatures between 86°- 95°F.
There are plenty of opportunities to capture the sunshine during the spring months, and where you go will depend on the experience you're looking for and just how hot you want to go.
Grab your passport and get booking!
Other Holiday Articles You May Like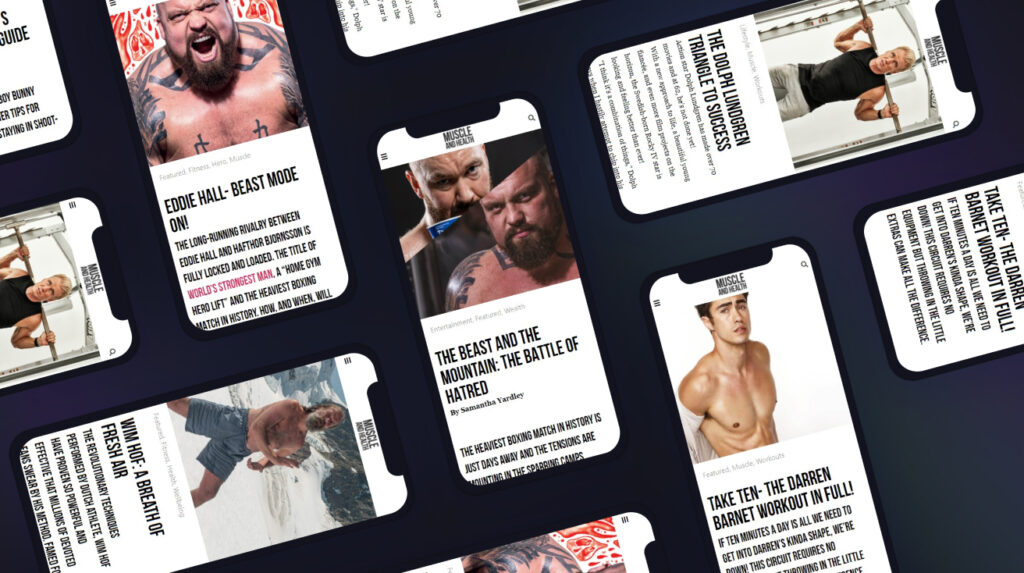 get all the latest mucle, health and wealth news delivered straight to your inbox