By Jack Franks
"I've watched the video of me crossing the finish line so many times, and it's like my brain isn't putting it together. That's me. I just have to pinch myself still."
Lucy Charles-Barclay is amid an interview marathon, less strenuous on the body than the punishing Kona run she endured en route to victory. But, she still requires mental stamina to recall the finest details of her record-breaking conquest.
Quickly pointing out she's suffering from a cold following a delayed return to the United Kingdom and her home in Hertfordshire, the toll of her recent monumental efforts is evident. Yet, she still smiles as she rides a wave of post-victory euphoria. 
"It's slowly sinking in now. I've seen friends and the family and realized what it means to them."
View this post on Instagram
Lucy Charles-Barclay is statistically and literally on top of the world, at the summit of her profession as a triathlete, the equivalent of standing atop Everest following four previous attempts—which were prematurely ended at the Hilary Step.
Crossing the line at the 2023 VinFast IRONMAN World Championship on the west coast of Hawaii's 'Big Island,' not only did Lucy capture a record time and bury the runner-up tag that haunted her since first competing at Kona in 2017, but she did it with an air of assured dominance.
First out of the water, first onto the bike, first into the run, first across the line: three minutes and two seconds ahead of Anne Haug. If perfection was what she sought, this was as close as it came.
As is custom for the majority of athletes, it's been far from a smooth ride for Lucy Charles-Barclay, once touted as a potential Olympic swimmer. Her dream from a youngster who admired the great Kelly Holmes—her meteoric rise to the elite of Ironman and triathlon grew from the guilt of abandoning her life in the pool.
Injuries—expectantly—pepper her athletic history, the most recent being a broken foot suffered in Germany, which threatened to completely derail her 2023 season. Ironically, her heightened pain threshold levels returned to help during an internally tumultuous final stretch of the winning run. Achilles and calf issues left her lower leg dangerously exposed to breaking down.
But nothing stopped her burning desire to finish a job ten years in the making, backed by the most substantial training block of her life and her husband, Reece, and the ongoing pursuit of capturing the "buzz" she felt from her first Ironman race in Bolton back in 2014.
Lucy Charles-Barclay spoke to Muscle and Health about her journey from a junior swimming sensation to the Queen of Ironman.
Firstly, congratulations on your victory. How has your recovery been since the finish line? How are you feeling physically and mentally after the race, and has it all sunk in yet?
"Thank you. It's been an unbelievable experience. Even though it's been almost two weeks since the race, it still hasn't fully sunk in. It's been amazing to see the support from my friends and family and to understand what this victory means to them.
"As for my recovery, I'm still sore, but my muscles are slowly improving. I pushed myself to the limit during the marathon, and my calf was particularly painful. But, it's getting better, and I know it will take some time to fully heal to be ready for more challenges. 
"Fortunately, I had planned to take a break from racing for the rest of the year, so I have enough time to rest and recover. Dealing with jet lag and a cold adds to the recovery, but I'm not too worried about it. I'm just focused on enjoying this moment of success and celebrating with everyone who has been a part of it."
Some people suggest that you should be considered for the Sports Personality of the Year award. What are your thoughts on that?
"That would be incredible. It's a real honor to be invited to the event, which has only happened to me once. Our sport is relatively niche, but I'm determined to promote it and push it into the mainstream as much as possible.
"It would be amazing to be mentioned in the same category as the Sports Personality of the Year. I understand that long-distance triathlon still has a way to go before gaining broader recognition, unlike Olympic distance triathlon.
But we're making progress, and who knows—things may change one day. The award ceremony is in December, so we'll see what happens."
Your husband's father-in-law had a boxing career in the past. Has he been an influence down the years?
"When I met my husband, Reece, I got to know his family and saw Dean's background in boxing. It was fascinating to see their makeshift boxing gym in their house, which we now call the Pain Cave. Initially, it was old-school, with sawdust and essential equipment. Over the years, we transformed it into a triathlon gym with sponsored equipment like bikes, treadmills, and an endless pool.
"It's been amazing to witness the shift from boxing to triathlon for Dean. He did his first-ever half-Ironman in 2019, and that experience gave him a deep appreciation for how challenging this sport can be.
"His respect for our training grew, motivating us to enhance the gym with modern equipment. So, we've taken over their boxing ring and turned it into a triathlon training hub."
You've mentioned that Kelly Holmes was your idol when you were growing up. She won two gold medals in the 2004 Olympics, the same year you won county swimming championships. Was that a defining moment for you in terms of pursuing a future in sports? 
"Absolutely. As a child, I had that dream of competing in the Olympics. Watching athletes like Kelly Holmes win gold medals was incredibly inspiring. I wanted to emulate their success. I had some early success in swimming, winning county championships at nine and then making it to national championships at a young age.
"But it took time for me to climb up the rankings. I finally won my first national title at 16, giving me hope of making it to the Olympics. I even got selected to try open-water swimming, including the 10k marathon swim. I had the opportunity to participate in the Olympic Test event in London's Hyde Park, which made me feel like I was getting closer to my dream.
"Unfortunately, I missed out on qualifying for the Olympics. Having British athletes like Kelly Holmes as role models fueled my desire to pursue Olympic dreams. But once I discovered triathlon and Ironman, I realized how amazing and inspiring these sports can be. Unfortunately, they don't receive the same level of coverage in our country."
How difficult was it for you to give up on your swimming aspirations?
"Looking back now, one of the hardest things was feeling that I had let my parents down. They had dedicated so much time to me when I was a child, driving me to and from the pool and setting an alarm to take me to training sessions.
"But I also felt guilty for my younger self who had dreamed of Olympic success. So, giving up on that dream felt like I had let her down too. Olympic success may have been too far out of reach for me in swimming.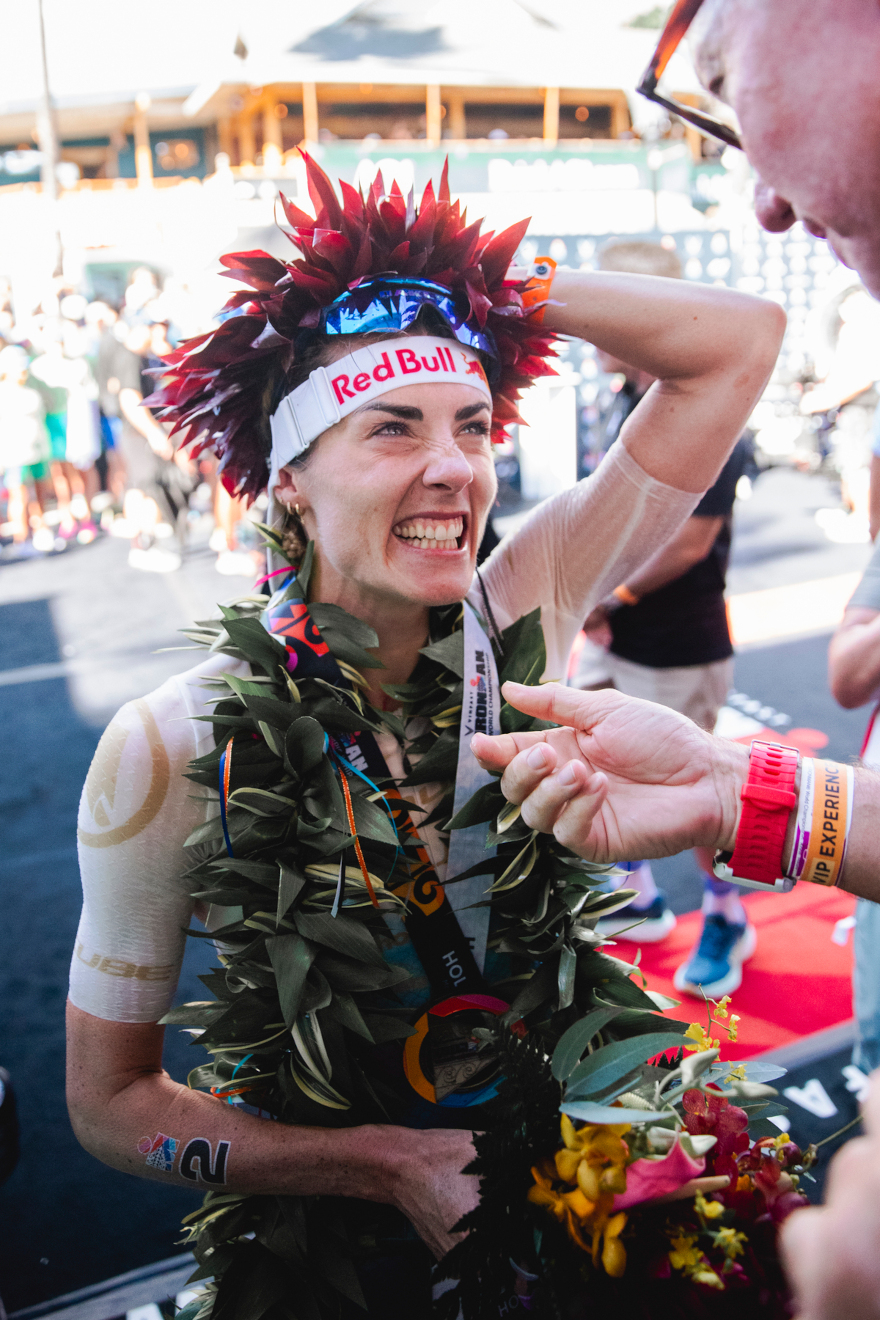 "But now, having had success in triathlons, winning three different world titles, and becoming one of the best athletes in the sport, I never would have imagined this when I started triathlons. It was just something that I wanted to dedicate myself to and have fun with after feeling disappointed about swimming.
"I only really came into this world to try and bounce back from the disappointment of leaving swimming and find something I could dedicate myself to again. I never expected to be good at it, so it feels like I've had a second chance at sport."
I looked through your Instagram for research and noticed you spent time at Paradise Wildlife Park in Broxbourne? Can you tell us the story behind that?
"When I stopped swimming, I needed a job to earn money. I was around 19 or 20 then and remember seeing a marketing position in a zoo. The zoo, coincidentally, was the same wildlife park where my parents had their wedding reception.
"As a child, I had visited the park a few times and loved it, so I applied and got the job. While working there and learning about marketing and social media, I needed a dedicated goal to work towards. That's when my husband and I decided to sign up for an Ironman as a challenge to ourselves.
"The zoo fully supported me in training for it, and after completing the first race, I was hooked and wanted to get even better. Looking back, that job provided me valuable experience in marketing and social media, which has been instrumental in pushing my platform as a professional athlete."
Being a professional athlete in triathlons is relatively niche, and building your brand is essential. Were you aware of that when you started turning professional?
"I've always enjoyed taking lovely photos and sharing my work on social media. But I never realized how important it would be in building my platform as a professional athlete. It has allowed me to showcase the brands I work with and how they organically support my training.
"Even in the early stages of my professional career, I was fortunate to have some significant brands work with me. It has been a massive part of my career, and I'm glad I enjoyed doing it naturally."
When did you first come across an Ironman, and how big of a shock was the transition with two additional elements of fitness required?
"Running came naturally to me, as I had some experience with cross country and athletics in school. But, I was at a high risk of injury in this area because swimming is a non-impact sport, and my bones weren't used to pounding the pavement. I had to learn that I couldn't apply the same training philosophy from swimming to running.
"Cycling, on the other hand, was a different story. I was terrible at it in the beginning. I would fall off my bike and have no idea how to ride. It was a shock to go out on the road and cycle.
"That said, I did enjoy it—especially when I went with others because it became a social training experience. It was completely different from just swimming back and forth in the pool. I knew I was a complete novice and had to learn skills like clipping into pedals, which I needed to be more confident with. But because my swimming engine eventually translated well into cycling, it became easier for me over time.
"When I first mentioned doing an Ironman, people thought I would excel in the swim but questioned the rest of the day. In my first Ironman, I led out from the swim, even passing some of the pros who started before me.
"But then I spent the rest of the 11 to 12 hours being overtaken all day. This experience motivated me to improve and ensure I wouldn't be overtaken throughout the race. It was a steep learning curve, but it pushed me to improve."
Did that first race make you realize if you trained hard and maximized your bike and run, you could seriously compete?
"Considering the Ironman in Bolton isn't known for being a fast course, many people I trained with at my local triathlon club acknowledged that I posted an excellent time for a novice athlete who didn't quite know what they were doing. This made me feel confident in my abilities and showed me that I have what it takes to be successful at this sport. But more than anything, I loved it.
"While I had competed at a high level internationally and nationally as a swimmer, finishing my first Iron Man gave me a buzz like nothing else. I experienced a sense of excitement that made me want to feel it repeatedly—and it was then that I became hooked on the sport.
"As I prepared for my second year of competition, I took my competition very seriously. I would look at every single woman I was up against and stalk their online profiles to figure out their potential and if I could beat them. This taught me about Kona and inspired me to compete in world championship championships.
"During that second year of competition, I made significant progress, taking over an hour off my previous time. That was when I decided to dedicate myself to training and making the jump, knowing that I could be good at this sport.
How many hours do you spend in your 'Pain Cave' while training for an event?
"When training for Kona, I would train three times a day. I trained solely at home for six weeks this year during this particular block.
"All of my swimming was at the London Aquatics Center. So, if you take away the swimming time, which was probably six to seven hours a week, I was doing nearly 30 hours of training in my pain cave over the same period..
"Throughout the year, I have periods where I feel absolutely exhausted and too tired to train. But during that particular block, when the alarm went off, I was determined to get up and train. I had a clear goal in mind, which made it easier. The event was only eight weeks away, so I knew I needed more time to push myself.
"It was really tough, though. Training at home was harder than training at a camp abroad. I thought it would be a mix of easier and harder, but being at home made it more challenging. I was highly regimented, going to bed at eight and waking up at five every morning.
"But in the end, it paid off. This year, I had trained hard but had yet to achieve the results I wanted in races, so I was curious if this training block would work. Looking back now, I realize that it did work, and it'll be easier next time because I'll trust the process and know it will lead to results.
You've finished 2nd in 2017, 2018, 2019, and 2022. Did you learn something from each of those second-place finishes that helped you win this year?
"Each race was a different experience for me. In 2017, it was a surprise to finish second because I had a rocky period leading up to the race. I couldn't run for eight weeks due to an unknown hip issue, but when I got to Kona, I could start running again. I thought I would struggle on the run, so coming second was a massive surprise. It motivated me to work harder and strive for a clean race where I could win.
"2018, I had a really good race, but I finished second again, just 10 minutes behind the winner. It was disheartening because I didn't know how to improve by 10 minutes, even with a good result.
"In 2019, I was proud of my race. I led for most of it but got overtaken near the end. But, I didn't give up and overtook another competitor to secure second place. This experience cemented my determination to push until the very end.
"Then we had two years without the race due to COVID, and I also had to miss another world championship due to injury. It was a challenging period leading up to the 2022 race. I didn't have high expectations, mainly because of a hip stress fracture. Just being able to participate was a win, and finishing second again was a pleasant surprise. I felt like I needed a clean run to finally win the race.
"Going into this year's race, I broke my foot in May, which was not great. I trained hard all year and was eager to see the results of my efforts. I had confidence in my training but needed to be more confident about winning. I just wanted to execute a race that I deserved.
"During the race, things started to come together, and this may be the year. I had a minor injury a week before the race, which affected my confidence. But I persevered during the run, even through the pain, knowing this might be my chance. 
"Before the race, I even told my friends that I might consider being done if I didn't win this year. So winning was a huge relief, and everyone on my team was thrilled and proud of my achievement."
If you didn't win this year, would you have gone back to work at the zoo?
"I don't know, but I know working at the zoo is a less stressful life than I have. Sometimes, I think about having a simple nine-to-five job and how appealing that seems, even though I know I couldn't do it deep down.
"The night before the race in Kona, I remember feeling like my job as a triathlete was ridiculous. I questioned why I put myself through the brutal and grueling day of suffering that awaited me. But when everything comes together, and I achieve success, it makes all the hard work and sacrifices worth it."
How often have you watched and replayed the moment you crossed the finish line?
"It's definitely still sinking in. I've watched the video of crossing the finish line many times, but my brain still doesn't fully process that it's me in the video. That I achieved the fastest time ever is mind-blowing, especially because I wasn't even thinking about the time during the race. It will take a while for me to realize what I accomplished."
Now, it's time for a well-earned rest?
"I owe myself to take some downtime, let everything sink in, and thank everyone who has been part of my journey from the beginning. I want to celebrate with them and enjoy a lovely Christmas while my body and mind recover. It's been a challenging year, and I've put in so much work.
"But, I'll start getting back into training next week to avoid it being a mountain to climb to get back to fitness for next year. I need to plan my season for next year, as there are so many exciting opportunities for racing.
"My motivation to stay in great shape is present, although my husband goes crazy because I'm bad at resting and not doing anything. I always want to organize every part of the house or stay busy. But I'll rest as much as possible before getting back into training. I've definitely earned a rest at the moment."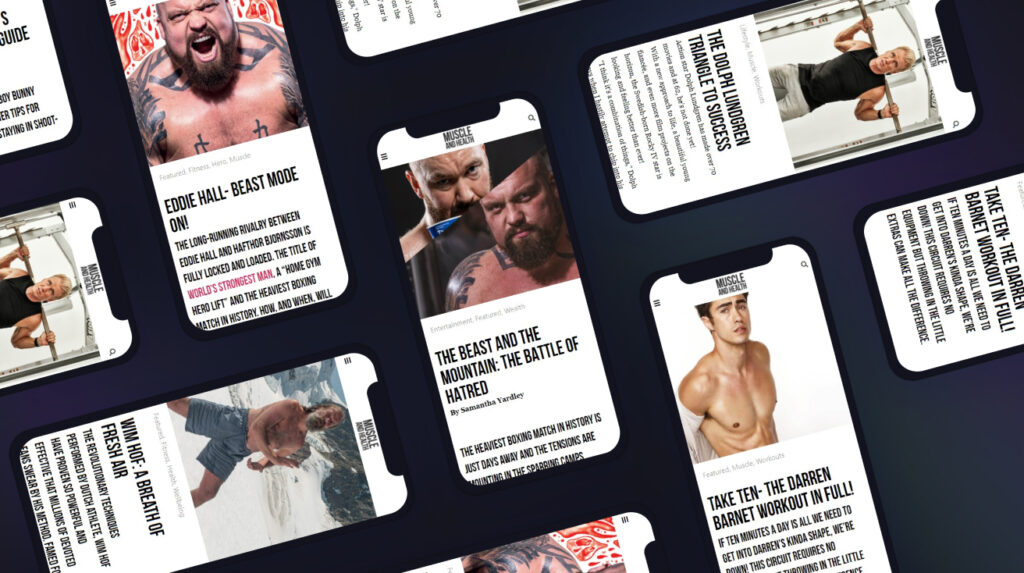 get all the latest mucle, health and wealth news delivered straight to your inbox