by Samantha Yardley
Follow this tried-and-tested workout regiment designed by world-renowned celebrity trainer Magnus Lygdbäck, to achieve a chiselled physique worthy of the big screen.
Magnus Lygdbäck is responsible for honing the finest bodies in Hollywood and has achieved world-class notoriety after working with superstar celebrities across the globe. His impressive resume boasts everyone from the
likes of Gal Gadot, Alexander Skarsgård, Ben Affleck, and James McAvoy to name but a few.
His unconventional but highly respected scrupulous methods have achieved acclaim throughout La La Land for producing the absolute best bodies on screen. His extensive approach tackles not only a traditional workout structure, but also incorporates a rigorous focus on everything from nutrient intake and timing, rest, mindset coaching and even a bodybuilding-style posing critique on set, to achieve optimum emotion and drama from the actors' movements and muscularity that's captured on screen.
You may have caught our feature delving into Magnus' awe-inspiring mindset last issue. This time, we go one better by revealing the workout responsible for the jaw-dropping movie star body transformations that resulted in his own rise to fame.
Follow the plan that benefits from Lygdbäck's years of experience for an all-over body bump that will build muscle and strip fat to reveal a body fit for a Hollywood blockbuster.
Magnus Lygdbäcks' Daily Breakdown

DAY 1: LEGS AND CORE
Warm-up on treadmill 5-10min
Intervals 60sec sprints max speed, rest 60sec. 4-6sets
Squats with barbell, 6 pyramid sets , 12,10,8,6,4,10reps
Deadlifts 4 sets, 8-10reps
Leg press 4 sets, 8-10reps
Lunge 20reps 3
Skaters 20×4
Core Dragon raises 4sets, 15reps
DAY 2: CHEST, FRONT SHOULDERS AND CORE
Warm-up 10 min bike
Flat bench press 6 pyramid sets 12,10,8,6,4,10
Incline chest press 4 sets x 10 reps
Cable cross fl yes 4 sets x 10 reps
Military press 3 sets x 10 reps
Oblique circle
Switch blade with rotation 60sec straight into:
The penguin 60 sec straight into:
Side dipping 30 sec on each side, 4 sets
DAY 3: BACK, BACK SHOULDERS AND CORE
Warm-up rowing 10 min
Lat pulldowns 4 sets x 10 reps
Row 4 sets x 10 reps
Straight pulldown 4 sets x 10 reps
Reverse fly 4 sets x 12 reps
Lateral raises 5 sets x 12reps
Stir the pot on Pilates ball 60 seconds x 4 sets
DAY 4: ARMS AND CORE
Warm-up 5 min treadmill
Hamster on treadmill 2 min, 1 min rest x 2 sets
Alternating bicep curls 4sets x 8 reps on each arm
Double biceps curls 4 sets x 10 reps
Skull crushers (French press) 5 sets x 10-12reps
Superset biceps curl in cable 4 sets x 10 reps straight into:
Triceps pushdowns with rope 4 sets x 10 reps
Dragon raises 4 sets x15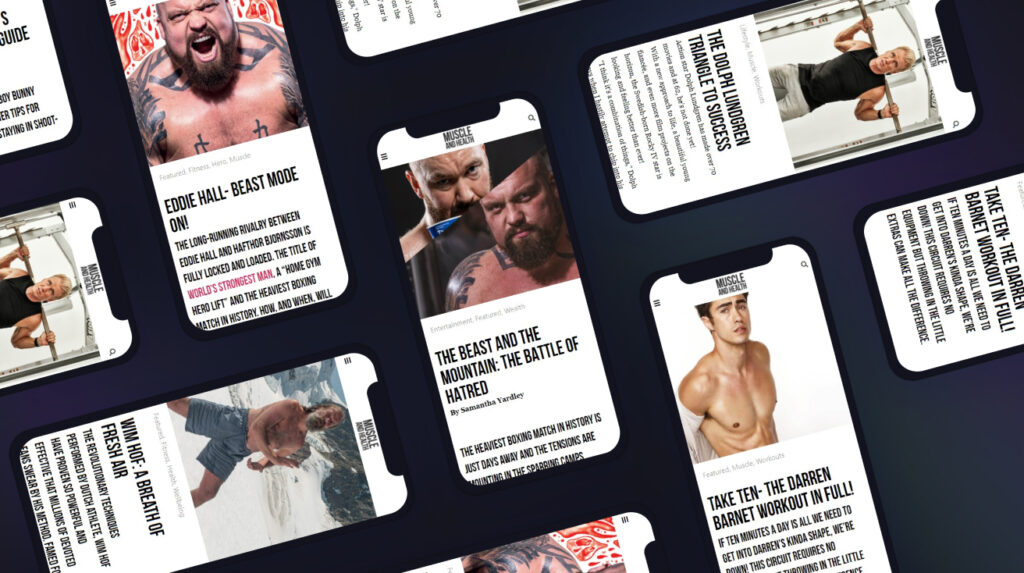 get all the latest mucle, health and wealth news delivered straight to your inbox