By Jack Franks
"I was 15 and had just rented a bedsit above Shanghai Shuffle Karaoke Bar in Glasgow. Nobody buys your food for you at the end of the week."
It's hard to believe the journey Steve Rinaldi has been on.
Fiercely driven and independent, Rinaldi has risen from an aspiring bodybuilder working as a mortgage advisor to the CEO of a rapidly expanding global weights and fitness equipment company.
It's taken six years for PRIMAL STRENGTH to develop from a start-up fitness brand to one of the fastest-growing in the industry.
Founded in 2016,  PRIMAL's mission is to equip everybody to discover their potential, and they believe that strength is within us all. The cutting-edge strength brand has the expertise to support anyone through their fitness journey.
Steve personally designs each piece of equipment, using premium and innovative technology and the highest quality materials to ensure optimum functionality, durability, ergonomics and aesthetics.
PRIMAL is also the go-to for major sports clubs, with the team designing and fitting state-of-the art-athlete centers for various top clubs, including Steve's team, Celtic.
On its commercial side, it counts high street gyms JD Gyms and UFC Gyms amongst its client base.
In 2022, the brand sold 36,500 pairs of dumbbells; 48,648 weight plates and installed 704 gyms.
PRIMAL is one of the fastest-growing strength and fitness brands in the UK, expanding rapidly overseas across Europe, South Africa and the United Arab Emirates.
Muscle and Health spoke to Steve in the depths of the St. Margaret's Gym in Twickenham ahead of a PR day aimed at growing and promoting the PRIMAL Strength brand.
You have a background in bodybuilding. Can you tell us a bit about that passion?
"It was a long time ago! I was 15 when I left school and was the top athlete in rugby and athletics. I wasn't big enough to play men's rugby, so I started getting into weights at that stage.
"At around the age of 17, I was training in the gym, and one of the more experienced guys came into the gym and said, "You should compete in bodybuilding." I looked at him and had no idea what he was talking about! He took me to a local bodybuilding show, and the next year I entered a BNBF (natural bodybuilding) competition. I won Junior Best of Britain. That was a jump into the unknown, and I was quite successful."
"I got hooked on it. I ended up working as a mortgage advisor for RBS, but there was no passion when you were into strength and fitness training as much as I was. I went on to join a fitness company, and it went from there."
You left your family home when you were 15 and went it alone. That must have been a challenging period.
"I was 15, just turning 16, and I rented a bedsit above Shanghai Shuffle Chinese Karaoke. It cost me a couple of hundred quid a month. I was working as a doorman to pay my rent, which I am not proud of, considering I was underage!
"But, I was a strong guy, and that was a way to make income to put myself through college.
"I had the mortgage stuff going on too, and I was fast-tracked when I joined the bank, so I think I had a good brain for business at a young age.
"I ended up doing sports performance at college, and, combined with my passion for strength training and knowledge of how the body works, I started to see how the machines and equipment work mechanically.
"I then had a pretty solid career with a Scottish fitness company before moving to an international company."
Do you think moving out when you were 15 and having to live independently giving you the mindset to go on and have a successful career?
"Yes. Without sounding too dramatic, nobody is buying your food at the end of the week.
"I had to get enough money to get to college, pay for my gym membership and eat the levels of protein I needed to stay in shape. It made me a very determined person.
"I think I was very lucky to meet the people I did in the fitness world, all of who mentored and molded me into the person I am today. They believed in me, and that made me try even harder to be a success. I've taken that mentality and ethos into PRIMAL, as I take the time to mentor quite a few of our staff, and we've given them equity in the company. Want to train them up and develop them into successful business people."
Covid struck in 2020 and was a horrendous time for many businesses. Did it have the reverse effect with PRIMAL regarding people looking to invest in home gyms and personal equipment? Was there an increase in sales?
"As horrible as it sounds, we did benefit. We did lose out on some of the bigger commercial deals we were working on at the time, so it wasn't good for us regarding gym chains or large independent gyms.
"But, when looking at the consumer side of things, it actually transformed PRIMAL into a complete strength business.
"We started working on our series and grew our consumer sector, and for two years, we didn't need to market as heavily because so many people were already engaged with the brand.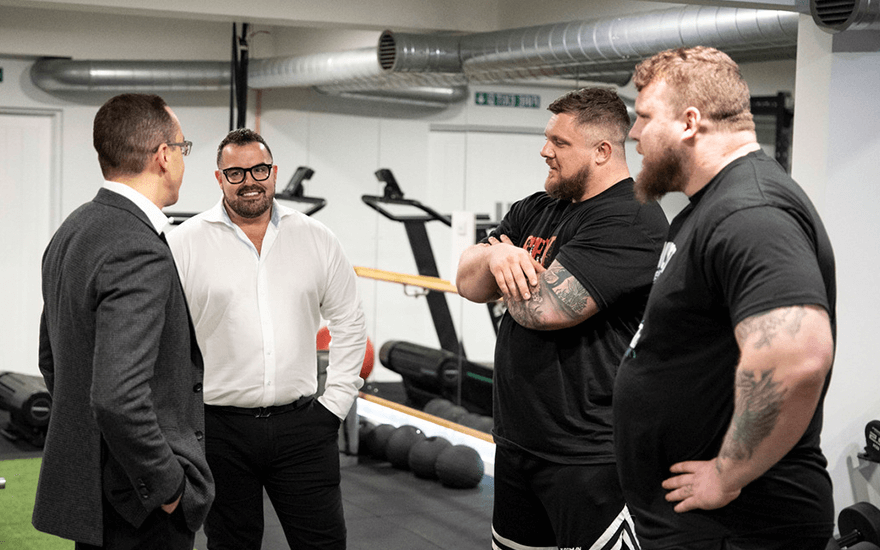 "There was a very healthy engagement rate on Instagram, and the business flourished during that period.
"Gyms then began to re-open when Covid measures started to lift. Because many of the gyms we dealt with were independent gyms, their members supported the gym.
"The gym then reinvested in their clubs. So where it was safe to do so, we would then go in and refit a club.
"That saw the commercial side of the business begin to grow during the second year of Covid rapidly. We were very fortunate in what was a terrible time."
PRIMAL has a lot of big brand partnerships, including Celtic Football Club, INEOS and the BBC, as well as several high-profile brand ambassadors. How important are they in terms of growing the brand?
"In the social media-driven world we live in now, it's absolutely massive.
"PRIMAL is based in Glasgow, and we actually work with both Celtic and Rangers. That started with a conversation I had with a coach at the club. He told me to pop up and see him at the club's training complex at Lennoxtown, which housed both the first team and younger players."
"I asked him specifically about the Academy players and their training facility. I asked to see the setup, and it clearly wasn't at the level it should have been.
"I proposed to Celtic that PRIMAL fitted out their Academy gym, which has since grown into a formidable partnership.
"We now have a PRIMAL performance center at Celtic which is a phenomenal space for the first team, and we are just about to create a new set-up for the academy and ladies' team. That has led to working with Rangers, Motherwell and Chelsea, and various other sports clubs. At some clubs, we don't do the full fit-out but put in more specialized machines tailored to the needs of the players." 
"In terms of the ambassadors like the Stoltman brothers, we worked with them back in 2018 when they had a small gym, supplying some racks and bars, but PRIMAL was a smaller company, so we didn't have the marketing budget to become partners in the same way we have now.
"Zack George came to us and asked us to redesign his box, CrossFit BFG, in Leicestershire. We gave him an incredible space. He's a great ambassador for us.
"When we say strength is in us all, we are not just looking for the best athlete, but the complete people. Zack's story is really, really inspiring.
"Tom's (Stoltman) story is the same, and, as I mentioned with Celtic, we've worked with the academy and seen some of the players who developed in our gym move to Premier League clubs.
"I think that's the most significant part of it for me. When you see PRIMAL genuinely empowering people and improving their lives, that's big for me.
"I think everybody took from lockdown that we needed to exercise more, whether running, strength training or something simpler like walking. It massively helps with your mental health.
"To own PRIMAL and be one of the big companies responsible for empowering people to train gives me a massive buzz."
What are your plans for the future of PRIMAL?
"Our goal is to be the biggest strength company in Europe. Some giant-strength companies are in the US, so we need to be realistic.
"We've been fortunate with European distributors and branching into Dubai and Africa. We want to grow the best-strength brand.
"This year has been great so far in defining the PRIMAL stand. We are just about to launch our new website too.
"During Covid, we launched the home side of things, so we now have three core ranges. The personal series for our home consumers, the pro series for spaces like PT studios, and the performance series for the elite clubs and big chains. The brand currently covers the full array of strength."
"I want to take that into all the other counties outside of the UK, which we are proud to have as our main market."
If someone is looking to start a business, wants to become an entrepreneur, or has a vision, what's the one nugget of advice you would give them?
"For me, it's finding an emerging market that you can put your stamp on.
"So, if you take fitness, when I started thinking about PRIMAL in 2015, gym floors had 30-50 treadmills and a tiny strength-focused area.
"Look at CrossFit in 2015. There might have been one box for a hundred miles.
"Look at bodybuilding gyms, lots of them from the eighties, and we could see more and more guys and girls saying the spaces were too cramped and that there wasn't enough equipment.
"I spotted a gap in the market. I can change the gym floor. I can design better spaces, bigger weight areas and more functional pieces. I can create more connected communities because people can train together in groups.
"I had a pretty solid background in brand building with the sports nutrition company I previously worked for, so I took the things I learned there and applied it to the market gap and PRIMAL.
"That's the starting point. What do you have that's different from a competitor? How do you make it better? How do you then engage an audience? Then, how do you continue to keep them engaged?
"For PRIMAL, that's making sure we are designing the best kit, but we're also coming up with new concepts, new equipment, and we're not resting on our laurels.
"For example, when I felt we launched the best rack on the market in 2016, we didn't stop at that version. We are now on version five because we want to continue to improve it and make it a better product.
"I know it's very easy to say this now, having the business I have, but you don't need an incredible amount of money because you can start organically."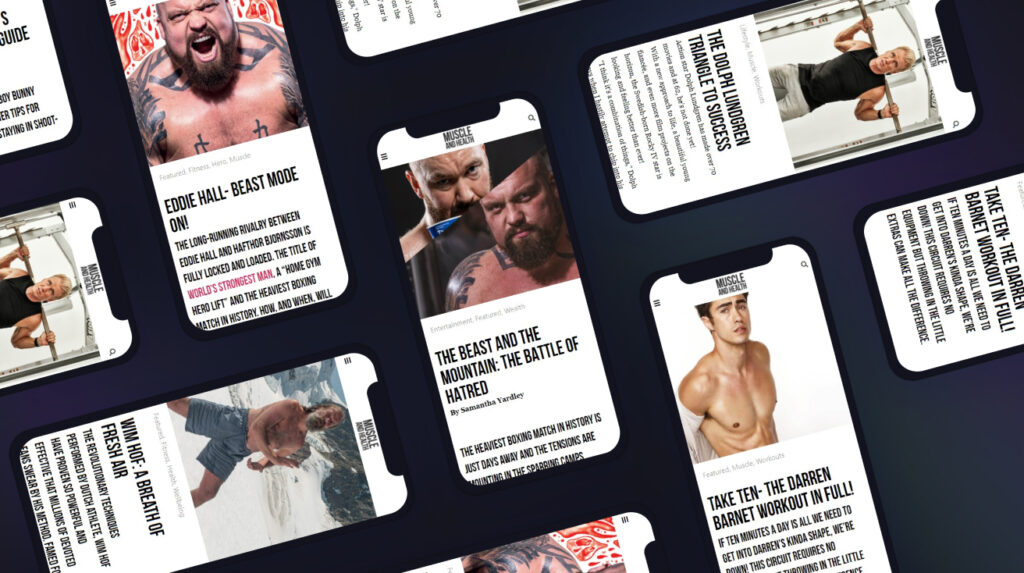 get all the latest mucle, health and wealth news delivered straight to your inbox