by Samantha Yardley
Illustrious chef Marco Pierre White is famed across the globe for swanky, decadent dishes to tantalize every palette. Dubbed the very first celebrity chef, Marco is famed for training the likes of Gordon Ramsay and Heston Blumenthal and became both the youngest and the first British chef to receive the highly coveted three Michelin star status.
In a Muscle and Health exclusive, he turns his hand to vegan recipes. Uncharacteristically forgoing his usual love affair with all things cream and butter, to provide you with three dishes that not only deliver on taste but score high on health-boosting nutrition too. So, let's see the Marco Pierre White recipes…
TRADITIONAL BRUSCHETTA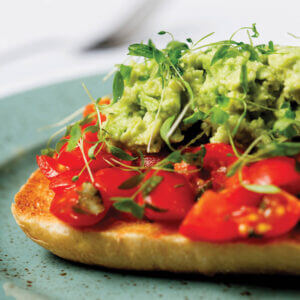 For the bruschetta
Ingredients:
Sourdough loaf – 1 per person
Micro basil – Pinch
Bruschetta mix  – 2.5oz
Avocado – 1/2
Lime wedge – 1/4 wedge
Maldon sea salt – Pinch
For the topping
Ingredients:
Extra virgin olive oil –  0.5fl oz
Shallots, diced – 1oz
Piccolo cherry tomatoes – 2oz
Maldon sea salt – Pinch
Cracked black pepper – Pinch
Garlic, crushed –  1
Basil, chopped –  Pinch
Balsamic vinegar, 10-year-old – Splash
Method:
1. Slice the sourdough and toast under the grill.
2. Using a fork or the back of a spoon, crush the avocado with the lime juice and salt to taste.
3. Top the toast with the bruschetta mix, crushed avocado and micro basil.
MR WHITE'S CHICKPEA AND MANGO CURRY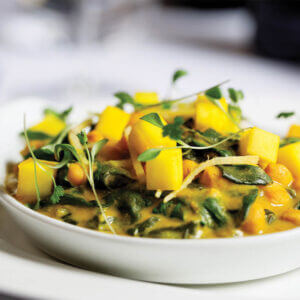 For the curry sauce
Eating apples –  3.5oz
Banana – 2.5oz
Pineapple – 12.5oz
Onion – 1oz
All-purpose flour – 1oz
Mild curry powder – 0.5oz
Madras curry powder – o.5oz
Turmeric – o.5oz
Coconut, desiccated –  1oz
Vegetable stock pot – 1
Boiling water – 1.75pints
Bay leaves – 1
Thyme – Pinch
Cloves – 2
Maldon sea salt – Pinch
Olive oil – Splash
Method:
1. Wash and core the apples and cut into very fine slices. Peel the banana and cut into rounds. Remove the leaves from the pineapple, peel and core it and then cut the flesh into very fine slices. Peel, wash and chop the onion finely.
2. Add a little oil to a pan set over a low heat. Add the onion and sweat until soft. Put in the fruit and cook gently for ten minutes. Lightly brown the flour in a hot oven and sprinkle the mixture in the pan, add the curry powder, turmeric and coconut and mix well with a spatula.
3. Combine the vegetable stock with the boiling water. Pour in the stock and lower the heat and simmer gently for one hour, skimming the surface as often as necessary. Add bay leaves, thyme and cloves after ten minutes cooking time. Season to taste with salt.
4. Pass the cooked sauce through a sieve into a bowl to remove bay leaves and cloves. Store until ready to use.
For the curry
Ingredients:
Spinach – 14fl oz
Chickpeas – 21fl oz
Olive oil – 1fl oz
Maldon sea salt – Pinch
Cracked black pepper – pinch
Long grain rice – 1 packet
Root ginger – 0.5oz
Micro cilantro – Pinch
Mango – 4 oz
Method:
1. Drain and wash the chickpeas.
2. Heat the curry sauce in a pan and add the chickpeas and spinach. Finely slice root ginger into thin matchsticks, blanche in 1fl oz of water until soft (approx. 30 seconds), then remove ginger and add cooking water to curry with diced mango.
3. Cook rice according to packet instructions.
4. Plate rice, top with the curry and garnish with ginger batons and micro cilantro.
STUFFED EGGPLANT À LA MAROCAINE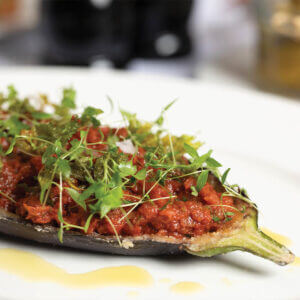 For the eggplant
Ingredients:
Eggplant – Half per person
Crispy celery leaves – 6 leaves
Olive oil – 0.5fl oz
Maldon sea salt – Pinch
Micro parsley (flat leaf parsley works fine too)  – Pinch
Vegetable oil – o,5fl oz
Method:
1. Deep fry celery leaves in clean oil.
2. Cut one eggplant in half, scoop out inside and dice.
3. Quickly fry the flesh and bake the skins for 10 minutes at 340F until tender.
4. Combine the fried flesh with the Imam bayildi and spoon into the eggplant.
5. Garnish with celery leaves and micro parsley.
For the filling- 
Ingredients:
Eggplant – 1
Tomatoes, concassed – 2oz
Red onions, diced – 5.5oz
Ground cumin – pinch
Ground all spice – pinch
Cayenne pepper – pinch
Paprika – pinch
Golden raisins – 0.5oz
Passata, bottle – 5fl oz
Garlic clove – 1
Olive oil – 0.5fl oz
Mint – fine chiffonade – 0.5oz
Cilantro. – o.5oz
Method:
1. Neatly dice the eggplant to about 1.5", sprinkle with a good amount of salt and leave for ten minutes, then rinse. Pat dry and fry until golden brown in olive oil.
2. Dice the onion to the same size and sweat slowly in olive oil, then add the spices and gently fry; do not color.
3. Blanche the tomatoes in boiling water for one minute and refresh in ice water. 􏰎eel the skin and remove the seeds. Finely dice the flesh.
4. Add the golden raisins, tomato passata and cook gently for 20-30 minutes.
5. Add tomatoes, chopped herbs and more olive oil to the prepared eggplant, and season.
Hope you enjoyed those Marco Pierre White recipes. For more power-packed recipes to help keep you in top shape, check out the
FOOD
 section of the Muscle and Health website.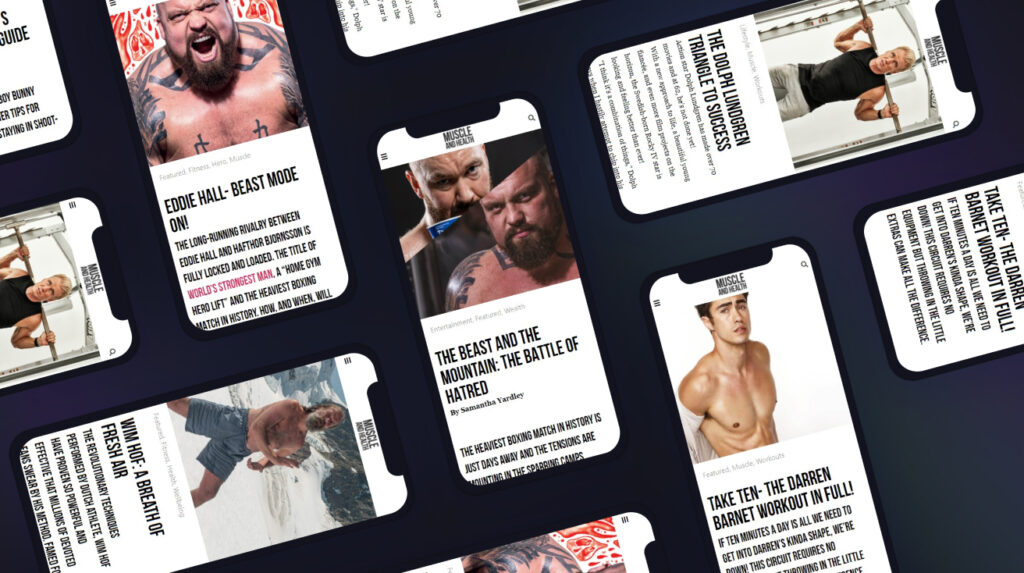 get all the latest mucle, health and wealth news delivered straight to your inbox