By Samantha Yardley
Photography: Ben Cope
Stylist: Anna Schilling
Grooming: Michelle de Milt 
HULU's Prey actor Troy Mundle gives a standout performance in the Predator franchise as Spyglass, a role that's cemented his meteoric rise to fame and as one to watch out for in 2023. With a string of exciting projects coming up to add to his creative bow and a charming Christmas tradition to share with Muscle and Health readers, we managed to grab fifteen minutes with the bilingual actor to find out more.
Congratulations on an epic performance in Prey! Did you anticipate the film being such a blockbuster success?

20th Century Studios
Thank you! Thank you for watching, and I'm glad you liked the movie! At the time, we all knew that we were part of something special, but I don't think any of us could have imagined how successful it would be. You just never know how a film will be received critically or by audiences. The response has been surreal and I'm very excited that it has been so well received. I feel so very fortunate to have been part of the team to help tell this story.

Did you feel any pressure coming on board such an iconic franchise?
Absolutely. I feel pressure every time I'm brought onto a project. The director and producers have entrusted you to bring this character to life and help tell their story, and I take this very seriously. That being said, with this being my first big-budget film, the pressure was jacked pretty high. 
Was there a standout moment you could share from filming?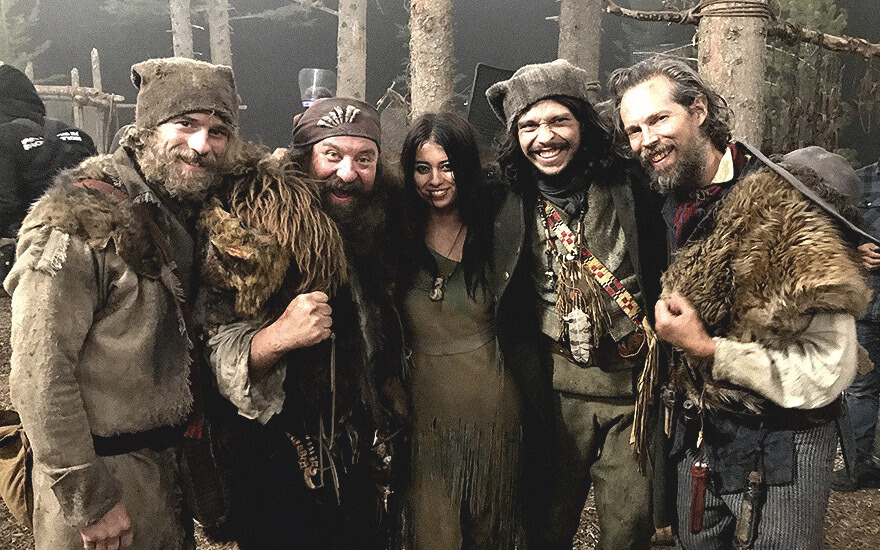 One moment specifically comes to mind. We would have been filming the scene where I'm atop a hill overlooking the glade with my telescope. Keeping an eye on Naru (Amber Midthunder) and Taabe (Dakota Beavers), waiting to spring our trap on the Predator. Dan and Jeff were waiting for very specific lighting, that golden hour at the end of the day before dusk. We had rehearsed and blocked the scene and were waiting for that moment of perfect light. During this time, Rambert (Stephane Schroeder) and I stayed in our positions, and I had the chance to look out over the Glade set: The sun was setting with the majestic Rocky Mountains in the background, crew buzzed about making final preparations… I just took a depth breath and thought, "Remember this moment."
What's your dream character you'd love to get your teeth stuck into?
It's so hard to narrow it down to just one. I do have a fondness for period pieces. I would love to be cast in a WWII film, a Gladiator-style film, a Western, 18th century or medieval piece; the list goes on. I would also love to be cast in a British film or series or a French film. And if that weren't enough, I also aspire to continue doing theatre. Does that answer your question? 
Can you provide a teaser for your upcoming movie, An Amish Sin? And the subsequent movie Bones of Crows?
We can do better than that; we can have a full-on conversation as An Amish Sin just aired on Lifetime this past Saturday. 
An Amish Sin is a heartbreaking film about an Amish teen, Rachel (Dylan Ratzlaff), who is being forced to marry her childhood abuser by her parents. She finds the strength to escape, only to be caught and sent to a reformatory where she is taught the errors of her ways. She slips away from the reformatory and makes her way to a neighboring town for safe haven. It's a beautifully written piece by Michael Nankin and Barbara Nance and inspired by Joanna Yoder and other first-hand accounts. It's a film meant to inspire and give strength to those who have endured abuse, in hopes they too, can speak out and find the help they need.
Bones of Crows is a film written and directed by Marie Clements and tells the story of Cree Matriarch, Aline Spears, who survives the residential school system in Canada and later becomes a code talker during WWII. The film Bones of Crows premiered at the Toronto International Film Festival and opened the Vancouver International Film Festival this year. There is also a more in-depth five-hour mini-series that will be premiering on CBC in 2023 that will tell a more in-depth story of Aline's family history looking back over the last 100 years. I will be appearing in the mini-series in 2023.
Are there elements of each character that you enjoyed portraying or could relate to
?
Levi, from An Amish Sin, is such a departure from who I am as a person. Certain aspects of his personality were very hard to digest. Levi does love his family dearly and tries to do his best, in his eyes, to keep them on a pure path to God. Levi is a devout and religious man of the Amish community. I was raised Catholic, in a Catholic community in a small town in Québec. I understand what church life is like and was able to draw upon that for certain aspects of his character. That being said, that's wherein the challenge lies as an actor. You often play the roles of characters that differ from your personal beliefs. You can't judge the character and avoid playing those aspects of their personality that you don't like or agree with or you're doing a disservice to the story. 
Regarding my character for Bones of Crows, I can't divulge too much at this point. I can, however, tell you that I did struggle with him.
What's your favorite role to date?
I really enjoy taking on complex, challenging roles. I've had the opportunity to play some very interesting characters over the years. To date, one of the more challenging roles was one of my most recent, going back to playing Rachel's father, Levi, in An Amish Sin.
Stating again how devout and religious this man is. He loves his family deeply but is torn between doing what's right for his daughter and what he thinks is right based on his belief about ensuring his family lives a proper life in order to reach heaven. It's a very difficult position to be in and he struggles with doing what he feels is right. I wanted to bring that complexity and struggle into playing Levi otherwise he basically becomes one note. Without giving too much away, Levi does in fact, have quite the character arc. Things don't remain positive for long though and at the end of the film we see a very broken man, who has realized that he has made some very wrong choices and really has no one to blame but himself as he tries to make amends.
We'd love to hear more about your creative process when "breathing life" into your art
My process is ever-evolving and changing. I'm always pursuing the truth in performance and how to best achieve that. The most fundamental part of my process is continually taking classes when I can. I had made a promise to myself that I was either going to be working on set or taking classes. To seek out the best teachers in the world, study with them, learn their techniques and implement them into my process. I've studied with Patsy Rodenburg, Larry Moss, Bruce Clayten, Nancy Sivak, Ben Immanuel, and currently with Michael Monks to name a few and I can tell you. Each one of these teachers has contributed to my current process.
I'm very thorough with my lines too, I'm one of those people who has to really work on them. The more I rehearse the lines the more I can be free of them and with them. That may be contrary to what some people may think: They may think the lines will become stale after so much repetition – it's the opposite for me. When you're not trying to hold onto your lines by your fingernails, you have so much freedom to explore and play on the day. Going through the text line-by-line and reading the script as often as I can to mine it for any new details or clarification on meaning. I'm also a fan of back stories. In addition, I'll also watch as many documentaries and films on the subject as well as trying to live as much as the character as I can. Anything that I can do to help make my performance more truthful to the character.
The story of your mother knitting clothing items throughout the year for you to distribute to the homeless on Christmas Day is so charming! How did this festive tradition come about?
Thank you, I'll pass that along. Knowing that will make her day. I know that many people have been interested in this since I finally decided to talk about it. It's been going on since Christmas 2018, however, I've avoided being too vocal about it and kept it on the DL until about three months ago. I think I've decided to open up about it to hopefully inspire people. People have no idea how much positive change they can incur daily with little or no effort or inconvenience.  It could be as simple as saying hello to a senior as you cross them on the street, you never know how lonely they may be or when the last time someone talked to them? That 'hello' can have such a positive impact. People are stressed to the max, inflation is at an all-time high, people are barely getting by financially, people are overworked. Just showing a little bit of patience and respect in the grocery store line, at the gas station, talking to a phone rep at the power company, can go a long way. 
Getting back to my mother's knitting. Because I live so far from home, the holiday season has always represented a time when everyone came back to celebrate the holidays and usually the only time, I can make it back to see family and friends. It's always been a special time of year for me.
A few years ago, after watching some dailies of a short film that I wrote that has homelessness as one of its subjects. My mother asked if there was anything that she could knit to help. As a bit of background, my mother loves to knit year-round and watch Christmas movies. I had told her that socks would be appreciated. That year, she knitted nearly 90 pairs of socks and mailed them to me in Vancouver. This particular year I was not going to make it home from Christmas, so when the socks arrived, I wrapped them in Christmas paper and labeled them wishing a Merry Christmas from my Mother and headed to the Downtown East Side of Vancouver to hand them out on Christmas Day. It was apparent when handing out the gifts and them knowing that it was made for them by a mother, it has a special quality to it. I had approached a tent with several youths inside and upon getting their gifts, one asked "Who's Doreen?" to which I responded, my mom, she made these and mailed them for you. To which they responded, "You tell Doreen she's priceless". Once my mom heard how she touched someone like that, she wanted to make more for the next year. We've done that every year since 2018. She's gotten more sophisticated with her handmade goodies, knitting headbands, fingerless mittens, wrist warmers and of course, socks. 
Does being bilingual and having a strong connection with France affect your creative side?
I think it does. I feel fortunate that I had the opportunity to speak both languages from a very young age. It's one of those cases where you have the ability to shape the vocal cords before the age of seven years with allows people to speak languages with little or no accent.  I think it's helped with my propensity to learn and speak new languages. I am able to communicate in Spanish and would love to speak at least five languages. There is also a certain 'joie de vivre' that I think exists not only in Québec and France but also any other of the Romance languages. Whether I have concrete evidence or not, I think it leads to a certain openness. It could be a placebo effect.
As a keen electric guitarist, what's your favorite genre of music to play?
Hands down, old school thrash metal. Specifically, anything by Metallica off their Kill Em' All, Ride the Lightning, Master of Puppets and Justice albums. I also like some Megadeth, Slayer and 90s grunge. I've actually changed my playing style over the last couple of years to match James'. Even changing to match his three-finger pick style. It was really awkward and weird at first, but now that I'm accustomed to it, I can't go back. It really has leveled up my down and alternate picking. Speaking of roles I'd like to play, if they ever do a Metallica movie, I'd love to have a shot at playing James Hetfield. 
Thank you very much for speaking with me, it was a pleasure talking with you!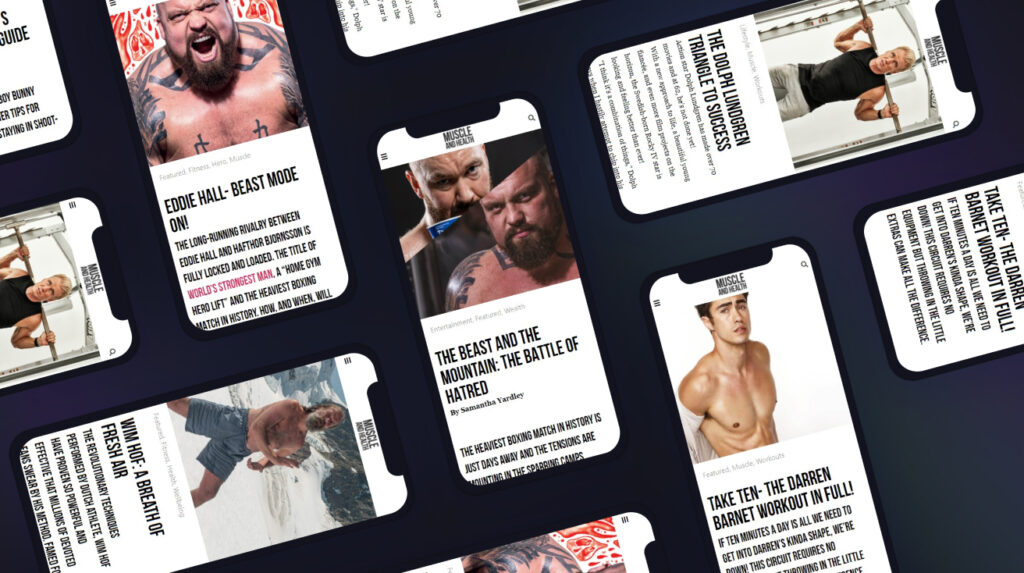 get all the latest mucle, health and wealth news delivered straight to your inbox