By Samantha Yardley
Photography by Peter Svenson 
Out now: Muscle and Health's Fall 2022 issue and gracing the cover is none other than heavyweight boxing icon Mike Tyson. We go blow-by-blow with the boxer-turned-marijuana mogul who's turned his penchant for recreational cannabis into a dope enterprise that's taking America by storm.
Mike Bites is the standout product of Tyson 2.0, Tyson's THC-infused line of edible marijuana merchandise that pay a tongue-in-cheek homage to the notorious '97 Evander Holyfield ear bite-gate that became inextricably linked to Mike's persona ever since.  
The innocent-looking ear-shaped gummies contain 10g of THC and pack a potent punch, as Muscle and Health's Editor-in-Chief, Danni Levy can corroborate. She took investigate journalism to the next-level during her LA tete-a-tete with the boxing great by sampling the line for herself.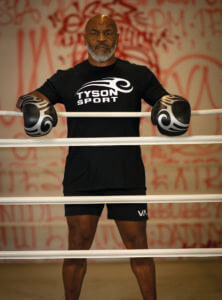 Tyson 2.0 launched in California in December 2021, and swiftly expanded nationwide to critical acclaim, collecting a cult following in the process. Now available in 19 US states and Canada, Mike and his team can't keep up with demand after going viral and selling out across all locations in record time. 
Mike looks set for global domination with this labor of love as he aims to bring marijuana to the masses. With cannabinoid products becoming more prevalent in mainstream markets and the world beginning to recognize the infinite possibilities for their medicinal usage, it seems Tyson 2.0 has capitalized on the perfect storm of a clever marketing strategy, relaxing legislation, and an unrivalled passion for all things cannabis. 
An unapologetic daily partaker of pot, Tyson isn't selling out with a typical celebrity endorsement money-making scheme with one eye on a script and the other on his bulging bank balance. He fervently believes in his merchandise, tests each product personally, and is tenaciously committed to producing a line of the best quality and flavor that encourages people to utilize natural plant-based remedies over pharmaceutical alternatives. 
Having tried his first spliff at just nine years old, Tyson maintains that the green stuff makes him a far more pleasant person and cured him of his bi-polar tendencies. It's his genuine passion for pot that has become synonymous with Mike Bites and the Tyson 2.0 brand and in just a matter of months, catapulted his new venture to a cannabis conglomerate that looks set to make waves in the weed world forever. 
Spoiler alert from the legend himself: "If I'd smoked during my boxing career, I probably wouldn't have been so aggressive, but now, I'm happy I bit that motherfucker's ear off, or Mike Bites wouldn't exist." 
For the full exclusive, including a deep dive with Mike Tyson on his enterprising mindset, partiality to magic mushrooms, and sinking his teeth into that infamous Holyfield ear bite, subscribe to Muscle and Health today to be first in line to read all about the legend who made a career out of an ear.
Fall 2022 boats Muscle and Health's most innovative, original, and downright gluttonously entertaining content to date. Including not-to-be-missed features from: 
Billionaire baller Grant Cardone on how he utilized his 10X method to build generational wealth (and purchase his own private jet, no biggie!)
Men's physique champ Ryan Terry, who explains why he switched from bodybuilding to the boardroom to create a business legacy.
Calisthenics master Scott Mathison with the ultimate human flag how-to guide, so you too can casually bust out the definitive party trick.
Legend linebacker Jaylon Smith, who seizes the freeze by subjecting himself to -150°F to perform at an elite level. 
Subscribe to Muscle and Health today to immerse yourself in all this and more with news, reviews, and things to amuse from the newest publication that's disrupting the status quo of fitness media.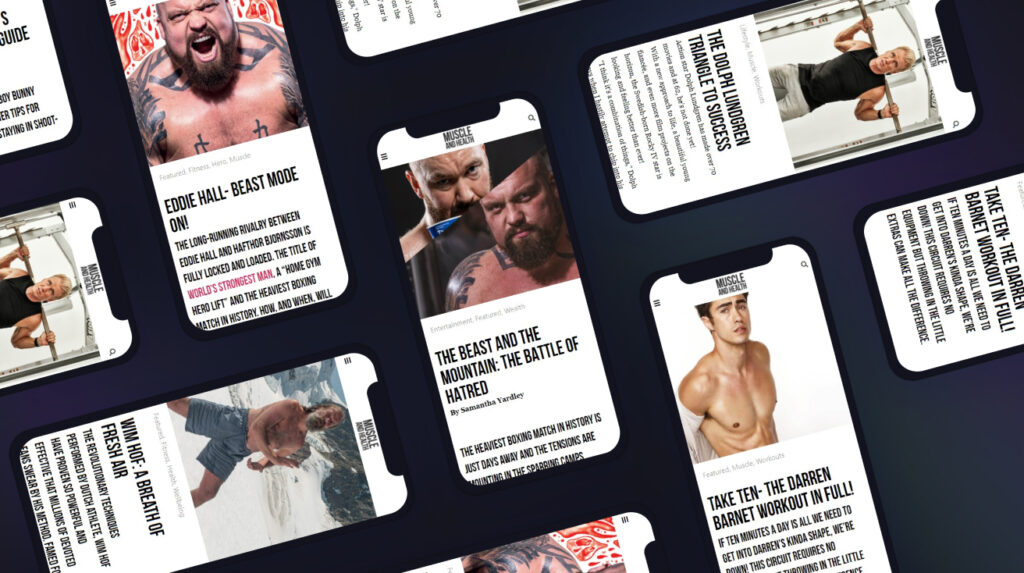 get all the latest mucle, health and wealth news delivered straight to your inbox