Whether you're after some on or off-piste action this Winter season, we've collated some of the best ski resorts in the world for you.
Author: Darren Croft
Looking for some time on the piste this winter? 
There are plenty of world-class resorts, and with some of these at the opposite ends of the world, you can chase the snow season all year round. 
Whether you're looking to show off your snowboarding skills or party the night away at base camp, there's a lot of snow business at these world-class ski resorts.
So, let's share some of our top ski resorts in the world…
The best ski resorts in North America…
Don't fancy straying too far from home for your ski holiday? 
There is plenty of top-class ski and snowboarding resorts within North America, a short-ish flying or driving distance from home. Perfect for a quick weekend or mid-week getaway.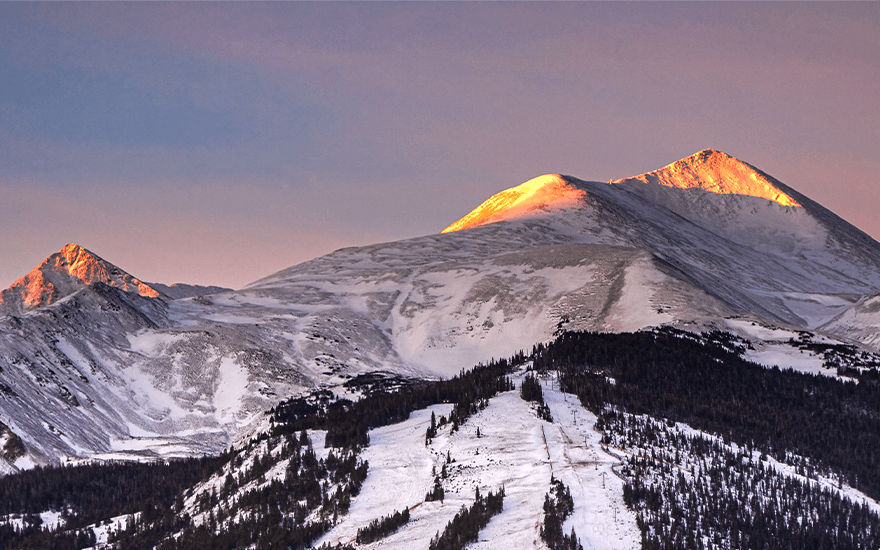 A ski resort lives and dies by its reputation, and Breckenridge has thrived from its good reputation for many years. 
It has long been described as one of the top ski resorts in the world. This quality and the much-talked-about resort has everything from well-maintained slopes to excellent customer service. 
It's spread across multiple mountain peaks providing 187 trails and 2,908 acres of skiing and snowboarding. There are 34 lifts in total, including some fast lifts.
The views are breathtaking and worth traveling for, even if you're not the most passionate skier. Despite the resort being among the elite, it's a very relaxed and laid-back atmosphere. 
Don't fancy skiing or snowboarding today? 
No problem! Just sit back with a coffee, take in the views and watch it happen.  
If you're a beginner- don't fret. Breck has excellent terrain for novices as experienced skiers.
If you're a fan of heights, you'll be glad to know Breckenridge is the highest chair lift in North America, with some spectacular views below.
The town is worth checking out, especially if you love old western movies. Breckenridge is an old gold-mining town with a great history to explore and plenty of shops, restaurants and busy nightlife for the apres ski.
As far as negatives go, the resort is a bit of a victim of its success as it can get very busy at peak times, and you may need to queue for a long time during the busy season. You should also allow plenty of time to get there as traffic queues are commonplace.
But you can't fault it for that—a quality resort perfect for skiers of all standards. A great ski resort and one of the most beautiful ski destinations.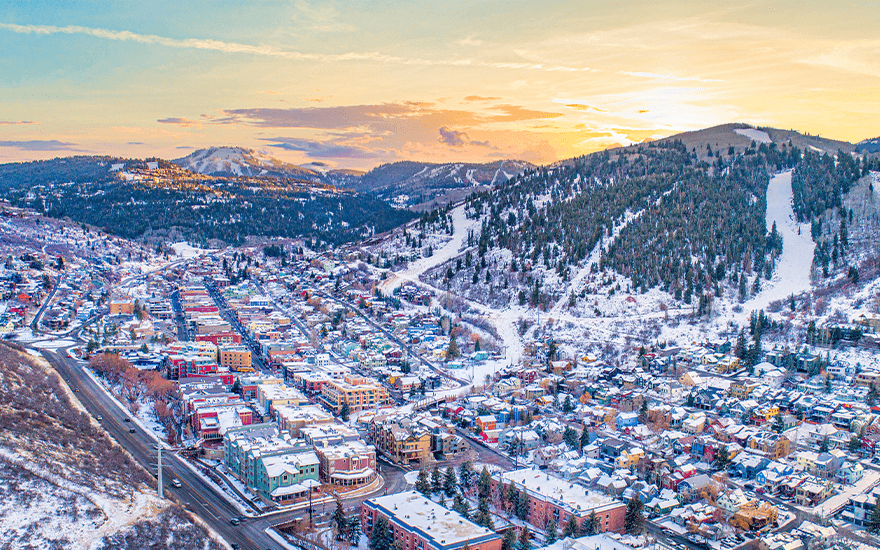 Another resort that oozes class and is described by many as the "perfect" ski resort. Set across 7,300 acres, Park City boasts 341 trails, 47 lifts, and 16 restaurants, so there's no chance of boredom or lack of activities. 
There's a massive variety of terrain, perfect for novice or more advanced skiers.
The newly developed High Meadow Park on top of the Red Pine Gondola is great for families with newcomers, while experienced skiers can head off to Saddleback.
It's the largest ski and snowboarding resort in the United States and is often called the "Greatest snow on earth." In 2002, Park City hosted events at the Winter Olympics, so, needless to say, there's quality in abundance here.
Today, Park City is a unique blend of new and old, with remnants of its history still scattered across the mountain.
The food quality is excellent, and it's the perfect place to chill, ski and dine. And if you fancy heading into town, you'll find the locals are friendly and welcoming, and there's plenty to do and places to explore. It's a great mix of old and new and a fantastic adventure.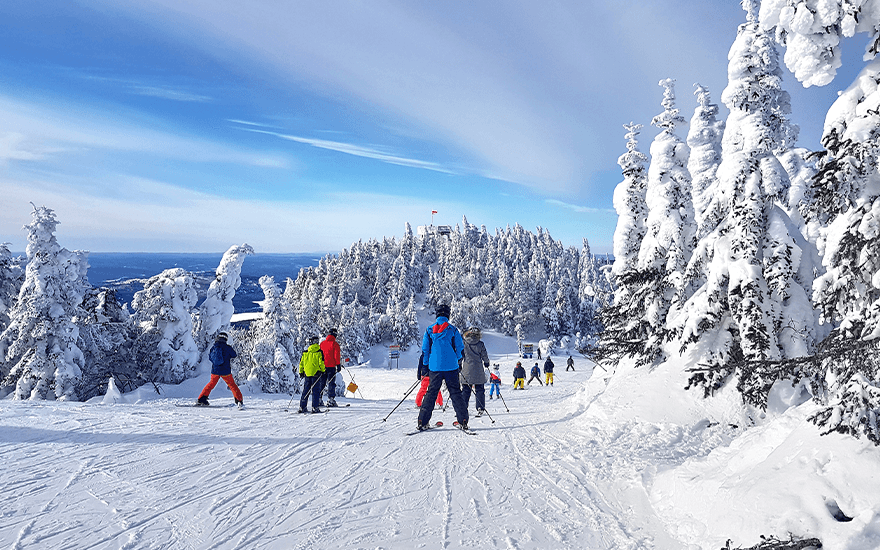 One of the big selling points of Canada's premier skiing resort is the relatively easy access from airports. It also hosts some of the best skiing in the world.
Another resort with various terrain has plenty of slopes for all levels of ability and one that families can enjoy. It's a resort that caters to kids, too, and there are always plenty of activities. 
I don't think we'd tell you anything unusual by saying it's pretty cold at the resort. However, temperatures at this one can drop significantly, so do turn up in the appropriate gear.
For experienced skiers and snowboarders, the Versant Sud is highly recommended, as is the Versant Nord (North Side), which has some excellent terrain for the more advanced. There are also constant upgrades and improvements, so many routes will always exist to explore.
There's also plenty going on in the picturesque base village. It's lovely and welcoming and has plenty of bars and restaurants.
A warning for those planning their break- the weekends can get very busy as locals from Montreal flood into the resort, so do plan ahead for that.
Overall, a tremendously lively resort with good snow reliability and a touch of class.
The Best Ski Resorts in the Rest Of the World
I got a little more time to venture abroad- plenty of fantastic ski resorts worldwide, from Europe to Asia.
Of all the European snow resorts, St Moritz is undoubtedly the star. With all the glamour of a Holywood movie, it's everything you would expect from a top-class ski resort. 
You've come to the right place if you're looking for snowy, hedonistic excess. It's probably the best ski resort in the world and one where you can expect plenty of snow thrills.
St Moritz is pretty much credited with launching the ski resort craze, and as time passes, it's reinvented itself as a better and more glamorous spectacle. 
It currently boasts an expansive ski area spanning 218 miles of high-altitude pistes, four large ski areas, and five smaller ones. There's also a vast range of restaurants and bars to relax after a heavy day on the piste. 
It's one of the most upmarket ski resorts in the world, and it's not cheap with its exclusive member's bars and clubs and its lavish hotels. 
If you're on a specific budget, the trick is to book directly through St Moritz to avoid booking fees. Giving this one a swerve is probably best if you're on a tight budget.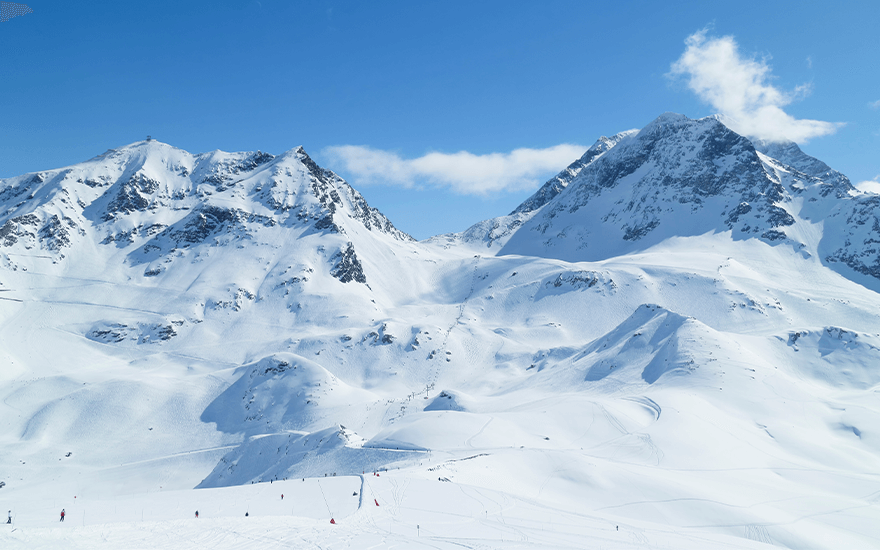 Les Arcs is a purpose-built resort with four Arc villages. Each village is named after its altitude. It's quite an expansive area with 264 miles of pistes. 
The resort faces Mont Blanc and overlooks the Upper Tarentaise Valley.
The panoramic views are simply breathtaking.
This is another resort that is great for all levels of ski enthusiasts or snowboarders and is family-friendly, and has its cinema and a kids club. The surrounding "ski-to-the-door" villages are bustling with life, and there's plenty to explore when you're not strutting your stuff on the mountains.
As with most top-class resorts, it gets particularly busy on the weekends, so be prepared. Make sure you're up early and booked up in advance.
Whether you're skiing for fun or an adrenaline junkie, there is undoubtedly something for everyone.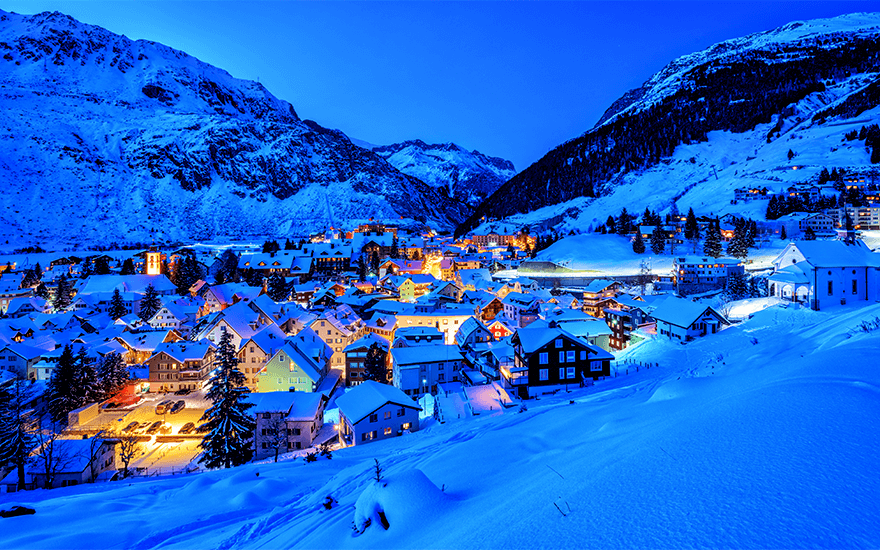 Now, Andermatt might not boast the most significant arena for skiing; it is very much a class act. A long-time favorite of the professional skier, it's a great getaway if you're looking to avoid the hustle and bustle of many of the larger resorts. 
You'll need to plan well, book early, and be prepared because the ski area is relatively small. 
The Swiss Alpine village is incredibly picturesque and is a great place to chill and relax. With further development, the resort is expected to be catapulted into the heart of the best ski resorts. This means new lifts, restaurants and more ski runs. It's all looking good.
There's an excellent quality of snow, a nice variety of terrain and plenty going on at night. It's already a resort worth visiting, and the future is looking even better for this fantastic resort.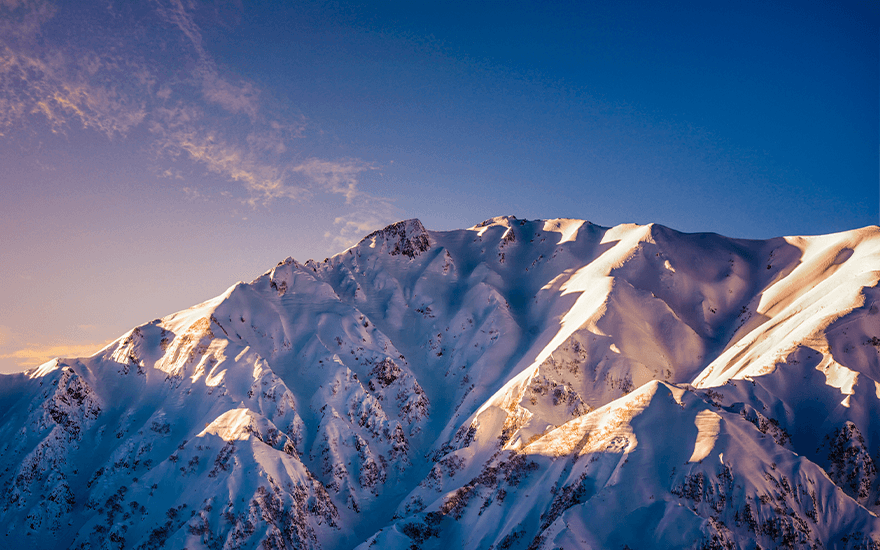 The steps of the Japanese Alps are the perfect setting for one of the most fantastic ski resorts in the world. Hakuba Valley includes ten different ski resorts surrounding the most central town area. 
Forests and lakes surround it, and you'll be embraced in Japanese culture throughout your stay. Hakuba boasts one of the larger mountain towns within the range and has many ski areas. 
The terrain hosts primarily gentle slopes, which is perhaps why it's particularly popular with beginners, families and groups.
Despite its beauty, great choice of slopes and excellent facilities, it doesn't tend to be too overcrowded. As it's one of the lesser-known ski resorts, it tends to be primarily local skiers rather than folk who have traveled from afar. 
Those concerned about the expense of traveling to Japan will gain peace of mind knowing that the prices at the resort are lower than those of their European counterparts. Accommodation is also cheaper once the local school holidays end in late February.
There are plenty of great restaurants surrounding resorts, and we think it will be a skiing and cultural experience you'll never forget.
Ready to get skiing this Winter
There is no shortage of ski and snowboarding resorts worldwide with exceptional on and off-piste facilities – and this is no extensive list. 
But these are some of our favorite ski resorts and should satisfy your needs whether you want to stick close to home or get to the other side of the world. 
Where will you be going this year?
Related Articles
Get the Full Package Deal Before You Travel
Back to the Slopes: Skating on Thin Ice for People with Joint Problems?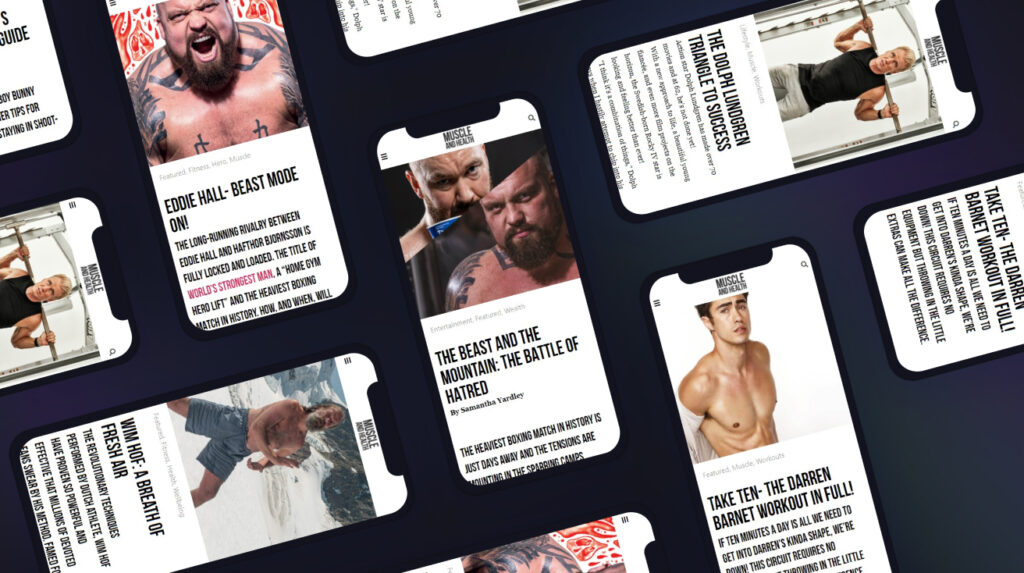 get all the latest mucle, health and wealth news delivered straight to your inbox