By Jack Franks
Our guide to the best sunglasses for men in 2023
Spoiler alert. Sunglasses are no longer solely exclusive for the summer. The archaic opinion that shades should be kept in a random drawer to gather three seasons' worth of dust has given way to the new norm.
Sunglasses are a daily essential.
Not only do they offer significant health benefits to your eyeballs – blocking harmful UV rays. They add an extra layer of flair to any outfit, no matter the occasion or requirement. Whether you want something to elevate your sophistication for a business meeting or finalize your gen-z-inspired hipster drip, the sunglasses market now offers an endless range of lens strengths, colors, and polarization.
The traditional sunglasses variations of the past – we are looking at you, wayfarers and aviators – still remain hugely popular due to their timeless appeal. However, a couple of additional noteworthy eyewear trends are emerging. Oversized, futuristic wrap-around, and overtly chic styles, much inspired by 1990s and 2000s fashion, are approaching in the rearview mirror at speed vastly over the limit.
Before picking your pair of spectacles, taking a long, hard look in the mirror is essential. To assess your face shape, of course. Different sunglasses suit different people. Square faces benefit from the soft curves of rounder frames; rounder faces should consider square or rectangular styles, while triangular faces will suit the classic aviator look.
With the sun preparing to project its strongest gaze this summer, Muscle and Health rafts through specs to bring a pair to suit any style and budget, from high-end luxury to the everyday pocket companion.
Sunski Yuba Sunglasses

USP: Eco-friendly, made of recyclable materials
Features: Polarized lenses, SuperLight recycled frames, All-day comfortable fit
Review: When you enjoy the breathtaking views of nature while hiking up a mountain, pollution and your carbon footprint might cross your mind. Do yourself (and nature) a favor with these polarized shades made of recyclable materials. 
They come with a lifetime warranty, so you'll never have to think about shopping for another pair of sunglasses again—and that's a good thing, right?
Price: $58. Buy here.
1387 Square Sunglasses-Granny Chic
USP: Vintage inspired, handmade in Italy
Features: Tapered temple, CG archive diamond rivets, Minimalist core wire, Signature Gold Foil Logo inside right temple
Review: The 1387 Square Sunglasses-Granny Chic is based on the humble design elements of the brand's original 0524 but with a new design. Elevated with the addition of new details, including; increasing the eye size to 52mm, adding the vintage-inspired oyster pins and the 'arrowhead' temple design last seen on another Cutler and Gross icon, the 1346.
Price: £340. Buy here.
Zenni Square Glasses 203312

USP: Low-cost and stylish to suit any occasion
Features: High-quality frame, Anti-scratch coating, UV protection
Review: If you're looking for stylish shades that you won't have to worry about damaging, look to Zenni. They offer what seems like an endless amount of styles, with most of them costing under $30. We think this square silhouette is good-looking—especially for wearing at the beach or a ballgame.
Price: $25.95. Buy here.
 Oliver Peoples OV5450SU Martineaux round-frame acetate sunglasses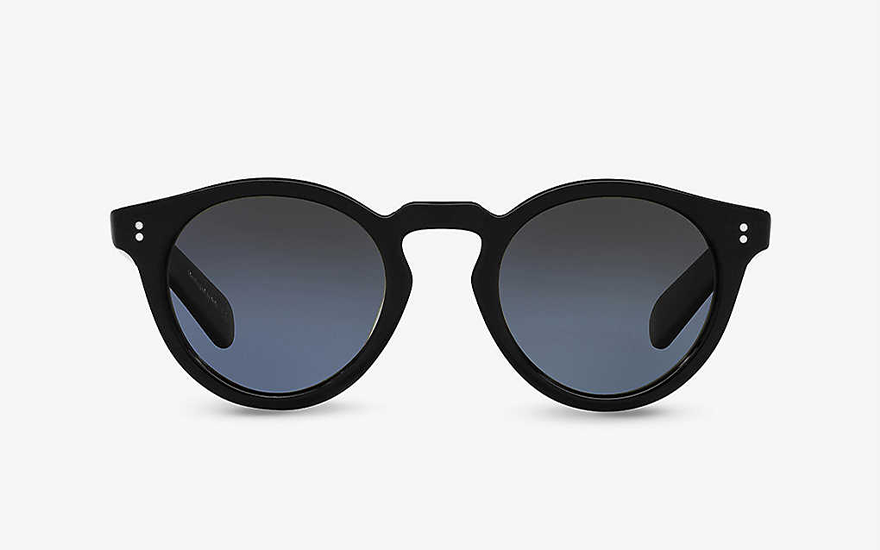 USP: Bold, minimalistic design with a retro twist
Features: Acetate frame, glass lenses, tinted lenses
Review: Oliver Peoples takes timeless, old Hollywood styles and gives them a signature contemporary LA twist, and its Martineaux silhouette is emblematic of this. The endearingly retro pair of round frames come offset with an angular nose bridge, punctuated by signature Oliver Peoples flourishes such as those temple pins.
Price: £355. Buy here.
Persol 714SM Steve McQueen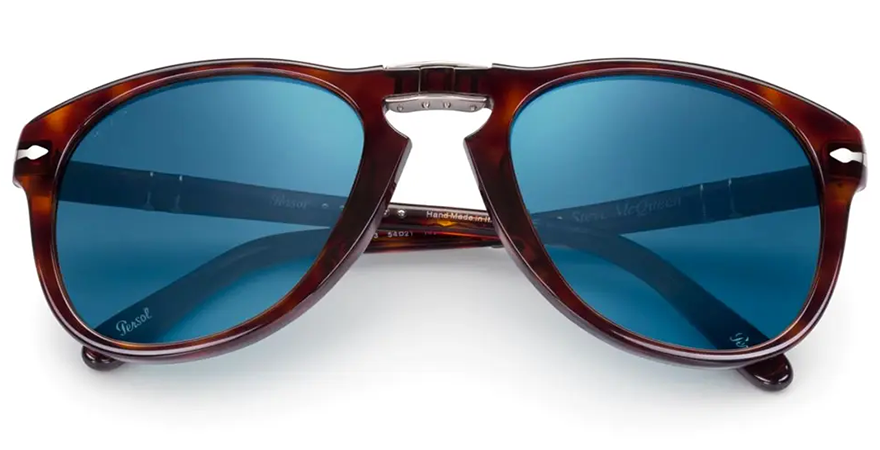 USP: Folding glasses with iconic and historical design
Features: Polar Green Lens Colour, Acetate frame, High Bridge Fit, Foldable
Review: Originally a maker of eyewear for pilots, lightweight aviators are Persol's bread and butter. Steve McQueen's choice of sunglasses, the brand has released a limited-edition version of its iconic 714 frames, featuring all the same details of the original model sported by the actor in The Thomas Crown Affair (1999). If they're good enough for The King of Cool, they're good enough for us.
Price: $507. Buy here.
 Ray-Ban RB3025 Classic Aviators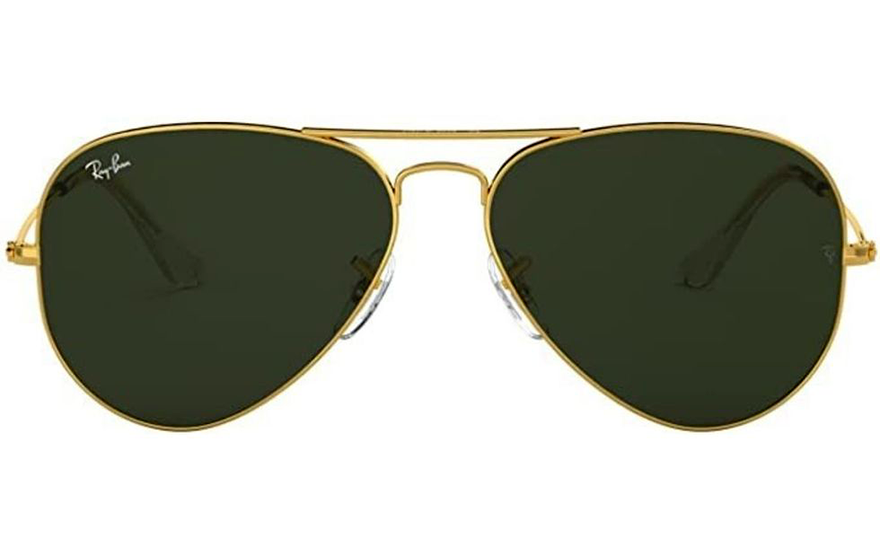 USP: Iconic Top Gun style. A classic.
Features: Polished Gold frame color, Gold temple color, Green lens, Adjustable Nose Pads
Review: Currently one of the most iconic sunglass models in the world, Ray-Ban Aviator Classic sunglasses were originally designed for U.S. aviators in 1937. Very few sunglasses styles can be dubbed iconic, but the iconic Top Gun tear-drop style has been (and will continue to be) a classic worthy of any guy's mug. Plus, they're polarized and offer 100% UV protection.
Price: $163. Buy here.
 Jacques Marie Mage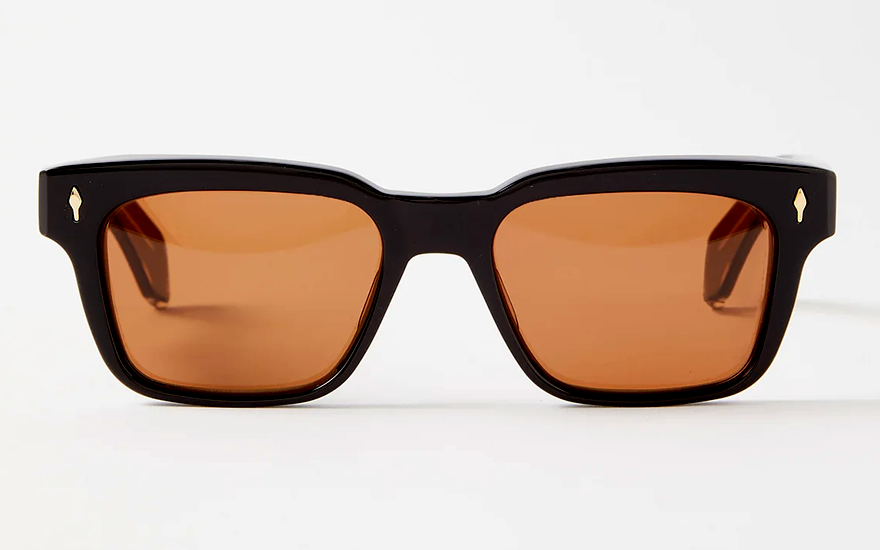 USP: A 1960s-style with modern sleek.
Features: Acetate composition, Rectangle frames, Grey-tinted lenses, Big and bold design
Review: Jacques Marie Mage's designs are informed by its founder's dual homes in France and California, where the Cali-cool spirit meets traditional Parisian luxury. The Ascari sunglasses' angular frame is balanced by its multidimensional approach to color, contrasting its bold black frame with Cointreau-orange tinted lenses.
Price: £640. Buy here.
Moscot Zolman Sun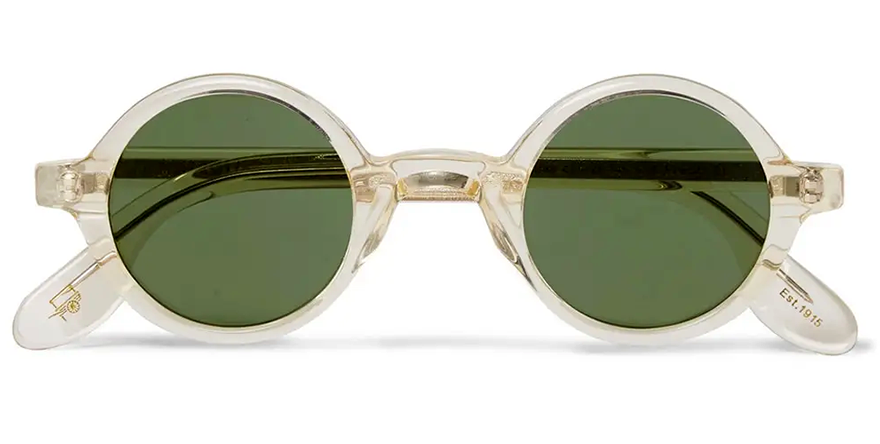 USP: Iconic eyewear from an iconic New York family.
Features: 3-barrel hinge, acetate nose pads, unique patterns distinctive to each frame, real glass lenses in blue
Review: For decades, Moscot has created some of the most immediately recognizable spectacles on the market, adorning the faces of Big Apple royalty and trendsetters alike. The Zolman Sun is a classic round lens style from the brand's archive that is great for square and oval face shapes.
Price: £315. Buy here.
Nike Skylon Ace Sunglasses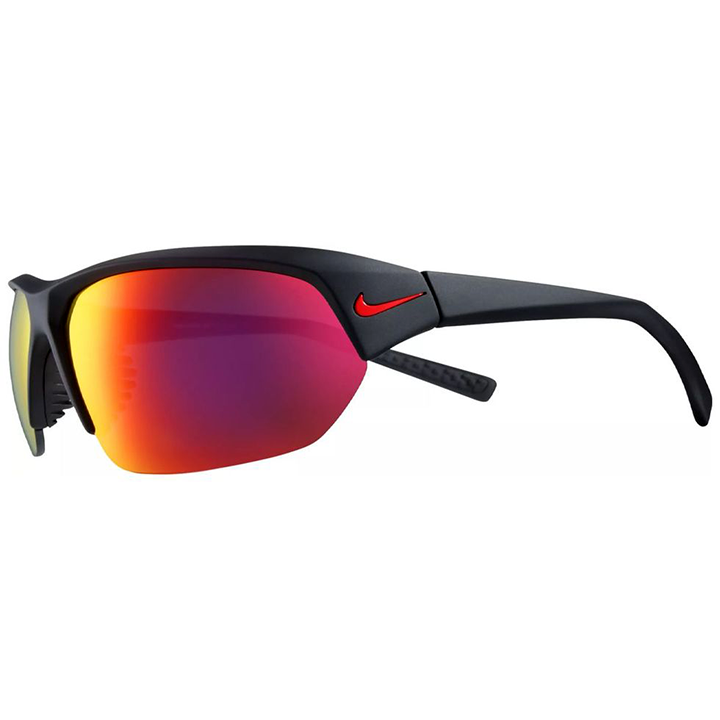 USP: The perfect training companion for hot days.
Features: MAX optics, Lightweight nylon frame, ventilated rubber nose bridge, secure wrap.
Review: Offering a wide angle of view with their shatter-resistant lenses, these shades also stay put with rubber grips on the wrap-around arms. That is all to say; they're thus perfect for hardcore training, sports, and any outdoor activities. They're not polarized, so wear them on less UV-intensive days.
Price: $79. Buy here.
Ray-Ban Folding Wayfarer Classic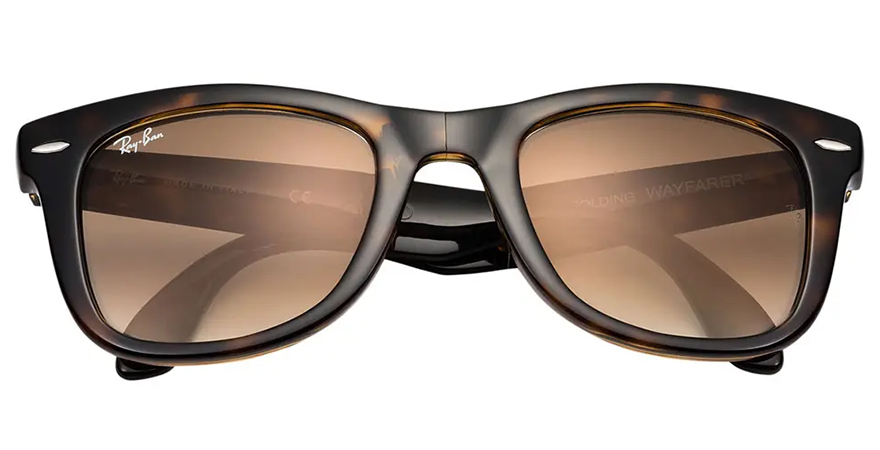 USP: An all-time classic. Wear, fold, unfold and wear again.
Features: Square frame shape, Nylon frame, Brown lens color, High bridge fit
Review: No matter what happens, the Ray-Ban Wayfarer will be a foolproof choice that never dates. Opt for classic tortoiseshell frames with light brown gradient lenses, and you'll be in good company: everyone from David Beckham to JFK to Leonardo DiCaprio has been seen sporting them over the years.
Price: £137. Buy here.
 MVMT Abstract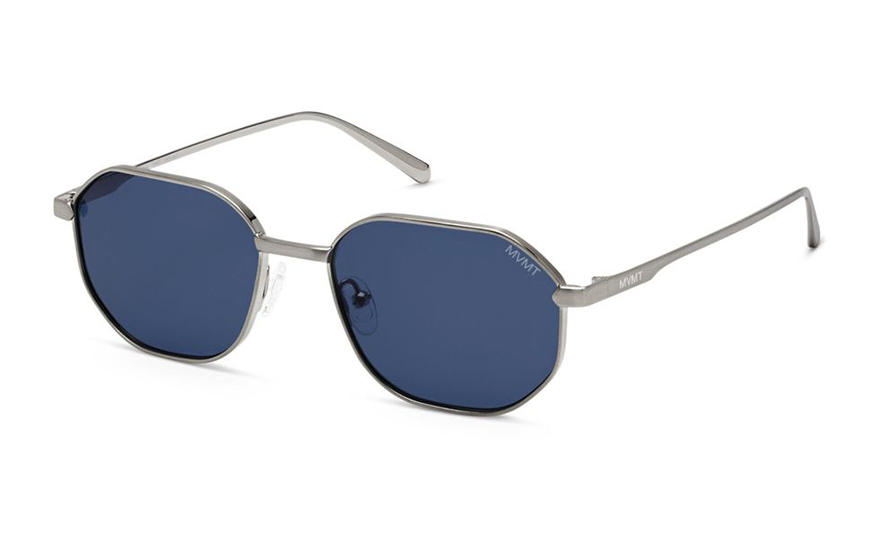 USP: Affordable geometric style.
Features: Geometric shape, Akulon-Coated German Screws Frame, CR-39 lens, Silver and blue lens color.
Review: Distinctly shaped sunglasses aren't always the easiest to pull off. But with the right prerequisites—jawlines, cheekbones, square face, etc.—they can really pop off. Now lighter yet tougher than ever, if you've got the right stuff, then certainly don't miss the Abstract.
Price: $108. Buy here.
Off-White Salvador Sunglasses

USP: Quirky specs to suit an acquired taste.
Features: Metal frame, Tinted lenses, 100% UV Protection, Unique shape.
Review: Even before his untimely passing, Virgil Abloh's Off-White was world-renowned for its sunglasses, so it would be sacrilegious not to include them in an article listing the best available. With a gold metal frame and Off-White detailing throughout, these shades come equipped with beautifully tinted lenses we want to take a bite out of. In fact, it looks like somebody already has.
Price: £233. Buy here.
Ombraz Classic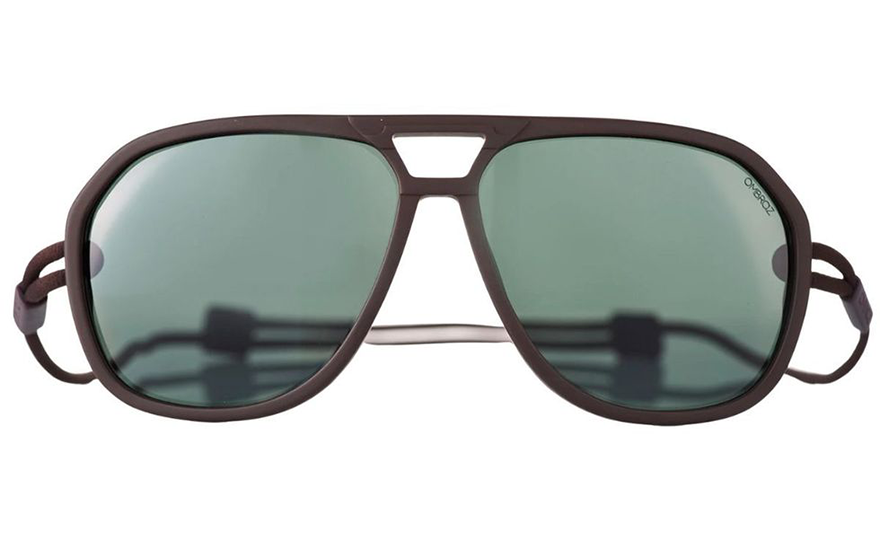 USP: Customisable award-winning specs.
Features: Fully customizable frame color, lens and frame size, and cord wrap.
Review: A winner of our Outdoor Awards, Ombraz replaced traditional sunglasses arms with a strong Japanese nylon cord that wraps around the entire head. The result is a pair of lightweight shades that can stay still on your head for all types of activity in all types of weather. They're also reasonably affordable—only around $160 for a customized polarized pair.
Price: $160. Buy here.
Huckberry Weekenders Mens Sunglasses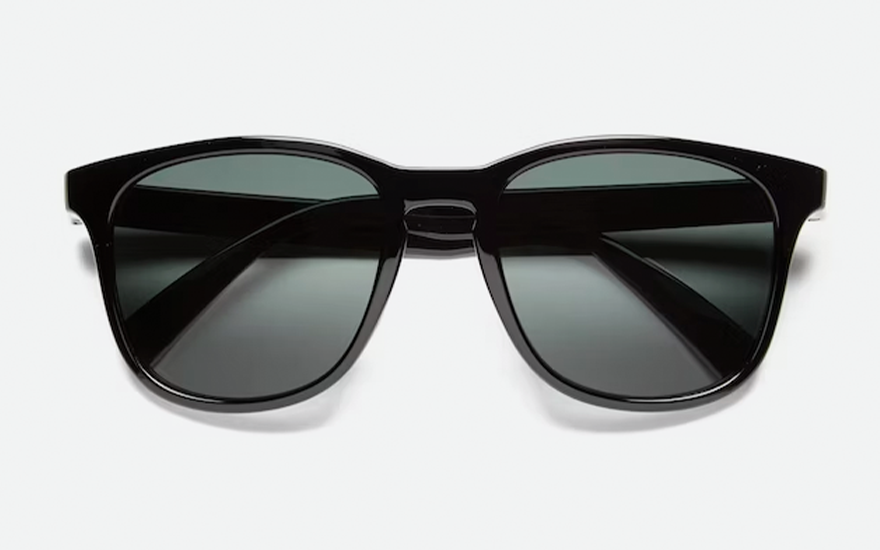 USP: All-day, everyday sunglasses that won't break the bank
Features: Polarized lenses, Hardy construction, 100% UVA/UVB resistant
Review: San-Francisco-based Huckberry makes sunglasses with durable materials and quality lenses that aren't expensive, making them great to take on the road when traveling. The Weekenders have a lightweight, sturdy construction that won't snap easily. And in case you need a spare (or leave them behind in a hotel room), Huckberry offers a discount—you can buy two pairs for $60.
Price: $35. Buy here.
Giorgio Armani NEVE Sunglasses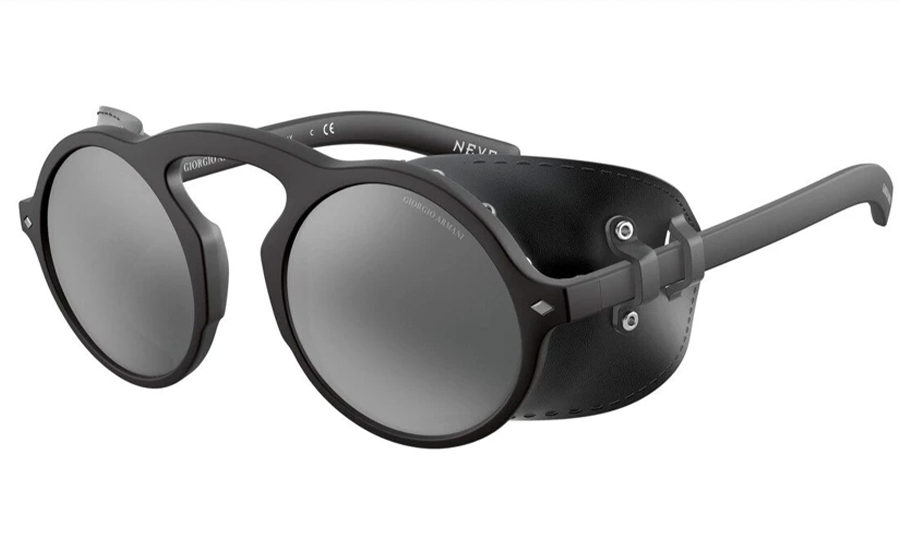 USP: Take to the slopes in style
Features: Round frame shape, removable eye blinkers, category 3 UV protection
Review: The Neve line represents Armani's ski wear. These sunglasses offer perfect protection in all seasons and have removable blinkers for extra winter skiing protection. The high bridge offers comfort around the bridge of the nose. The round shape lenses are perfect for pairing with skiing helmets and can also be a flattering look with your summer outfits.
Price: £357. Buy here.
Westward Leaning STUN 07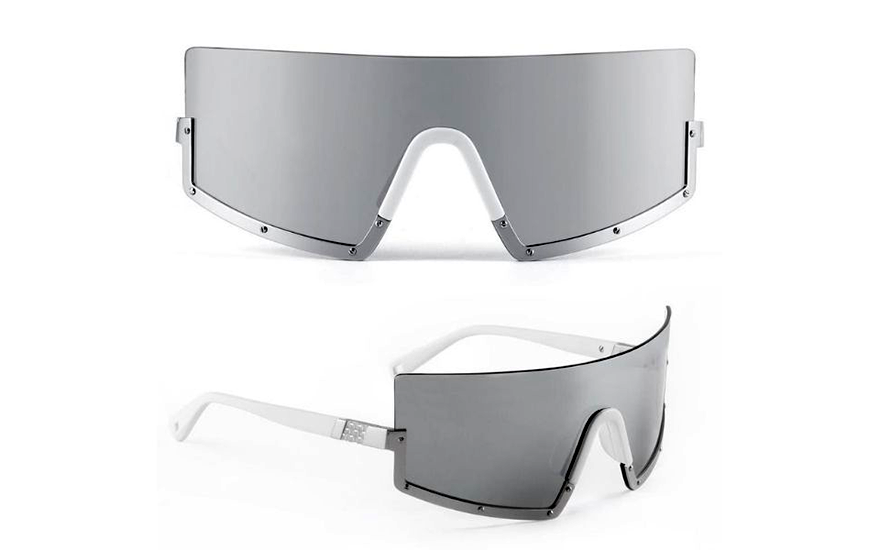 USP: The one-piece specs of the future.
Features: Unique design, anti-scratch lens, fingerprint resistance, anti-sweat
Review: What do you get when you cross an ultra-futuristic sunglasses design with classic retro? The result is the Stun 07 by Westward Leaning. The sunglasses are made with a one-piece shield lens in an aerodynamic shape. The rimless design makes this piece perfect for outdoor activities such as jogging, hiking, or biking.
Price: $100 (sale price). Buy here.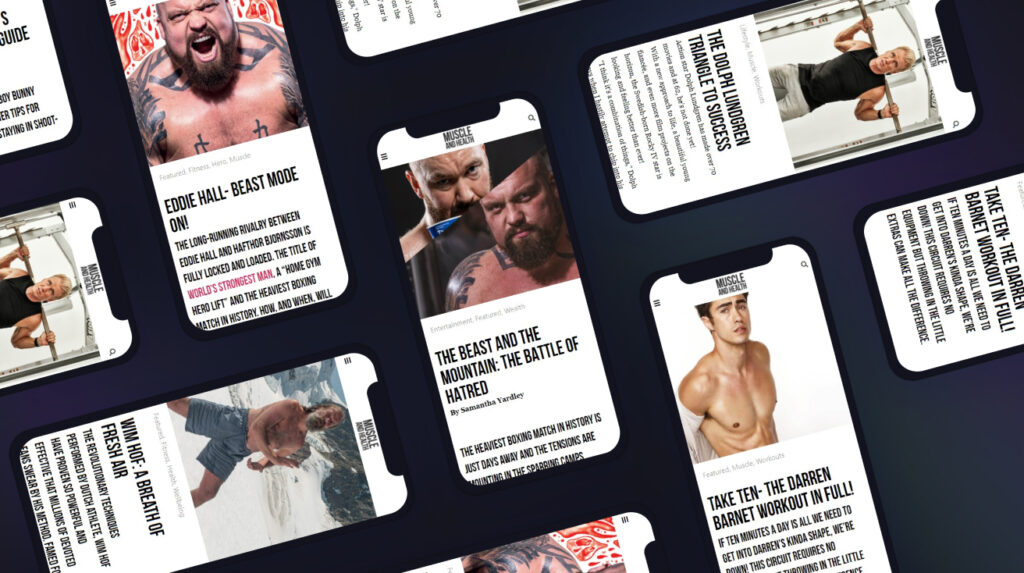 get all the latest mucle, health and wealth news delivered straight to your inbox