By Jack Franks
Chinese philosopher Confucius once said, "Study the past to define the future."
In 1983, born from a dream of creating a watch that never breaks, Casio engineer Kikuo Ibe won the battle against the laws of nature.
He designed a watch to resist centrifugal and impact forces and high water pressure. Since then, G-SHOCK has become a byword for independence and pushing the limits.
After initially struggling to make an impact in the watch market, the popularity of G-Shock watches increased throughout the 1990s. By 1998, Casio had released more than 200 different G-Shock models, with worldwide sales at 19 million units.
On 1 September 2017, Casio celebrated its 100 millionth sale of G-Shocks worldwide, with its vast, intricate, overwhelming and constantly changing collection consistently revolutionizing the market.
Casio makes enough G-Shocks for satisfying a ravenous collector community and also caters to various professionals who need indestructible timepieces, military personnel who aren't issued watches, athletes in training, outdoorsy folks, and even skaters and surfers and breakdancers.
Their latest offering takes inspiration from the first model released to the world 40 years ago, inheriting the iconic shape of the first G-SHOCK. It delivers more advanced functions, all in a shock-resistant watch equipped with a heart rate monitor useful for sports activities.
Introducing the DW-H5600 watches, which join the company's sports-driven G-SQUAD line.
Muscle and Health look at the latest innovation from the creators of the toughest watch of all time the Casio G-Shock.
The models
Supporting four different activities or exercises — running, walking, gym workouts, and interval training — the four watches that make up the series are equipped with an optical sensor and an accelerometer to measure heart rate, distance, and calories burned.
Algorithms are used from Polar Electro Oy, a pioneer in the industry that has spent nearly 50 years perfecting the art of personalized guidance in fitness, sport and health, to provide analysis on training and sleep based on tracked data.
DW-H5600MB-1 Casio G-Shock
Cost: £315
DW-H5600EX Casio G-Shock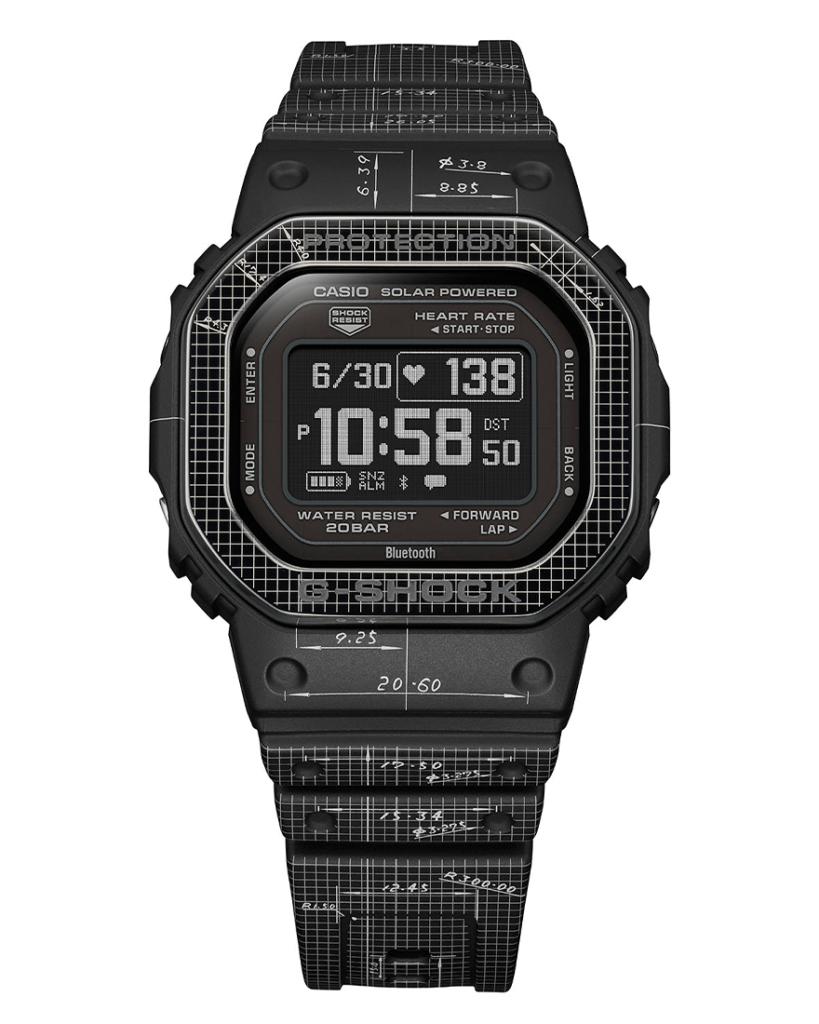 Cost: £389
DW-H5600-2 Casio G-Shock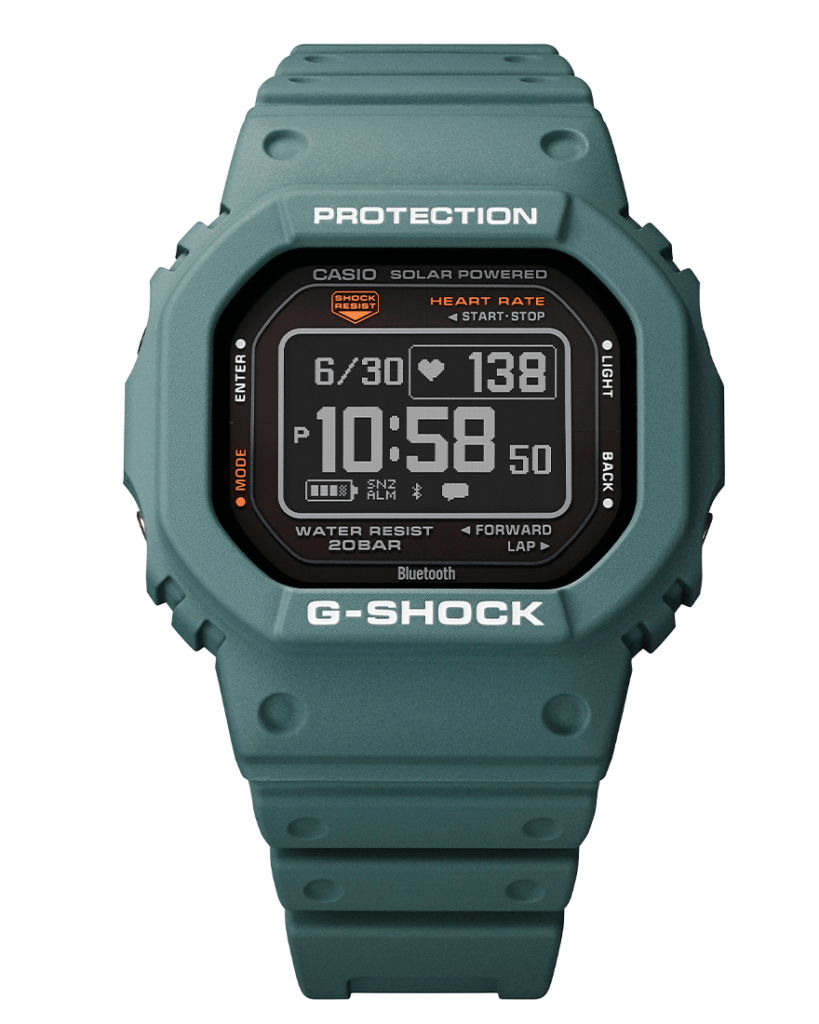 Cost: £269
DW-H5600-1 Casio G-Shock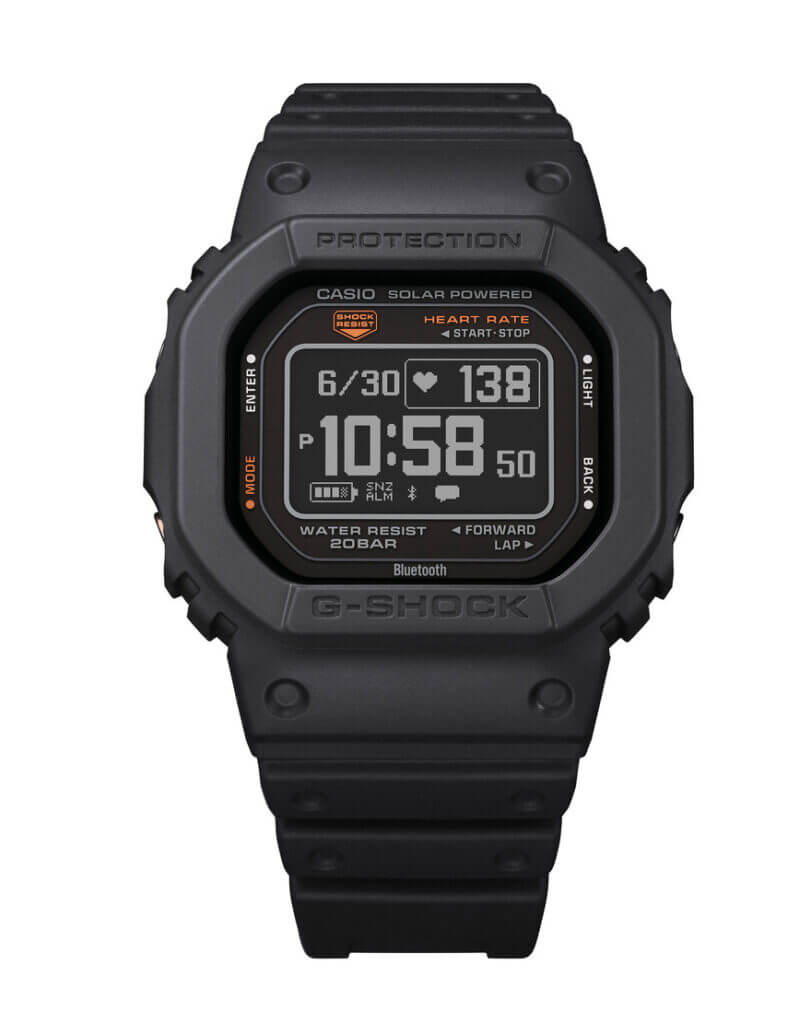 Cost: £269
The key features
Let's take a look at the key features of this new range…
Sensors for activity tracking
The case back is equipped with an optical sensor that measures heart rate by emitting LED light to track changes in blood flow. The watch also includes an accelerometer to count steps. For even greater distance measurement accuracy, the watch can be paired with smartphone GPS to fine-tune the data captured by the accelerometer.
Four activity modes
The watch supports running, walking, gym workouts, and interval training. An activity can be selected with the touch of a button to track and display a variety of measurements in real-time, including distance, speed, and calories burned.
Training Analysis and Sleep Tracking
The watch measures the burden on the heart and lungs according to training time and intensity, analyzes ratios of energy used separately for carbohydrates, proteins, and fats, and performs sleep tracking. This data analysis utilizes algorithms from Polar Electro Oy, a company with a well-established reputation for heart rate-focused training analysis.
The finer details
Life log
The watches use accelerometer data to analyze movement and distinguish between such movements as walking, running, biking, and standing still. Life log data records can help you understand how active you are each day.
Breathing exercises
Casio's dedication to wellness means you can relax the mind and help your body deal with stress using the watch. By following the animated display to maintain a steady rhythm of deep breathing, wearers are provided feedback during and after the exercise.
Blood oxygen level measurement
The watches' optical heart rate sensor tracks the level of oxygen taken in the blood, and the data can be used to manage daily health and adjust exercise load.
Nightly recharge
This feature displays the level of workout recovery from sleep and provides advice on improving exercise and sleep. By checking the sleep quality graph to see how much quality sleep you get at night, users can know their body's ability to recover from the demands of their day.
The DW-H5600 range will be available in May, with prices ranging from £269 to £389
Other Related G-Shock Articles You May Like: G Shock and Awe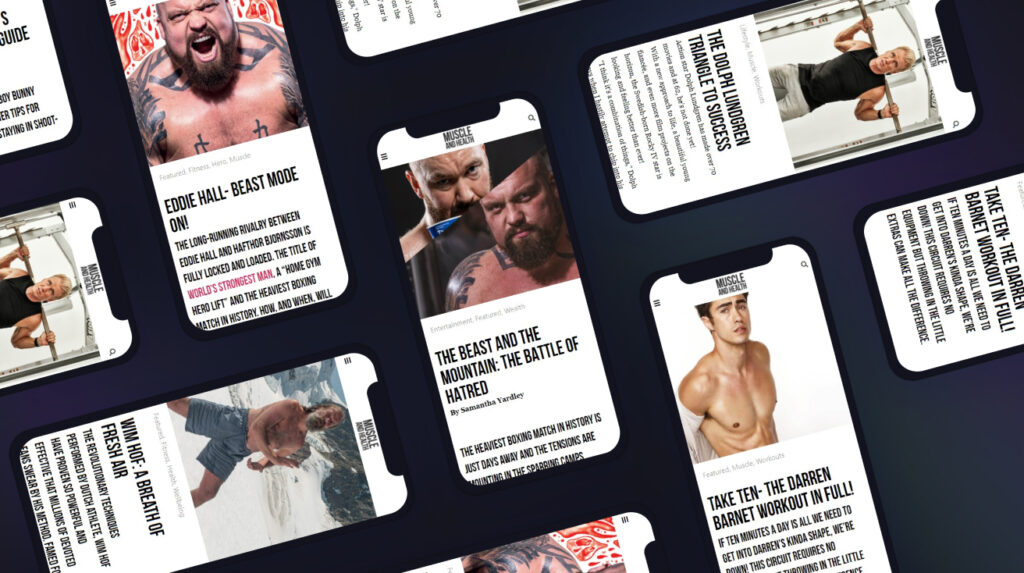 get all the latest mucle, health and wealth news delivered straight to your inbox