By Jack Franks
Hero image credit: Robert – stock.adobe.com
Air Jordan image credit: xMarshall – stock.adobe.com
When you talk about basketball, the mention of Michael Jordan is inevitably swift to follow. The undoubted GOAT of the sport, Jordan, IS basketball. His personal crusade and dominance, which led the Chicago Bulls to six Championships between 1991 and 1998, as documented in Netflix's The Last Dance, cemented his god-like status.
Armed with his trademark flair, style and tongue-out cockiness, Jordan was on a level of stardom that surpassed anything that came before it. His legacy voyaged beyond his game-winning shots and earth-shattering dunks on the court, spanning into business, entertainment, and, most notably, shoes.
'Air,' directed by Ben Affleck – who also plays Nike founder Phil Knight – chronicles the rise of the company, from scrappy upstart to apparel giant in the 1980s thanks in large part to company executive Sonny Vaccaro – played by Matt Damon – finagling a game-changing partnership with then-rookie Jordan.
When Nike first introduced the first Air Jordan sneaker in 1985, the then-fledgling footwear company expected to garner $3 million in sales in three years. It sold $126 million in the first year alone, 42 times above the projection. The rest, as they say, is history.
What began as a design primarily focused on performance became so much more. Today, Air Jordans are a fashion staple and a sought-after collector's item for sneaker connoisseurs. No other shoe possesses cult-like status and global following.
As of 2023, 35 different Air Jordan models are available, discounting the countless colorways, collaborations, limited editions, and retro Jordans. There's a Jordan for everyone. 
But which belongs in the iconic category?
Based on cult status, community impact and reviews, Muscle and Health has compiled a list of the most iconic, popular, innovative, high-performing, and generally best Jordans of all time by release dates.
Air Jordan I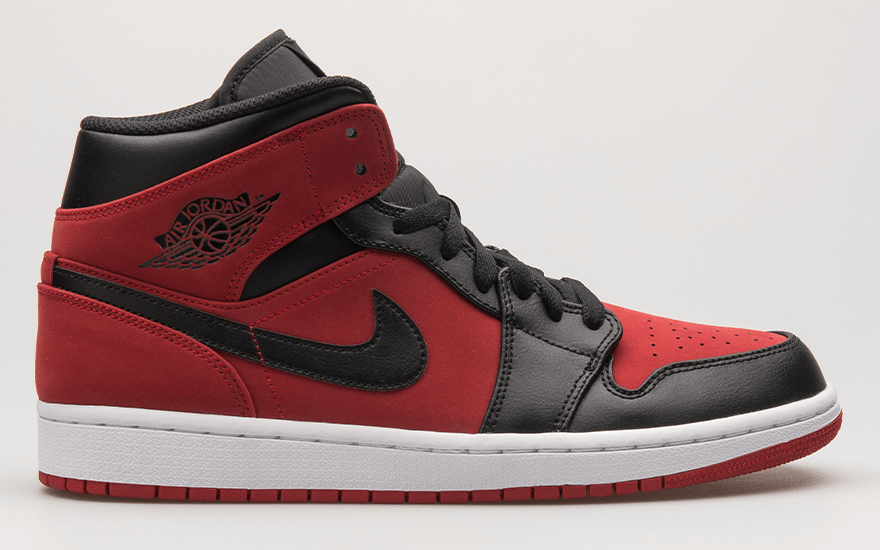 Release year: 1985
Original price: $65
Current market value: $30,000
First by release date, first in class. The undoubted king of Jordans, MJ first wore the Air Jordan 1 nearly four decades ago, and they are an instantly recognizable part of American pop culture thanks to the white, black and red design accented by the formidable Nike swoosh – incidentally, the only pair of Jordans to bear the company's signature.
Despite early concerns and critics believing it was too soon to give Jordan a large sneaker deal before he played a single game in 1985, Nike sold enough Air Jordan 1's in the first year to put it as the fifth-largest sneaker in the world had it been standalone company.
Jordan Geller, a sneaker collector and former owner of the ShoeZeum who in 2020 sold a pair worn by Jordan for a record $560,000, says, "the Air Jordan 1 is the most iconic sneaker of all time." 
The first Air Jordan sneaker is the epitome of great design: performance, comfort and versatility in sport and leisure are all there.
Buy now at Stadium Goods
Buy now at StockX
Discover more at Jordan
Air Jordan III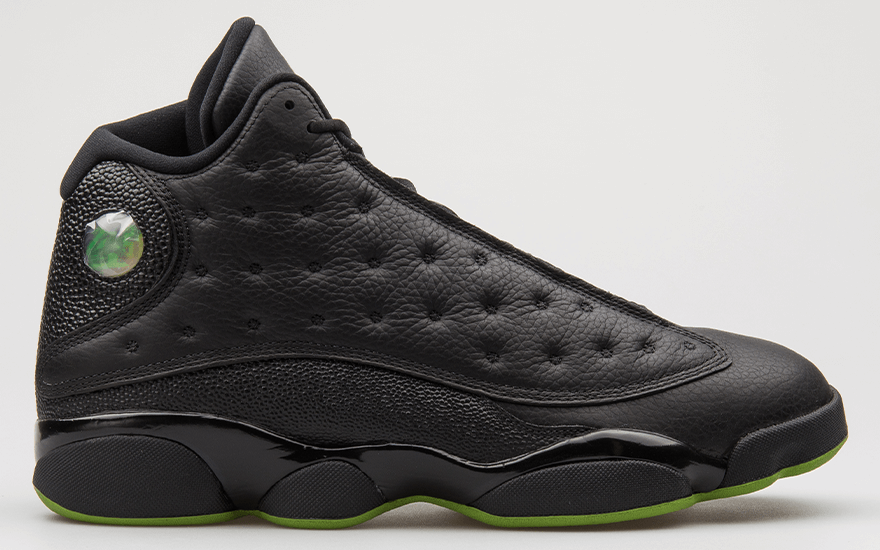 Release year: 1988
Original price: $100
Current market value: $431
First designed by Tinker Hatfield, athlete and architect turned sneaker taste-maker, the Air Jordan III can be credited for combining the first edition's status and the follow-up's luxurious style into the perfect concoction of high performance, fashion and pop culture.
Boasting a simple, clean high-top style emblazoned with an elephant print on the heel and toe – a signature look that would be an integral piece of the design language and heritage – Hatfield's debut effort was worn by Jordan at the NBA All-Star Weekend in Chicago in 1988. 
In one of the most iconic moments in sports history, Jordan took flight in the shoe and dunked from the free-throw line.
A sneaker that felt fresh and futuristic when it was first released in the late 80s and continues to be at the vanguard of sneaker design today. When you saw Jordan soaring through the air in a pair of these, it was the moment the world wanted to be like Mike.
Buy now at Stadium Goods
Buy now at StockX
Discover more at Jordan
Air Jordan IV
Release year: 1989
Original price: $110
Current market value: $684
If you've seen Spike Lee's 1989 film, Do The Right Thing, you will know precisely why these Jordans make the list. The scene, featuring Lee as Mookie screaming "Yo!" down the streets of Brooklyn after a passer-by donning a Larry Bird shirt scuffs his Jordans, is remembered by many to this day. "Your Jordans are f***ed up!" is pivotal to popularizing sneaker culture worldwide."
As sneaker technology and craftsmanship innovate, older styles are better suited to wear every day, and this is where the IV shines. The shape of the IV is the standard in casual footwear and is one of the few styles from the 80s to age the best.
These were the first pair of Air Jordans with a global release, too, cementing the shoe's superstar status. They were also on the feet of Jordan when he hit the buzzer-beater game-winning shot against the Cleveland Cavaliers in game five of their playoff series on May 7, 1989.
Buy now at Stadium Goods
Buy now at StockX
Discover more at Jordan
Air Jordan VI
Release year: 1991
Original price: $125
Current market value: $219
Inspired by Jordans Porsche 911, the VI edition of the sneaker boasts one of the best designs ever. Hatfield also took inspiration from fighter planes for the design, which featured a unique midsole and new tongue. Still, it's the shoe's legacy that has stood the test of time through regular fashion changes which stand out.
The sneaker is all about speed and superlative performance. Every detail has been considered for game optimization, from the two grip holes on the tongue for easy entry to the neoprene sleeve lining, boosting comfort and minimizing the risk of blisters.
It also packs a historical punch, being the shoe that Jordan won his first NBA Championship in when the Bulls dethroned rivals Detroit Pistons by beating Los Angeles Lakers in their first-ever NBA finals. 
Buy now at Stadium Goods
Buy now at StockX
Discover more at Jordan
Air Jordan XI

Release year: 1995
Original price: $125
Current market value: $1,401
A favorite among collectors courtesy of its high blend of performance and luxury, the XI is Jordan's official comeback sneaker following his retirement from the NBA in 1993 – a hiatus that would eventually see him return to the court towards the end of the 1995 season and playoffs.
But, they are perhaps better known for their star turn in the 1996 cult classic sci-fi animation film Space Jam, where Jordan starred alongside the frontman of Looney Tunes, Bugs Bunny. 
For the first time since 1990, MJ's season had ended early and without hardware. He did not like that one bit. That summer, when Jordan wasn't practicing his lines or launching up jumpers on a green screen, he worked tirelessly behind the scenes with trainer Tim Grover. Famously, Warner Bros. built MJ a court called the Jordan Dome on set, with everyone from Magic Johnson to Reggie Miller pulling up for summer runs.
Conversely, the "Columbia" Air Jordan 11 debuted on his feet during infamous shirts versus skins runs months before he'd unveil them publicly at All-Star Weekend in San Antonio. A full-length carbon fiber plate for movement, a nylon upper, and nylon webbing loops for the lacing system are just a few of the features that make this shoe one of the best.
Buy now at Stadium Goods
Buy now at StockX
Discover more at Jordan
Air Jordan XIII
Release year: 1997
Original price: $150
Current market value: $1,204
Worn at the apex of MJ's fame, the XIII's are now renowned for their starring role in The Last Dance, with Jordan donning the sneakers during his final season with the Chicago Bulls. A unique style that hasn't been replicated since, they are inspired by a panther, nodding to MJ's nickname "Black Cat."
The XIII boasts a leather upper, plush side panels, and, more notably, a holographic eye panel and outsole resembling a panther paw. Coupled with a carbon fiber plate and Zoom air, Hatfield harnessed its tenacity to give players the agility of a cat. It was one of the few projects that didn't require an initial meeting between Hatfield and MJ, with the designer gaining inspiration for the shoe from watching him play.
The Air Jordan XIII was the first shoe released under the Jordan Brand. "This particular product is a literal example of our historical approach to design for Michael, which is to program his performance needs and personality into the product," said Tinker in a Sept. 9, 1997, press release announcing the Jordan Brand, for which he was named the creative director. "Likewise, the Jordan Brand family of products will represent the ultimate union of athlete and design."
Buy now at Stadium Goods
Buy now at StockX
Discover more at Jordan
Air Jordan XVIII
Release year: 2003
Original price: $175
Current market value: $5,004
MJ went out in style with the Jordan XVIII, wearing them during his final season as an NBA player in 2003. Inspired by Italian dress shoes and foreign race cars, the model was Michael Jordan's primary game shoe during his second season with the Washington Wizards.
Featuring a hidden lace system, open-air vents, carbon fiber comfort plate and Zoom Air cushioning, the Jordan 18 was available in leather and suede-based options. It was packaged inside a special pull-out box and came with a matching towel, brush and owner's manual. Fancy.
Then there was the vamp cover—more like something you'd find on a deluxe Italian dress shoe. In 2003, it was Nike's Senior Footwear Designer, Tate Kuerbis, who took on the Jordan 18. Like many previous models, the Jordan 18 drew inspiration from one of Michael's biggest passions, sports cars. Focused on both sexy, clean racing lines and the comfortable traction found in many race car driving shoes, the Jordan 18 was a perfect hybrid of fashion and function.
Buy now at Stadium Goods
Buy now at StockX
Discover more at Jordan
Other Sneaker Articles You May Like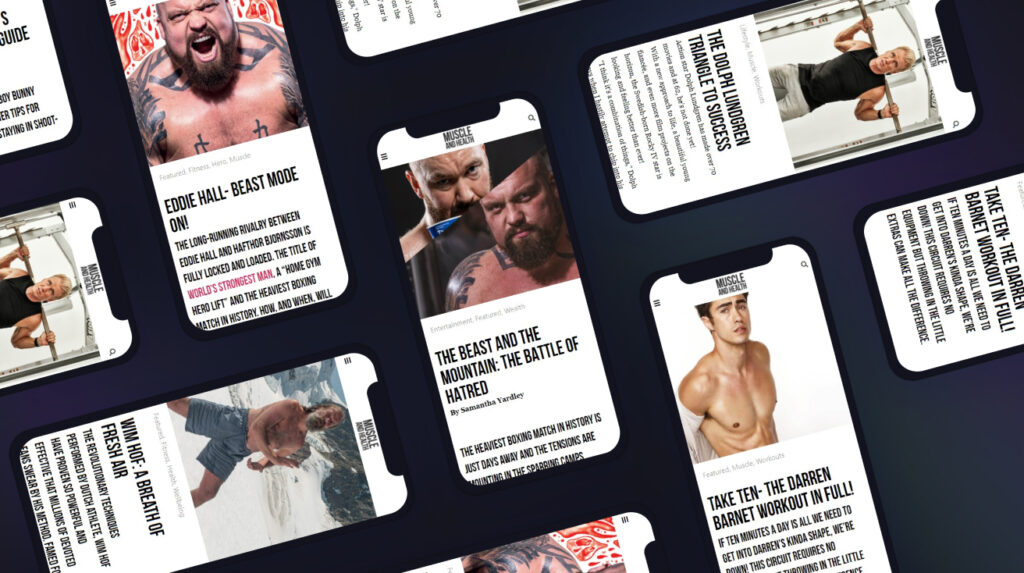 get all the latest mucle, health and wealth news delivered straight to your inbox