Liam Cormier & Punk Rock Positivity By Samantha Yardley
Cancer Bats' Liam Cormier talks music, motorcycles and making money on the road.
You won't catch Canadian-born punk rocker Liam Cormier throwing a TV out of his hotel window, he's far too busy channeling his love of motorcycles into a moto-based clothing line.
If you like your music hardcore, your musical repertoire may have crossed paths with the sludge metal influenced punk melodies of lead vocalist Liam Cormier, the front man for the alternative band Cancer Bats. Not satisfied with stoking his creativity through Cancer Bat's provocative genre of music, Liam turned his hand to creating fashion after spotting a niche crossover with the motorcycle and punk rock scene.
"15 years ago, I started this band called Cancer Bats" begins Liam. "We have toured internationally and put out records. In the course of being in that band, I also got really into motorcycles, and decided to start a motorcycle clothing brand called Treadwell Clothing. It was born out of wanting to do something different and trying to get back into art.
"I helped out with a lot of the graphic design in the early days of Cancer Bats and then we got to a point where we were so busy that I was just sort of just 'art directing'. It's been really fun to have this project as an excuse to figure out how to do art again."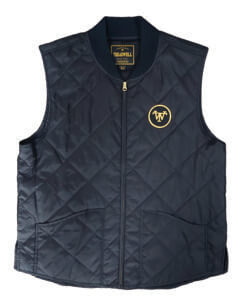 "Sitting backstage like watching Netflix is such a waste of time"
Exploiting a whole host of generic stationery and a photocopier to yield raw and striking designs, Liam's first creations were received with fan adoration and critical acclaim.
"The first real shirt that I made myself was the 'Braaap Cat'. I took a picture of a cat cut out a helmet, put it on a mat, and cut out a bunch of black lettering. I was like, 'okay, this is gonna be the vibe'. And then that shirt blew up! That was what started Treadwell. People want to see something that's rough and, obviously handmade. Then, I started doing more Sharpie drawings and I was kind of figuring out my brand identity."
"My big thing when Treadwell started was motorcycle pop wups"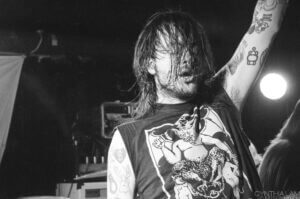 Having found a new platform to indulge his creative side, Liam displayed grit and tenacity, getting stuck in with all facets of growing his new venture from conception to celebrated motorcycle-themed apparel line.
"My big thing when Treadwell started was motorcycle pop ups. I would load up gear on the back of my bike, and just ride to whatever town where there'd be a motorcycle thing happening. I used my bike as the display and would totally just be hanging gear off the back of my bike. I was having a blast, it was like tour 2.0" he says. "A lot of the hardcore punk community started riding motorcycles, and there were all these moto meetups happening all over the place. So, it worked out like perfectly, as far as timing, and I was like 'this feels like early days of punk'.
"I genuinely love selling merch, like I love playing shows. I like that social interaction. People are like, 'I can't believe you're selling shirts'… and I'm like 'yeah but sitting backstage like watching Netflix is such a waste of time.'
"It's making those little gambles that make you gain confidence, you're just like, 'okay, like, let's go like round two', you learn from your mistakes and just keep going. I never have any financial goals, when Treadwell makes money, I'm like: 'oh, sick, it's working.' It's great to be able to cover my bills."
TOP FIVE PUNK WORKOUT TRACKS TO GET YOUR BLOOD PUMPING!
1. Hail Destroyer: Cancer Bats
2. Rise Above: Black Flag
3. Minor threat: Minor threat
4. White Riot: The Clash
5. Abandon Ship: Gallows
If you share Liam's penchant for traveling on two wheels, discover WHY YOU NEED A CAFÉ RACER IN YOUR LIFE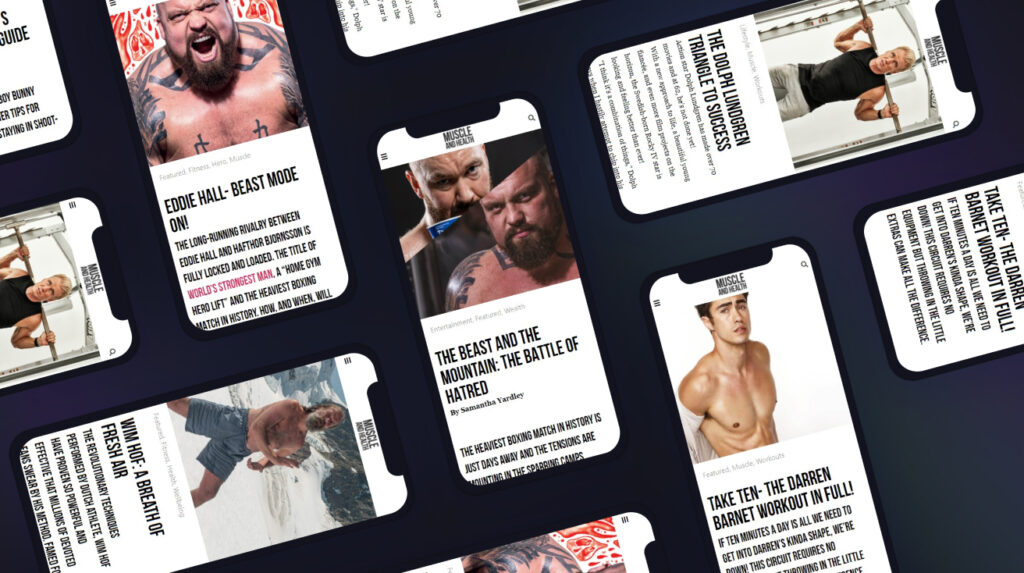 get all the latest mucle, health and wealth news delivered straight to your inbox