Tom Hixson of Smithfield and collaborative chef Harvey Aycliffe show Muscle and Health readers how to cook for the perfect Valentines night in. Tom Hixson of Smithfield are one of the UK's leading fine meat procurers, supplying high end restaurants, chefs and now home cooks.
Steak Tartare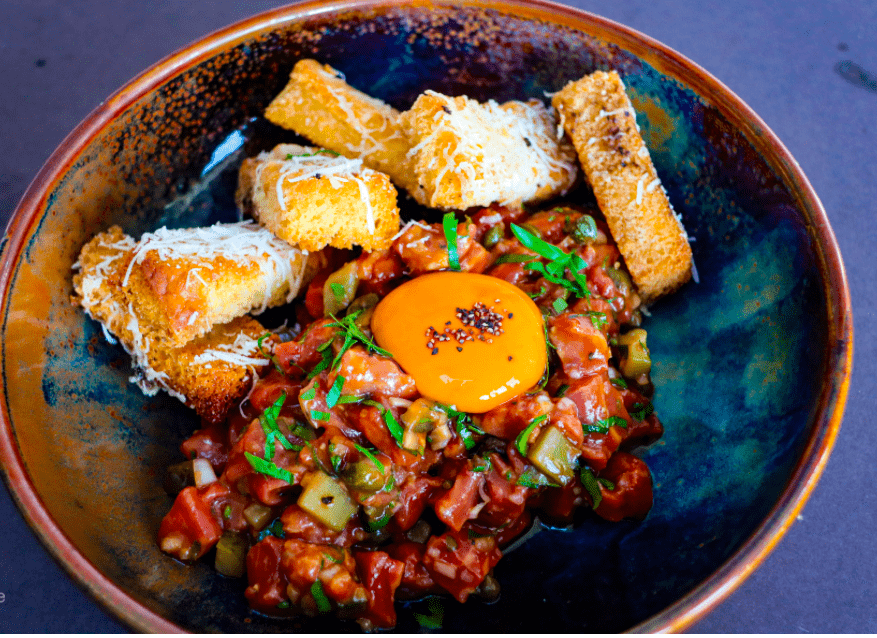 Ingredients
500g USDA Beef Fillet
4 Free Range Eggs
Dark Soy Sauce
4 small shallots finely diced
1 large gherkin diced
4Tbsps of capers chopped
Small bunch of flat leaf parsley chopped
For croutons
1 Brioche loaf
Parmesan
50g Beef fat or Olive oil
For sauce
40 g Tomato ketchup
4g Worcestershire sauce
12g extra virgin olive oil
14g soy
4g Dijon mustard
Tabasco
Sea salt
Black pepper
Method:
In a hot frying pan lightly sear the outside of beef then place on a plate and freeze for 30 minutes.
Now gently remove the sear edges with a sharp knife and cut in thin strips then dice, about 1 cm square.
For soy cured egg yolk, separate the yolk from the white and place yolks gently into a cup and cover with soy sauce, leave out for 30 to 40 minutes.
Remove the crust from the brioche and cut in too large fingers. Preheat the oven to 180 and add beef fat to the oven tray and heat when the fat is hot.
Carefully add brioche and cover well with oil and bake for 10 / 15 minutes. Turn over and leave till golden brown.
Remove from the tray and season with salt and pepper and shave lots of fresh Parmesan on them and leave to cool.
For the sauce, whisk together the ketchup, Worcestershire sauce, olive oil, soy, dijon mustard, salt, pepper and as much tabasco as you like.
To serve, season beef well and add salt & pepper, shallots, capers and gherkin. Add sauce and cured egg yolks leave for 5 mins then serve with warmed croutons.
Enjoy!
Wagyu Steak and Dipping Sauces
Wagyu steak is the perfect choice for a romantic dinner this Valentine's day. This world renowned steak offers rich marbling and a deep flavour that helps to create a truly luxurious dish. To complement this high grade meat, we've put together some delectable dipping sauce recipes.
We can't forget the sauce! All these recipes are quick to whip up. Simply place everything in a bowl, stir, and enjoy!
Sesame Wagyu Dipping Sauce Recipe
100ml soy sauce
4 tablespoons sugar
1 tablespoon roasted sesame seeds
½ teaspoon sesame oil
½ teaspoon miso paste
1 teaspoon ginger paste
1 teaspoon garlic paste
black pepper to taste
cayenne pepper to taste
Lemon Wagyu Dipping Sauce Recipe
4 tablespoons lemon juice
1 teaspoon salt
1 teaspoon chicken bullion
2 teaspoons sugar
¼ teaspoon sesame oil
black pepper to taste
Spicy Miso Japanese Wagyu Dipping Sauce Recipe
40 grams miso paste
1 tablespoon gochujang paste (if you don't have it available at your local market, sriracha makes a tasty alternative!)
1 teaspoon sugar
Fillet Steak Rossini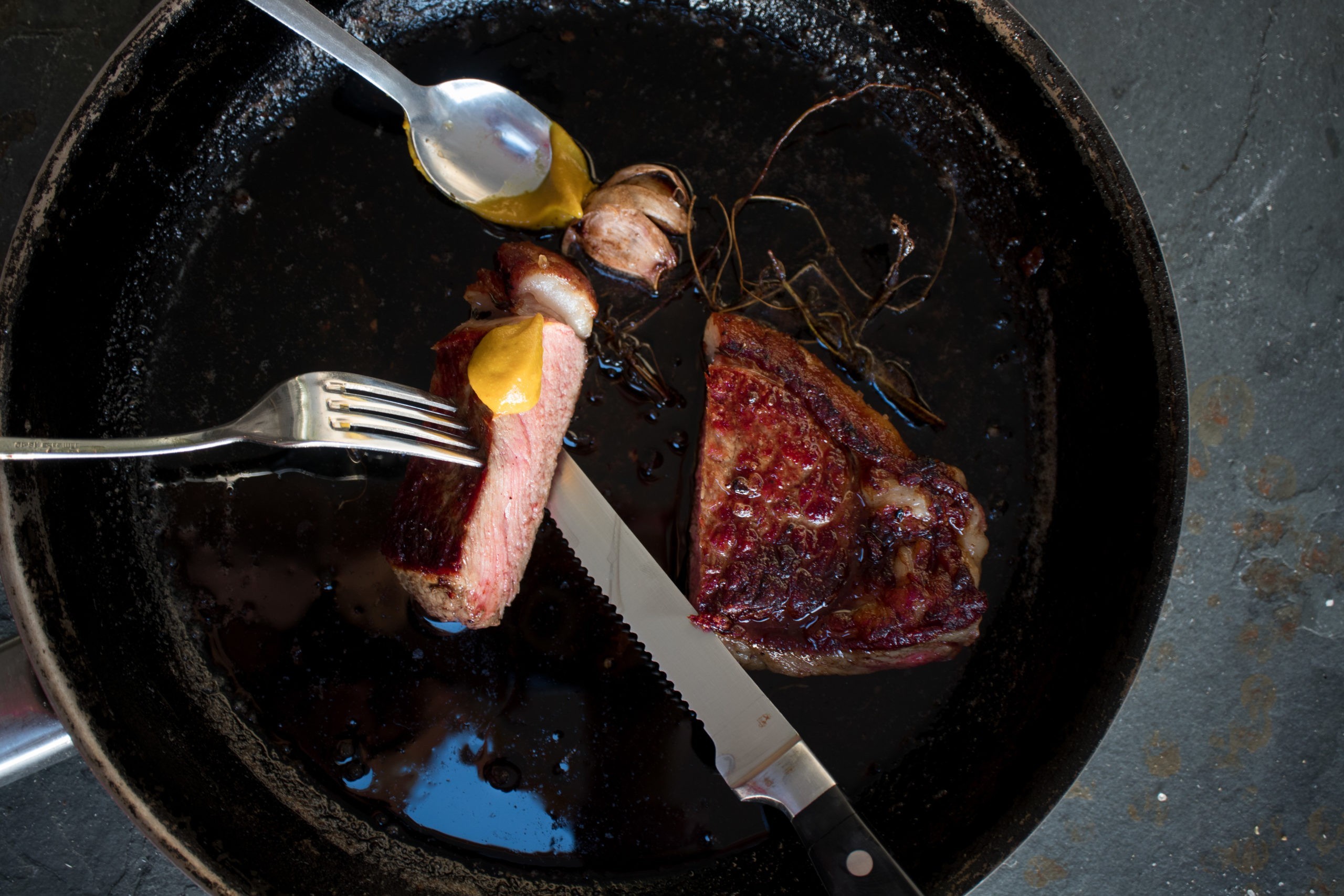 Ingredients
4 x 200g Beef fillet steaks
Salt and freshly ground black pepper
2tbsp Vegetable oil
1 Onion
115g Butter
150ml Red wine
150ml Madeira
250ml Beef stock
1 pinch Nutmeg
250g Baby spinach leaves
175g Duck liver pâté
4 slices Brioche
Method:
Take your beef and season it thoroughly with the salt and pepper
Heat a frying pan, add the oil and some of the butter and seal the beef on each side for three minutes before removing it from the heat and resting aside
Heat a sauté pan until it's hot and add some more of the butter and the onion. Fry until the bottom of the onion is browned and then add the Madeira and cook until it's reduced by half
Add red wine and stock before cooking once more until it's reduced by half again. Strain into a clean pan and whisk 25g of the butter in before seasoning with salt and freshly ground pepper
Heat a frying pan and add more butter and spinach. Cook until the spinach has wilted down then season with salt, pepper and nutmeg. Drain the spinach onto kitchen paper
Heat the final amount of butter in a clean frying pan until it foams, then add the brioche slices and cook them until each side is golden brown. Remove from pan and place to drain on kitchen paper
Serve by laying the brioche onto the centre of the plate and spreading duck liver pâté on top. Place a pile of spinach over the rested steaks and finish with a ladle of Madeira sauce over the top.
Visit- https://www.tomhixson.co.uk  and for even more recipes go to https://www.tomhixson.co.uk/blog
Sizzle And Steak: Beef Up on The Cuts That Make Steak Great!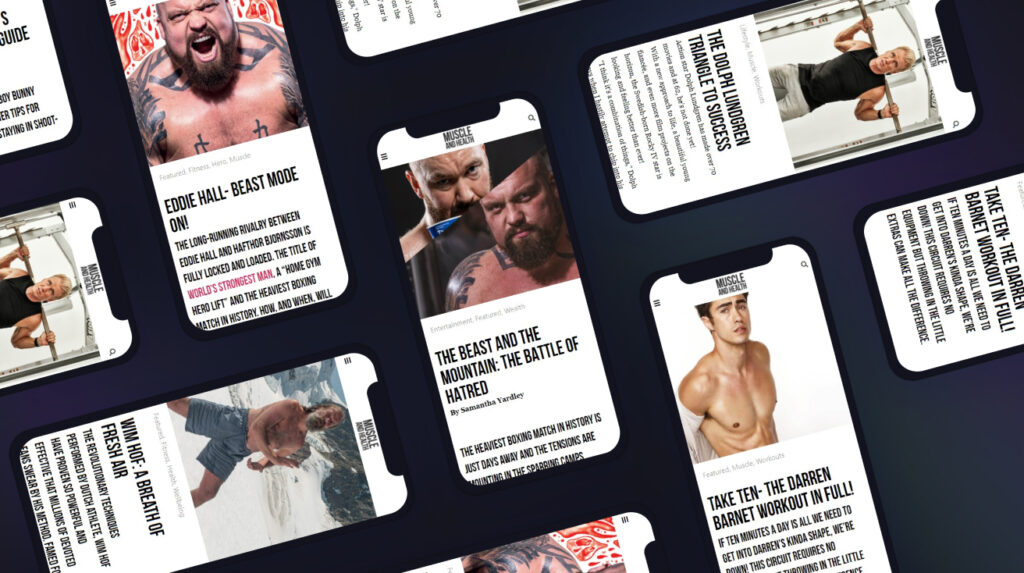 get all the latest mucle, health and wealth news delivered straight to your inbox