Words by Samantha Yardley
Recipes from Licence to Grill by Sam Brooks
Summer time. Time to crack out the grill and take advantage of BBQ food. But who does it best?
We're sharing some of our favorite BBQ recipes from Licence to Grill by Sam Brooks,
Chicken and Mediterranean Vegetable Kebabs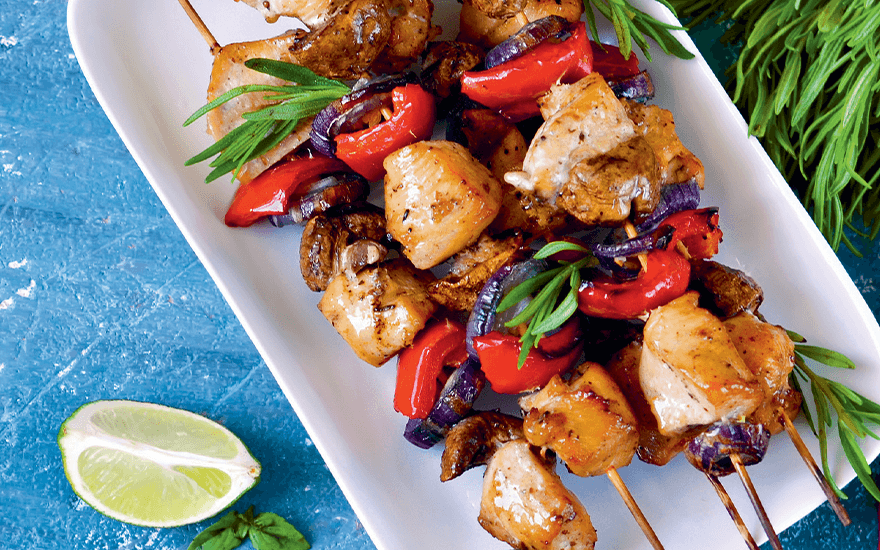 SERVES: 4
KCALS: 157 | CARBS: 7g | PROTEIN: 23g | FAT: 4g
14 oz chicken

diced 5 small mushrooms

1 red pepper

1 red onion

Olive oil

Pinch salt

Lemon or lime wedges (optional) Ketchup (optional)

Fresh rosemary (optional)
Thickly slice the mushrooms. Deseed and chop the pepper and the red onion into large chunks. If using bamboo skewers, soak them in water for at least 10 minutes to avoid them burning. Thread the chicken, mushroom, pepper, and onion onto the skewers. Brush lightly with olive oil and sprinkle with salt. Cover and put to one side at room temperature. Place the skewers over medium heat for 10–15 minutes, turning occasionally. When cooked, the juices of the chicken should run clear. Serve immediately with lemon or lime wedges, ketchup, and fresh rosemary if desired.
Classic Cheeseburger
SERVES: 4
KCALS: 433 | CARBS: 36g | PROTEIN: 37g | FAT: 15g
FOR THE BURGERS
17.5 oz lean ground beef 1 red onion, grated finely 1 tsp garlic granules

1 tsp mixed herbs

1 egg, whisked

1⁄2 tsp salt

1⁄2 tsp ground black pepper
FOR THE BUN
4 burger buns

4 slices American cheese 1⁄2 red onion, sliced

1 large tomato, sliced

4 large lettuce leaves Ketchup (optional)
Add all the burger ingredients to a bowl and mix thoroughly. With clean hands, divide the mixture into four and shape each portion into a burger patty with your hands. Cover and set to one side. Place the burger patties over a high heat and cook for 3–4 minutes each side. Remove from the grill, cover, and allow to rest for 5 minutes. Meanwhile, slice the burger buns in half and place them flat-side down on the grill over a medium heat until lightly toasted. Assemble the burgers by layering the burger, cheese, onion, tomato, and lettuce inside the bun, adding ketchup if desired.
Sweet Chilli Shrimp


SWEET CHILI SHRIMP
SERVES: 4
KCALS: 93 | CARBS: 15g | PROTEIN: 8g | FAT: 1g
FOR THE SHRIMP
5.5oz shrimp, peeled

1 lemon, cut into wedges. Cilantro, chopped

FOR THE MARINADE

5 fl. oz sweet chili sauce Juice of 1 lime

3 tbsp soy sauce

3 cloves garlic, minced 0.3" ginger, grated

1 tsp brown sugar

1 red chili (optional)
In a large bowl, whisk the marinade ingredients together until smooth. Mix in the shrimp until fully coated, then cover and chill for at least 30 minutes, or overnight. Prepare the BBQ. If using bamboo skewers, soak them in water for at least 10 minutes to avoid them burning. Thread 4–6 shrimp onto each skewer, then place them on the BBQ over high heat. Cook for 2–3 minutes, until colored on one side, then turn and cook the other side. Remove from the grill. To serve, squeeze lemon juice over each skewer and sprinkle with chopped cilantro.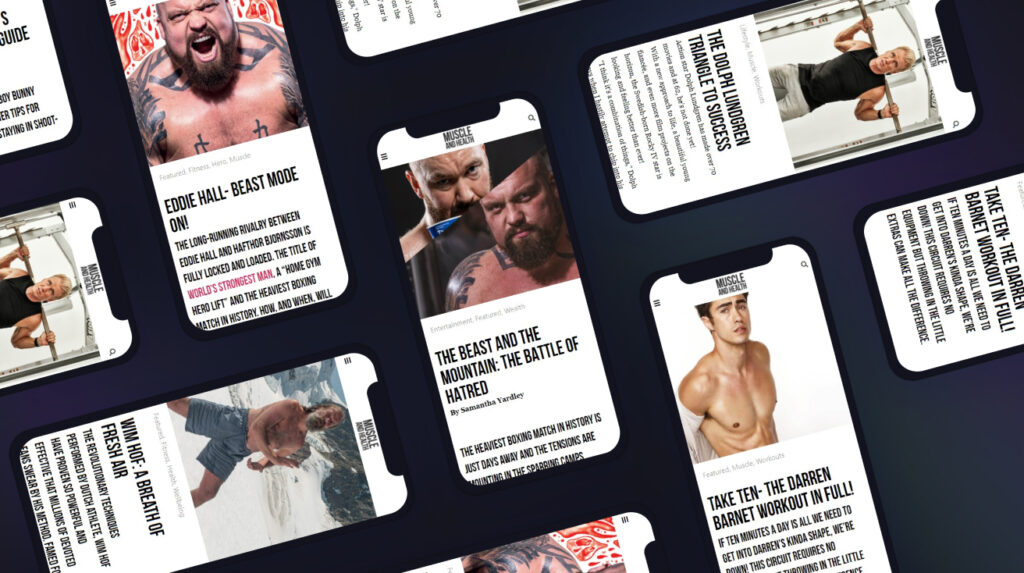 get all the latest mucle, health and wealth news delivered straight to your inbox