Chef Andre Rush shot to fame in 2018 after a picture surfaced of the White House cook prepping for Donald Trump. His phenomenal 24-inch biceps sent tweeters wild, but the modest 45-year-old talent from Mississippi has more than just brawn to shout about.
It was 16:00 hours in Spain, that's 7 AM LA time. Chef Rush had asked me to call him for an interview, but it was evident from his previous messages that he'd already been awake for at least four hours.
I dialed in hesitantly, wondering whether I'd wake a man who looked as if his phenomenal physique needed at least eight hours of quality sleep each night.
"Andre," I began… "I do hope I haven't woken you?" I'd anticipated an overwhelming, perhaps rambunctious-sounding voice to respond, but instead, I was greeted in a soft, almost soothing southern tone.
"Nooo, I usually go to bed at 1 AM and wake at 3 AM to meditate, then start my 2,222 push-ups," came the reply. "I only sleep for two hours; I'm one of those exceptions to the rule."
Gobsmacked, I didn't quite know what to ask first! Then over the course of an hour, Chef Andre Rush filled me with accounts of awe-inspiring events, truly motivational tips and tear-jerking tales.
Chef Rush, or 'Chef', as he is affectionately known today, grew up in Mississippi under the opposing advice of his mother and father.
"My mom was always my idol," he reveals. "She's such a kind, nurturing lady and loved to cook. My father believed men should work hard and stay out of the kitchen, so he pushed me toward a career in the military. I would cook for my mother secretly because I enjoyed it so much, but I knew he would disapprove.
"At 19, I enrolled in the Army. My varied and extensive duties in the military included audit control, security, protocol liaison, project management and advising dignitaries on legal affairs. I traveled the world and served on the frontline, but perhaps most importantly to me, I was the chef.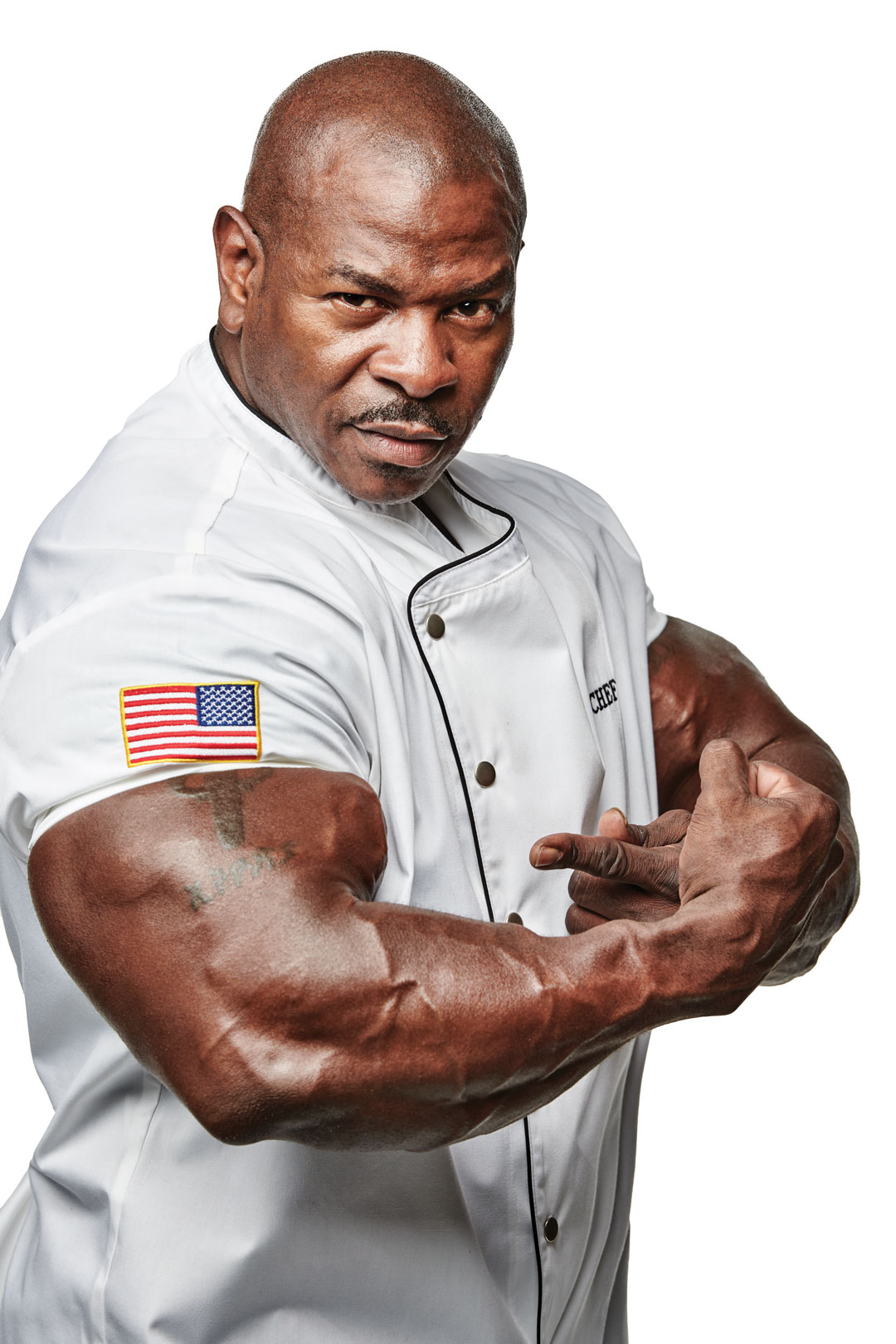 "Whilst serving in Iraq, I would find food for around 60 people and cook a special feast for 8-10 of them at a time. I functioned in a kitchen with no water or facilities and crossed war zones to source the ingredients. Mostly, people thought I was mad! My seniors would tease me for being the big muscular guy with a passion for cooking, but I didn't let their comments affect me. I found out the dietary and religious requirements of every member of my team and did my very best to inject as much passion and flavor into my dishes as possible, no matter what pressures or obstacles we faced as a unit."
To his surprise, Chef Rush was asked by a Sergeant Major whether he would consider competitive cooking. He began competing with USACAT (the United States Army Culinary Arts Team), which competes around the world on an international level. Expanding on his skill set in the pastry kitchen, as a carver with a variety of different cuisines, the talented big guy with an unlikely flair for food went on to win numerous medals and became highly celebrated in the field.
"Being recognized for my passion came as such a surprise because nowadays cooks are cool, but back then they weren't," exclaims Rush. "A lot of people in the military didn't like me being notarized for my cooking, but as always I carried on doing my thing and didn't let that penetrate my passion."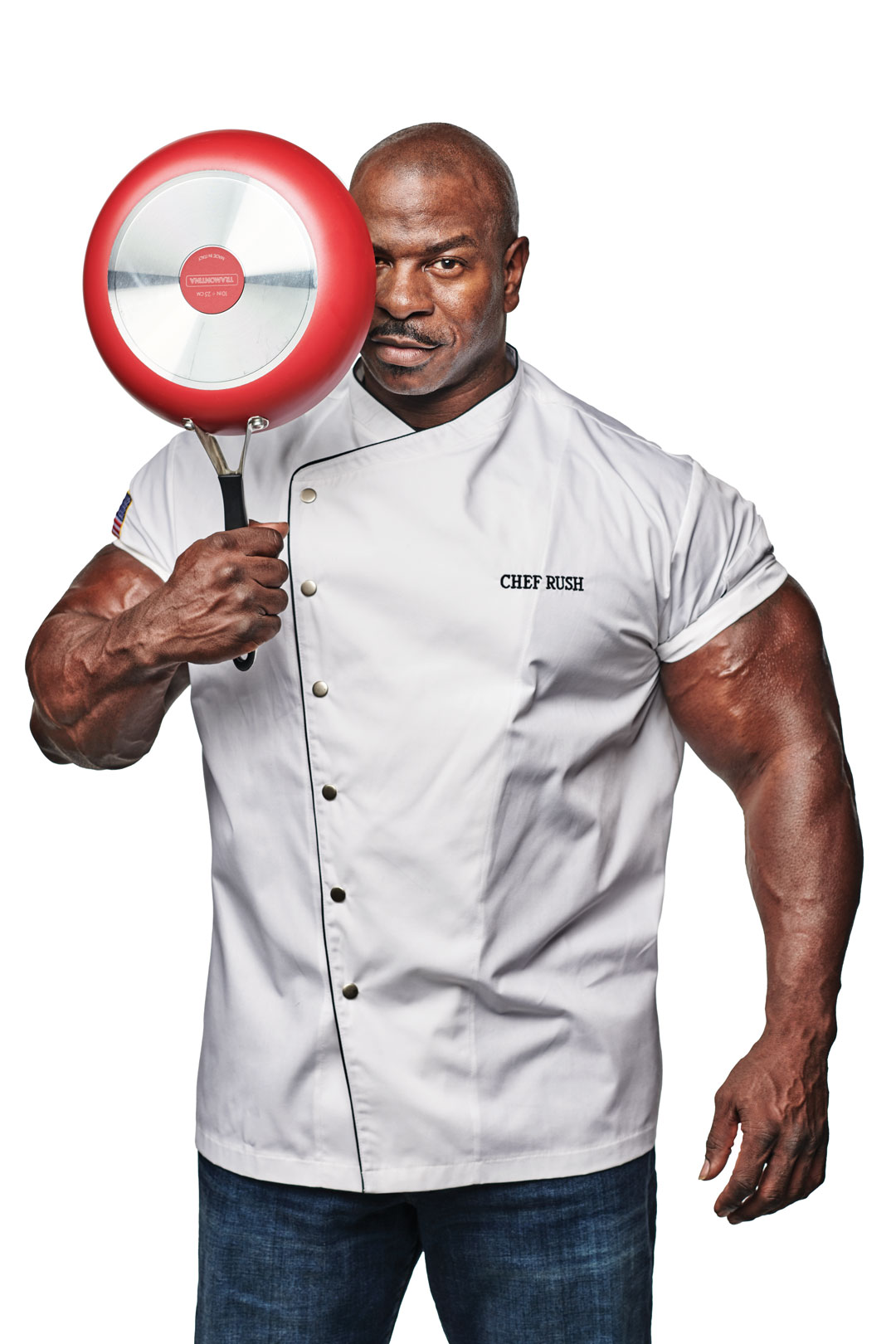 Perhaps the most significant memory for Andre was receiving a call to tryout in the Pentagon that led to the peak of his cooking career.
"One day completely out of the blue, I received a call asking me to try out in DC. During the trial, I worked my butt off more so than ever before. When I didn't hear back after 30 days, I presumed I hadn't been selected. I later discovered a colleague didn't want me there because he saw me as a threat. Ironically, it was the same guy who later took me to the White House. They loved me and wanted to let him go and take me on. I'd always maintained a strong sense of camaraderie and suggested I decline the role, but like a true gentleman he insisted and I went on to serve as White House chef under the last three presidents."
Veteran master sergeant Chef Rush served for a total of 23 years in the US Army, before making an exit in 2017. He officially retired last year and now works to mentor and inspire hundreds of thousands of adults and children around the world. He resides in Los Angeles and regularly travels to Washington DC for his work and training.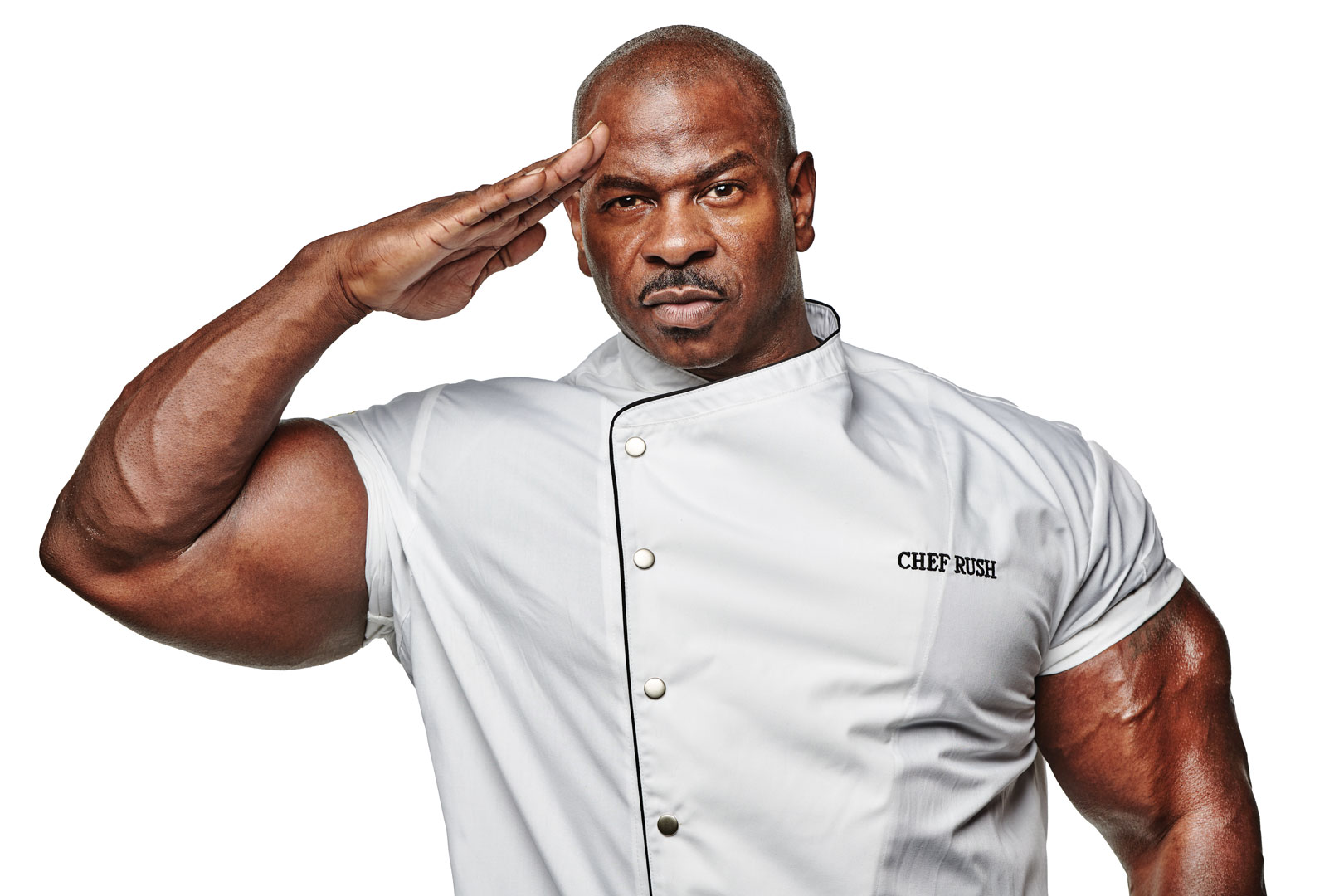 "The reason I do 2,222 push-ups is because an estimated 22 military veterans commit suicide every single day," he explains. "I wanted to do something not only to support their cause, but also to raise awareness for both adults and children suffering in other ways. 22 push-ups just wasn't enough!
"When you serve as a sergeant in the military, you give orders to dozens of people every single day. You get used to the power and you become institutionalized. When you leave that world, transitioning back into civilian society is an overwhelming challenge. You feel disconnected and out of touch. It can be an incredibly dark and lonely time."Andre joined forces with his childhood fitness inspiration Arnold Schwarzenegger as an ambassador for 'After School All Stars', an organization founded in 1992 to provide comprehensive, free after-school programs that keep children safe and help them succeed in school and life.
"Arnold has asked me to branch out and set up my own program to encourage adults to integrate with kids as a natural mechanism for personal growth and development," Andre exclaims. "Deprived kids can really help institutionalized adults to interact and expand their mind and vice versa. In fact, some of the kids I work with come from very privileged backgrounds and find themselves disconnected in other ways. There are so many things that can lead to poor mental health and I think it's important to try to connect with people of all ages and from all walks of life.
"The kids love my cooking. I always say I didn't choose to be a chef, 'chef' chose me. My motto is 'cooking to cope'. I've used cooking to help combat my own experiences with PTSD and at the same time I use it as part of my lifestyle and as a holistic medicine. Food is life. It's so important in fitness too. If you don't fuel your body correctly it won't function as you need it to, no matter how hard you train."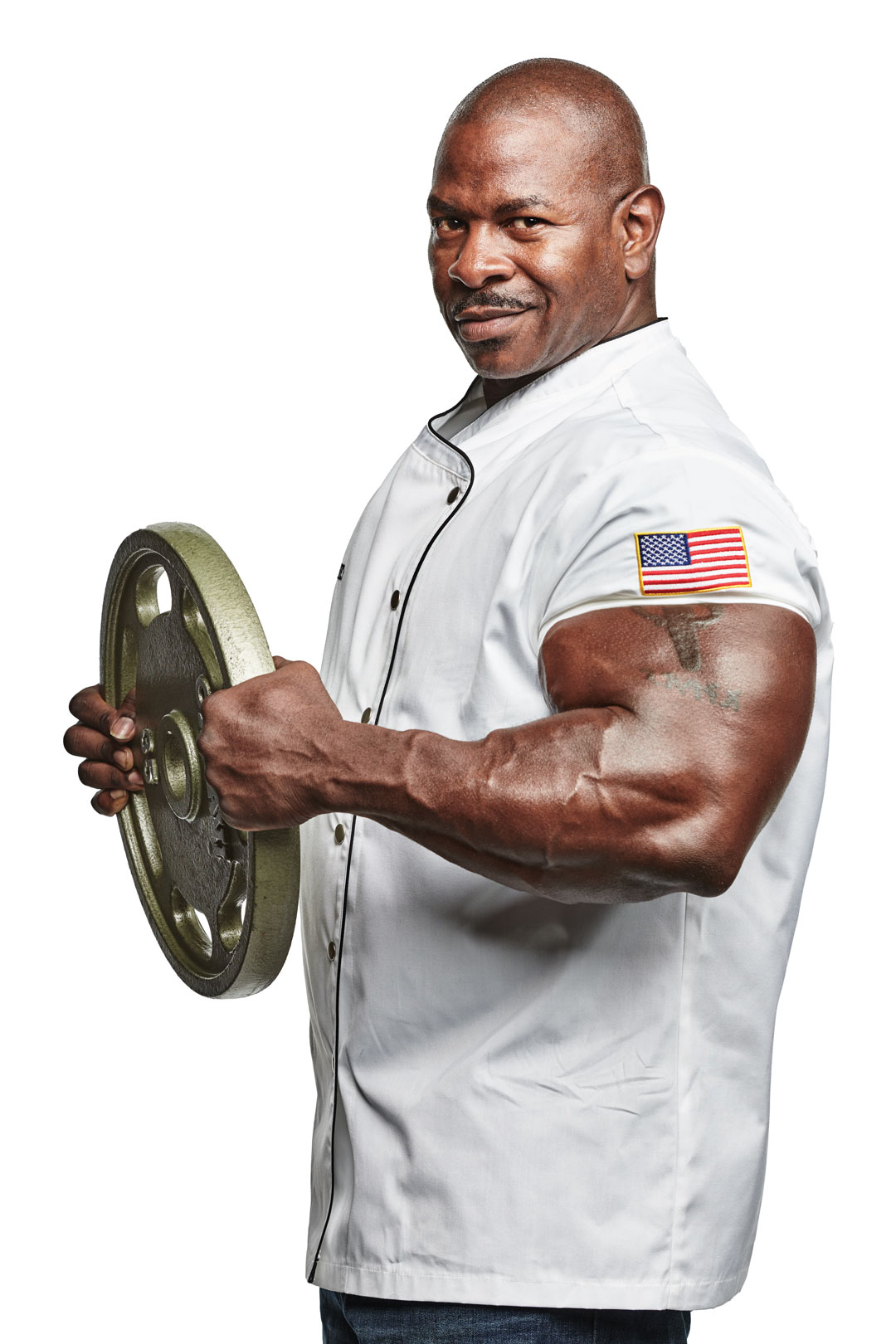 Andre boasts an impressive athletic resume, having been heavily involved in sport since his early years.
"In my small town we didn't have gyms," he explains. "But I was naturally strong and could lift 315 pounds as a 13-year-old! "My brother is 14 years my senior. On a trip back home from serving in the Navy, he left behind what would later become my bible- Arnold Schwarzenegger's encyclopedia. Back then I just stared in awe at the pictures and tried to copy the moves as best I could. I later began to research and understand my own body to make that mind to muscle connection and that's when things really started to happen!
"I had football, track and art scholarships and even try-outs for the Olympics!"
Weighing in at 270 pounds, I was curious to know what the 6-foot heavy hitter ate on a day-to-day basis to maintain such an impressive stature.
"I put back around 10,000 calories a day," Andre reveals. "I eat three whole chickens a day and love to flavor them with caramelized garlic and fresh herbs. Chicken is such a versatile food. I've cooked for kings, queens, presidents, dignitaries, military personnel, the homeless,
celebrities and kids, but regardless, cooking is a cure and it's all in the love. My mom taught me that.
"Even when I prep food for bodybuilders who are on a gruelling cutting plan I still make the food delicious."
When he's not cooking for kings, doing push-ups for charity, mentoring thousands of people via live webinars, filming TV shows or teaching kids, Andre still makes time to train! It had definitely become apparent to me that any more than two hours sleep a night would simply not agree with his schedule!
"My 2,222 push-ups take me about an hour, but my gym sessions make them look like a warm-up," Andre jokes.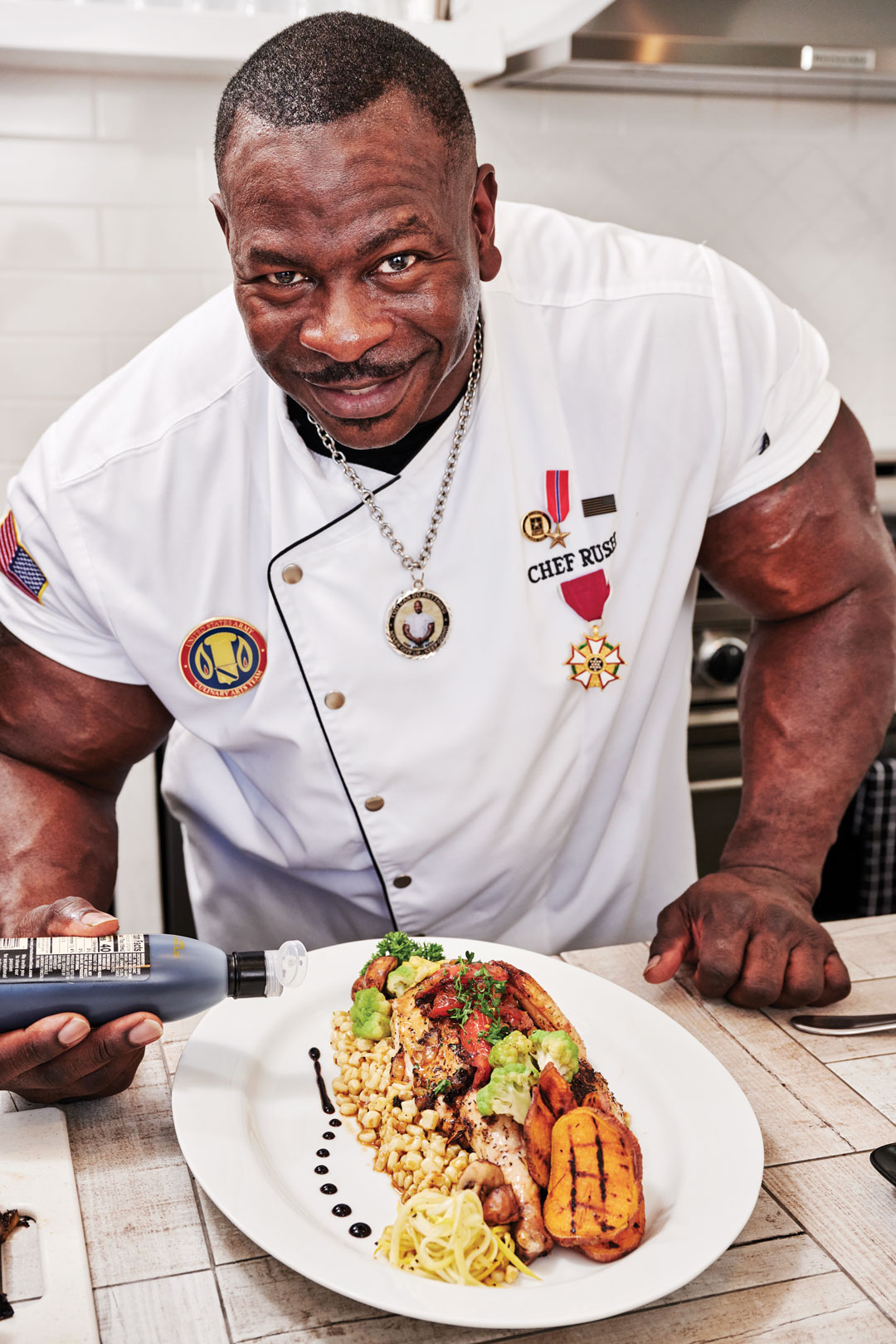 "I implement the 72-hour rule and give each body part adequate rest time, but when I hit a muscle I hit it hard! I usually try to train a major, minor and intermediate muscle group each session. For example, chest, triceps and traps. Right now I'm bulking. In the last two days I already gained six pounds of solid muscle and I'll probably pack on a further 20 over the next month. Genetically I gain easily, but you have to eat right and train consistently otherwise you've no chance.
"When I cook for people I always give them nutritional advice and blood work is the first thing anyone should do if they truly want to get to know their body. You have to eat for your blood type and workout like a maniac and the results will follow. I go high reps, high weight for muscle memory, growth and longevity."
Chef Rush has five new TV shows on the horizon, but fame is just something he takes in his stride.
"My goal is to change the narrative through cooking and mentoring," he says. "I conduct webinars to tens of thousands of people on the importance of health in cooking and I try to answer every single message I get on social media because so many people reach out for help and you never know when you can save someone's life. It's great working with the media because it helps me to get the message out, but I never set out to be famous.
"Most importantly, I know I'm doing my mom proud and helping to cure and inspire adults and children through tough times."
IG: @realchefrush
Angry Chicken
It's quick. Because the bird is flattened, the cooking time is cut almost in half.
The bird cooks evenly. With a whole bird, the breast meat often dries out before the dark meat is done. By flattening the chicken, the legs and thighs (dark meat) will be more exposed to the heat and cook in the same time as the breast.
The skin gets nice and crispy. Since the whole bird is equally exposed to heat, every inch of its skin will evenly brown and develop that crave-worthy crispiness.
You'll Need
• 1 broiler/fryer chicken (3 to 4lbs)
• Thyme
• Pepper
• Garlic
• Olive oil
Tools:
• Kitchen shears
DIRECTIONS
Step 1: Cut along the side of the backbone and place the whole chicken on a cutting board with the breast-side down. Locate the backbone along the center of the chicken. Starting at the tail (or pope's nose), use a sharp pair of kitchen shears to cut alongside the spine. Try to cut as close as you can to the backbone so you don't risk cutting any other joints. You may feela little resistance as you cut through certain rib bones of the bird-in this case, press down on the shears with both hands.
Step 2: Remove backbone and rotate chicken 180° so that the uncut side is closer to your dominant hand. Cut along the bone again and remove the backbone from the chicken.
Step 3: Flatten. Back to the bird: Flip it over so that the breast side is facing upward. With two hands (and a little bit of hulk-strength), press down firmly on the center of the bird until you hear a crack. This is the wishbone breaking! Voila. Your bird is successfully spatchcocked.
Step 4: Rub the chicken with olive oil and add the thyme, garlic and pepper (salt optional). Let's grill! Place the chicken skin-side down over direct heat. Cover and let cook for 10-15 minutes. Take a peek. The bird should look nicely charred. However, keep a careful eye on the grill. Any fat that drips from the bird can cause the fire to flare-up. Next, turn the chicken over (skinside up) and move it over to indirect heat. Grill for about 30 minutes longer.
Step 5: Check for doneness. Use a thermometer to tell if the chicken is ready. The thigh should read between 170-175°. Using a pair of long-handled tongs, carefully remove the bird from the grill. Be sure not to pierce the skin or you'll lose the bird's tender juiciness. Let the bird rest for at least 10 minutes before serving. The chicken needs to sit in order for the juices to lock into the meat.
Don't fret: even after 10 minutes, it'll still be plenty warm enough to serve!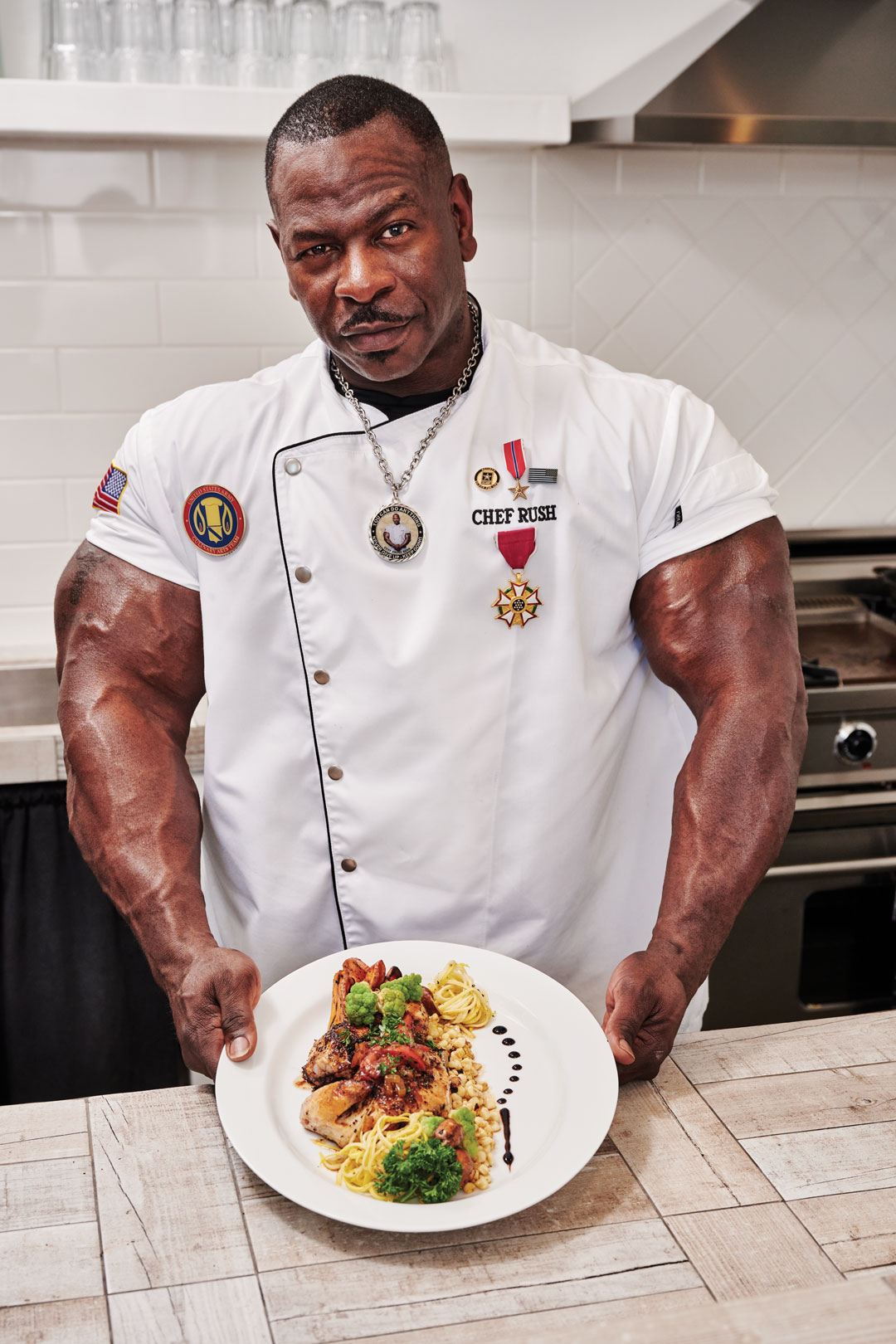 Salmon for life – GRILLED SALMON
You'll Need
• 1 ½ pounds salmon fillets
• ½ fresh lemon
• ¼ teaspoon garlic powder to taste
• ½ teaspoon salt to taste
• ⅓ cup soy sauce
• ⅓ cup brown sugar
• ⅓ cup water
• ¼ olive oil
Directions
Step 1: Season salmon fillets with pepper, garlic powder, and salt.
Step 2: In a small bowl, stir together soy sauce, brown sugar, water, and vegetable oil until sugar is dissolved. Refrigerate 30 minutes to 2 hours.
Step 3: Preheat grill pan for medium heat.
Step 4: Lightly oil grill . Place salmon on the preheated grill, and discard marinade. Cook salmon for 6 to 8 minutes per side, or until the fish flakes easily with a fork. Squeeze lemon on top and serve with any condiments.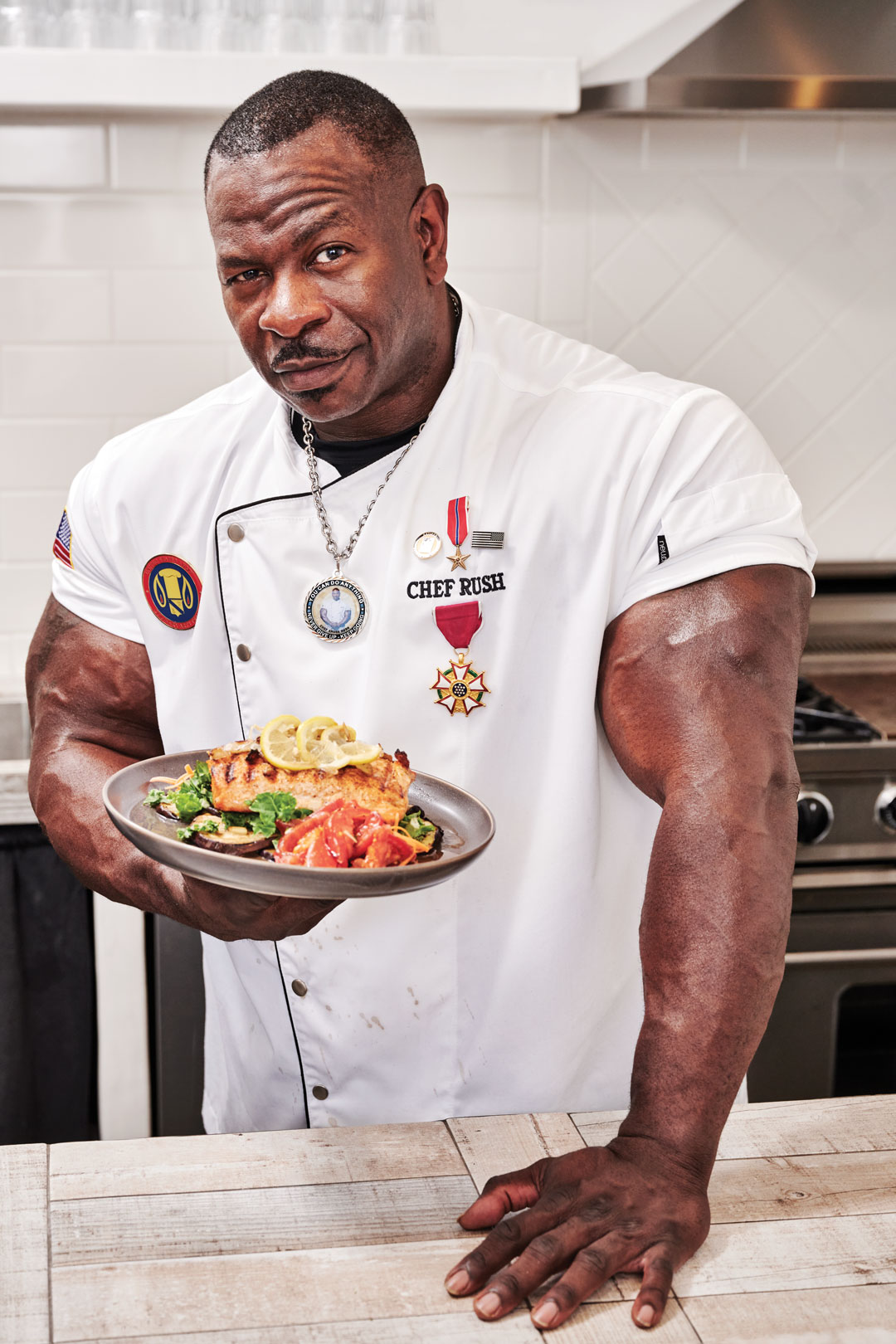 Related Articles
Chef Andre Rush's Punishing 2,222 Push-up Daily Routine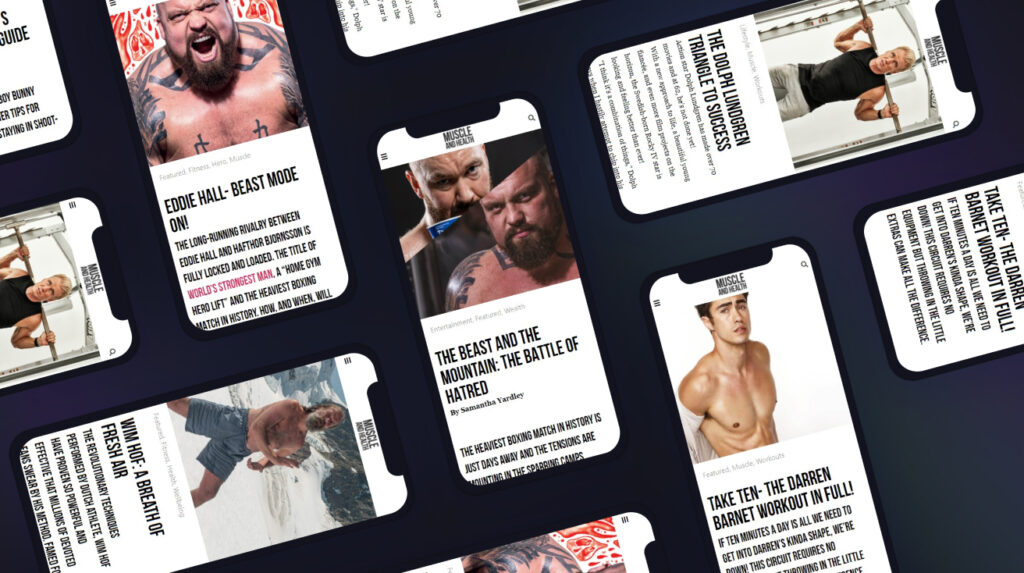 get all the latest mucle, health and wealth news delivered straight to your inbox